I'm willing to bet that at least 90% of the people reading this article have to function under a budget of sorts.  Bills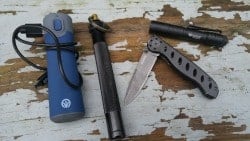 need to be paid, houses need to be heated, cars need to be maintained, stomachs need to be fed.  It's a fact of life and how we have to operate on a day-to-day basis.  As much as any of us would love to go out and blow five grand on preps we would really love to have, reality dictates that we just can't do that and make ends meet.  I know I have to save up to obtain things I want – preps included.
While operating under this self-imposed budget, I've used, carried, and tested a LOT of low-priced new or "previously-enjoyed" items for lower prices.  Yes, some of them were complete and utter crap, but there have been several shining stars that really enhanced my life on a daily basis; so much so that I have complete confidence that they will serve me well under more extreme, post SHTF-type scenarios.
All of the items I've listed here are great.  I personally own and use them all (save for one, but I will explain my rationale when I get to it.) on a semi-daily basis, and they all work.  The kicker?  They all work well for under thirty bucks. So whether you're under a budget, or looking for stocking stuffers, or just need good gear, these will all function without breaking the bank.  Let's check them out.
Streamlight Microstream
The Streamlight Microstream is a tiny (3 ½ inches long by 9/16 inch in diameter, 1.04 ounces with battery) C4 LED flashlight that is powered by a single AAA battery.  It has a run time of over two hours on a fresh battery, and the bulb is rated to 30,000 hours of use with a surprisingly brilliant 35 lumen output.  It has an IPX4 water resistance rating, and it is sealed with O-rings.  The light has a spring steel bi-directional clip that allows you to fasten it in your pants pocket like a folding knife, or you can clipp it onto the brim of a baseball cap for a head lamp.  The case is black hard-anodized aluminum, and shrugs off drops onto hard surfaces from waist-level with aplomb.
Also Read: DIY Alcohol Stove
Specs aside, I have been carrying Microstreams almost every day of my life since I got my first one a couple years ago.  I have one (of several) riding clipped to  my weak-hand pants pocket, opposite my folding knife, and extraction and quick deployment is a breeze.  I'll tell you now: you'll be amazed how much you use a small light once you have it on you all the time.  Drop something behind your desk into a maze of computer wires?  No problem, instant illumination! Need to dig out the booster pack to jump start your car?   A handly light is already with you. Walking in a dark parking garage and need to identify a threat?  It's there for you.  The only, and I mean ONLY, problem I've ever had with these lights is that they are small and easily lost if you take them off.  That's why I mentioned I have several – if I lose mine for whatever reason, I'll run to the store and grab another – which, of course, means I instantly find the one I lost. So I now have Streamlight Microstreams in my cars, bedside stand, and a spare at work. You can never have too many of them, and I can't recommend these lights highly enough. Drop the $20 (or less) for one and never look back.  Absolutely perfect EDC gear.
Gerber Evo Jr Folding Knife
This is the aforementioned knife I wear opposite the Microstream in my EDC carry. The EVO Jr. is a very small (3
5/8 inches by 5/8 inch) folding pocket knife with a 2 5/8" titanium-coated "Fine Edge" blade that discourages corrosion.  The handles are machined anodized aluminum, the blade high carbon stainless steel, with a fast-opening thumb stud and integral finger guard that deploys with the blade opening.  A non-reversible stainless steel pocket clip is screwed to one of the handle panels.
Gerber knives have always had a pretty good reputation where I've come from, so when my $80 H&K folder broke before I headed out to a hunting trip, I stopped at the local Cabela's and saw this baby on sale, for I think $29.99.  It fit the bill dimensionally (I hate having items with too much weight and size in my pockets), the price was good, and I knew Gerber stuff was pretty okay.  I purchased the EVO Jr. and promptly forgot about the H&K folder.  I've used this knife to gut deer, open bottles, chisel (yes, with a hammer) door strike openings in wood jambs, cut old caulking out of windows, and shred cardboard boxes – and the EVO Jr. has come up swinging. The blade is just a touch bent, but still 100% functional.  I don't feel bad at all about not owning a spendy Spyderco or Benchmade with this little beast clipped to my side.  I'm sure it's not invincible, but it's really good for the price.  They are available on Amazon for dirt money (I found this one for just over $23!) but I'm told Gerber may have discontinued this model, so grab one if you can…even if its just a backup.
Non-lethal threat deterrents are always valuable, whether you do or don't carry a firearm, knife, etc.  Non-lethal pepper/OC spray is almost always legal to carry anywhere, making it a choice method of protection if you must venture into the lands of the "gun free zone".  ASP makes the Key Defender, which is a small and slender method of deploying 2 million scoville units of OC love directly into a bad guy's mug.  The ASP Key Defender OC Spray is about the size of a Mini-Maglite, (6" long by 5/8" diameter) has an easily-utilized and secure flick-off safety, and it's almost impossible to spray yourself if used properly.  The release valve actuates like a flashlight with a tailcap switch, so it's intuitive and easy to point in the correct direction.  The knurled aluminum casing is shaped and sized nicely to do double-duty as a kubaton if things get up close and personal, and the key ring means you can attach it to your key chain if that's your thing. Refills and inert practice cartridges for the spray are readily available as well.  Shop around and you can find a Key Defender in many different colors, for right about the $30 mark on Amazon, with a two-pack of refills dinging the wallet about $15.00-$18.00.
Related: DIY Fire Starter
Funny story about my Key Defender: I was riding back home with my son from a visit with our very own Jarhead Survivor.  I  had to pull over to the side of the road answer the call of nature in the woods, and upon my return in the truck, I was greeted with a fierce, immediate stinging in my eyes.  I looked at my son, and he was coughing and his face and eyes were red.  He was holding the Key Defender, which I kept in my shifter console. "WHAT IS THIS?!?" he cried between coughs.  It seems he decided to screw around with the Key Defender, and sure enough, shot a blast of it right out my driver's side open window. None of it actually got on either of us, but the fumes alone made us vacate the truck cab post haste, while we sat on the side of the road coughing and laughing like lunatics. I'm sure anyone driving by must have wondered what these two gagging, red-faced buffoons were doing, sitting on the side of the road and laughing.  I made a mistake of scratching my eye and rubbing my nose after touching the steering wheel.  It was ferocious, and I didn't even get sprayed.  I can just imagine being on the bad end of one of these, and it must be a very effective deterrent indeed.
Real Avid AR-15 Micro Tool
I stumbled across this neat little rig at a local Cabela's for $17.99, and grabbed it to bring home and try on my AR.
It's a small, light, all-steel tool meant for taking care of most of the functions you'd need to strip your AR and clean off carbon in the field.  The Real Avid AR-15 Micro Tool has many functions and tools built-in to it: three sizes of bolt scraper, a 5mm, 1/8", 3/16", 1/4", 5/16", and 3/8" wrenches, a bottle opener, a front sight adjustment tool, a cutter, and a takedown pin punch. It comes with a short web attachment to a keyring.
Also Read: 5 Dollar Preps
While I have no delusions of this not being an absolutely terrible 3/8" wrench, the Real Avid AR15 Micro Tool is worth every penny for other functions: the pin punch, scrapers, and front sight tools all work really well.  I haven't tried the bottle opener – mainly because I'm not exactly popping open Sam Adams bottles when I'm working on guns – but it looks like it'd do the job fine.  I fastened this tool to my AR grab bag as a lightweight scraper tool pretty much.  It's no Leatherman MUT but it will work to get the carbon buildup off your bolt and firing pin well enough to get you back in action and to your cleaning kit.
Rechargeable Auxiliary Battery
Cell phones seem to run the world this day, and in many cases, they are better than any took you have in your
bug-out bag to get you out of trouble.  However, they are definitely battery-dependent, and the bigger and more beautiful your smartphone screen is, the faster your battery will drain.  When I'm out in the woods on a deer stand, I like to have my phone to send messages to any hunting partners, check the weather forecast, read articles to keep me awake, use the GPS, etc.  However, the battery is only good for about 2/3rds of the day under frequent use, generally.
I went up to my brother's house a while ago to do some deer hunting in an area I was unfamiliar with, and I knew we were going to put on the miles, so I stopped at a Target on the way up and snagged a cheap 3,000 mAH auxiliary battery back for $24.99.  Once charged, it had enough juice to give my cellphone a complete charge, and had a small LED flashlight built in. It stows in a pocket, is rubber-armored, and recharges in an hour.  While I know it's on the cheaper side and there are far better units out there on the market that sport much larger batteries, solar panels, and USB ports, this one serves me well.  I know that if I have to walk home, I have a full charge ready to go to be able to contact others if I have reception.  Shop around, there are lots of options under $30.
Inspiration Book
My father had this idea, and I think it's a great one.  He went out and bought a good, sturdy, 4" x 6" notebook and filled it with information and small items to keep him going if he's in a bad spot.  His notebook contains pictures of his grandchildren that have been laminated and glued to the pages, bible verses, and quotes from authors he likes, or passages that inspire.  Also in the book are helpful bits of information and formulas that will prove helpful in survival situations:  Angles of declination for given areas, bleach:water purification ratios, important phone numbers, photocopies of important documents, and the like.  Fill one of these out and stow it in a plastic bag for when times get rough.
Clear Safety Glasses
Imagine walking through the woods at night with little or no illumination and you'll get the idea of why a cheap pair of safety glasses is a good thing to have in your bug-out bag.
WISR Custom Paracord Bracelet
This is the one item on this list I don't personally own, but I do have a really awesome item from Valkyrie War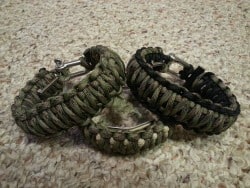 Cord that I reviewed: The Survival Frag. There are millions of survival paracord bracelet designs out there, but Chris, the owner of VWC, will let you select colors and survival items from an online list, and then he will custom build your personal WISR (Wearable Integrated Survival Rigs) with your chosen items and ship it to you. The WICR-CUSTOM starts at $10.00 and goes up from there based upon your selections. Some interesting choices are: a handcuff key ($3.00), a 1" firesteel rod ($3.00), iodine tablets ($2.00), and a buckle whistle ($3.00).
Related: 5 Dollar Preps Fishing & First Aid Gear
If you have a few extra bucks at your disposal, at $50 the Survival Frag remains a really great all-in-one emergency kit. Chris is a full-time student, EMT, and all-around really nice guy. He does top-quality paracord work, and it doesn't stop at bracelets and Frags. His online store can be found here. Free shipping too! While I don't have one of these – YET – I have no doubts that VWC's products are good to go.
Liberty Gun Lube CLP
Does your current gun lube keep machine guns running for hundreds of continuous rounds under high heat
conditions?  Okay, it very well may; that's a common property for a good gun lube. But how does it function at 84 degrees F below zero? For all you guys without calculators, that's 116 degrees below freezing, and that means that your Liberty Gun Lube-treated gun will function on the -60 degree F surface of Mars if needed.  Liberty Gun Lube's CLP (Cleaner, Lubricant, Preservative) boasts an ultra-low freezing temperature, and the ability to keep guns working in high heat situations too. Jeff Zimba, renowned author of "The Evolution of the Black Rifle: 20 Years of Upgrades, Options, and Accessories", did a serious battery of tests of Liberty Lube's CLP with full-auto rifles, as well as freezing pistols in blocks of ice, chipping the pistols out, and shooting them: Liberty Lube worked slick (pun intended.). Check out just one of the test videos with Liberty Lube here…and check out the rest of his channel while you're at it.
Spoiler Alert: I have a review of Liberty Gun Lube's CLP as well as their solvent coming soon, so I won't get too deep into the product here.  But Liberty Lube's CLP has replaced all my other gun oils, it works so well. 1-oz bottles go a long way and  take up very little room in your out-the-door gun bag.  If you need to keep your guns running in adverse conditions, this is your first step. 1-oz bottles of the CLP run $10, the non-toxic, biodegradable solvent runs $9.
WD-40
This universal "fix-it" has been around for ages, and for good reason: it does its job, and it does it well.  WD-40 is marketed as a lubricant, penetrating oil, preservative, and seemingly every household has one of the ubiquitous blue and yellow spray bottles kicking around somewhere.  WD-40 should also be on the radar of anyone with a prepper's mindset, too. A small 3-oz bottle doesn't take up much room in packs, and can be used to lubricate whetstones while sharpening knives, keep guns from rusting in wet environments, free rusted locks, nuts, bolts, bike chains, etc., and since it is quite flammable, can also be used as a fire accelerant to help start a life-saving fire in wet conditions. It also works as a starting fluid for tough-to-start motors. It is available anywhere for cheap. Everyone needs WD-40 in their lives.
Grip Tape
Grip tape is one of those products that solves a problem that you didn't know you had.  I'm guessing that grip tape
is a natural evolution of shooters wrapping their pistol stocks in skateboard tape to improve grip in sweaty, muddy, and bloody conditions.  Many products are marketed with the same goal: to make an easily-applied surface that doesn't permanently alter firearms, yet provides a vast improvement in gripping traction.  I bought HI-TEC GT5000 tape on a whim one day, and it turned out to be a great product.  I originally applied it to a S&W M&P, and it spiraled out of control from there:  I've since applied the tape to rifle magazines, knife handles, flashlight housings, cellphone cases, even my mouse at work…anything that could use more "grip" when things get sweaty or greasy. It's very easily cut to size and shape, and it has an adhesive backing that grips most surfaces very well if they are clean – a little touch with a heat gun doesn't hurt either. There are lots of choices out there, and I'm sure most of them do the same job well.  My sheets of GT5000 cost a whopping $6.99 through Amazon.
Mechanix Gloves
Unless you've been hiding under a rock, you've heard of or seen "the tool that fits like a glove":  Mechanix Gloves.
These gloves have made an enviable name for themselves as hard-wearing dexterous gloves that will protect your hands, yet let you pick a penny off the floor without having to take your gloves off.  There are easily 50 different designs of gloves that Mechanix puts out, from gardening to tactical protected to cold-weather gloves.  I discovered Mechanix gloves about 8 years ago while working construction and needing warm gloves that would let me pick individual screws out of a box. They're not impervious and the fingertips will wear out, but not after they give you a long life of hard service.
I've run a few different styles of Mechanix gloves, but I really like the Fleece Utility gloves for when cold weather sets in, as they are very warm, and dry out quickly. I appreciate them because I can safely flick the safety off my Winchester 70 and manipulate the trigger well, without having to take my gloves off. When it gets warmer and I need added grip and hand protection but would really not appreciate warm hands, The Tactical Vent Covert setup is hard to beat. A pair of rugged gloves for a Get Out Of Dodge setup makes a lot of sense, and a pair of Mechanix gloves will generally run under $30 unless you go for the really high-end tactical gloves.
Wrapping It Up
As you go down the list, I'm sure you can think of other items that offer similar high "bang for the buck" values, or are just good, simple ideas for anyone who might find themselves in a tough situation with just their gear and knowledge to get them by. What budget ideas or products do you know of that you'd add to this list? Sound off in the comments – we all appreciate good ideas and products that don't require a second mortgage!
Stay Safe!
-Drew
---