Not all blogs are created equally, and that's certainly true as far as the survival/preparedness niche is concerned.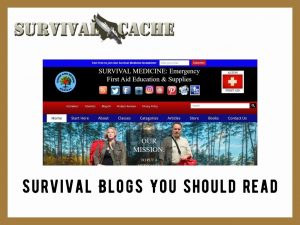 As the way we consume information changes, good content creators will always strive to stay ahead of the curve, broadcasting in the ways that engage and satisfy their audiences' requirements the most. With that said, the 'blog' itself is constantly changing to reflect this.
It's almost impossible not to notice the growing volume of video and audio content that is progressively making headway into the traditional blog space. The definition of a 'blog' now has, in many cases, widened to encompass this progression.
To ensure that the following represent the best in their field, I have curated a selection of both 'new' and 'traditional' blogs that best encapsulate and reflect the many facets of preparedness and its' survivalist culture and wisdom.
I hope that these examples provide a valuable up-to-date reference point to engage, inform and entertain. Whether you're just getting into preparedness or are a seasoned veteran survivalist looking to iron out a few crinkles from your otherwise impeccable SHTF, get out of dodge plan – I believe there's something of value here for everyone. So, in no particular order, here are my top 10:
Best Survival Blogs: Top 10 Picks
I'm kicking things off with the relatively new Field Craft Survival website. FCS is the brainchild of the company's CEO and founder Mike Glover, a charismatic, highly distinguished former Green Beret and government contractor. Mike takes a central role in FCS's extremely on-point, highly polished and relevant video, audio and traditional written content.
He has assembled an impressive team of ex-service personnel who each educate and advise based upon their unique specialties.  From firearms and tactics, mobility/overlanding, medical, communications and bushcraft, the Field Craft Survival spectrum of expertise runs deep and wide. FCS regularly run specific training in the aforementioned areas all across the US. Field Craft Survival serves up valuable methods to boost your preparedness mindset and capabilities.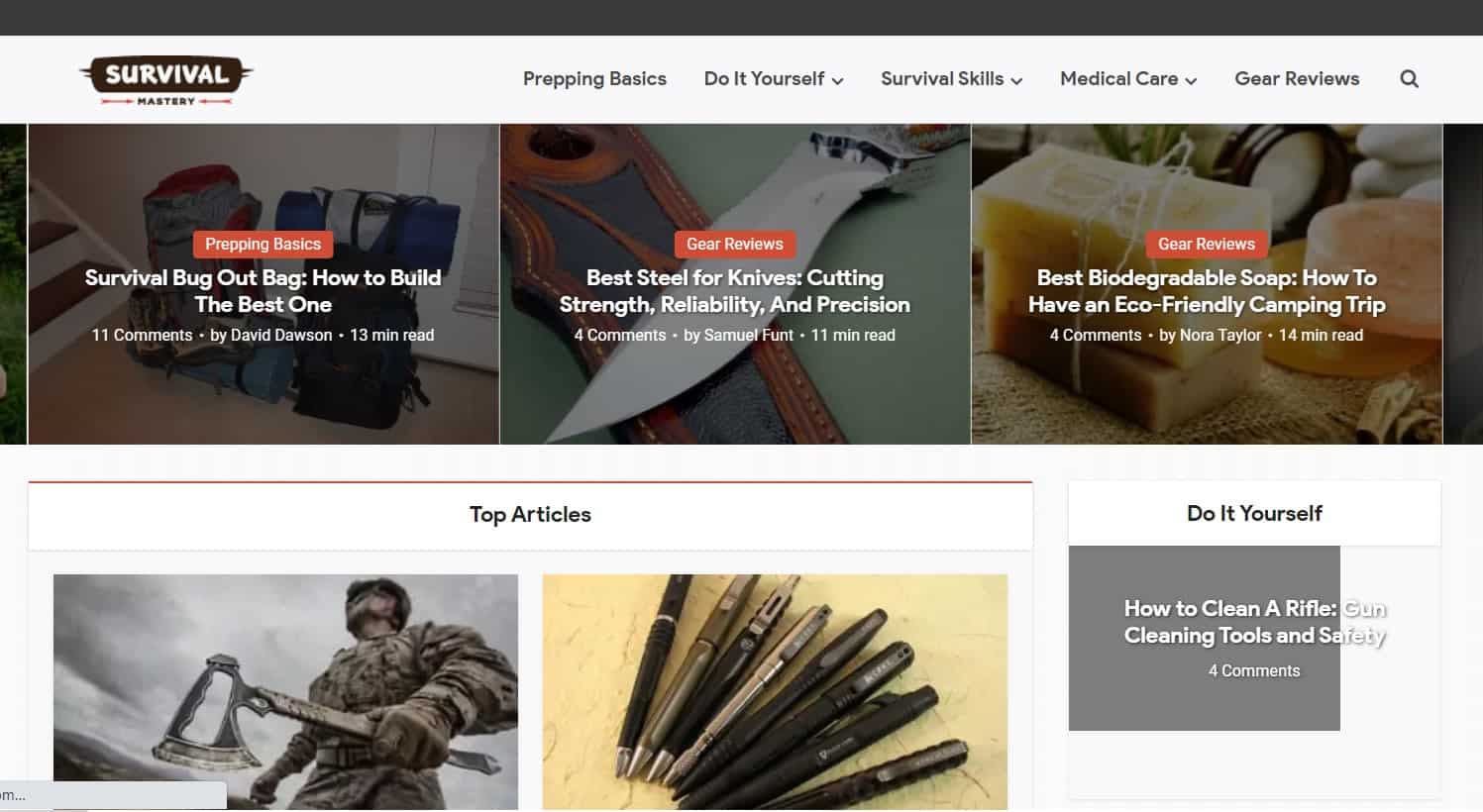 A sleek and intuitive user interface meets well written survival content, with a pinch of good quality infographics to highlight key information thrown in for good measure.
I'm also loving the minimized tabs and menus, something sorely missing from many otherwise solid preparedness sites. A personal favorite area of content on offer here would be Survival Mastery's 'Construction' folder which covers everything from building a standard cellar to a Faraday cage. 
Always mixing a nice degree of humor with serious survival topics, the site's founder John Lovell excels at bringing on interesting experts from a range of professions ; from counter surveillance operators to cyber defense gurus to share their tips for better preparedness.
As with FCS above, Warrior Poet Society produces predominantly video content, as well as weapons and tactics proficiency training, user network forums and a store that stocks their own brand of merchandise. What I particularly like aside from guest interviews with experts, is the dynamic that John takes by including in his wife to weigh in on family survival topics such as home security, gun training and political events as they transpire.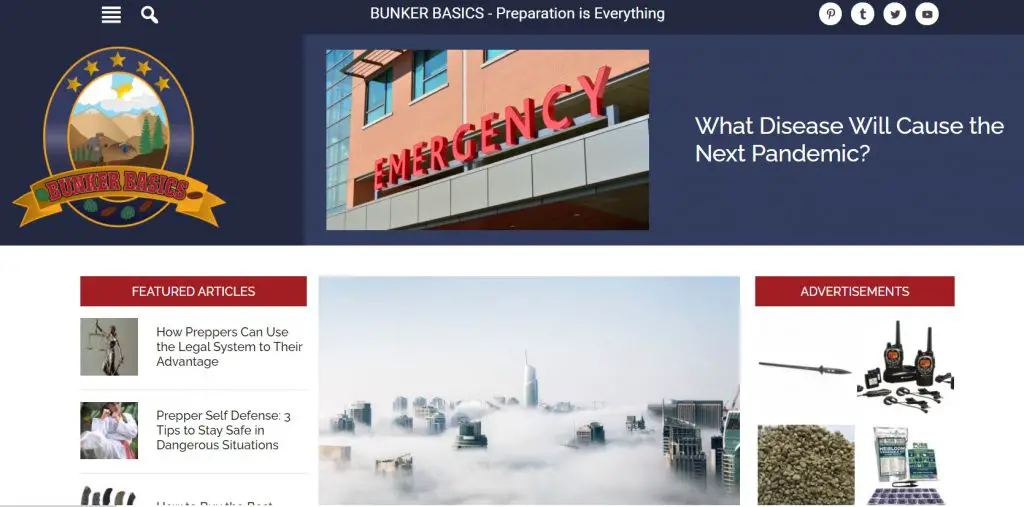 What I'm looking for in this list of recommendations are examples where blogs excel in a number of different areas or have a unique take on some element of preparedness. Bunker Basics provides good solid preparedness advice and a decent amount of coverage on survival gear/products and SHTF scenarios.
But for me where it gets really interesting are the interviews it conducts with a broad spectrum of guests, from survival writers like Jim Cobb to preppers who run their own sites and services, such as Mr. and Mrs. Alton (see entry 10 on this list).  This gives the blog another lens for its audience to gain deeper insights and with another prepper channel presented using soundbites and podcast interviews, it feels like a more authentic experience.
You know you're in good hands when you have a good teacher and this blog shines as an extension as well as a division of The Pathfinder School that was originally founded by Dave Canterbury. For those unaware, Dave is a revered survivalist, bushcraft instructor and New York Times best-selling author for publications including: 'Bushcraft 101: A Field Guide to the Art of Wilderness Survival' and 'Survivability for the Common Man' to name a few.
The blog evokes the spirit of bushcraft while the products listed on the store side of the website stay true to form, with each having earned Dave's seal of approval to be sold. In all, the blog provides a great benchmark for mastering bushcraft skills and techniques while the content produced remains under the careful watch of a living legend.
The founder of this blog is a former marine who goes by the name of simply David. Chances are you're already familiar with his work, even if you can't put a face to a name.  His published "Tiny Survival Guide" is a wealth of survival information shoe-horned into a miniature, folding booklet.
You may even own the survival knife he designed, the MSK-1. If you're still drawing a blank, I strongly encourage you to check out his blog and website. It is a fountain of survival knowledge and the video content he produces has kept him around the number 1 spot on YouTube for a while.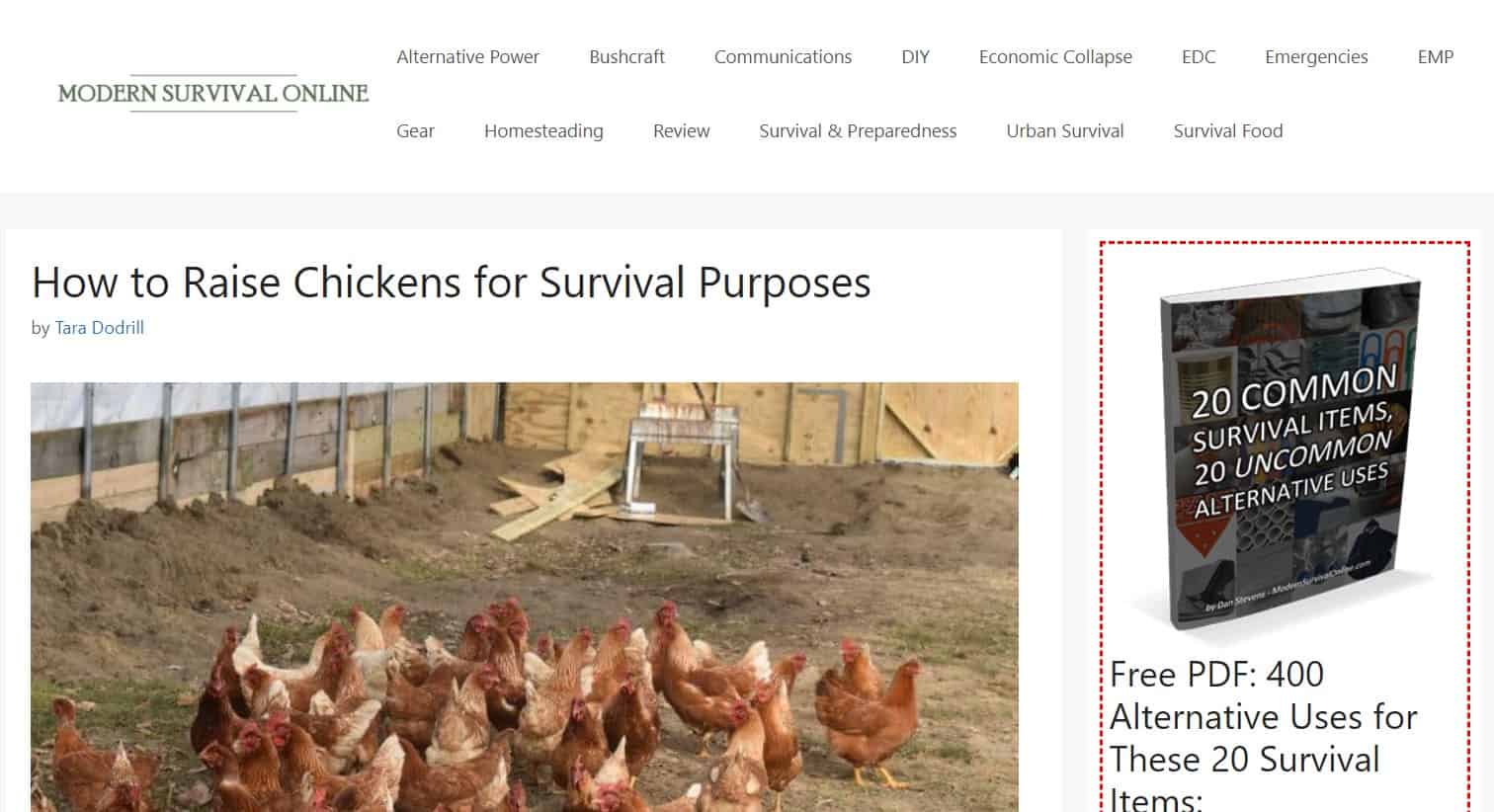 A blog that has been running for over the last decade with a talented team of writers and contributors who each bring their own skills to a healthy range of preparedness topics.  Personally, I really appreciate the quality of the writing and the fact that the wisdom shared is done so in a way that provides a decent level of coverage on a range of topics. 
Even a seasoned prepper will likely be able to plug their knowledge gaps here, while newbies will find information easily accessible and palatable.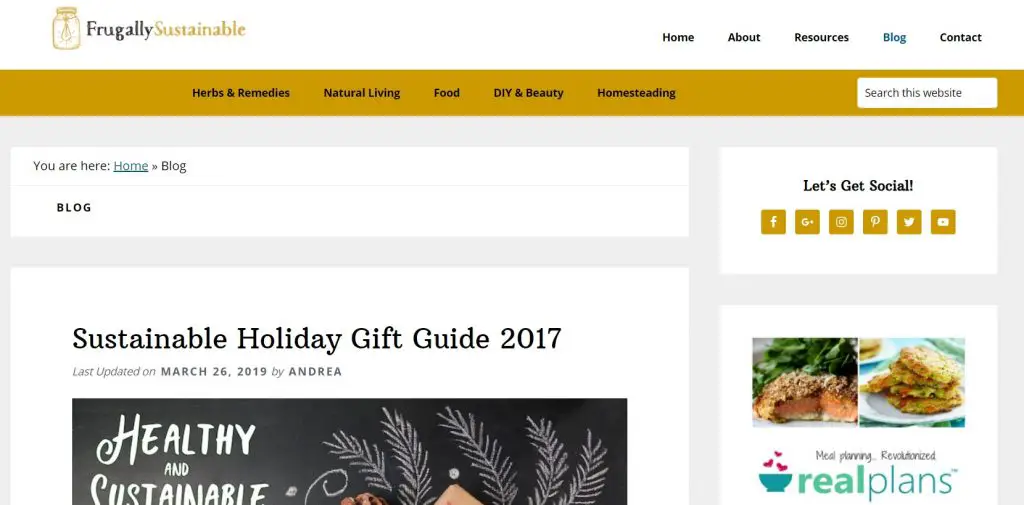 A blog that was started by a registered nurse who grew tired of living in a world where home remedies and practices have largely been forgotten and with it, a growing dependency on consumerism.
Frugally Sustainable seeks to readdress that imbalance. As such, it's a great resource for getting into or perfecting your existing homesteading skills. It's also provides the means for discovering how to put together natural DIY medicines and home health products.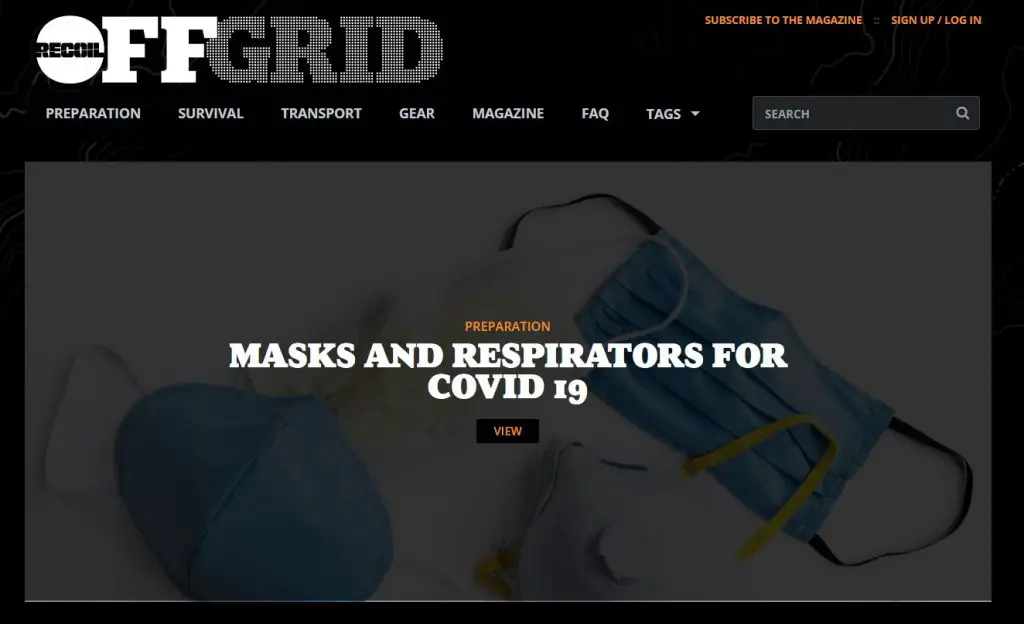 While technically a website and a sister publication to firearm focused 'Recoil magazine', Offgrid does operate and feel like a well-organized blog. Much of its emphasis lies within the self-defense realm. However, there is a great range of content from product reviews, survival and bushcraft how-to's and even bug out vehicle and overlanding suggestions.
Personally, I love the 'What if you found yourself in…' scenarios – where 2 or 3 authors from different specialism backgrounds lay out their preferred method for overcoming a SHTF setting, giving the reader multiple takes on how to overcome the same challenge.
This blog offering from founders' husband and wife duo, Joe and Amy Alton, concentrates on an area of preparedness that tends to get easily overshadowed, that of medical health during a crisis.
Not content to leave their message only within the realm of cyberspace, the Alton's have print published many bestseller guides including "The Survival Medicine Handbook" and "The Ebola Survival Handbook" among others. With a mission goal to ensure there is at least one "medically prepared person in every family for any disaster" the blog provides an excellent means to readdress the imbalance in medical preparedness and given the world's current predicament combatting a pandemic, this area to focus on seems even more poignant than before.