The search for a lightweight hiking tarp for camping was such a demanding task. I needed a quality tarp with a lightweight construction since I naturally hate carrying bulky gear on my outdoor events. After an extensive search from hundreds of tarps, I finally narrowed down to one special tent; No products found.. My decision to acquire this tarp is one of the best I ever made.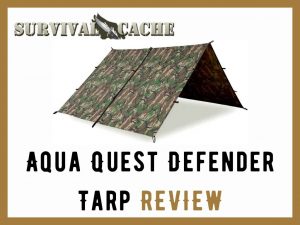 What stood out is quality and lightweight nature. At 4 lbs, you can easily carry it everywhere without straining your body, thanks to the backpack design that this tarp assumes once it's put together for travel.
In this review, I will be sharing with you the in-depth analysis of this tarp based on my six months use. Let us jump straight to see what the tarp has to offer you.
Aqua Quest Defender Tarp Review
It is now 20 years since Aqua Quest started producing the outdoor survival gear. The majority of outdoor enthusiasts have at least used one or more products from Aqua Quest. I have the Aqua-roo, and it has served me for years.
Now, the introduction of No products found. was a thoughtful thing to provide adventure lovers with a solution to scorching sun and also unpredictable downpour. Besides, the installing process is a breeze.
Heavy-duty construction
Whether you are trekking in Nepal, biking in china, or even getting some exotic adventure in the USA woodlands, you probably require a heavy-duty constructed tarp. Remember, the heavy winds from the ocean have no mercy, and using a low-quality tent might be dangerous and regrettable.
This No products found.comes from superior quality 7D nylon with heavy TPU coating. This makes it 100% waterproof. I tested how much the tarp would let in water by creating a small homemade canoe. Surprisingly, the entire interior surface remained dry all through. The reinforced stitching and heated seams ensured the tarp remained waterproof, thereby providing superb defense against mother nature.
I now agree with the manufacturer that the hydrostatic resistance of 20,000 mm prevents even a single drop of water from going through the tarp. So, worry no more if you are having an adventure in extreme weather conditions since this tarp was made for that.
Compact design and portable
This tarp was available for me when I needed it the most. Thanks to the designer for creating a tarp that packs up small. It was easy for me to tuck it away for my outdoor fun activities. Besides, the lightweight nature and backpack design contributed to the ease in carrying.
Size and installation
 I went for the 7×10 type because it was budget-friendly. But, the manufacturer has 10×10, 13×10, and 15×15 sizes. Now, from the sizes, you can easily choose the right one for a single person adventure or a group picnic in the woods.
Installation was a breeze thanks to the 19 reinforced webbing tie loops in and around the perimeter. I took less than 20 minutes to set up my tarp, ready for use. This was swift compared to the previous tarps I have owned. Luckily, you can also set up the tarp in your preferred style. I loved the tent version style. The center loop reinforced the tarp and improved the overall look.
In addition, the versatile tarp also features four corner pockets and two lantern loops. You can keep items safe and use it during the night.
Value and Warranty
I can confidently say that this tent serves the intended purpose. From the 15 outdoor events I have had, this tarp has always been my half home. Overall, the quality is impressive, although the prices are on the higher end. Nevertheless, I never regret the decision to try out this tarp, and I am confident it is going to serve me for a couple of years.
The warranty is also irresistible; it has a lifetime warranty. Besides, the company has a very reliable customer service based in the Pacific Northwest. They provide a toll-free number for you to voice your concerns. I bought the tarp without any second thoughts.
Pros
Made from superior quality materials hence durable
Waterproof thus great for extreme weather conditions
Has enough loops for easy installation
Comes in a variety of sizes to suit your needs
Lightweight and folds into a backpack for easy transportation
Cons
It is expensive
Requires poles to give it a shape
Customer sentiments
One satisfied customer said that the tent is waterproof, and he believes nothing comes closer to this model.
Another buyer also liked the tie-down points and loved the final shape configurations he could make from the tarp.
Lastly, one user wondered why it took her so long to buy the functional tent. She says that she could feel the quality with every touch.
---
Other Common Questions
Q: Does this tent offer privacy?
A: Yes, this depends on your preferred set-up-style. Mostly, privacy comes with the tent set-up-style as compared to the open style. Besides, the tarp is camouflage and will hide you deep in the woods.
Q: How long does it take to set up the tarp?
A: This will depend on your speed. Luckily, the installation gear is available, and the loops ensure that you have a stable structure. It takes me 20 or fewer minutes to have it complete for use.
Q: Is the tarp easy to clean?
A: Yes, in most cases, I use a wet cloth to clean the mud from the tent. This wipes clean, and no traces of dirt remains. It is a simple and DIY task.
Q: Which is the best size for a group of five?
A: If you are on a camping trip, you might consider the 15×15 option. This is spacious for a group and will allow you to play and relax.
---
Conclusion
All in all, I am a happy outdoor enthusiast and can't imagine myself without the No products found.. I am still using Defender Tarp and discovering more advantages. In the market where hundreds of tarps are at your disposal, it is an uphill task to get a functional one. Therefore, try out this tent that comes in a variety of sizes for you to choose what works for you.