The AR-15 Discreet Carry Kit from TAC2 is a barrel removal system and fore end used to break down any AR-15 to fit into a brief case but still be available for quick re-assembly. We have some specs on the conversion kit, pictures, a video and some ideas for practical survival applications.
Specs
First, what is the thing? According to the Tac2 website:
TAC2 – DISCREET CARRY AR15/M16 KIT – This is a "no tools required", barrel changing system, designed to work on your current AR15/M16 rifle/carbine. The system is designed to use a low-profile gas block, and allows your AR15/M16 to be broken down into three major components, for quick barrel changes, as well as covert concealment (DISCREET CARRY), or storage. A 16-inch barreled AR15/M16, with a collapsible stock, red dot sight, and two 30 rd. mags. can be carried in something as small as a briefcase. Full assembly and loading to firing condition can be accomplished in less than 30 seconds, with ease.
Parts:
QC (Quick Change) Barrel nut and lock plate
a 7-inch or 12-inch free float fore-end
fore-end lock ring
all made from 6061 T6 Aircraft aluminum, and black anodized
Pictures
Here are some pictures from Dry-Fire.com, who sell the kit along with a couple of briefcase options. Their basic kit starts at $225, and is $250 if you include a leather briefcase with pre-cut foam. (Click for Larger Pictures. All Pictures are from Dry-Fire.com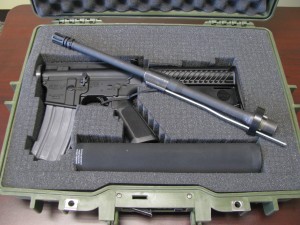 Survival Considerations
Obviously, there are some survival situations where you don't want your AR in a briefcase in pieces, but other times it just might save you, or at least allow you to hold on to your gun.
In an urban survival situation you will be just another business person with a briefcase, (and hopefully an Urban Survival Bag). I really don't have to tell you how important it will be in a time like that to keep your weapons private until absolutely necessary. You could also use it to avoid a martial law type gun collection like was used after Katrina.
Video
This video also comes from Dry-Fire.com What really impressed me was how thin and normal looking the briefcase appears. Also, I read a comment by the designer of this system, and although they advertise 30 seconds or less assembly, he says you can do it in 15-17 seconds easily with some practice.
FAQs
Can you carry this in your vehicle?
A: Yes. For a firearm to be transported in a vehicle, most states require that the the firearm be unloaded, broken down or placed in a proper firearm case (not including a CCW) Since the AR is broken down and in a case it covers both of the above requirements, but always check your local laws first to be on the safe side.
Can this be carried on an airplane?
A: Firearms must be checked and placed in lockable containers, and abide by all other airline regulations. Weapons of any kind are prohibited from being carried onto almost all commercial airplanes.
What is the advantage of having this kit?
A: It allows an AR to be carried in a "broken" down state but quickly reassembled.
What Do You Think?
Many people will immediately think of problems with your optics, which is the obvious problem. However, the designer says
My personal gun has an Eotech, and will go back to hitting a 1″ paster at 25yds. with ease, and an 8″ plate at 150yds.
Would you use this system?