Experienced shooters know that finding a steady rest for your rifle is key to good accuracy. Most shooters quickly learn that the steadiest position by far is shooting prone with the rifle supported near the muzzle. Accessory manufacturers understand the need for control. Their answer to the problem of a steady hold and controlling an AR-15 from other positions is the bipod foregrip.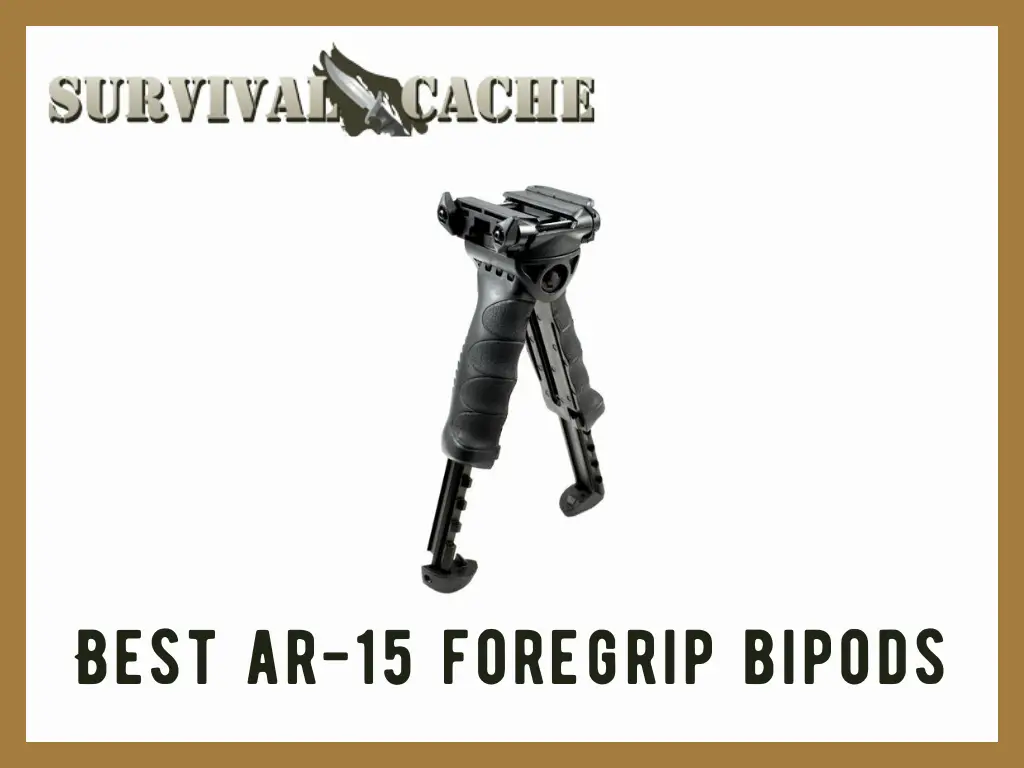 Bipod foregrips offer shooters options. When firing from a resting position such as seated or prone, the bipod part of the foregrip supports and steadies the rifle's muzzle. The vertical grip that houses the bipod allows much greater control of the rifle when moving or during close-quarters operations.
This article will look at several of the most popular vertical foregrip and bipod combinations and discuss each choice's pros and cons. I will admit that a vertical foregrip/bipod combination is not for everyone. As with any compromise, there are tradeoffs to be made to achieve a functional design.
How to Shop for A Foregrip Bipod
Before you add a foregrip bipod to your AR-15, there are some factors to consider. Understanding your shooting habits, expectations from a foregrip bipod, and how a bipod may affect your rifle is important. You should stop and give some thought to the following criteria.
Weight
An AR-15 is, by nature, a rifle designed for movement. Every time you add another accessory to your rifle, the additional weight becomes a factor. All AR-15's tend to gain weight over time. We add a part here and another accessory there, and, without realizing it, we have added 4 or 5 additional pounds to our rifles.
Weight distribution also becomes a factor. Bipods work best when mounted as close to the muzzle as possible. The location on the rifle for a bipod/foregrip combination involves compromise. The vertical grip may not be in the proper shooting position with the bipod toward the muzzle for stability. The further forward the bipod is positioned, the more it affects the balance of the rifle.
Height
An effective bipod puts the rifle in perfect alignment with the shooter when firing from the prone position. An adjustable-height bipod is preferable to achieve a perfect shooting position. Unfortunately, many less expensive foregrip bipods don't offer these kinds of adjustments. The bipod legs must fit inside the vertical grip limiting the height and adjustability of the bipod.
Functionality
Functionality is often an overlooked factor when purchasing a foregrip bipod. If you must use both hands to deploy or retract the bipod into the grip, you probably will soon quit using the bipod at all. It becomes too cumbersome. Ideally, the bipod should deploy and retract automatically using one hand.
Construction
Any accessory attached to the forward rail of an AR-15 must be well constructed. I have seen many vertical grips broken from a forward rail when a rifle drops or during a rough landing after a fall. The construction of the foregrip bipod includes the material used. Questions about durability and maintenance are also part of the construction of the bipod foregrip.
---
My Picks for the Best Foregrip Bipods for Your AR-15
There are many foregrip bipod options on the market. As with any sort of aftermarket accessory, there is a wide range of quality and price available. I examined a range of these foregrips to help you grasp what is available, the pros, cons, and options.
The Ultimate Foregrip Bipod – Grip Pod
At the very top of my list is the Grip Pod. Grip Pod Systems, LLC does one thing. They build foregrip bipods. Focusing on one product gives Grip Pod an advantage. With only one product to manage, the company can pay attention to design, engineering, and manufacturing details. The result is a superior product.
A single product line also allows GPSI to offer a wide range of foregrip bipods with features specific to the needs of law enforcement, the military, and other groups with identifiable special needs. This list of foregrip bipods with special features include:
GPS.LE – Law Enforcement Model – The LE Grip Pod model comes with many of the same features as the military designs but with hardened space-age polymer legs. The use of polymer in the legs makes the law enforcement models slightly lighter and quicker to maneuver than their military siblings. The LE version of the Grip Pod is available in black or desert tan.
GPS.02 – Military Model – Combat is a tough and unforgiving environment. The military edition of the Grip Pod System is designed specifically for the challenges of combat scenarios. The stainless steel reinforced legs and glass-reinforced polymer construction ensure rugged and dependable performance under the most extreme circumstances. The military edition is available in black, desert tan, and multi-cam  patterns
GPS.01SAW – Military Model (designed for the military squad automatic weapon systems) – Heavier weapons such as the squad automatic weapons system used by the military demand stronger accessories. The GPS.01 SAW model of the Grip Pod System is designed specifically for this call of man-portable heavier weapons. The aluminum extruded legs are tough and strong while remaining light. The GPS-01SAW is a great choice for lighter weapons that see extreme conditions and use.
Whatever your needs,  the Grip Pod options are adaptable to meet the specifications of your application. The features included in the Grip Pod design attest to the attention GPSI has given to shooters' needs.
Features
Fast Leg Extension as quickly as two-tenths of a second
On button deployment
Quick detach lever versions available
Weighs only 7 ounces
Single or dual light mount systems available as additional options
Weight tested to withstand 240 lbs. on the extended bipod legs
Tested and approved by many military and law enforcement organizations
Constructed from glass reinforced polymers
Each leg incorporates a stainless steel insert encased in polymer
Specifications
Length Closed – 5.75 inches
Deployed Height – 8.25 inches
Deployed Width – 7.25 inches
Diameter – 1.75 inches
GPSI holds patents on many of the innovative features of the Grip Pod system. The quality of the design, manufacture, and support of these foregrip bipod systems gets Grip Pod our Ultimate Best AR-15 Foregrip spot.
Best Overall Choice for Most Shooters –  FAB Defense T-Pod G2
FAB defense is well known for its aftermarket accessories for many firearms. I have used FAB Defense products on many firearms and remain impressed with their quality and thoughtfulness of design. FAB Defense is an Israeli company and works closely with the Israeli military and police forces to design and produce a wide range of tactical products.
The FAB defense T-Pod G2 is a perfect example of allowing the function to control design. Most other foregrip bipod systems have legs that slide in and out of a hollow tube that forms the vertical grip. FAB Defense has taken a different approach.
The vertical grip is the bipod as well. The vertical grip hinges at the top and opens to create the bipod. An extendable leg in each half of the grip gives added length and provides incremental height adjustments. This design provides a wider, more stable profile for the bipod.
The mount also allows the bipod to swivel 40 degrees making it much easier to readjust and acquire targets. Not many vertical grip bipods offer this range of adjustment and movement. These aren't the only innovative features offered by Fab Defense.
Features
Single-button deployment for easy and quick one-handed operation
Unique rotating and tilting mechanism built into the head of the bipod/grip
Adaptable to accommodate a pressure switch for onboard lights
Quick-release Picatinny mount
Independent leg adjustments with five different stops on each leg
The legs are constructed from 6061-t6 hard-coated anodized aluminum
Grips made from fiberglass-reinforced polymers
Easy installation – no gunsmithing required
Available in black, olive drab, or flat dark earth
Specifications
Weight 364 grains
Width – 63mm
Height – 157 mm
Length – 63 mm
Deployed Width – 155 mm
Deployed Height – 211 mm
I love designs driven by function. For me, the FAB Defense T-Pod G2 is a perfect example of this concept. This foregrip bipod incorporates features not usually found on other foregrip bipods. The swivel and tile mount is an example of this. The functionality that these features add to this foregrip bipod is well worth the price.
Best Budget Foregrip Bipod for Your AR-15 – UTG Combat D Grip
When budget concerns weigh in on a foregrip bipod's choice, I almost always look to Leapers/UTG for a solution. Leapers has a full line of aftermarket AR-15 accessories and, in many cases, these are well-built and functional pieces of equipment. Many shooters overlook Leapers products. In my experience, this is a mistake, especially when the budget is a major consideration.
The UTG Combat D Grip with a quick-release deployable bipod is a perfect example. This foregrip/bipod combination features all-metal construction, quick one-handed deployment, and a sleek ergonomic design. The one downside of an all-metal design is the bit of additional weight involved.
Feature-wise, Leapers provides all the features any shooter could want in the UTG Combat D Grip.
Features
Full Metal Construction for durability and reliability
The hard-Anodized coating protects against corrosion
Ergonomic design with contoured finger grooves for a positive grip
Non-slip heat-resistant rubberized coating for stability and comfort while shooting
Side-mounted button deploys the bipod legs for easy ambidextrous operation
Quick one-handed folding quickly stores the bipod back into the grip housing
Textured bipod feet for all-terrain use
Quick-detach level mount
Specifications
Grip Height – 5.1 inches
Deployed Height – 8.0 inches
Weight 12.15 ounces
The one downside to the Leapers UTG Combat D Grip is the weight. This bipod foregrip is heavier than any of the others on my list. The few ounces of extra weight shouldn't be a deal-breaker considering you can put one of these foregrip bipods on your AR-15 for less than $50.
---
My Stand on Grip Bipods
I don't run any sort of vertical grip or bipod on my AR-15 rifles. I see the attractions for many shooters and understand the convenience of having two rifle accessories in one. My personal preference is to keep my AR-15's as light and maneuverable as possible. A vertical foregrip at the front of my rifle seems awkward and makes my rifle seem unbalanced.
I know my opinion flies in the face of many shooter's feelings. Everyone has their preferences and I respect each of them. Finding the best solution in accessories for your rifle is a very personal endeavor. It would be best if you settled on what fits your needs and your expectations.
With that said, were I to find a situation in which I needed a vertical foregrip and bipod combination, my choice would be the FAB Defense T-Pod. I like the design and the way this bipod/grip operates. The reputation of FAB Defense is also a big plus. I think the combination of price and functionality makes the FAB Defense T-Pod a clear winner.
---
Make Your Choice Your Own
Whatever the case, make your rifle and accessories fit you, your needs, and your expectations. Consider the options and weigh in your knowledge to find the best fit for you. Good shooting and be safe.