Part 8: (The Conclusion) So what is the best survival carbine (AR style rifle)?  The answer is whatever is best for you according to your intended uses, budget and comfort level using it in different applications and configurations.  There is no right or wrong answer.
This article is Part 8 and the final post in the Survival Carbine Series.
Read Part 1: (A Little Background)
Read Part 2: (History)
Read Part 3: (Direct Gas Impingement (DI/DGI) vs. Gas Piston Operated)
Read Part 4: (Build Options)
Read Part 5: (Commercially Available Direct Gas Impingement Systems)
Read Part 6: (Commercially Available Gas Pistons Systems)
Read Part 7: (Ammo)
There are quite a number of options when building or purchasing a complete survival carbine/AR15 style rifle and the companies listed in this series are just a small sampling of what is out there.
I wish I had more time and could include more information but I'm sure you'll have fun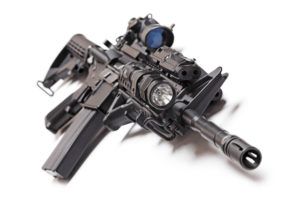 researching more on your own. There are great companies and options that weren't included because of space and time limitations such as SIG, Knights Armament, Bravo Company USA, Charles Daly Defense and some others.
Most of these systems range from very expensive to expensive depending on the model and options you choose, however there are some cheaper options out there that are reputably just as reliable as those listed above (i.e. RRA, STAG, Spikes, DPMS, Bushmaster, etc.), there are also options to build your own using parts kits and conversion kits, a good link for that is here.
Scott Powers has also written a great article on building an AR yourself at an affordable price which is posted on www.snipercountry.com and it can be accessed at this link here.
I encourage you to research and come up with the system that works best for you and that you
feel the most comfortable operating, if you decide to go this direction.
If you have little to no experience with the AR system it probably wouldn't be a bad idea to purchase your first survival rifle as a complete system and the list of manufacturers listed in part 5 and part 6 of the Survival Carbine Series would be a good place to start.
I hope this article helped and good luck deciding what the best AR survival carbine is best for you.
Remember, the future belongs to those who prepare!