In this review I compared two knives made by the same company.  I recently bought the new Bear Grylls Ultimate Knife which is made by Gerber and compared it to the Gerber ASEK LMF II Survival Knife, which I have had for a couple of years now.

Last update on 2020-07-05 at 16:58 / Affiliate links / Images from Amazon Product Advertising API
For this review, I was not able to properly field test the Bear Grylls knife over a period of time or in the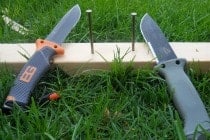 conditions that I would like to simulate a survival situation.  However I was able to conduct some field tests to verify this knife as a viable survival tool.
Bear Grylls Knife Review
Knife Features:
1/2 Serrated High Carbon Stainless Steel Drop Point Blade – Ideal for edge retention and cutting rope
Full Tang Blade Construction– For maximum durability
Ergonomic Textured Rubber Grip – Maximizes comfort and reduces slippage
Stainless Steel Pommel – At base of handle for hammering
Emergency Whistle – Integrated into lanyard cord
Sheath Feature:
Fire Starter – Ferrocerium rod locks into sheath, striker notch incorporated into back of knife blade
Nylon Sheath – Lightweight, military-grade, mildew resistant
Land to air rescue instructions
Diamond Sharpener – Integrated into sheath for on-the-go sharpening
Priorities of Survival – Pocket guide contains Bear's survival essentials
Tech Specs:
Overall Length: 10-Inch
Blade Length: 4.75-Inch
Weight: 11.2-Ounce alone, 14.72-Ounce with sheath
Last update on 2020-07-05 at 16:58 / Affiliate links / Images from Amazon Product Advertising API
Gerber ASEK LMF II Knife Review
Glass-filled Nylon handle with TPV overmold
Over-molded handle successfully limits blistering
Complete separation between the tang and butt cap, so the knife absorbs the shocks from hammering and prevents the shocks of electricity
Smartly situated grooves and lashing holes let the LMF™ II convert to a spear
Includes a low-profile Ballistic Nylon with fire retardant coating sheath that facilitates movement, limits noise, works for parachuting, and attaches to a belt or MOLLE vest
Patented, integrated sharpener
A smaller cord cutter/skinner is also included.
BLADE LENGTH: 4.84″
OVERALL LENGTH: 10.59″
Made in the USA
Last update on 2020-07-05 at 15:28 / Affiliate links / Images from Amazon Product Advertising API
Bear Grylls Ultimate Knife vs Gerber ASEK LMF II Comparison
The Bear Grylls Knife certainly was not razor sharp when I took it out of the package but after a few
swipes on the integrated diamond sharpener (that is included with the knife) it was easily taking hair off of my forearm.  The second thing I noticed was the rubber grip.  It was very comfortable and shaped to feel right at home in my hand.  It made quick work chopping out a notch in a 2 x 2 wood board that I had lying around as well as some fallen limbs in my backyard.  As for fire starting, it shaved slivers off branches with ease and it was just big enough to use as a draw blade.  After creating a small pile of fire tender, I used a small portion of the back of the blade designed to be used with the striker to get a few sparks flying.  At first I was worried that the striker was going to be too small compared with the size of the knife but it worked just fine and within seconds I had a little fire going.  The fire starter is a nice feature that it snaps right into the sheath.
Next I used the pommel to drive a 3 ¾ inch nail into the 2 x 2 wood board, which it did.  It was slightly
uncomfortable holding it with the tip of the blade pointed upwards and driving the handle down like an ice pick, but it worked.  The whistle which is attached to the pommel got in the way while I was trying to use the knife.  I will probably end up taking the whistle off and attaching it to the sheath.  The whistle is of lower quality and far from being a Jet Scream Whistle, but it worked.  The pocket guide is a nice little touch and it "tucks" right into the land and air instructions on the back of the sheath.  You'll have to pry the rubbery pocket to stretch it so the pocket instructions will fit.  However it has the main basics skills you would need to survive if you were lost for a bit and it is always good to brush up on the basics.
The Gerber ASEK LMF Survival Knife has some heft to it, not heavy but you definitely know its there. This weight
came in handy when chopping notches and also hammering the nail.  In order to hammer with this knife you have to have the blade side of the knife in the palm of your hand so remember to wrap something around it before you start hacking away.  This knife too is quite easy to sharpen with its sharpener integrated into the sheath.  The extra rope cutter/skinner I have only used to cut No products found. which it does with ease.  I like the sheath system on this knife better because it has two straps so that you can attach it to your thigh but they are removable if you want it attach to your belt.
Do you want to know what to look for in a Survival Knife?  (click here)
Even though when the Man vs. Wild TV show first came out I was an avid watcher, I have grown a little bit tired of it
and was a little skeptical of what the Bear Grylls Knife would be like.  If it hadn't been made by Gerber I probably would not have spent what I did on it, but I am glad that I did.  Even though I have not had the chance to properly field test it over a few days in the woods I think it is a tough knife with some nice extras for the price.  If you are looking for a new survival knife or just add to the collection I would recommend the Bear Grylls Ultimate Knife, for the money it is a decent knife.
About Bear Grylls: (From Wikipedia) Born Edward Michael Grylls, 7 June 1974) is an English adventurer, writer and television presenter. He is best known for his television series Man vs. Wild, known as Born Survivor in the United Kingdom. He was the youngest Briton to climb Mount Everest, doing so at age 23. In July 2009, Grylls was appointed the youngest ever Chief Scout at the age of 35.  He then briefly attended the University of the West of England where he was a member of the Officer Training Corps.  In March 1997, he joined the British Army and after passing on his second attempt United Kingdom Special Forces Selection, from 1994-1997, he served in the part-time United Kingdom Special Forces Reserve, with 21 Regiment Special Air Service, 21 SAS(R), as a trooper, survival instructor and Patrol Medic
Last update on 2020-07-05 at 16:58 / Affiliate links / Images from Amazon Product Advertising API
All Photos by: B. Lynch