While there are ways to make your own emergency food kit, it takes time, effort, and expertise. If you don't know the right ways to package foods, the kit may not help you when you need it most.
And that's scary.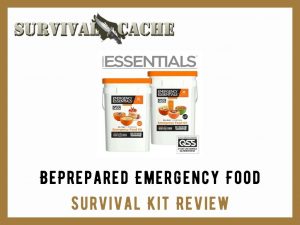 Proper prepping is key to survival in adverse situations, and the BePrepared Emergency Food Kit is an expertly crafted kit that both lasts long and supplies good tasting food in survival situations.
But how good is it really? Is it worth the hefty price tag?
I'll review all of its features to find out.
SurvivalCache special offer: Get 15% OFF

60,300 calories, 25-year shelf-life

Single kit for 2 people

Check Price (15% OFF)
BePrepared Emergency Food Survival Kit Review
Shelf Life
Shelf life is the most important aspect of an emergency kit.
The BePrepared Emergency Food Survival Kit has a shelf life of approximately 25 years, which is considered the gold standard.
But the best part is since the food comes in packs inside a pail, you don't have to worry about the packs opening and the food rotting over time.
However, if you have a survival bag ready for a scenario where you have to evacuate, you can store these packs in it without fear of reducing shelf life by a whole lot.
Each pack inside the pail is designed for consumption right after opening, which means if there are rips or punctures in a pack of food, it won't be usable for long.
But a certain degree of carefulness in handling is required for all survival foods, so I don't consider this a dealbreaker.
Additionally, the kit is QSS certified, which is a mark of high quality.
Storage
BePrepared recommends that you leave the packs of food in the pail, and store it in a cool, dry, and preferably a dark place.
Storage temperatures must be between 55°F and 70°F to maximize shelf life, but you can store these in extreme weather conditions at the cost of reduced shelf life.
For a 30-day kit, it's slightly heavy at 15.29kg. While some 30-day kits weigh a little over 12kg, there are much heavier ones that weigh over 17kg, so I can't complain about the weight.
If you get multiple pails, they will stack perfectly, which is convenient.
But if you're in a scenario where you must evacuate, grabbing the pail will slow the average person down. So, you'd better store it in a spot where you can get it in your car or get it out of your house as quickly as possible.
But the sturdy plastic pails will protect its contents from pests, water, and the elements, leaving you nothing to worry about for decades or until you need the kit.
Usage
The kit comes with a 30-day supply of food for one person. That's three meals a day – breakfast, lunch, and dinner.
The food is preserved using the dehydration method, and you will need to cook most of the packed food in hot water before you can eat it.
You must open the black packets and carefully dispose of the oxygen absorber in the packaging before you cook the meal.
You can use any simple vessel for cooking and rely on the kit as your primary energy source, which is one of the best things about the kit.
SurvivalCache special offer: Get 15% OFF

60,300 calories, 25-year shelf-life

Single kit for 2 people

Check Price (15% OFF)
Contents
The long shelf life and the fact that the foods are so easy to cook are obvious benefits. However, for me, the best thing about the kit is that it comes packed with home-style favorites and not bland beans and rice type meals.
Fourteen different meals, to be precise.
The variety of meals will ensure that your spirits are high, even in an adverse situation. The meals will give you 2080 calories per day, and 48 grams of protein, to keep your mind sharp and your energy levels high.
Here are the details of the meals included in the kit:
| Meal | Pouches | Servings |
| --- | --- | --- |
| Rancher's Black Beans and Rice | 1 | 4 |
| Buttermilk Pancake | 3 | 30 |
| Creamy Beef Stroganoff | 1 | 4 |
| Southwest Savory Rice | 5 | 40 |
| Mushroom Rice Pilaf | 3 | 24 |
| Strawberry Fields Cream of Wheat | 3 | 24 |
| Maple Grove Oatmeal | 4 | 32 |
| Granny's Homestyle Potato Soup | 5 | 20 |
| Blue Ribbon Creamy Chicken Flavored Rice | 5 | 20 |
| Cheesy Broccoli & Rice Soup | 3 | 12 |
| Traveler's Stew | 2 | 8 |
| Orange Energy Drink Mix | 2 | 16 |
| Instant White Rice | 3 | 30 |
| Country Cottage Mac and Cheese | 1 | 18 |
The amount of water you need for cooking differs from meal to meal, but the bottom line is that you will also need to store some water with the food.
Putting 15 gallons of water in storage will be enough to rehydrate all the meals in the kit. Remember to also store water for drinking separately.
But on the plus side, the portions are large, and if the situation is dire, you will be able to survive on less than recommended.
The company notes that your kit may come with different meals based on inventory levels.
But BePrepared also promises to replace food/drink items with items of equal or greater nutritious value only, which leaves nothing to complain about.
Taste
Customers report enjoying the food, and for survival food, the kit has some of the best meals you will find in the market.
Don't get me wrong, it doesn't taste like a top chef cooked the meals, but in comparison to survival tabs and food bars, the meals are a lot more filling and yummy.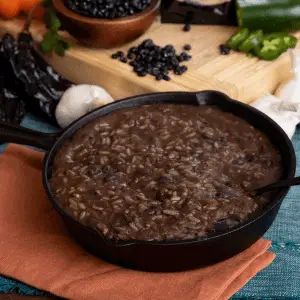 The Rancher's Black Beans and Rice is a customer favorite – the hearty portion and great taste make it one of the kit's best meals.
I like that the company included some comfort food. The Country Cottage Mac & Cheese will make me feel a lot better in a survival situation.
The pack also includes an orange drink mix, which not only tastes refreshing but is also rich in nutrients and minerals. It'd be a great way to start the day.
SurvivalCache special offer: Get 15% OFF

60,300 calories, 25-year shelf-life

Single kit for 2 people

Check Price (15% OFF)
---
Pros and Cons
Pros
Some of the best tasting survival meals in the market
25-year shelf life
Robust pail protects from pests, water, and the elements
Can be stored in extreme weather conditions
Cons
Heavy pail
Not ready to eat; most meals require water to cook
---
Open Questions About BePrepared
Q: Are meals individually wrapped?
A: Yes, each meal is individually wrapped, and you can store it in a different container/bag safely.
Q: Do the meals contain nuts?
A: None of the meals contain nuts, and you can safely consume them if you have nut allergies.
Q: How much water do the meals require?
A: You may need up to five cups of water per meal.
---
My Video Review
Here is my detailed video review of the product:
---
Verdict
The BePrepared Emergency Food Survival Kit is easy to recommend for a lot of reasons:
When I look at other survival foods like food bars and tablets, it's difficult to tell how I'd feel if I only ate those.
But knowing that my survival food kit has food that I will enjoy is very comforting. The kit also ensures that the meals give you the nutrients you need to make it through.
The pricing seems fair for what you get – generous portions of 14 different meals, all sealed professionally with oxygen absorbents. If you're one who doesn't know much about preparing survival food kits, you can blindly get this kit – it will help you when you need it most.
SurvivalCache special offer: Get 15% OFF

60,300 calories, 25-year shelf-life

Single kit for 2 people

Check Price (15% OFF)