I don't know about you, but knives are one of those gear items I just can't get enough of. They are incredibly versatile and nowadays, there are so many different designs, new materials being used, and innovations that one could spend a lifetime testing out this classic tool.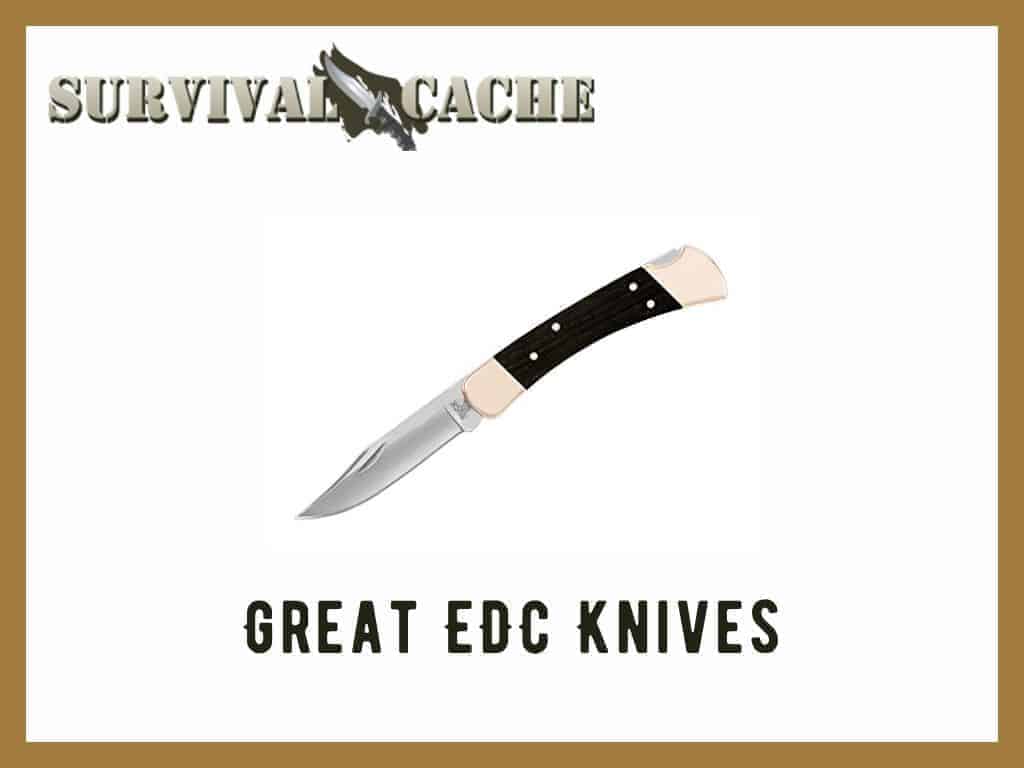 With so many to choose from I wanted to take a moment to share four of my recommended best EDC knives, some older and some more modern. A quick note, for this article I will be focusing on folding pocket knives.
Best EDC Knives: My Top 4 Picks
Let's take a look at four great pocket knives that I have carried off and on for years. Here are my top picks at a quick glance:
Specifications
Blade length 3 ¾"
Blade thickness 0.12"
Blade material is S30V
7.2 oz
Leather sheath with convenient belt loop
Made in the USA
Lock back mechanism
Pros
Nail notch on the blade for easy opening
Lock blade for safety
Easy to sharpen
Affordable
Cons
Two hands for closing. The blade can be closed one handed but in my opinion two hands should be used.
Here are pictures of my personal Buck 110 Folding Hunter knife:
This is the classic knife from my childhood. It is the knife that comes to mind when thinking of my grandpa sitting on the porch cutting slices of apple for his afternoon snack. This knife was introduced to me at a young age by my dad and his dad. It's sturdy construction and simple design allow for comfortable use in everyday tasks. I have bought several of these throughout my life and they always come razor sharp right out of the box. Even after hours of cutting this knife is quite easy to sharpen back to that perfect edge.
It may not have some of the modern attributes we have come to expect but after being around for fifty years, this knife is still a top seller. It is beautifully crafted and it gets the job done.
Last update on 2021-10-24 at 22:52 / Affiliate links / Images from Amazon Product Advertising API
Specifications
Weight 6.5 oz
Overall length 4"
Made from stainless steel
Scale material ABS/Cellidor
Pros
Extremely versatile
Extra tools included
Affordable
High quality
User friendly
Great for all ages
Cons
Not as durable as a single use tool, such as just a knife or just a pair of pliers
Is bulkier than a regular pocket knife
No locking mechanisms for the blade or other tools
Many of the tools cannot be opened one handed
Here are some close-up pictures of my SwissChamp:
Many times while talking with people I find out that the Swiss Army Knife was their first knife as a child. And that story is no different for me. A knife by itself is versatile but a Swiss Army Knife can put a whole toolbox right into your pocket.
There are so many great models to choose from that it really is hard to pick just one knife from Victorinox. But, when push comes to shove I will always go with the Swiss Champ.
The SwissChamp has always been my favorite modeldue to the amount of tools included and its compact size. I couldn't even begin to guess the hours I have spent with this knife tinkering away, completing outdoor projects, fixing things around the house or starting a campfire with the magnifying glass. Featuring thirty-three tools and an endless amount of uses, there isn't much I can't accomplish when I carry my Swiss Champ. 
Last update on 2021-10-25 at 08:52 / Affiliate links / Images from Amazon Product Advertising API
Specifications
Blade length 3.13," blade thickness is 0.12"
Weight is 3.8 oz
Plain cutting edge
The 8Cr14MoV blade is coated in titanium Nitride
Handle material is made from G10
Pros
High carbon stainless steel blade
Liner Lock for safety
Light weight
One handed opening and closing
Pocket clip
Due to the open frame, it is easy to clean
Cons
In my opinion, a bit pricey for a pocket
Here are pictures my of my CRKT G10:
I have always liked CRKT knives but this model has stood out. The knife started out as a general every day carry knife but it soon turned into a work knife. I have cut my way through carpet, cardboard, rope, tubing, straps and it still maintains a good edge. I have dropped this knife from ladders, off of a roof, run over it with my truck and it has been through the washing machine more than once. Yet, it feels just as solid as the day I bought it. About the only thing that has loosened up over time are the three small screws attaching the pocket clip to the frame. They are not difficult to tighten but a bit of an annoyance as the hex head screws are very small.
Last update on 2021-10-24 at 22:52 / Affiliate links / Images from Amazon Product Advertising API
Specifications
Blade length 4 ½" blade thickness is 3.5mm
Overall length 10 ¼"
Blade material 420 stainless steel
Handle material is German 4116 Stainless Cryo Quenched
Pros
Has Cold Steel's Ram Safe Lock
One handed opening
Pocket clip
Will not open in your pocket
Razor sharp with great edge retention
Affordable
Easy to clean
Maintains edge. Easy to sharpen
Cons
Requires two hands to close
Due to its size and the blade closing method, it is not for everyone
Here are close-up pictures of my Cold Steel Pocket Bushman:
I am not one to judge a book by its cover but the first time I saw this knife it just looked like a hunk of metal. Once I got my hands on it I realized that it is a no nonsense, no frills, hunk of metal, and I mean that in a good way. The handle is a single piece of steel rolled over with no scales or mosaic pins to speak of. The handle houses the blade and the Ram Lock feature that locks the blade in place when it is fully opened.
Coming in at over ten inches long when fully opened, the Bushman is probably one of the largest folding knives I have ever carried. For years now I have used this knife in all manners of tasks and I am still amazed that it feels like a fixed blade when in use. It was razor sharp out of the box and maintained that edge longer than most knives I have used. Even though I have used this knife a lot it is the one knife I have sharpened the least.
The locking mechanism is tough and has held up to a lot of abuse, but I don't personally care for the two handed requirement for closing. In, fact at times it seems a bit unsafe. The way this works is that there is a small hole at the bottom of the handle. A piece of cordage (paracord) is threaded through and tied off to make a loop. When I am ready to close the blade I have to pull on the cordage with my right hand while either holding onto the spine of the blade or the handle with my left hand and then the blade can be closed. It is a bit awkward the first few times. But considering the insane underpricing of this blade and how much I have used it, I can look past the detail of the locking mechanism.
For those interested, we did a more deep-dive review of the Cold Steel Pocket Bushman.
Last update on 2021-10-25 at 07:42 / Affiliate links / Images from Amazon Product Advertising API
---
EDC Knives Buying Guide: What I look For
Uses
How the knife is going to be used is definitely something that needs to be considered. Am I going to be slicing open boxes and cutting cordage or straps, maybe I'll be using it more for food prep? Am I going to be using a knife just a few times a day or is it going to be used frequently? Thinking of questions like this will help in choosing a design that better suits me and my needs.
Size
Size of a knife comes into play for two reasons. The first has to go back to the above of what I will be using the knife for. The second has more to do with local laws. Many areas now classify a knife over a certain length as a concealed weapon. This is a situation where size does matter so be sure to check your local laws before purchasing.
Material
The material a knife is made from is going to affect many things. How well it will hold up to the elements, ease of sharpening, weight and durability. I like to purchase items that will last me a long time and can be passed down to others, so what it is made from is an important factor. But if you are looking for a "throwaway knife" then this doesn't really matter.
Price
Price is a bit of a catch 22 for me and I generally have the belief that I get what I pay for. Having said that, I don't' want to spend three hundred dollars on a knife when a twenty dollar knife will serve the same purpose. But price range really is a personal choice. So, weigh all of the options of the above categories to determine what price range is best for you.
---
Wrapping it up
These are but four of the best EDC knives I have used in my lifetime. I hope to share more with you soon and as always thank you for taking the time to read this article and please feel free to leave a comment or question below. Stay sharp!
---