A knife is one of the most important purchases you can make. In a survival situation, there is not much you can do without a knife. Fortunately, there are tons of knives being made to suit a variety of needs, including survival situations.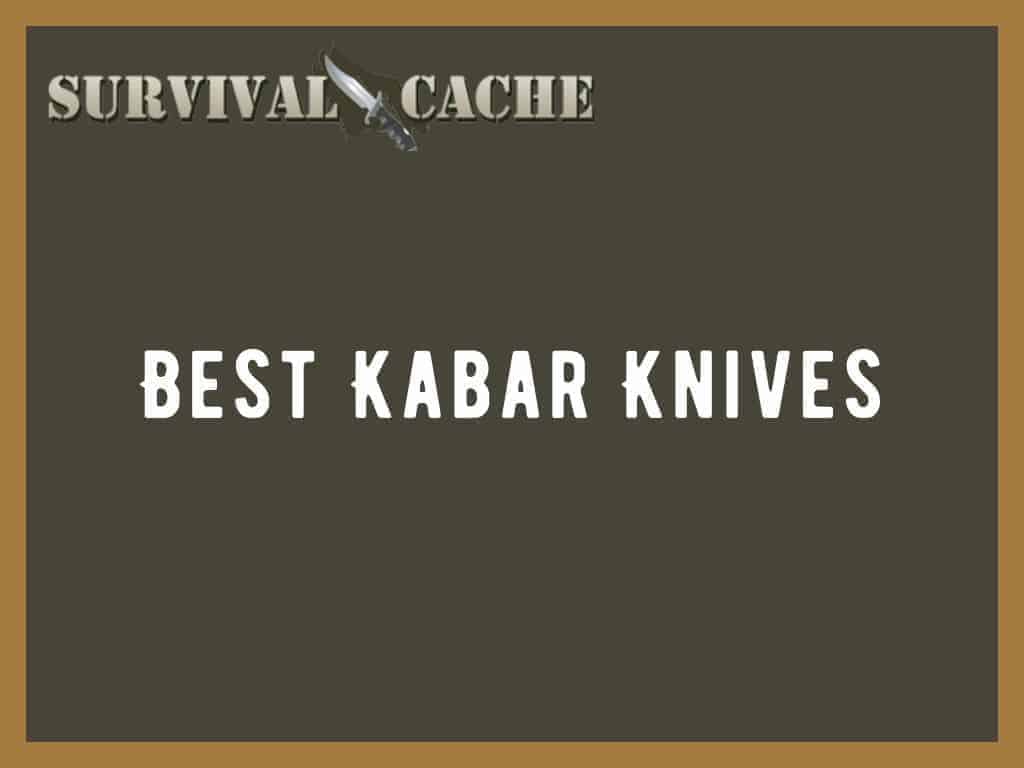 With so many knives on the market, it can be incredibly overwhelming to chose which one would work best for you and which knife is the best in general. Fortunately, the stress of scrolling through knives to buy is over. In this article, we will be discussing the best Kabar knives.
Before we get to the review, here are our top picks at a quick glance:
KABAR KNIVES
DETAILS

Durable 1095 Cro-Van steel

Leather handle plus sheath combination creates a classic look

Check Price on

Amazon.com

Can replace the machete and combat knife in your arsenal

MOLLE compatible

Perfect for clearing bushes, trees, etc outdoors

Check Price on

Amazon.com

Great for close-quarters combat situation

Lightweight at only 0.2 pounds

Check Price on

Amazon.com
Best Kabar Knives: My Top 5 Picks
If you are looking for a knife to throw in your bug out bag, to add to your collection, or to have as a self-defense option, look no further. The KA-BAR full-size US marine corps fighting knife might be one of the most popular KA-BAR knives on the market. It was designed for US Marine Corps to use in World War II and it hasn't let down anyone since.
From the blade to the sheath, this knife was designed to keep you safe and look good while doing it. It features the classic fixed blade design and comes with a sheath made out of 100% genuine leather.
All 7 inches of the USMC KA-BAR is made out of 1095 Cro-Van steel. The blade has a clip point shape and the edge angles at 20 degrees. The entire knife is just under 12 inches long and comes in at 0.7 pounds.
Pros:
The 1095 Cro-Van steel is incredibly durable and can hold a sharp blade for a long time.
The leather handle and leather sheath combination create a classic look and a comfortable grip.
The knife is large and durable enough to get the job done but it isn't overly heavy.
Cons:
At almost a foot long, this knife could be a little awkward to carry every single day which could make having it as a defensive knife kind of pointless.
The Kukri isn't the most common or even popular style knife on the market. It is, however, one of the most unique and versatile knives you should have in your arsenal. This knife is the little brother of the incredibly unique machete. Machetes are incredibly useful but they can be kind of awkward to carry and use in certain situations. KA-BAR took the machete and cut it down to 80% of its regular size and made the Kukri.
This is a great option if you are looking for a field knife. It can be used in a combat situation, but it can also be used to make shelter and power through trails by clearing brush that is in your way.
Similarly to the USMC knife, this blade is made out of 1095 Cro-Van steel and comes in at around 8 inches long. The edge angles art 20 degrees and features the unique Kukri shape. Overall, the knife is a bit over 13 inches long and weighs in at 0.9 pounds. The handle is made out of a lightweight but comfortable to hold Kraton G material, and the sheath is made from a heavy-duty polyester that is MOLLE compatible. The knife, handle, and hearth is all black for a modern and combat-ready appearance.
Pros:
The Kukri knife is versatile and reliable enough to replace the machete and combat knife in your arsenal.
The sheath is Molle compatible which is important when dealing with survival gear.
If you are looking to make camp or shelter it can be great for clearing small trees quickly.
Cons:
Kraton is a synthetic alternative to rubber and it can feel somewhat cheap compared to a leather or wood handle.
Can replace the machete and combat knife in your arsenal.

MOLLE compatible.

Perfect for clearing bushes, trees, etc outdoors.

Check Price on

Amazon.com
In a combat situation, you are almost always going to want to keep your distance. However, in a lot of cases, you simply don't have a choice. That is where this next knife comes in. The KA-BAR original TDI knife is without a doubt, one of the best compact knives on the market.
This knife was designed for law enforcement to use if a suspect is attempting to harm the police officer and the officer cannot get to their firearm. The knife is incredibly well-concealed due to its unique and compact design.
The blade is a drop-point fixed blade made out of AUS 8A stainless steel while the handle is made out of Zytel, heavy-duty nylon that is heat and impact resistant. The knife comes with a sheath that is made out of heavy-duty hard plastic and a belt clip that is reversible and blends in with the knife and sheath. Overall, this knife was designed to be hidden and only to be used as a last option.
Pros:
This knife is without a doubt one of the best options for a close-quarters combat situation.
It is incredibly lightweight at only 0.2 pounds and easy to conceal.
The sheath is heavy-duty and features a clip to keep it securely attached and yet easy to grab when needed.
Cons:
This knife is very specific and might require training or practice to be able to use it correctly.
A knife that you can carry on your day after day without really noticing it is an investment you can't really put a price on. Fortunately, the Becker Remora is incredibly affordable and will probably be the knife you reach for most.
This knife is incredibly small and lightweight. It can be tucked into a pocket, hung around your neck, or attached to your gear without you ever really noticing it is there. Don't underestimate it because of its size. This knife is durable and isn't likely going to be letting you down anytime soon.
The knife comes in at 0.1 pounds and is just over 5 inches long. The blade is a drop point style fixed blade made out of 1095 Cro-Van steel. The handle is also made out of 1095 Cro-Van making it really hard to break. KA-BAR includes a hard plastic sheath to keep the blade and your fingers protected.
Pros:
It is incredibly lightweight and compact which makes it a great option to carry on hiking or hunting trips.
The entire knife is made out of 1095 Cro-Van steel so it is a great little knife for some of the more durable tasks.
Cons:
The skeleton style handle can be somewhat tricky to get used to if you have never handled it before. When using it for more durable tasks gloves can make it a bit more comfortable. Others have wrapped leather or cordage around the handle to make it easier to use.
The KA-BAR Marine Hunter might be one of the most beautiful knives that KA-BAR has ever made. Leather handled knives have been around since the 1900s and show no sign of losing popularity any time soon. With that said, the knife is just as useful as it is easy on the eyes. The knife is designed to be used primarily as a hunting knife but if you are more of a fisherman or are looking for a knife for basic field use, it can get the job done.
At 10.75 inches long, it looks like it could pack a little bit of weight. Fortunately, it only comes in at 0.45 pounds. The clip point shaped fixed blade is a bit under 6 inches long and is made out of DIN 1.4116 stainless steel. The handle and sheath are made out of a high-quality leather
Pros:
The leather handle, brass guard, and red details in the handle make for a classic looking knife that will patina over time.
The knife is very versatile as it can be used for hunting, field use, or everyday tasks.
The overall length and weight of the knife is the perfect size for an everyday carry fixed blade.
Cons:
KA-BAR is relatively well-known for making knives in the USA. However, this is one of the exceptions that is made in Taiwan which might be a deal-breaker for those looking for an American-made knife.
Classic looking with leather handle, brass guard.

Versatile as it can be used for hunting, field use, or everyday tasks.

Check Price on

Amazon.com
---
Kabar Knives Buying Guide
When choosing a knife, there are a few essential details you can look for that will make your decision a bit easier. Some of these details will have to do with the knife and what makes it good and others will be about you and your needs.
Usage
This is by far the most important aspect you need to consider when buying a knife. Are you looking for an everyday knife that can help you with daily tasks or a knife that is designed for a combat situation? How you plan to use the knife will determine the size, the type of blade, the materials of the knife and all of its features, and how it looks.
Size
Knives should never be uncomfortable to handle or carry. If your hands aren't that big and your wrists are somewhat weak, you probably shouldn't be carrying around a really heavy and long blade. A knife that is uncomfortable to use, is also unsafe to use. If you can't properly maneuver the blade, you could end up hurting yourself while doing really simple tasks.
Besides comfort, some countries and states will have different laws on what size blade you are legally allowed to carry on you. If you plan on using your knife as an everyday carry or simply just want something to keep in your home, definitely brush up on your local laws to make sure you won't get in trouble.
Blade Style
Every knife manufacturer offers different style blades for different tasks. You might be wondering if you need a tango point, straight back, or drop point. Fortunately, each blade style comes with a specific task that it excels at which will make choosing the blade style a lot easier.
For example, if you are looking for a strong knife that doesn't necessarily slice as well as it can stab, the tanto style blade is definitely the best one for you.
Type of Knife
There are almost as many types of knives as there are brands making knives. One of the most important decisions you can make when choosing a knife is figuring out the type of knife you want.
Fixed blades, folding knives, kukuri, the options are almost endless. If you are looking for something to carry every day, a folding knife might be a better choice than a fixed blade. However, if you are looking for a fixed blade but want something light, a fixed blade with a skeleton style frame is a really good option.
Materials
The materials are without a doubt the bread and butter of any knife. You might know what you need the knife for, the size you want it in, and even the style and type of knife. However, materials will really decide if that knife is something you will pass down to your grandkids or something you will need to replace in a year. Most knives are made out of steel and have a plastic, wood, steel, or synthetic handle. These are all details that you are going to want to think about before making a final choice.
Appearance
Last but not least, appearance. Knives are beautiful, In my opinion, some of them could even pass as art! There are so many passionate knife makers releasing beautifully patterned steel knives with exotic wood handles and hand-made leather sheaths, it can be so easy to start a collection.
Everybody has a very specific taste and choosing a knife is no different. Make sure you like how your investment looks or you probably won't reach for it as much as you should be.
---
Hands-on Kabar Knife Reviews
SurvivalCache has a team of reviewers that are ex-military, survivalists, firemen, and more. Check out the detailed hands-on reviews where we cover all features tied to the reviewers' personal experiences:
---
Interesting Facts about KaBar Knives
KA-BAR has been around since the late 1800s.
KA-BAR worked with the USMC to create fixed blade fighting knives for the troops during World War II.
Union Cutlery Company produced all of the USMC knives with the KA-BAR stamp.
KA-BAR became the official name of the Union Cutlery Company in 1952 due to its popularity in the war.
KA-BAR now manufactures more than 100 different types of knives.
---
Verdict
Choosing a knife is an important and sometimes difficult task. Fortunately, KA-BAR makes high-quality and reliable knives that are sure to last you a lifetime.
We hope that this article was able to provide you with a good understanding of what makes a knife good and why these KA-BAR knives are some of the best available. If you are in the process of picking a new knife and KA-BAR is at the top of your list, our suggestion is the KA-BAR USMC fighting knife. You simply cannot go wrong with the knife that started it all. KA-BAR became world-famous during World War 2 because of this innovative, reliable, and easy-to-handle fixed blade and it is still saving lives today. You won't find another knife that is as versatile, affordable or has a history as important as this one.