If you own a 6.5 Creedmoor rifle, then keep reading. We'll be taking a look at the three best scopes that will be perfect for this long-range rifle. It's been one of the most popular choices among hunters and target shooters who want to go the distance.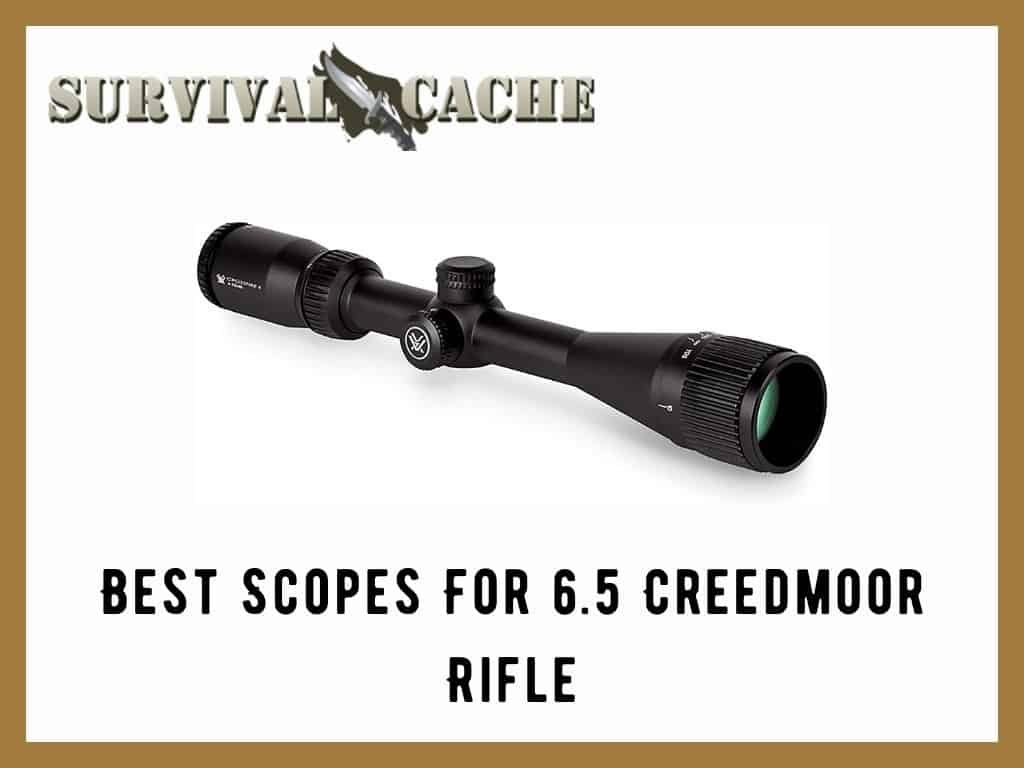 A scope that will be useful for long-range shooting will provide you with superior accuracy and precision. Depending on the reticle, your adjustments, and the conditions around you it's possible to hit a shot from well over 500 yards out and beyond. Whether you are hunting for big game or practicing for a shooting competition, there is no better thrill than firing a rifle that can do far.
Before we get to our review list of 6.5 Creedmoor rifle scopes, we'll dive into the buyer's guide so you can make your decision a lot easier.
 Buying Guide: How To Choose? What To Consider?
Understandably, it's tough to choose a scope for a 6.5 Creedmoor rifle (or any rifle for that matter). That's why it's always a good idea to take a close look at this buyer's guide. It wouldn't be smart of you to choose a scope at complete random.
You want to find the right scope that will satisfy your needs and personal preferences. Plus, you'll want to choose the right scope based on some considerations you want to mull over. Not every scope is made equal, but there might be one unique feature that will stand out above the rest.
Let's take a look at the features and how to choose a scope:
Reticle: The reticle is one of the most important part of the scope. Best known as the crosshairs, the reticle is helpful when you want to make your shots as accurate and precise as possible. Reticles come in different shapes and sizes. Whether it's a standard crosshair, mil-dot, or even a chevron the purpose is still the same.
Objective: The size of the objective may vary from one scope to the next. But one thing is for sure: the larger the objective, the more light it will bring in. A large objective will utilize more light to improve the overall image picture. If you are looking for a scope that will work in your favor in low-light conditions, a good sized objective will be what you need. Imagine hitting your big game target even before everyone else's hunting day gets started.
Turret adjustments: The turret adjustments are used for windage, elevation, and parallax. Often times, your shot may appear to be a bit off target. If you want to straighten it all out, all it takes is a click or two of the turret knobs.
Construction: Durability is one of the most important things about a scope. Most of the scopes will be made from a type of durable aluminum. Getting to the point, durability will play a role in keeping your zero settings intact. The shock and vibrations from recoil can cause zero settings to be thrown off (which can be very frustrating). That will depend on the scope. However, the more durable the scope the less likely you'll want to reset your zero.
Lens Coating: Most of the scopes will have lenses that will be multi-coated. These kind of lenses are perfect for two reasons: One, it will prevent scratching. Two, image quality will be improved. This will also improve the definition of the image quality as a whole. If you are serious about the best image quality possible, consider purchasing a scope with a multi-coated lens.
Magnification: Magnification power will vary from one scope to the next. Keep in mind that the more powerful the magnification range is, the larger the objective. Smaller objectives will equal less magnification. You'll want to get a closer look of the target in front of you before taking a shot. Not to mention, magnification will help you improve your accuracy and precision.
Things To Consider
Now that you know some of the major features to look for, we'll now focus our attention on the things you'll want to consider. It's important to mull these over so you are able to make a more informed decision. Here's what you need to consider before making a final purchase:
What do you use my rifle for?
Do you use your rifle for hunting? Target hunting? Competition?
What about all three? The 6.5 Creedmoor is fit for multiple purposes. But you'll want a scope that will be perfect for the occasion.
How far do you want to go?
The 6.5 Creedmoor has the ability to go 1750 yards. That is not a typo. We're not joking when we say that it's a long range rifle.
You'll want a scope that will make every shot as accurate and effective as possible for maximum distances. Some scopes will be effective for targets at 1000 yards, others can reach beyond that. It all comes down to how far you are willing to go.
What rail do you have?
A 6.5 Creedmoor will either have a Picatinny or a Weaver rail. You'll want to find a scope that is compatible with it. Some will only fit Picatinny rails while others may fit either type.
The difference between Picatinny and Weaver rails is spacing. When all the other features line up and you're about ready to purchase it, make sure it will be able to fit your rail type. Otherwise, installing it will be a challenge.
---
Best Scopes For 6.5 Creedmoor : My Top 3 Picks
Below is a list of the top three picks for 6.5 Creedmoor scopes. As you go through the list, you'll want to note any interesting features and even the pros and cons. You might have a certain feature that you won't compromise on like objective size or reticle.
Likewise, there might be a feature or a "con" that may be considered a deal breaker. We'll be taking a look at our picks for best overall, runner-up, and the best for the money. Let's start with our choice for "best overall"
Vortex Optics Crossfire II – Best Overall
First on our list is the Vortex Optics Crossfire II. This is our best overall choice for 6.5 Creedmoor rifles. Let's just say we're very glad that we've given it that title.
For one, the Vortex Optics scopes are known for being one of the most durable on the market. Their scopes are made from military-grade aluminum and provide a lifetime warranty. They handle shock much better than others.
This scope is also waterproof and fogproof. Simply put, this scope can work in even the roughest of conditions. If you are a hunter out in the field and nature decides to take a turn for the worst, you won't have to worry about this scope getting damaged.
Plus, you still get a decent amount of image quality and clarity. All you need to do is take your shot and it should land perfectly. Users say that the eye relief is pretty good, even for a 6.5 Creedmoor scope.
What they also mentioned was that they were able to make effectively accurate shots as far as 800 yards out. While it has been effective for hunters just south of that distance, it can be good for long range shooting as well. If you want something that will give you durability, distance, and an all around reliable performance this scope will get the job done.
Pro
Effectively accurate at 800 yards
Superior durability
Lifetime warranty
Easy to sight in
Holds zero very well
Cons
Low light performance could be better
Eye relief might be finicky
Turrets may not be as easy to turn
Monstrum G2 FFP Scope – Runner-Up
Next up, we have the Monstrum G2 FFP Scope. This scope is rugged, beefy, and perhaps one of your best options when you want to do some long-distance shooting. It's made from high-quality military grade aluminum that will absorb the shock and never lose its zero.
Simply put, it's tough as nails can will make sure that you'll land your targets with accuracy and precision from 300 yards. The Creedmoor can be effective at long ranges and even shorter ones. According to users, it's easy to zero in as well.
What makes this scope stand out is the illuminated reticle. It comes with red and green illumination, making the image quality a lot better even in low-light environments. With the adjustable objective, you can be able to get a good clear focus for your image quality and see what's in front of you without the blurriness.
Aside from the scope itself, you'll get scope rings, a honeycomb filtered sunshade, a lint-free cloth, and more. So you get quite the package deal at a price that you can afford. Not bad at all for our runner-up choice.
Pros
Effective at 300 yards
Comes with extra accessories
Works great in low light conditions
Beefy design
Excellent durability
Cons
Push button for illumination might be hard to press
Illuminated reticle may flicker at times
Bushnell Banner Dusk & Dawn Multi-X Reticle Riflescope – Best For The Money
Our final scope that we'll be looking at is our choice for those who are on a budget. The Bushnell Dusk & Dawn Multi-X Reticle Riflescope could be your best friend out in the hunting field. Especially if you are looking for something that will work perfect in low-light settings.
Whether you're wrapping up for the day or just getting started, your hunting day will probably get better once you see a target you've been eyeing and you hit it with one shot. The image quality is perfect thanks to the multi-coated lens.
The construction makes this very durable. Of course, it's waterproof and fogproof. If you want a scope that does great in almost any environmental condition, this could be right you your alley. This has magnification levels ranging from 3x to 9x, which will give you a closer look at what's ahead and will better prepare you to take a shot when accuracy is important.
Pros
Works exceptionally well in low-light conditions
Excellent image quality
Very durable
Easy windage and elevation adjustments
Holds zero after hundreds of shots
Cons
Eye relief isn't the best
---
Open Questions About 6.5 Creedmoor Scopes
Why is the 6.5 Creedmoor so popular?
There are a few reasons why this caliber is popular with most shooters. One, it requires less powder to fire off a shot. Two, it has the ability to go the distance. And three, it's one of the best in terms of accuracy at long ranges.
What is the best distance to zero in a 6.5 Creedmoor?
A zero at 50 yards will be good. But if you are zeroing in at 100 yards, you may want to go a half inch normal than usual. However, the same zero settings will apply if you plan on zeroing in as far as 150 yards.
How far can a 6.5 Creedmoor shoot accurately?
A 6.5 Creedmoor has the ability to be effectively accurate at 1400 yards. This may depend on the weight of the round being used. A 140-grain bullet can start dropping once it surpasses 1,000 yards.
---
Verdict
With so many scopes available for the 6.5 Creedmoor, there is no doubting that most of them would be cut out for the field or the range. But at the end of the day, one stands among the rest. Our winner for the best 6.5 Creedmoor scope is the Vortex Optics Crossfire II.
It's durability, image clarity, and it's ability to go the distance makes this an obvious choice for many hunters and target shooters. You can be able to stretch out your shots to about 1000 yards for targets and at least south of that for hunting. Either way, it will definitely give you the edge over the others.