Why in the world would you need new sights on your shotgun? Everyone knows all you have to do is point the barrel towards your target and squeeze the trigger, right?
No. Unless your target is only a few feet away, you better make sure you're lined up. Not doing so could cause you to miss an opportunity. The chance to get your game in the field or heaven forbid, your life.
You see, no matter what our training or experience is, we're human. We get excited. And often we're not in ideal conditions when we want that one shot to count. That's why the military, avid hunters, competitive shooters, law enforcement, and others who count on accuracy, must enhance their shotguns to give them the best chance to be spot on when it counts the most.
Like any other tool, we need to decide what equipment will meet our exact needs. You probably already have an idea that shotguns are used for a lot of different reasons. Hunters need to select the right gauge of a shotgun, the best size of shot or slug, and the best barrel length. You don't shoot a deer with the same load as you do a dove. Why would you use the same sight?
And if the purpose of your shotgun is for personal protection? You have to consider how and when. Within the home or out in the open? During the day or under low light conditions?
Best Shotgun Sights by Type
I've listed my favorite of each type. Take a minute to look over why I have chosen each of these.
SIGHTS
DETAILS

Hi-Viz Snap-On plain barrel front sight

Fits all 12, 16 and 20 gauge shotguns with no vent rib/span>

Great for older shotguns with no vent ribs

Check Price on

Amazon.com

Fits all ventilated rib shotguns

Extremely low profile

Easy magnetic installation

Check Price on

Amazon.com

Front sight utilizes TFX technology for 24/7 brightness

Concealed fiber cannot be seen by target

Fits Remington shotguns with dovetail sight mounts

Check Price on

Amazon.com
Why I Like it – The Hi-Viz Snap On Sight is a quick, easy, inexpensive solution for shotguns without a vent rib. It'll fit the three most common gauges – 12, 16, and 20. It's a great way to set up your tactical shotgun without having to make a big investment. Each order includes four interchangeable LitePipes – two red and two green. Pipes are seven inches long so they're highly visible.
Hi-Viz Snap-On plain barrel front sight

Fits all 12, 16 and 20 gauge shotguns with no vent rib/span>

Great for older shotguns with no vent ribs

Check Price on

Amazon.com
Why I Like it – TruGlo uses high quality materials to ensure your sights are bright in low-light conditions. This is really helpful when hunting ducks early in the morning. The sight will fit any shotgun with a ventilated rib by way of two sets of powerful magnets. It has a low profile, making sighting quick, easy, and improves accuracy. Different colors are included so you have the ability to see what works best for you without having to change the whole sight. A handy carrying case is supplied with your order.
3. Thread-in Replacement Single Beads: Marble Arms Extra-Lum Expert Beads
Why I Like it – When you're ready to permanently change your front bead you want to go with a name you can trust. Marble Arms has been producing quality sights since 1893. The Extra-Lum Expert sights are 50% brighter than standard florescent beads. The fiber optic cable is UV protected and permanently bonded onto a solid steel base. The ends are polished as well, allowing for greater light transfer to your eye.  The big selling point for me is the size. These are small enough to not be distracting while big enough to make sight acquisition very quick.
Why I Like it – Marble Arms offers two beads to use for your middle sight bead. The first is made of brass and is a thread-in style. The other is a stake-in Ivory tapered shank for press fit. Both are quality products that stand out nicely so your eye quickly moves to them.
Why I Like it – The TRUGLO TFX PRO is an exemplary sample of what a rear-notched sight should be. It uses the best Tritium materials, is durable, and comes with a 12-year warranty. I like that the fiber used in the front site is bright for me but concealed from the target. The downfall is that these sights are currently only available for Remington shotguns.
best Tritium materials.

comes with a 12-year warranty.

An exemplary sample of what a rear-notched sight.

Check Price on

Amazon.com
5. Ghost Ring –
No products found.
No products found.
Why I Like it – While you only get the rear component, you can use it with your existing front bead. The ghost ring has two reflective white dots that are very easy to adjust by hand. It's universal mounting fits most popular semi-automatic and pump shotguns. Installation only requires you clamp it on to your picatinny or weaver rail.
For a quick drop-in option that stands up to recoil, this is a great option, especially for those trying out ghost rings for the first time. It's easy to add a Tritium or fiber optic cable bead of your choice to the front of your gun any time.
Universal mounting fits most popular semi-automatic and pump shotguns.

Two reflective white dots.

Easy to add a Tritium or fiber optic cable bead.

Check Price on

Amazon.com
Why I Like it – The power button comes with three levels of brightness and an auto-bright feature which matches the conditions of your surroundings. Access to the battery is easy and there's a low battery indicator to keep you out of trouble. The Fastfire III is lightweight and durable. It'll work on a variety of weapons and stands up against recoil very well. You have the choice of the standard 3 MOA reticle or the 8 MOA for close range (CQB) conditions,
power button comes with three levels of brightness.

Access to the battery is easy.

Lightweight and durable.

Check Price on

Amazon.com
Why I Like it – Bushnell has come up with a rugged scope that has the full features of a rifle scope. The variable magnification makes it versatile. The range of 1.5 to 4Xgives  you the choice to dial in exactly what's needed. Because it has an eye relief of 3 ½", along with a 32mm objective lens, and multi-coated optics, you get a comfortable view with plenty of light. It's waterproof, fog proof, and shock proof to stand up in adverse conditions and it's covered by the Bushnell no Questions Asked Lifetime Warranty.
Fully multi-coated optics and rain guard HD offer 91% light transmission in any weather.

100% waterproof, Fog proof and shockproof 1 inch one-piece tube construction with integrated saddle.

Backed by Bushnell no Questions Asked Lifetime Warranty.

Check Price on

Amazon.com
Why I Like it – No matter what weapon you're using, the TRUGLO Red-Dot sight is built to last. It's shock resistant and has flip-up caps to protect the ends. You get great eye relief and a wide field of view making tracking and target acquisition quick and easy. It has 11 levels of brightness, is lightweight and simple to mount. The objective lens, at 42mm is plenty big enough to allow in lots of light at the 2X magnification.  Overall, this is a tough, lightweight, easy to use scope with an excellent combination of power, light gathering, and an MOA at 2.5. I've noted that some customers weren't happy with the eyepiece caps.
Shock resistant to 1000 grams.

See-thru, Flip-up lens caps.

Optical-quality, all-weather, rheostat for brightness control.

Check Price on

Amazon.com
---
Choosing a Shotgun Sight
You're off to a great start by being here. I'll help you to learn more about the different types of sights available. After that, I'll explain why I've selected these leaders for each type of sight. Armed with knowledge, you'll be prepared to ensure success. Let's get started.
Some Basics About Scopes
Bringing our target in closer by looking through a scope can be a great advantage. But having to rely on magnification is limited to a very narrow range of situations. Hunting deer and a few other types of game come to mind. Even then, we're usually talking about a distance of no more than one hundred yards.
That means your scope doesn't need to have a magnification of more than 6X. Many hunters find that 2X power is plenty. The objective lens, which determines how much light comes through, is more important.
The beauty of having a scope for your shotgun is that it's easy to remove. The downfall is that scopes can get knocked out of alignment during rugged use. When choosing a scope, look for one that can handle the recoil and the rugged demands of your adventures. Before you decide to outfit your shotgun with a scope, keep in mind that a great open sight will often meet your needs for more than one situation. Read on before you make a purchase you'll regret.
Shotgun Uses of Yesterday and Today
In the early days, shotguns were primarily used for hunting. It made sense to equip the guns with a single bead at the end of the barrel. It was a quick point of reference. Shooters became accustomed to developing a feel and how to handle their shotgun to improve consistency. This is still critical when firing at a moving target.
Now shotguns are developed for several specialized situations that could include shooting at stationary targets at a longer range. A single bead is not practical. Neither is trying to use one shotgun for every situation. That's why many owners often choose to keep more than one shotgun at their disposal.
For example, hunters might own one shotgun for deer and turkey, and a different one for birds. And a shotgun for protection has completely different requirements than your hunting shotguns. The sights have to be geared toward how you'll use your gun.
With that in mind, there are several types of sights to consider. Single bead, double bead, ghost ring, blade and post, and, red dot sights. I'll discuss each of these briefly. But first, here are a couple of definitions that'll help as you read further.
What are Fiber-Optic Shotgun Sights?
Natural light is trapped to give the look of being illuminated even during the day. The bright colors will contrast with natural backgrounds so they're much easier to line up with your target. Look for single "beads" which are really rods and could be several inches long.
One inexpensive solution for a plain barrel 12 or 20 gauge shotguns is the clamp on sight. It snaps in place behind the factory front bead. It stays in place under recoil and makes aiming much easier even in low-light, like cloud cover. The dot is bright so it's easier to find, making aiming easier. Double (side by side) rods are also available.
What is a Tritium night sight?
When shooting in low-light or night conditions, you need to know where you're aiming. Tritium sights are a smart, low-cost investment. They light up on their own so there's no replacing batteries or having to turn anything on. The glowing is created from gases that should last you around ten years and they're easy to install.
---
Understanding Sights and Scopes Used for Shotguns
In this next section, I'll give you a better understanding of the many types of sights – everything that isn't a scope (no magnification), followed by a brief section on scopes.
Iron sights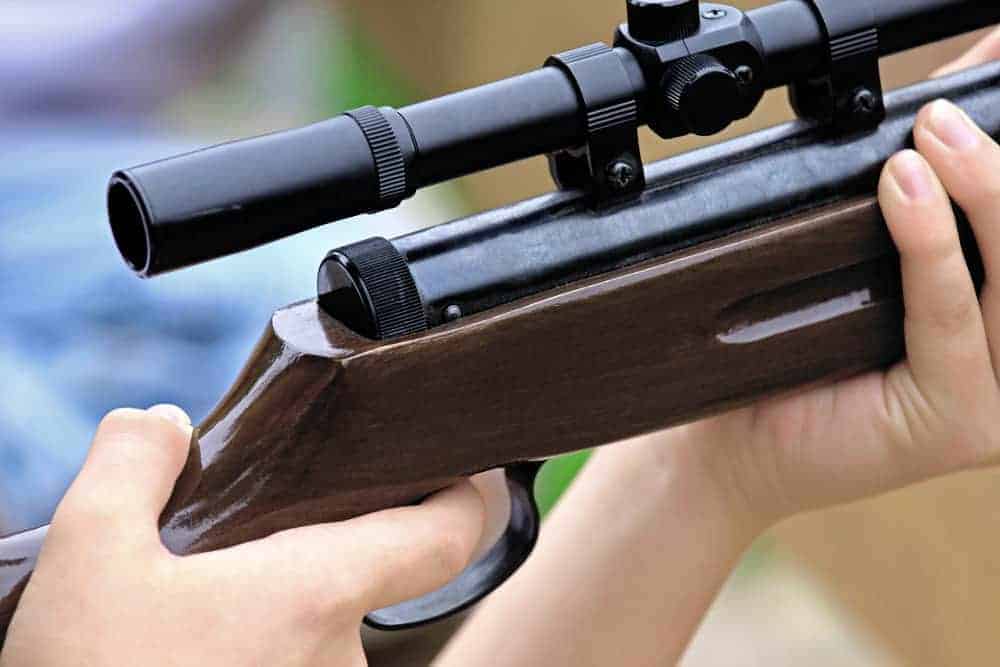 For shotguns, iron sights come in either bead, or open sights, and ghost ring sights. Bead and open sights are easy and quick to use with shot. Ghost rings can be used with shot effectively but aren't typically as fast. They do work very well for slugs. Let's look at each type.
Single bead sights
The once-standard single bead placed at the end of the barrel is a point of reference, used along with your peripheral vision. It's not for aiming exactly. You just have to keep it in your field of view (FOV).
It works by sighting down the barrel and covering the target with the bead. To assist inaccuracy, a ventilated rib is sometimes added. That's just a rail mounted on top of the barrel the shooter sights along.
A single, (usually metal, round bead) is still useful for shooting at fast-flying targets, such as birds or clay targets. That doesn't mean you shouldn't consider upgrading. Inexpensive improvements are available. Fiber optic cable and Tritium night sights are highly recommended for home defense.
Double-Bead Sight
Add a smaller bead about halfway down the barrel of a shotgun with a single bead at the end and it should force you to keep your cheek tight against the stock. The idea is that it'll keep you from lifting your head to watch your target.
Double bead sights are most commonly used on a ventilated rib. Many clay shooters and waterfowlers choose to use a double-bead sight.
Rifle Sights
Most often rifle (aka "Open", or "Post and Blade") sights come in two parts. The rear piece is used for aiming by lining it up with the front post. It will have either a U-shaped or V-shaped notch used to line up the front post. The shooter aligns the post in the notched blade and flush with the top of the blade.
The two parts are generally built into the gun and can be adjusted for factors such as elevation and windage. The parts may be made of iron but are now commonly made with fiber optic cable to improve sighting during low-light conditions. These are the kind of sights you're used to seeing on handguns and some rifles.
Deer and turkey hunters will often use this set up because both animals are usually taken while standing still. For even better results, though, slug shooters will use a ghost ring.
Pros
Simple, lightweight, and surprisingly accurate out to 200 yards
Durable
No batteries, no switches to remember to turn on
Generally inexpensive and easy to retrofit
Cons
Three focal planes are involved: rear sight, front sight, and target
No magnification
No light-gathering ability of a scope

Ghost Ring Sights
When it comes to non-optical, non-battery-dependent sights, speed and ease set the ghost ring peep sight miles ahead of others.
Ghost Rings are an excellent choice for slug guns because they are easy to install and remove. Switching sites between deer season to bird season takes little effort. Also, they are affordably priced.
The set-up is the same as a post and blade or rifle sight. The difference is that the rear part of the sight system is hooded. The hood shadows, or "ghosts" the notched sight, forcing you to focus on the front blade. You'll often see the word aperture used. That basically refers to the size of the ring which determines how much light is around the back notched piece.
Ghost ring sights are quick enough to use when up close to your target and give greater accuracy for the longer shots. That makes them ideal for big game and home defense. They aren't good for moving targets.
I suggest adding a ghost ring that uses fiber optic cable, especially for home defense. Also, keep in mind a tighter aperture (smaller hood) used will improve long-range accuracy but will take a lot longer for target acquisition. In other words, you don't want a small ring when using your shotgun for home defense where speed is crucial.
Red Dot Sight
For home defense or fighting, many people say the military-grade red dot sight is the choice. They're easy to use, even under stress. Simply keep your eyes open focused on the target. Looking through the sight, you place the holographic dot that's inside of the tube on your target and press the trigger.
These sights don't put a red dot on the target and they are best for stationary targets. The reason I won't use one for home defense is because I refuse to have to power on my sight. Every second counts.
Scopes
Deer hunters have been instrumental in the popularity of using scopes on shotguns. The reason is simple – the magnified image increases the chance of the hunter hitting his target at a greater range. Without the use of a scope, shooting a target at 100 yards doesn't have terrific odds of hitting its mark. With a scope, it's fairly reasonable to reach out to 200 yards with a high-quality rifled slug.
Like scopes used on other rifles, they're mounted over the receiver. They have internal crosshairs (a reticle) and can be adjusted for windage and elevation.
When choosing a scope for your shotgun, you don't need much magnification. The power of 2X is great. There's no need to go over 6X. Pay attention to the size of the objective lens. That's what determines how much light you have. For shotguns at 2X, an objective of 32mm is great.
Scopes are best used for stationary targets because it is difficult to track a moving target through a scope.
---
Verdict
My Suggestions for Hunting
Let's start with breaking this down to two categories: stationary and moving.
Moving: Clays or flying birds are best tracked with open sights. A double-bead system is best, but many duck and goose hunters will do fine with a single bead. Either way, choose a fiber optic or Tritium front "bead".  If you have a vent rib barrel, fiber optic rods are easy to install and generally inexpensive.
Stationary: A ghost ring with a small aperture or a 3X scope with an objective of 32mm or greater will guarantee you the best opportunities for accuracy at targets over 100 yards. The scope is best if you expect low-light conditions.
My Suggestions for home defense
The old standard, a metal bead sight, is essentially the bare minimum, and you will get bare minimum performance from it.  A good upgrade would be going to a single Tritium type bead or some other higher visibility sight because home defense is usually under low-light conditions. An even better solution that affords use in any condition is a ghost ring with a Tritium or fiber optic cable bead up front.