Another commonly overlooked piece of gear is a reliable pair of survival gloves. A good pair of gloves will help to keep your hands functional through various types of weather and possible damage so you can perform repairs, protect yourself, or do whatever it takes to stay safe.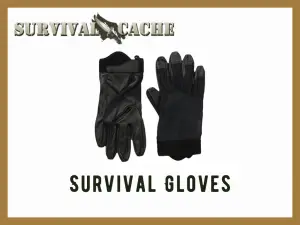 Took a little time for my gloves to break in, felt a bit stiff initially but over time they feel great. A good pair might need a little attention before the fit is ideal.
Let's see if we can help you to decide which pair to go with as we take a look at the best survival gloves available today.
Written by Joseph Bryant and Noemi Gonzales, firearm and survival enthusiasts
Best Survival Gloves: My Top 6 Picks
Last update on 2020-05-27 at 03:18 / Affiliate links / Images from Amazon Product Advertising API
1. 5.11 Tactical TacLite2 Glove (Best Overall Survival Gloves)
A recurring factor you will see with which I favor will be just how versatile the item is. The 5.11 Tactical TacLite2 Glove hits the mark as best overall in the sense that it is durable, flexible, and useful in a wide variety of tasks.
These gloves are resistant to damage due to the nylon and spandex while possessing a solid grip. Being flame resistant is another factor here that makes the TacLite2 stand out to me as an ideal set of gloves intended for survival situations or tactical use that can also be just as useful for handling chores or repairs.
Pros:
Flame and damage resistant, useful if needed to wear for strenuous tasks.
High level of flexibility allows for a wide range of activities.
Good grip with these gloves and lightweight. Ideal item to store in a bug out bag.
Cons:
Not ideal for colder climates.
Mixed reviews indicate that some are released with inferior stitching and have degraded sooner than they should have.
Lack of any reinforcement in the gloves means only moderate damage protection available. If you want a pair of survival gloves with additional protection then these are not ideal.
Consumer Sentiment:
The majority of users seem quite satisfied with the gloves but there is no ignoring that some users have shared that their gloves arrived with compromised stitching and fail earlier than expected. Perhaps they had a bad batch made it through or had a minor quality assurance error.
Last update on 2020-05-27 at 03:18 / Affiliate links / Images from Amazon Product Advertising API
2. Ironclad Tactical Operator Pro Glove (Best Budget Survival Gloves)
If you're building your kit on a minimal budget then the Ironclad Tactical Operator Pro Gloves need to be on your radar. Not the best of the best by far here but gets the job more than done at a surprisingly low cost.
Protection for your hands in a survival situation provided at a low cost is a solid investment even as a backup pair of gloves. The construction of these gloves allows them to be lightweight while providing a moderate degree of protection for your hands.
Pros:
Very affordable price point makes them great for the prepper on a budget, as back up gloves, or for repairs and chore use.
Lightweight and thin so they are easy to carry. Also easy to equip quickly and speed can matter in a worst case scenario.
Fitting and durability allow for them to be used for a variety of activities.
Cons:
Some users have complained that the gloves were ideal for their hand size and were not flexible enough to adapt. Perhaps not a great choice for those with larger hands.
Lower quality and lower durability than the other gloves listed here. We know by now that when it comes to preparation and survival gear we get what we pay for but at times we also get whatever we can pay for at the moment.
Thinner construction means that these gloves will not suffice as primary gloves in colder climates.
Consumer Sentiment:
This budget option for tactical gloves seems best used as starter gloves for a budget kit or as a back-up pair of gloves to keep handy in a bug out bag or with other gear. It's more than fair for the price and will serve your needs, just don't be surprised if you are hard on them and they fail sooner than you would like.
Last update on 2020-05-27 at 03:18 / Affiliate links / Images from Amazon Product Advertising API
3. Hatch Resister Glove with Kevlar (Best Grip in My Experience)
My experience with the Hatch Resister Gloves has been very solid over time. Initially I had my doubts as they felt stiff and I was unused to them but over time as they broke in I could hardly tell I was wearing gloves except for when they would protect my hands.
There's a reason that so many law enforcement and armed forces have utilized Kevlar as a defensive component and these gloves are no exception. I have yet to really do any serious damage to these gloves as of yet.
Pros:
Very durable and resistant to damage due to Kevlar reinforcement
Reliable grip that I've used for shooting and climbing very effectively.
Huge range of motion allows for all kinds of tasks to be completed while wearing these gloves. Adaptability is always a huge factor when choosing survival gear.
Cons:
Thinner construction means these gloves will not protect you in colder temperatures.
They could go up the wrist a bit further. I have found myself tugging at the wrist cuff a bit.
These gloves need some breaking in. You cannot buy these fresh, store them immediately, and then count on them to perform perfectly in a survival situation. Work them in for ideal results.
Consumer Sentiment:
Finding complaints on these ones is challenging as the majority of users love these gloves for the shooting range, working outdoors, and much more.
Once broken in, these gloves make for a great addition to a prepper kit and are surprisingly affordable considering the value offered.
Last update on 2020-05-27 at 03:18 / Affiliate links / Images from Amazon Product Advertising API
4. Wiley X Combat Assault Gloves (Best Shooting Gloves)
Here's another quality tactical glove that incorporates Kevlar in the construction in order to offer superior durability and value.
High level of grip and protection offered for these gloves help to make them ideal for shooting and combat situations, as per the name. Any glove that helps me to better grip while shooting also contributes to gun safety, in my opinion.
Pros:
Kevlar reinforced design allows for enhanced durability and hand protection. If dealing with hostiles I would imagine these could add some serious damage to a punch as well.
Construction of these gloves gives the user a superior grip. Losing your weapons or tools in a survival situation can be disastrous.
Surprisingly lightweight so these gloves will not add too much weight to a tactical belt , harness, or bug out bag.
Cons:
Limited protection against colder temperatures. I would not rely on these as my primary gloves if I had to retreat to colder climates.
Higher price point than many other comparable products, likely due to the use of the Kevlar.
Some customers have reported questionable sewing on their purchases.
Consumer Sentiment:
The vast majority of Wiley X Combat Assault Gloves customers seem to love the product and have no complaints. Some have reported inferior sewing jobs but we all know that no company is perfect. My thought is that gloves shine brightest on the range and in combat situations but would serve just fine for survival purposes.
Last update on 2020-05-27 at 03:18 / Affiliate links / Images from Amazon Product Advertising API
5. Mechanix Wear M-Pact Impact-Resistant Gloves (Best Runner-Up)
The Mechanix Wear M-Pact Impact-Resistant Gloves is my choice for Best Runner Up due to the nice balance of durability, adaptability, and affordability.
These gloves are surprisingly durable considering how lightweight and thin they feel. Another great addition to a prepper kit being built on a budget or as another backup pair of gloves.
Pros:
The level of durability will have these gloves lasting well beyond your average pair of work gloves. Any gear intended for survival purposes needs to last for extended periods of time.
The fact that these gloves are so light makes them easy to carry and equip quickly when needed.
They wick moisture well so your hands can stay dry and prevent your grip from being compromised.
Cons:
The lightweight construction means that these gloves will not be as durable as other survival or tactical gloves available on the market.
The velcro tends to lose its adhesive capability over time which allows the wrist cuff to come undone.
The slim fit of the gloves will mean that those with larger hands may not find them to be an appropriate fit.
Consumer Sentiment:
Many users of these gloves beyond survivalists and preppers tend to leave positive reviews. The lightweight design allows for adaptability and flexibility which can be useful for a wide variety of tasks such as repairs, camping, chores, and more.
Sale
Last update on 2020-05-27 at 03:18 / Affiliate links / Images from Amazon Product Advertising API
6. BlackHawk ECW2 Winter Operations Gloves (Best Cold Climate Tactical Gloves)
Those of us that have spent time in colder climates know that all the gloves listed above just will not cut it when the temperature really gets low so I thought we should also bring up my top choice for cold climate tactical gloves.
The Blackhawk stands out to me for a variety of reasons but the most relevant being that they will protect your hands in extreme cold while also allowing for the flexibility to shoot, climb, or do whatever you need to.
Pros:
Ideal glove construction for extremely low temperatures. I would consider these I must have for any prepper or survivalist who needs to be ready for the lower temperatures.
High quality materials and design allow for enhanced durability with these gloves. I've endured some Michigan winters where not having effective gloves could mean serious trouble.
Surprising level of flexibility and adaptability allows these gloves to be useful for a wide variety of tasks as well as keeping your hands safe from the elements.
Cons:
Bulkier construction in fitting of these gloves means that they won't be quite as flexible as others on the market.
There is a limit to the cold temperatures that these gloves can protect you from, approximately -20 degrees.
There are reports that some of the sizing may not be ideal and that the fingers of the gloves can be a little shorter than anticipated.
Consumer Sentiment:
The overwhelming positive response that users had regarding these gloves goes to further confirm that they are a solid investment for any survivalist or prepper building their kit for colder climates. I've been stranded in sub-zero temperature for over 13 hours without the proper gear at hand before so I can personally testify just how much of a difference being prepared for the cold can be.
Last update on 2020-05-27 at 03:18 / Affiliate links / Images from Amazon Product Advertising API
---
How to Choose? What Makes a Good Tactical/Survival Glove?
Keeping our hands protected is very important in normal times, in a survival situation it becomes all the more important to ensure that we can rely on that particular piece of gear.

In order to make the best gear selection we need to take the time to learn just what factors we need to prioritize in a good pair of survival/tactical gloves.
Here are some factors I consider when selecting a pair of survival/tactical/gloves:
Durability
Keep in mind that many gloves may claim to be survival-oriented and look good but we must consider how long the gloves will stay intact and functional. Good looks don't matter if the gloves begint to fall apart when you need them most.
Comfort
If these gloves are to be worn for extended periods of time then it becomes vital to consider how they feel on your hands. After breaking in my own gloves I started to forget I was wearing gloves at times as they were just not registering on my mind at times. It helps me to focus more on a task at hand. A divided focus could be the end in a survival situation or emergency.
Range of Motion
Consider what kinds of activities you intend to perform while wearing these gloves and whether or not these gloves allow you to perform those actions easily enough and quickly enough. Good survival gear choices should help us, not hinder us.
Appropriate for Local Biome
If you are in colder climates it would be foolish not take temperature into consideration and make sure to pick tactical gloves that are made to keep hands warm. Fortunately for me, I'm no longer in cold climates so I get to enjoy using my Hatch Resisters. And of the flip side, warmer climates mean you can choose tactical gloves without fingers or just breathe better if you want.
---
Other Questions about Tactical Survival Gloves
Q: How durable are the gloves?
A: The construction and durability of your survival gloves are a huge factor to keep in mind as it is important to keep all your gear as functional as possible for as long as possible. Observe just what materials the gloves are made out of and what the reviews are in regards to the stitching and construction of the gloves to help determine whether or not they're strong enough for your needs.
Q: Why can't I just use normal outdoor gloves in place of tactical or survival gloves?
A: Proper tactical and survival gloves are constructed using superior materials and design than your average work gloves. Average work gloves will deteriorate sooner than they should and might not allow for ideal grips and protection that is required in survival situations.
Q: Are there uses for these gloves beyond survival situations?
A: You will be pleasantly surprised to find that a good pair of survival gloves are useful for more than just sitting in a bug out bag or prepper kit. I've personally used mine for outdoor work, repairs, and roof inspections. Many users report using their gloves for landscaping, construction, and much more.
---
Verdict
In conclusion, I tend to lean towards products that provide factors such as durability, adaptability, and flexibility so it should come as no surprise that my first choice for the best survival gloves would be the 5.11 Tactical Taclite2 Glove.
For those who will have to endure colder temperatures and potential survival situations I stand by my recommendation for the Blackhawk ECW2 Winter Operations Gloves.
Special mention for the Hatch Resisters who have served me so well.
Ultimately it is always up to the individual to be responsible enough to perform their due diligence and assess just which items are ideal for their prepper kit and survival gear stash.