Demanding tasks like skinning big game to chopping wood for fires and shelter become a lot easier with a quality machete, and the same machete can also scale and fillet fish delicately.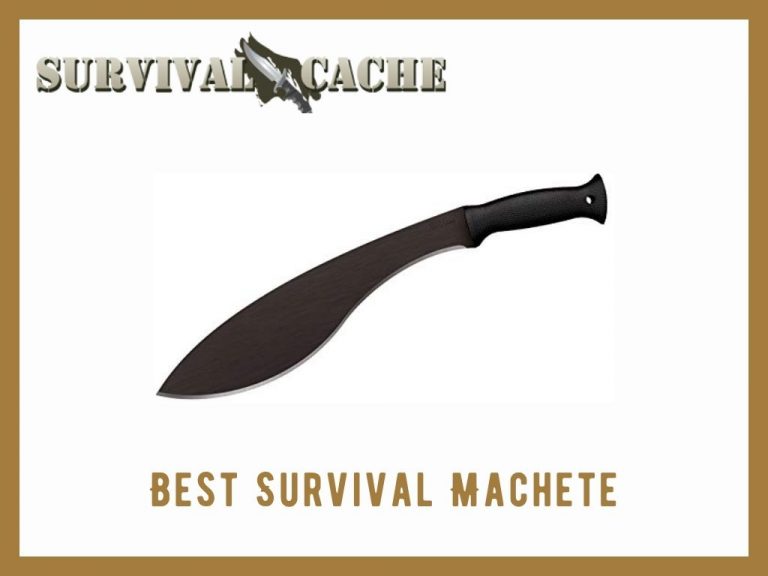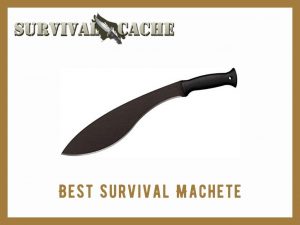 But finding a quality machete can be a real chore.
Sure, dozens of machetes are available, but most of them are too flimsy to be deemed worth the money.
Luckily, you don't have to do the hours to research to find the best machetes – I've done it all for you, right here:
Best Survival Machete: Top Picks
If you're looking to get the most bang for your buck, the all-purpose machete by Cold Steel won't disappoint.
It has a kukri design and comes with a 13-inch long blade. The anti-rust coating prolongs the life of the machete, and since the blade is made out of 1055 high-carbon steel blade (tempered), you don't have to worry about it breaking with rough use.
The machete isn't balanced – it's only 1lb, and it weighs more towards the tip, which makes this machete easy to control while also maximizing your strike's power with the blade. The thick blade further reinforces the effectiveness of your strike.
The five-inch handle is made from polypropylene, which makes it much grippier than a riveted wood handle. The handle's shape makes it easy for you to change your grip and tension whenever you feel the need.
The handle also features a hole for a lanyard, which ensures that the machete doesn't slip out of your hands at critical moments.
The included Cor-Ex sheath is a nice touch, and while it doesn't have a belt-loop, it does have snaps that you can use to connect it to your belt.
The machete is very affordable, but there are no compromises on quality, which I find very impressive.
It's common for customers to mention the machete's excellent edge retention, but it's the lifetime warranty that makes it a reassuring purchase.
Pros
1055 steel blade with anti-rust coating
Sturdy polypropylene handle
Sheath included
Affordable
Cons
Edge not sharp out of the box
Cold Steel 97KMS Kukri Machete,Black
The less-expensive, yet still excellent-performing "workhorse" version of our popular Gurkha Kukri...
Perfect as a lighter-weight bushcraft or camping tool that can be carried on a belt or lashed to a...
Last update on 2023-09-26 at 22:53 / Affiliate links / Images from Amazon Product Advertising API
While durability and reliability are two huge factors every survivalist considers, if you crave a machete that feels like an extension of your hand, the KA1248-BRK is perfect for you.
It's very sturdy because it is 100% synthetic, and the cutlass design makes it perfect for clearing a campsite of small trees and to chop wood for a campfire. However, it's also very sharp, so you will be able to skin game with it if you need to.
The blade is 11 inches long – it's one of the smaller machetes on the market. However, its 1.12lb weight, coupled with its cutlass design, gives it a stout feel, making it feel like an extension of your hand.
The blade is crafted from 1085 carbon-steel, which gives it extraordinary strength and durability. The black powder coating protects the blade from rusting and won't reveal your position from reflections if your home gets broken into.
The ergonomic Kraton-G handle makes the machete hook to your arm. The in-hand feel is second-to-none.
The handle is 5.5″ long and comes with a lanyard hole, enabling you to attach paracord to it.
Customers love the handle and say that the design puts all the force of a strike into the curve of the blade.
BRK Machete Pros and Cons
Pros
Durable and reliable
1085 carbon-steel blade
Lightweight and perfectly-sized
Comfortable handle
Leather/Condura sheath included
Cons
KA1248-BRK Machete Cutlass
Sturdy machete with cutlass-style 1085 carbon-steel blade
Ideal for chopping down weeds, clearing campsites, or cutting branches
Last update on 2023-09-26 at 17:22 / Affiliate links / Images from Amazon Product Advertising API
KA-BAR machetes are hard to beat in terms of quality, but the Kukri machete offers a lot more than just that.
The execution of the KA-BAR 2-1249-9 has made it the go-to Kukri machete for survivalists, hikers, and hunters.
It's not exactly lightweight but boasts a confidence-inspiring heft in the hands. However, it won't feel like a burden on the hips.
It feels like a souped-up version of the KA1248-BRK we just discussed – not only in terms of weight, but also size. The KA-BAR 2-1249-9 has a slightly longer 11.5-inch blade, but the handle is of the same size at 5.5 inches.
The blade's thicker tip makes dealing with brush a breeze; however, it also makes it a little challenging to sharpen. If you're used to sharpening straight knives, there's a learning curve you will need to overcome.
The good news is that it's not a picky blade. The high-quality anti-rust black powder does not get in the way of sharpening, and you can sharpen it with any sharpener.
The handle (complete with lanyard hole) gives you a comfortable grip even when you sweat, and since it's a Kraton-G handle, the handle could outlast the blade.
Ka-Bar Machete Pros and Cons
Pros
Excellent design
Easy to sharpen
Unbeatable reliability
Kraton-G handle
Cons
The sheath could be designed better
Last update on 2023-09-26 at 22:53 / Affiliate links / Images from Amazon Product Advertising API
There's a lot to like about the Luna Tech LTK9500.
It is by far the most versatile machete on this list. Other machetes only have a sharp blade edge, but the LTK9500 has a serrated edge on the lower portion of its 17-inch blade.
The serrated portion enables you to cut textured material like fabric, rope, and belts with ease.
The blade's spine is a wood saw edge, which means you won't need to baton wood to procure it – you can just saw it off.
The blade is made from grade 440 stainless steel, which is known for its corrosion-resistant property. Coupled with its black oxide finish, you won't ever have to worry about the upkeep of this machete.
The handle is ergonomically designed, and the included lanyard makes it so that you don't have to strain your hands to carry the large machete around.
But there's more to the handle.
It features a slip-resistant diamond pattern, and since it's made from TPR, durability will never be a concern. Also, the handle's 70 HRC Carbide tip enables you to break glass with ease. You can also use the tip as a field marker.
The included sheath is just as impressive – I agree with customers' remarks when they say that the included MOLLE system is a blessing. It'll fit on any bug out bag perfectly!
Luna Tech Machete Pros and Cons
Pros
Design hyper-optimized for survival
440-grade stainless steel blade
Rugged sheath with MOLLE system
Slip-resistant grip
Cons
Sale
Last update on 2023-09-26 at 17:22 / Affiliate links / Images from Amazon Product Advertising API
The Gerber Gator machete is super impressive for many reasons – the intimidating look is only the start.
The machete comes with a 15-inch primary blade and features an 18-inch saw on the back. The design instantly makes it more functional than a lot of other machetes on this list.
The machete is forged from high-carbon stainless steel, making it perfect for long-term use.
While the blade's total length is 25.7 inches, it's not as heavy as you'd expect. It only weighs 18 ounces.
One of the best things about the machete is its handle – it comes with a lanyard, and the rubberized grip ensures a good grip in your palms, even if it's wet.
The machete feels balanced in the hands, which is impressive, considering the length of the blade.
However, the blade isn't full-tang, which makes it less reliable for heavy-duty use. If you use it to baton wood, there's a high chance of it getting damaged or breaking. It's best to use the provided saw to procure wood for fire and shelter.
But no compromises are made to the included nylon sheath – it feels rugged and will keep both you and the machete protected.
Gerber Gator Machete Pros and Cons
Pros
Affordable
Sizeable blade
Includes wood saw
Comfortable handle
Cons
Sale
Last update on 2023-09-26 at 17:22 / Affiliate links / Images from Amazon Product Advertising API
Parang machetes are known to be thicker and heavier than other machetes, which is what makes them perfect for any survival tasks.
The Condor machete boasts a 17.5-inch blade (this blade extends longer than most), which will convert you into a wood-batoning machine. You don't have to worry about wear and tear, either, because the blade is made from 1075 high-carbon steel.
Furthermore, the black powder coating protects the blade from rusting, increasing its durability.
The leather sheath is a nice touch, and with the sheath on, the machete only weighs 2lbs. You won't feel it on your belt, and it won't feel out of place in your hand.
The handle is made from hardwood, which is a bit old fashioned, but considering that it's a full tang machete, I can't complain about it. The handle has a lanyard hole, which is excellent, but it doesn't come with a paracord.
Condor Parang Machete Pros and Cons
Pros
Power-enhancing design
Long 1075 steel blade
Rustic wood handle with a lanyard hole
Lightweight
Cons
Last update on 2023-09-26 at 17:22 / Affiliate links / Images from Amazon Product Advertising API
---
Survival Machete Buying Guide
Machetes are lifesaving tools that increase your chances of making it out of a survival or emergency situation alive.
However, the differences in construction, material, weight, machete type, and handle make a massive difference in your experience with the machete. Here's what to consider when making your purchase:
1. Survival Machete Construction
Since you will likely be hacking, cutting wood, and chopping a lot with your machete, it's best to get one with full tang construction.
Partial tang blades may come free of the handle – something you cannot risk happening in any situation.
But if your budget constrains you, you can consider getting a partial tang machete if it has a sawblade integrated into it.
2. Blade Material
High-carbon steel blades are undoubtedly the best blade material; they are strong and flexible, and handle the shock from chopping wood well without breaking or chipping.
Older versions of high-carbon steel machetes would run the risk of rusting, but most modern machetes come with black powder or oxide finishes, which prevent rust formation.
Stainless steel blades naturally resist rust, but they aren't as easy to sharpen (except 3CR13 stainless steel). If you're on a tight budget, though, getting a machete with stainless steel blades is the best option.
3. Machete Type
There are five main types of machetes:
Kukri: These look like large knives, but the ends are bigger and heavier, which increases the chopping force. The sharp inner curve makes for increased control, which means you can use it for skinning if you need to. Check out our article on kukri machetes.
Parang: These machetes have a longer blade, are sturdy and easy to get comfortable with. The excellent in-hand feel is not the only positive – Parang machetes are perfect for chopping and clearing brush.
Heavy: Machetes with a heavy blade have chopping forces greater than that of hatchets – these can do some serious damage to intruders (self defense), animals, wood, and thick branches.
Bolo Machete: Originally made for light chopping in southeast Asian fields, Bolo machetes are the best survival machetes for you if you need something smaller and more lightweight.
Panga: Panga machetes have a heavy tip instead of a pointed tip, similar to the kukri, but more substantial. These are deadly and can deal with any potential problem in one hit.
4. Weight
Since you'll likely have your machete in your hands all day, it's best to get a lightweight machete. As long as it's under 2 lbs, you should be fine – but the lighter, the better.
5. Machete Handles
Ergonomics must be a significant factor when considering whether you will purchase a machete or not. While wood handles generally feel more comfortable in the hands, a textured synthetic handle (plastic handles) will give you a better grip.
6. Sheath
A quality sheath is a must – you don't want to be exposed to the massive blade, especially in a survival situation.
Make sure that the sheath is thick and secures the machete correctly.
---
Open Questions About Survival Machetes…
Q: Are there any restrictions on machetes?
A: Yes, owning a machete is banned entirely in some states like New York. However, there are no such restrictions in California.
Some states do not allow openly carrying machetes, so make sure you learn about your state's laws before you make a purchase.
Q: Does the best survival machete have a high carbon steel blade or a stainless steel blade?
A: They both have their advantages and disadvantages.
For example, a carbon steel blade is much easer to sharpen, but if it isn't powder coated then it will be prone to rusting. Blade material made from stainless steel requires more effort to sharpen, but it is more resistant to corrosion.
Q: Are survival machetes considered a "survival knife"?
A: No. While they can be used for some tasks that a knife can do, machetes are not knives.
Q: Should my sheath have a leg strap?
A: This is a personal choice, but a sheath with a leg strap will help to keep the tool from bouncing around when you walk.
Q: How is a carbon steel blade better for making a fire?
A: Stainless steel doesn't work the greatest when scraped against a ferro rod. When a carbon steel blade is used with a ferro rod, it is much easier to produce sparks and a lot of them
Q: How do you sharpen a machete?
A: You can use an all-purpose file or even a whetstone to sharpen your machete. While ax and machete sharpeners are also available, a ceramic blade sharpener will also get the job done.
---
Verdict
The Luna Tech LTK9500 is super versatile and hard NOT to recommend to a survivalist.
It comes with:
A large blade
A serrated edge at two points
An integrated a wood saw
A comfortable, slip-resistant handle
Anti-rust black oxide coating
Included lanyard
A rugged sheath works with MOLLE systems (a massive plus)
The pricing is fair for what you get, but more importantly, it's a tool you can rely on for any task for decades. It gets my full recommendation.