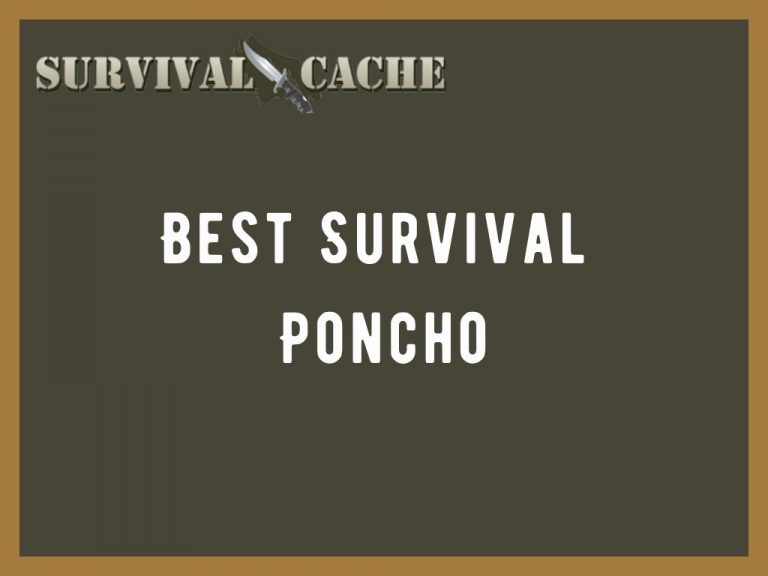 They might not look pretty, but a poncho is an absolute essential in your survival 'arsenal' or bug out bag. A poncho is a light-weight addition to your kit that could come in extremely handy and could even save your life. The obvious purpose of a poncho is to keep the wet stuff from getting on the dry stuff. The last thing you want is to be outside wet, cold, and without a fire. Survival ponchos are more than just raincoats. They pack up easily, keep you and your gear dry in the rain and mud, and can even be used as shelter if you find yourself in a pinch.
We have combed through the internet to find the best gear for serious outdoorsmen and women and have found the best survival ponchos to add to your survival gear. Let's have a look and go over how to pick the best poncho and cover some frequently asked questions.
Best Survival Ponchos: Our Top Picks
Here are our top picks at a quick glance:
Last update on 2020-03-31 at 00:16 / Affiliate links / Images from Amazon Product Advertising API
The GLORYFIRE tactical poncho will not disappoint. You might say that it gets our 'best in class' award when it comes to ponchos. It has a sleek appearance, is extremely durable, and has several functions. GLORYFIRE specializes in tactical gear and you can tell that they have thought of everything. Here are some of the key features:
Nano-coated surface that can be rinsed 50+ times
Triple waterproof neckline to prevent seepage
'Deep hat' hood construction for full coverage
Front pouch for storage (entire poncho can be stuffed into itself)
Grommets to allow for conversion to tent
Snaps to close sides for more weather protection.
Pros
Extremely durable
Waterproof and nano-coated
Doubles as a tent or shelter
Can be stuffed into itself for storage
Cons
Snaps on sides come undone in windy situations
Last update on 2020-03-30 at 19:46 / Affiliate links / Images from Amazon Product Advertising API
This multi-function hunting poncho is great for hunters with the wherewithal and perseverance to stay in the blind to snag another kill in the pouring down rain. This poncho made the list because of the pockets, and yes, the camo. With pockets made for maps and binoculars, we could not resist including it. Here are the features:
Deep hood for full coverage
Padded neck collar
Large hood opening with zipper
Interior and exterior chest pockets
Rear zipper for weapon storage and breathability
Double front zippers
Side snaps for additional protection
Grommets for conversion to tent
Packs into small stuff-sack
Weighs less than one pound
Pros
Large hood
Waterproof and breathable zippers
Multiple large pockets for storage
Camo design
Light
Doubles as tent or shelter
Packs into small bag
Cons
Thinner material
Bag is separate from poncho
Not extremely protective from wind
Sale
Rain Poncho with Breathable Zippers and Chest Pocket. Woodland Camo....
NEW TO AMAZON. THE ONLY BREATHABLE VENTILATED CAMO PONCHO. Standard ponchos can trap heat making you...
HUNCHO RAIN PONCHO IS HIGHLY FUNCTIONAL WITH BACKPACKS, RIFLES AND EQUIPMENT. This poncho is...
SUITABLE FOR VARIOUS HEIGHTS AND SIZES. At 86" x 55" (2.2m x 1.4m) providing excellent coverage...
Last update on 2020-03-31 at 00:16 / Affiliate links / Images from Amazon Product Advertising API
The Hazard 4 poncho is a beast of a poncho and, let's be real, it looks mean. This is a new take on the classic military poncho. This is another self-storing poncho. It is made of a water-resistant breathable softshell and has fully taped seams. The extra mobility that the polyester/spandex blend offers sets this poncho aside. Here are the features:
Large size to fit over packs and gear
Front and back Velcro panels for agency I.D.
Also has Velcro panels on back of hood and shoulders
Large hood will accommodate headgear
Zipper front reaches to chin for full coverageGrommets for conversion to tent
Side snaps for severe weather situations
Pros
Self-storage pocket
Fits over packs and gear easily
Flexible and breathable material
Velcro panels for I.D. or insignia
Doubles as a tent
Full coverage
Cons
Heavier than other ponchos
Water-resistant (NOT waterproof)
Tends to be hotter
Holds moisture in when allowed to become saturated
Last update on 2020-03-31 at 00:16 / Affiliate links / Images from Amazon Product Advertising API
This poncho looks fairly ordinary at a glance; however, it has made our list because of the size and coverage that it provides. Fully waterproof and sized to fit military specs and requirements, this poncho covers more of you and your gear than most. Below are the features:
Backpack compatible
Fully waterproof
Full sized and military grade
Snap buttons and drawstrings for customization
Grommets for conversion to tent
Pros
Lightweight and fully waterproof
Full length arms and full-sized hood for coverage
Doubles as tent
Drawstrings for customization
Camo
Cons
Thinner than other ponchos
Grommets are slightly weak
No extra neck protection
Last update on 2020-03-31 at 00:16 / Affiliate links / Images from Amazon Product Advertising API
This poncho is the light beer of multi-use ponchos. It is durable, waterproof, and has several functions, but it is also sweet and to the point. This poncho is an extremely lightweight and less expensive version of its bigger brothers. Let's have a look at the features:
Waterproof with sealed seams
Cuffs with built-in Velcro closures
Hood with elastic drawstrings
Grommets for conversion to tent
Pros
Extremely light weight
Doubles as tent
Sealed seams
Fully waterproof
Cons
Thin construction
No bag or pocket for self-storage or storage of goods
Coverage is not as ample as other ponchos
Sale
Terra Hiker Rain Poncho, Waterproof Raincoat with Hoods for Outdoor...
3-IN-1 RAINCOAT: Multi-use poncho is specially designed for outdoor activities; can be used as a...
STRENGTHENED WATERPROOF FUNCTION: Made from 210T high density polyester fabric that's PU3000MM...
EASY AND CONVENIENT: Roomy back is able to accommodate a large capacity backpack of up to 60 L;...
Last update on 2020-03-31 at 00:16 / Affiliate links / Images from Amazon Product Advertising API
---
Survival Poncho Buying Guide: How to Choose Your Poncho
Okay, so you know that you want to stay dry. How do you know which poncho is right for you? Here are some things to consider when choosing your survival poncho:
How much gear do you plan to carry?
This is an important question to ask yourself when choosing a poncho. If you are planning on carrying a pack with you, it is important that your poncho can cover both yourself and the pack. You would not want to be stuck in the rain trying to decide whether to protect yourself or your gear from the inclement weather.
How much strain will you be putting on the fabric?
You should have in mind your expectations for your poncho. If you are merely planning to use it while hiking, you can probably get by with purchasing a poncho that is of light construction with thinner material. However, if you plan to use your poncho as a tent, as a ground cover, or if you plan to be crawling or laying on your poncho at any time, you should opt for the thicker construction and more durable material.
How much coverage will you need?
This question deals with keeping dry and maintaining mobility. If you need maximum mobility, look for sleeves that are not too long or bulky. If you are looking for maximum coverage from the elements, the more material the better.
What's your budget?
One of the last and more unfortunate considerations when buying any sort of gear is affordability. You should always make a budget and stick to it. There are lots of options out there. You can spend a few bucks or a few hundred bucks on your poncho. In the end, just make sure that you can afford it.
---
FAQs about Survival Ponchos
Q: Is there a difference between waterproof and water-resistant?
A: Yes. Waterproof means that the material will repel water and that none will get inside. Water-resistant means that the material will naturally shed water, but it can still become waterlogged if exposed to water for long periods of time.
Q: How big should my poncho be?
A: Most ponchos are made in one size. If the poncho that you have in mind has several size options, be sure to check with the manufacturer for the exact measurements to make sure your poncho will fit. It is also important to make sure that you account for any headgear or packs that you might need to conceal.
Q: Do I have to let my poncho dry out before I can pack it away?
A: Most likely. Although some ponchos come with a small bag or self-stuffing pocket that is vented, it is not extremely common. It is always a good idea to let your poncho dry out before you put it away. If you pack it up while it is wet, you risk allowing mold and bacteria to grow. This can be a health hazard and can also lead to the rotting of your poncho.
Q: Can I really use my poncho for a tent?
A: Yes! If your poncho is waterproof and has grommets along the edges and at the corners, it can be easily used as a tent or rainfly. If you think that this application is something that you need for your poncho to handle, be sure to get one that is stout enough to handle wind and other inclement weather.
Q: What is a taped seam?
A: A taped seam is a seam that has been bonded on the inside, outside, or both. This bonding is a rubber-like material that is heated when applied and is molded along the seam. This ensures that the seam does not seep or leak when wet.
---
Verdict
Out of all of the ponchos out there, The Gloryfire tactical poncho ticked the most boxes as the best survival poncho in the market. It made the top of the list because of the nano-coating and extreme durability. That nano-coating is tough stuff, and it sheds water better than any of the others.
There are a lot of options out there when it comes to ponchos. Ponchos are no longer just loose-fitting raincoats. They can be shelter, means of extra storage, sun protection, and more.
When you are looking to buy a survival poncho, be sure that you consider any bags or hats that you will be wearing with it and what other features are necessary for your poncho to fit your needs. If you are a hunter or if you plan on taking small items with you, be sure that your poncho has the pocket-space for those items that need to be reached from the outside. Lastly, make sure that the poncho that you are considering is sturdy and will ward off the rain. Hopefully this list and buying guide had answered all of the questions necessary in choosing your survival poncho. Keep dry!
Get Exclusive Survival Articles!
Subscribe and get survival prep, gear reviews, and guides sent to your inbox.
Thank you for subscribing.
Something went wrong.