While we are surely in the age of the striker-fired pistol ascendancy, the single-action (SA) pistol still has a strong, iron-headed, devoted following.  The siren song of crisp, short trigger pulls and positive external safeties, coupled with (usually) stellar accuracy and rugged dependability is a sweet song indeed – and when one throws in the romanticism of big bore, slab-sided pistols defending our country and ideals, well…it's hard not to look at a high-end 1911 or Browning Hi-Power in the gun shop's glass display case and wipe away just a smidgen of salivation.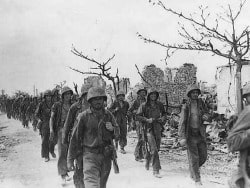 Holding an early military contract 1911 makes me think of our WWI doughboys, knuckle-duster trench spike in one fist, cocked .45 retained with a lanyard in the other, fighting for their lives in damp, brutal trench warfare.  Or maybe it invokes  Alvin York on Hill 223, running out of .30-06 ammo for his rifle, then fending off a six-man German bayonet charge and capturing 132 of the enemy single-handedly – with a 1911 and one round of ammunition remaining.  Perhaps we remember the legend of Sergeant Thomas Baker fending off a Japanese assault on Saipan, with a 1911 and his unit's last eight rounds of ammunition – he was found dead, with a slide-locked pistol and eight dead Japanese before him; his men were able to withdraw and fight another day.  (York and Baker both won the Medal Of Honor for their actions.) You see, the single-action auto is a symbol – some say THE symbol – of defiance, competence, ingenuity, and good old American ass-kicking, ensuring that no matter how many Glocks are made, the single-action auto will always have a strong place in our hearts.
And so it was inevitable, I suppose.  All three of these magnificent handguns happened to be available at the same time, so I had to compare them – and definitely shoot them, right?  Two of John Moses Browning's most beloved and war-tested pinnacle designs from the early 20th century, and an example of Swiss ingenuity applied to the combat pistol concept – all three highly sought-after single action semi-automatic handguns, all three pistol perfection in their own right.
The Subjects
The three pistols we will be examining are lustworthy indeed: A well cared-for Colt Series 70 1911 Government Model in the classic .45 ACP chambering, a mint Browning Hi-Power Practical in .40 S&W, and a serious-looking Sig Sauer P220SAO, also in .45ACP.  The 1911 and Hi-Power are loaners; I wanted to compare them to my single-action Sig Sauer P220 to see if the more modern design eclipses – or falls short of – the vaunted John Moses Browning designs.
The Colt 1911A1 MK. IV Series 70 .45 ACP
The Colt 1911 is, without a doubt, America's pistol.  Designed by the illustrious John Moses Browning in the early 20th century as an answer to the U.S. Military's call for a new semi-automatic service pistol that "should not be of less than .45 caliber", the 1911 was the final evolution of a series of pistols and calibers that started with the framing-square-profiled .38 caliber Colt M1900 and the improved Colt 1902.  After the U.S. Military fought drug-addled knife-wielding Moro guerillas in brutal close-in jungle warfare and found that their issued .38 Special revolvers did not provide the needed stopping power, a request was issued for a .45 caliber semi-automatic pistol design after the US military found that the stop-gap older 1873 "Peacemaker" .45 Colt revolvers stopped Moro charges with authority and saved our boys from being hacked to bits at bad breath distance by fanatics.  After a gestation and trial period that lasted from 1906 to 1910, Browning's new pistol – built by Colt –  and its purpose-designed caliber, the .45 Automatic Colt Pistol (or ACP for short) won a military competition handily, beating offerings from Webley, Savage Arms, Bergmann, and others.  The new service pistol was formally adopted by the US Army in March 1911, leading to the year moniker all gun enthusiasts know and love. The Marine Corps and Navy followed suit two years later, and adopted the "Model of 1911" in 1913.
Related: 1911 or Glock
The 1911 went to war a few years later in 1917 when the United States entered The Great War, now known to us as World War One.  The 1911's most famous feat was the aforementioned capture of Hill 223 during the Meuse-Argonne offensive on October 8, 1918 by then-Corporal Alvin C. York: a story that captured the imagination of every American who heard it.  York's bravery and skill with his firearms – a GI .45 included – made the hearts of every patriot swell with pride and astonishment for the feat of arms and marksmanship that was Alvin York's story.
Wartime experience with the 1911 ushered in several improvements on the initial design, and these minor changes were implemented in 1924 with the introduction of the M1911A1 variant.  The easiest modifications to spot are the cutouts in the frame immediately behind the trigger, a shorter trigger, and arched mainspring housing.  Other modifications included simpler-to-manufacture grips, a shorter hammer and longer upper tang on the grip safety – these latter two modifications adopted to prevent "hammer bite": the painful pinching of the web of the hand by the hammer coming back to the cocking position when the slide reciprocated.  Better, more solid sights rounded out the list of changes between a 1911 and a 1911A1….and since then, the basic design really hasn't changed much.  Sights may be improved, ambidextrous safeties and beavertail grip safeties may be installed, but today's production 1911 differs very little mechanically from a 1911A1 produced in 1924 – and if you had the two of them side by side, it's a safe bet that almost all the parts would interchange.
The 1911 loaned to me for this evaluation is a box-stock, near-mint Colt MK IV Series 70 Government model, meaning it sports the 5" barrel and full-sized grip; the largest 1911 model aside from any "longslide" variant.  This particular Colt has the standard small plain black sights with no white dots or tritium inserts.  The Series 70 is a highly desirable collector's item, since it was the last model made before the introduction of the integral firing pin safety that came with the following Series 80 guns.  Many 1911 purists eschew the now-standard firing pin safety of the later 1911 models, claiming that the added moving parts affect the trigger pull quality and offer one more place for the gun to malfunction – it's also contended that John Browning didn't put the safety there in the first place, so therefore it clearly wasn't needed!  Original Series 70 1911s were made from 1970 to 1983 (though Colt has brought them back into production), and are beautiful pieces of machinery, with high-polished flawless bluing and tight manufacturing tolerances. This particular Series 70 is no exception, with deep lustrous bluing that is only slightly worn, and nary a wiggle between the frame and the slide.  It's beautiful and businesslike….and it has a big damn hole in the dangerous end.
The Browning Hi-Power Practical .40 S&W
If I had to choose one semi-automatic handgun to be crowned "The classiest pistol of all time", the Browning Hi-Power would be it.  Any firearms enthusiast who has spent an extended period of time with a Hi-Power would likely agree; Hi-Powers are svelte, trim, and fill the hand perfectly, with graceful lines and a purposeful form.  Hi-Powers – also known as P-35s or BHPs – were one of the 20th century's most prolific combat handguns, serving in almost 100 different nation's armies as the primary sidearm.  In fact, many countries still issue the BHP: the Belgian Army, Australian Defense Force, and Israeli Police – amongst others – issue and carry the venerable design to this day.
The Browning Hi-Power (BHP from here on in this article) was John Moses Browning's final design – one that was not completed upon his death in 1926.  However, when the French Army issued a call to the Belgian arms company Fabrique Nationale (FN) for a pistol to meet stringent requirements, FN called upon the genius of John Browning to design it.  Some of the requirements for the pistol seem yawn-inducing now, but were quite forward-thinking in the early 1920's.  The French wanted a compact gun that held at least 10 rounds in a removable magazine, have a manual thumb safety, external hammer, and magazine safety that denied the gun firing without a magazine inserted.  They also issued the need for the gun to be able to kill a man a 50 meters and be easy to disassemble.
Read Also: The Katrina Pistol 
FN commissioned Browning to work around these requirements, but there was a caveat – initially, he could not impede upon his own patents that worked so successfully with the Colt 1911. Browning started from the ground up, and created the framework for the innovative pistol we know today as the Browning High Power.  There were several industry firsts introduced with the BHP, including the staggered double-stack magazine (holding 13 rounds of 9mm Luger), and the short recoil camming tilt-barrel locked breech design that almost all modern recoil-operated semi-automatic pistols employ today.  Though Browning would not live to see the fruits of his labor completed, Fabrique Nationale ran the natural evolution of the design and completed Browning's work, along with the help of a few design tweaks that were available after the Colt 1911 patents expired in 1928.
The reliability, high capacity, and inherent accuracy of the BHP during wartime exploits earned the pistol a hushed, subdued respect that still soldiers on to this day.  Today, people who use Hi-Powers regularly are pistol connoisseurs – users of the world's greatest firearms designer's penultimate handgun design.
The Browning Hi-Power tested for this article is a two-tone HP Practical variant, in .40 S&W. The slide has been beefed up very slightly to help compensate for the sturdier high-pressure caliber, but other than that, the pistol feels very similar and works identically to a standard 9mm Hi-Power.  The safety is ambidextrous, and the sights are fixed – but improved over the standard MKIII version with a higher profile and white contrast bars.  A neat upgrade to these later-production Hi Powers is an external magazine spring that ejects the magazines out of the grip with the utmost haste once the magazine release has been pressed.
Yes, I could have, maybe even should have, obtained a "classic" 9mm Browning Hi-Power to shoot and write up – but I wanted big bores, dammit – so I borrowed the .40 over the 9mm. It's a choice I'm okay with.
The Sig Sauer P220SAO (Single Action Only)
The Sig Sauer P220 is the first design in a long and highly-respected series of pistols, the Sig Sauer "Classic" line of handguns.  This series includes the models P220, P224, P225, P226, P227, P228, P229, P239, and P245.  This family of pistols – especially the P220 and P226 – are the rock upon which Sig Sauer built its current reputation of "To Hell and Back Reliability".  Though the design was introduced in 1975 as a replacement for the highly vaunted P210, the P220 ushered in a new era of reliability, accuracy, and utter quality that still runs strong – and other manufacturers are still trying to match today.
A single-stack DA/SA (double action/single action) design traditionally, the P220 was redesigned in the early 2000's to offer a SAO (Single Action Only) configuration.  The familiar Sig Sauer thumb-operated decocker lever was eradicated, and an ambidextrous thumb safety, a la 1911, was installed at the rear of the frame.  Other than these simple modifications, the internal mechanisms and external ergonomics remain mostly unchanged, and the P220SAO is as supreme a fighting and target pistol as its vaunted DA/SA brethren.
I've often said that the P220 will do everything a 1911 can do, but better (a phrase that has gotten me in some heated arguments over the years) but I stand by the proclamation – and now that the P220SAO is on the books, Sig Sauer has made my argument that much easier.  The P220SAO is a marvel of modern engineering – beautifully made, reliable to a fault, and just ridiculously accurate.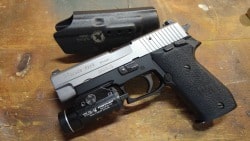 This particular P220SAO was obtained by yours truly after a long and heartfelt desire was churned up in my innards – this emotion struck me the second I heard that SIG Sauer was offering a single-action auto version of the P220.  It was one of those "SHUT UP AND TAKE MY MONEY" moments that we all experience at some point or another, and it's a special feeling. My P220SAO is bone stock, with Siglite tritium three-dot night sights and a factory two-tone finish, with the slide natural stainless steel, and the earlier German-manufactured aluminum frame (all current P220SAOs are made in Exeter, NH) in black anodized and blued controls.  The P220SAO is the only pistol of the trio to sport a dust cover mounted accessory rail for lights and lasers, and it is the only pistol of the three to have an aluminum frame – the 1911 and Hi-Power are all steel.
The Big-Bore Nitty Gritty
All three of these pieces of weaponry art are what I would consider full-sized guns. Here is a basic run-down of the pistols' particulars:
COLT 1911 SERIES 70 GOVERNMENT MODEL
Caliber: .45ACP, also available in 9mm, .38 Super (current production Series 70 guns are .45ACP only)
Length: 8.5"
Width:1.25"
Height: 5.5"
Barrel Length: 5"
Weight Unloaded: 37.5 ounces
Magazine Capacity: 7 rounds standard in .45ACP, higher capacity magazines available
BROWNING HI-POWER HP PRACTICAL
Caliber: .40 S&W, 9mm
Length: 7.75"
Width: 1.4"
Height: 5.02"
Barrel Length: 4.6"
Weight Unloaded: 32 ounces
Magazine Capacity: 10 rounds in .40 S&W, 13 rounds in 9mm
SIG SAUER P220SAO
Caliber: .45ACP, 10mm
Length: 7.7"
Width: 1.5"
Height: 5.5"
Barrel Length: 4.4"
Weight Unloaded: 30.4 ounces
Magazine Capacity: 8 rounds standard in .45ACP
As you can see, the basic pistols are all very close in size: less than an inch in length, a quarter inch in width, a half inch in height, and a third of a pound separate the three platforms. However, specifications alone don't tell it all; each of these pistols has its own legion of heartfelt, ardent fans. In part two of this article, we'll line them up at the shooting bench and dig into why each of these pistols is so successful, and popular – over a century after the single-action semi-automatic pistol came into its own.  Stand by!
Save
Save
Save
Save