Shelter is one of the most vital of the survival priorities, without it you can be dead in as little as three hours in bad weather. The problem with shelter is that it is costly in time and resources to create in a survival situation, and that is time that your body temperature will be dropping and your motor functions will become more severely impaired. This is where a bivvy sack would come into play.
Which ones made it to our list? Let's find out…
Best Emergency Bivvy Sacks – My Picks
Best Emergency Bivvy Sack Overall – Tact Bivvy Emergency Sleeping Bag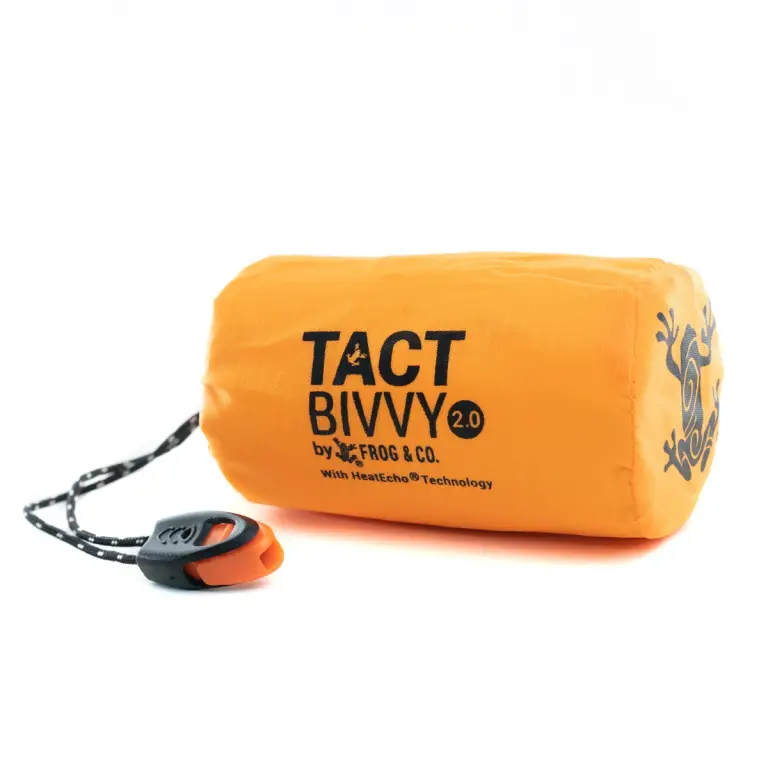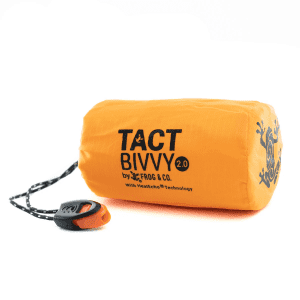 The Tact Bivvy is an easy win for the best overall pick because it is not only a good size and comes in both orange and green but also includes a whistle and tinder which aides to increase your odds of survival when TSHTF.
Weighing in at 4.7 oz the Tact Bivvy is not the lightest but also far from the heaviest on my list which is probably due to the use of thicker Mylar and taped seams in the construction. With dimensions of 7 feet by 3 feet this bivvy will accommodate the vast majority of the population.
Features
Overall size 84" x 36"
Weight 4.7 oz
Comes with 120 decibel survival whistle
Paracord in drawstring has fire tinder inside
Fits in the palm of the hand
Seams are taped
Pros
Comes with whistle and tinder
Large enough for people of above average height
Reflects 90% of body heat
Fits in palm of the hand
Two colour options
Windproof and Waterproof
Cons
Not the lightest option on the list
Customers Say
Customer reviews are very positive and the only negative ones that I could locate appear to be written by people who expected far more out of a Mylar emergency bivvy than can be reasonably expected. Other negative reviews were written by people who did not seem to understand what they were buying and clearly had unrealistic expectations.
Our Favorite Sack

Weighs only 6.2 ounces. Very durable.

Use in all survival situations to stay warm

View Latest Price
The Go Time Gear Life Bivvy is quite similar to my best overall pick with the exception of not having fire tinder inside the paracord drawstring. Weighing in a 4.1 oz this is lighter than our number one pick and is the same overall size. There is also both an orange and a green color option available which is a bonus especially if you are looking for a more tactical option.
Features
Overall size 84" x 36" and 4" x 3" in stuff sack
Weighs 4.1 oz
Includes whistle and paracord drawstring
Comes in both orange and green
Taped seams
26um thick Mylar
Pros
Lightweight
Large enough to accommodate most people
Two colour options
Packs down small
Windproof and Waterproof
Cons
Does not include tinder in the paracord
Some negative customer reviews in regards to quality of product
Customers Say
Most of the customer reviews are positive but there is a segment of the reviewer that appear to have had very negative experiences with the product. Some of the negativity is around people not understanding what an emergency bivvy is best suited for but some cite that their bivvys were missing pieces, had the coloured or silver lining come off, or had holes form too easily.
Sale
Last update on 2023-09-26 at 17:43 / Affiliate links / Images from Amazon Product Advertising API
The Don't Die in the Woods Emergency Sleeping Bag is a good option for a bug out bag even though it is the heaviest on this list at 7 ounces. The added weight will result in some added durability which is good for any bug out scenario. These bivvys also have a camouflage and a forest green colour option which is a big advantage for bugging out while staying concealed. This bivvy also comes with a hood as well which is a nice option to keep the head insulated as well.
Features
Overall size 84"x36" packs down to 3.5" x 2.5"
Weight 7 oz
Includes a hood
Three colour options (orange, forest green, and camouflage)
Pros
Three colour options
Windproof and waterproof
Includes a hood
Durable
Cons
Heaviest option on the list
No whistle or paracord
Customers say
Most reviews for this bivvy are positive with the usual minority negative reviews usually about the product being made from thin material and written by people who clearly do not understand the limitations of an emergency bivvy.
Sale
Last update on 2023-09-26 at 17:43 / Affiliate links / Images from Amazon Product Advertising API
I'll admit that I have a soft spot for SOL products being that I currently own a lot of their emergency blankets. This particular bivvy is the lightest weight option on my list and is a great option for bug out or get home bags.
The SOL emergency bivvys also come in a variety of sizes and a few different colour options. An important point to note is that the specifications listed here are for the lightest weight option, for example the green escape bivvy from SOL is heavier at 8.5oz and only reflects back 70% of your body heat as opposed to the 90% of the ultralight version.
Features
Overall size 84" x 36"
Weight 3.5oz
Comes in several colours and sizes (different colours and sizes have different specifications)
Pros
Lightweight
Lots of colour and size options
Windproof and Waterproof
Cons
Different colours and sizes have different specifications
No whistle or tinder
Customers say
Most customers are very happy with their purchase and almost all the negative reviews I read appear to be written by people who did not understand that emergency bivvys are not breathable and condensation is going to be an issue.
Last update on 2023-09-27 at 01:42 / Affiliate links / Images from Amazon Product Advertising API
If you want the most bang for your buck then this is the option for you. The JYSW Emergency Bivvy Sack is a two pack. Two bivvys for the price of one comes with the reduction in quality that you would expect from a mass produced Chinese made Mylar sack, these will however do the job of reflecting your body heat just fine.
Weighing in a 4.6 oz and measuring in a 79" x 47" these bivvys are a bit wider but also shorter than the others on this list.
Features
Overall size 79" x 47"
Comes with whistles
Includes two bivvys
Camouflaged colour
Pros
Comes with 2 bivvys
Lightweight
Windproof and waterproof
Includes whistles
Cons
Not as high quality as the other options on the list
Shorter than other emergency bivvys
Customers say
Customers seem to have generally positive impressions of this bivvy and there are very few negative comments. The negative sentiments are in reference to some quality control issues and the thin Mylar material. As with the others on the list a portion of the reviewers seem to not understand the limitations of emergency bivvys.
---
Benefits of Bivvy Sacks
A Bivvy Sack (or Bivouac Sack, Bivy Sack, or Bivi) is usually a slip-on cover for your sleeping bag to make it warmer or waterproof.  An emergency bivvy sack is made so that it can be used by itself.  Usually out of synthetic materials that are designed to reflect and hold body heat.
Obviously it's something great to throw in your Bug Out Bag, but I am thinking it might be most useful for an Urban Survival Bag.  It would be a great warmth and weather protection option for an urban survival pack that is usually smaller and might not be made for out right camping, in which case you don't have a full sleeping bag.
1. It's Reusable
I don't know about you but I am never going to be able to refold a $0.79 cent emergency blanket back into that tiny little square. An emergency Bivvy Sack comes with a stuff sack and is made to be reused.
2. Sleeping Bag Style
Emergency blankets are nice but they are awkward in a situation where you need warmth around your whole body. Square blankets are great for laying on the couch in the winter, but when you need full protection from the elements a sleeping bag style is really the best way to go.
Not to mention you could just slip it over your full sleeping bag anytime you need to for added warmth or water protection.
3. Help Other People
Assuming all our great readers are prepared, you could use it for helping out someone else who isn't prepared.
---
How To Choose an Emergency Bivvy Sack
Emergency bivvy sacks are generally made from reflective Mylar which reflects your body heat back on to you. The advantage is that Mylar is very lightweight and it's heat-reflecting properties result in keeping you warm by recycling your own body heat.
Mylar is also both wind and waterproof which will shield you from the elements, but for the most part, will not be breathable so you will find that condensation is going to be an issue. The key to avoiding waking up wet is to keep air circulating and to be mindful of what you are wearing and remove layers to avoid overheating.
What is an Emergency Bivvy Sack Meant For?
Emergency bivvy's are meant to be a replacement for a sleeping bag in situations where you either have been separated from your sleeping kit or are in a situation where carrying a full sleeping bag was not practical or required. Emergency bivvy sacks are great for car kits, bug out bags, get home bags, or survival kits.
How to Choose
Choosing an emergency bivvy comes down to a combination of durability, weight, size, and price.
For those of us who have handled a Mylar space blanket before you know that the material is very thin and it doesn't take much to put a hole through it. Not all Mylar is created equal though and generally speaking the thicker the Mylar the more durable it will be, however, this durability will come with a weight penalty.
As for the weight it can almost hardly be considered an issue given how lightweight these bivvys are, with the difference between different models is usually only an ounce or two. For some of us though, especially when crafting a bug out bag, are very serious when it comes to ounces, but lightweight usually means thinner or smaller with a reduction in durability.
One thing is for sure, and that is which ever bivvy you choose your body must be able to comfortably fit inside of it. Most bivvys take this into consideration but that being said you need to still check the unfolded size to ensure that it will accommodate you. The compressed size of these sacks is usually pretty much the same across the board with variations of only an inch or so between them,
We all have a budget and we all have a threshold of how much we are willing to pay for an item that we hope to never have to use. I always ask myself when purchasing survival gear, whether some of the money I'm about to spend would be better spent elsewhere or is this item critical enough to warrant spending top dollar. This of course is a question that only yourself and your budget can answer.
What Makes an Emergency Bivvy Sack Good?
A good bivvy comes down to being lightweight, durable and provides enough room to sleep in comfortably. Looking for added features like survival whistles or a hood are also options that set some bivvys apart form the rest. What makes these emergency bivvys good survival items is that they are waterproof and windproof while also reflecting 90% of your body heat back on itself.
The main consideration is that this item will be used in life or death emergencies and you need to pick one that will do the job of maintaining your body heat and keeping you dry and out of the wind.
---
Common Questions…
How should I care for my emergency bivvy sack?
Mylar is very thin and most of the bivvys on this list have their thickness measured at 26um which is 26 micro meters or in other terms 0.026 mm or 0.001 inches. Since the material is so thin you must be cautious getting inside of and out of these bivvys. It is not difficult to put a boot straight through the thin Mylar and dragging the bivvy around is a good way to tear it up on rocks and branches.
Even though these bivvys are claimed to be reusable they should only be considered a short term option due to their fragility.
What should I be taking into consideration when using?
Number one consideration is that these bivvys do not insulate from the ground so you'll want some form of insulating materials between yourself and the earth.
The second consideration is that these bivvys are water and windproof so they are generally not breathable. This means that condensation inside of them is going to be an issue that you'll need to be thinking about.
Last is that these are emergency bivvys so you should not consider them a replacement for a good quality sleeping bag.
---
Verdict
The Tact Bivvy 2.0 deserves its spot at the top of this list with the lightweight and added survival items making this is a great all-around emergency bivvy that will do the job of helping you to conserve your body heat when TSHTF.
Either of the bug out bag options is great picks and would also be good in a car kit or a get home bag. For that matter any of these bivvys would be appropriate choices for any bug out bag, get home bag, bailout kit, or survival kit.
Our Favorite Sack

Weighs only 6.2 ounces. Very durable.

Use in all survival situations to stay warm

View Latest Price