I recently sat down and read Lisa Bedford's new book, Survival Mom and really enjoyed some of the insight it provided.  Since almost all survival and preparedness books are written from a man's prospective, this was a nice change.
By the SurvivalCache.com Team
Overview:
The book is well written and focuses on the mainstream survival market with an emphasis on preparedness from the female, and
more specifically, maternal point of view.  The book starts by asking the reader to "Define Your Disaster" which, for my wife, is a bad hair day (I am working on getting her into preparedness).  From there, the book moves in small steps to help the reader become more prepared without any of "The world is about to end, do this or die!!!" threats, which we've all heard too many times.  Survival Mom covers all of the basics such as water, food, shelter, transportation, security, and financials; and the checklists that she has included are helpful.  If you are a mother, wife, or daughter (or all three) and know nothing about the modern preparedness movement, this book would give you a strong foundation and allow you to feel comfortable in a conversation with other preppers.  Survival Mom provides the reader with a vast prepper knowledge base, with topics such as EMPs, Home Security, Guns, Gardening, Food Storage, and much more.
Likes:
I liked the fact that Lisa Bedford provided baby steps, checklists, preparedness quotes, and tips along the way.  I think this breaks the book up and makes Survival Mom more fun to read.
Dislikes:
What happened to the rifle???  The original "Survival Mom" had a rifle slung across her back!!!  She traded that in for a tool belt and medical kit.  I wonder if the New York publisher HarperCollins had anything to do with that?  I can appreciate this after dealing with network television.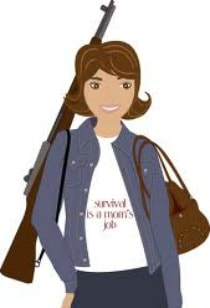 Conclusion:
I felt like this would be a great book for a female of any age who is interested in being more prepared or a great gift for a female who you would like to be more prepared.  I gave this book to my mother as a gift.  Is this James Wesley Rawles "How to Survive The End of the World As We Know It?"  No, but most people would be turned off by Rawles' book unless you are a serious hardcore survivalist.  Survival Mom is a good medium for those that are not quite that hard core, or are just beginning.  I enjoyed it.
About the Author: Lisa Bedford, aka The Survival Mom, started her blog when she realized that all the literature on survival and preparedness was written by men, for men. Long a teacher and trainer, she took it upon herself to be the missing voice for the many moms out there.  She has been featured in Newsweek and on Glenn Beck, and speaks around the nation about disaster preparedness.  Visit Lisa's Site – http://www.thesurvivalmom.com
Survival Mom – Kindle Edition
Get Exclusive Survival Articles!
Subscribe and get survival prep, gear reviews, and guides sent to your inbox.
Thank you for subscribing.
Something went wrong.