In this article, I'm going to try and cover all bases for why I think you should consider (if you aren't already) incorporating a bug out motorcycle into your SHTF plan. Inevitably, I'll try to keep these tips and suggestions broad, in order to accommodate a range of scenarios that could apply to you.
Moment a bug out motorcycle made sense to me…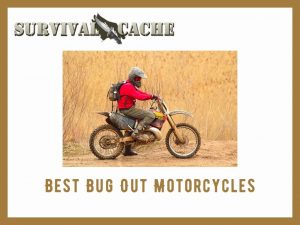 I remember the exact moment that motorcycles stopped resembling purely rebellious daredevil machines, simply for the pursuit of enjoyment; and transcended into facilitators of survival.
It was 2004 when I watched the first broadcast of Long Way Round with actors Ewan McGregor and Charley Boorman, riding on their Adventure class BMW R1150GS bikes.
Starting in London UK, the pair would travel east through Europe, Mongolia, Russia, Alaska with their final destination being New York.
Yes, this was TV. Yes, they had two 4X4 support vehicles in tow (which actually fared far worse than the bikes did) as well as mechanics to keep the bikes running. But these machines were still the real stars of the show.
Able to traverse unbelievably brutal driving conditions (Road of Bones in Russia anyone?), extreme temperatures and often maintained sourcing mostly cheap, local methods and facilities.
With that said, let's first go over which are the best motorcycles in my opinion…
Best Bug Out Motorcycles: My Top 5 Picks
I have selected models that hail from the dual sport and off-road classes. The logic behind this is simple, the following motorcycles give the best chance for covering a variety of ground surfaces and conditions and that for me, lends itself to the essence of bugging out; to expect the unexpected and to succeed:
Honda CRF450L Review
This is a powerful (40 brake horsepower) street legal off-road bike, with great ride clearance and fully adjustable front and rear suspension, prices start at around $10,000 new but you can buy a second-hand model for around $7,000.
At almost double the engine capacity of all but one of the others on this list – a used model, in good condition could make a very potent bug out motorcycle. The CRF450L also does a respectable 47.5 miles to the gallon and comes with a titanium gas tank, which Honda claim is cheaper to produce than a plastic alternative and also increases the tank's longevity.  
Kawasaki KLX250 Review
This one is a great budget friendly offering (at just over $5000 new) with decent ground clearance, suspension and is a solid choice for mixing it up between on and off-road trails. With a stock fuel tank of just under 2 gallons, the KLX250 does approx.
90 miles before it needs refilling. A larger 2.7-gallon fuel tank is available as an upgrade to eke out a greater single tank's mileage if desired. 
KTM 250 EXC Review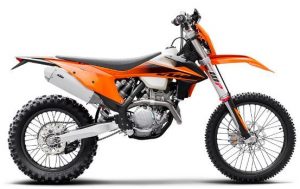 The Austrian made EXC has been in production for the last 20+ years and the reason for such a long heritage where each iteration only gradually changes from model to model is clear. This bike works and works well!
That's also been the opinion shared by many of the hardcore motorcycle publications who have been impressed by the quality of its stock parts. A dual sport bike that won't require endless tweaking is always welcome.
BMW R1250GS Review
We're going dramatically up in price with this entry which starts at just shy of $18,000 – but it's also a reflection of this motorbike being one of the most popular Enduro motorcycles in the world.
Remember the experience that first turned my head to considering motorcycles as viable bug out vehicles? Well, this is an evolved version of the model which featured in that show. One obvious thing to mention, is that this is a much bigger bike than the others listed above, it has a 1254 cc engine that generates over 135 HP. It's also an absolute workhorse, capable of transporting around 480 pounds of weight.
Where the other entries on this list would likely rely more on you making it back to camp or a bug out location; the R1250GS gives owners the means to keep bugging out far beyond harm's way. It's rugged construction and carry payloads mean it could transport you and your most necessary gear effortlessly.
Zero FX Review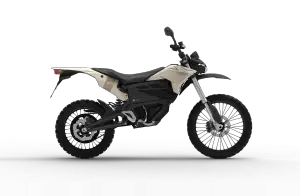 OK, so this one is something of a wild card. In my run down of advantages, I mentioned low profile and deathly quiet operation and hinted at what the future will bring when more electric motorcycles hit the market. Well, while I don't think that this particular offering is the electric revolution that e-motorcycle manufacturers have alluded to, it's still great to see what kinds of features we can expect, moving forward.
Available in different battery configurations, including an optional quick-charge pack that reduces battery charge time from 10 hours to less than 2.  The thing to get really excited about with this off-roader (and other electric offerings further down the pipeline) is the instant torque that electric engines can pull off, that combustion engines just aren't capable of.
Anyone who has witnessed the instant acceleration that a Tesla car has, will have some appreciation of what to expect. With a starting price of around $10.500 and with a range of somewhere between 70 and 90 miles from a single charge – I'm not suggesting you rush out and buy one. I do, however, think you should keep tabs on the development of electric motorbikes in general. As they improve and evolve, units and parts will become cheaper and more widely accessible and any reservations will start to fade away. 
Other Suggestions for bug out motorcycles…
If the above recommendations didn't quite tick your box, you may wish to explore the following suggestions:
Suzuki DR650
Honda XL125 Varadero
BMW F800 GS
KTM 390 Adventure
Honda CRF1100L Africa Twin
---
Things to Look for When Buying or Building Your Bug Out Bike
Complexity
The more happening behind the scenes – the more that stands to go wrong on/off the road. For example, the KTM 390 Duke looks like an amazing bike and one that I have no doubt drives wonderfully.
However, the extra technology, like the multi-color TFT tablet display that replaces the usual speedometers and RPM gauges; simply sends me into a panic when I imagine riding one under a stressful SHTF scenario. That's why I would recommend you consider models that are relatively basic in their architecture.
"Easy to ride and easy to maintain" should be your prepurchase mantra here. Most of the Japanese manufacturers make very reliable motorcycles. So, if you want to narrow down your search radius, you could do a lot worse than to start considering models made by Honda, Kawasaki, Yamaha and Suzuki.
MPG And Fuel Capacity
Higher fuel efficiency is great but it's meaningless if fuel capacity is steeply capped to a low limit. Bigger fuel tanks will add more weight, which will drag fuel efficiency down. I would recommend considering bikes that have an MPG of 40+. If you can aim to give your bike an 80+ mile capability from a single tank of gas, you're doing ok.
Availability Of Parts
Popular motorbike models will have a wealth of available parts – this is something to keep in mind. One reason for the success of the Land Rover Defender in African countries was its ease to be modified and the availability of spare parts to keep it running. Similarly, choosing a model of motorbike that is commonly driven will ensure a healthy supply of potential parts in a SHTF scenario.   
Frame Size And Ride Height
These are the same qualities to consider if you were buying a regular motorbike – you don't want to ride a bug out bike that was intended for someone half your size, nor do you want to struggle to operate one that was designed for a giant. As mentioned earlier, any bike will require a degree of physical strength and endurance from its rider – so don't tip the scales and make your motorbike more challenging than it has to be.
Multi-Fuel Capacity
Bikes that demonstrate this capability are still quite rare – but as the name suggests most will run on diesel, petrol and a mix of alternative fuels.
Shock Absorbers
If you're even thinking at this stage, how good it would be to have the option to take your bike off-road, then you will want to investigate a bike that accommodates off-trail riding and suspension is as good as any place to start.
Ground Clearance
Again, as above, the higher the ground clearance the better for off-road, but at some stage (dependent on the model of motorcycle), if you raise your bike too high, on-road handling will be severely impaired.
Tires
Unless you already know the route and exact surface that you'll be riding on under a SHTF scenario – I would suggest exploring an all-terrain tire to give you more options.
Remember the more you specialize your bug out motorbike for either tarmac or off-road conditions, the more unwieldy it will become for the opposite. Keeping your options open by trying to balance between these.
Because your bug out motorbike choice is entirely subjective to your needs, there is no single recommendation that can trump all other models.
But for a person just getting into motorcycles, even their classification can be  bewildering.
---
Different Types of Bug Out Motorcycles
I have outlined the differences between the classes of motorcycles below:
Off Road – Which include Motocross and Enduro classes and are made to excel off the tarmac.
Street – Can include a range of light, to powerful engine machines that focus on comfort and a smooth ride in urban environments.
Adventure – Best described as motorbikes for riders who wish to take the least travelled roads – suitable for some light off-road trails
Dual Sport – The class of bikes that can handle off-road and on-road surfaces – a good jack-of-all-trades and the class I'd most recommend to others.
Touring – For long rides/distances. Here, the emphasis is on comfort rather than handling or speed.
Sport Touring – Where greater speed and comfort is required.
Sport, Super Sport, Hyper Sport. Taken as a whole, these classes are fairly interchangeable depending on the manufacturer. Basically, racing speed and finely tuned road handling/braking are the commonly shared characteristics here.
---
Bug Out Motorcycle Advantages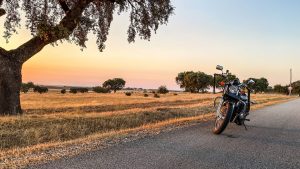 I'm glad you asked. Below I have laid out the main advantages and applications to owning a bug out motorbike:
Route Multiplier
Can give you accessibility to roads, narrow spaces and off-road areas that even 4 wheeled vehicles can't necessarily reach. Think of how a bike can eat up tarmac even when highways are congested, bypassing traffic that is in gridlock!
Fast
Even the slower models can still rapidly haul the average sized human, thanks to their relative high power to low weight ratios.
Can Make It Your Own
A high level of customization options is available for virtually any class of motorbike. What's more, there are a wealth of expert modification outfitters (companies that specialize in installing bike upgrades) out there. So, if you don't feel confident doing all of the work yourself, it may be worth researching which garages are nearest to you.  
Low Profile
Yes, they make noise, but even a cosmetically blacked-out motorbike at night can be very difficult to visually identify. Determining a bike's exact location or direction of travel, based on hearing alone, is equally challenging. When you start to consider the purely electric engine motorbikes (e-motorcycles) that are on the horizon; where qualities like silent running propulsion converges with equally low-profile silhouettes, then you start to realize that carrying out stealth-based motorbike operations is no longer a fantasy. 
Increase Situational Awareness
As well as for speedy emergency egress, a motorbike can effectively perform scouting duties. This can dramatically increase your sphere of awareness and the radius of your defendable perimeter.
Furthermore, this works regardless of the environment, whether you are operating within a rural or an urban context. Having a means to quickly scout, is a great way to build up a better picture of the threats and opportunities that are near to, or which are encroaching upon your base of operations.
Secure Survival Gear Transportation
There is an abundance of third party or aftermarket manufacturers who create useful storage and organization options for motorbikes. From secure bow, rifle and handgun mounts, to hardy luggage for transporting valuables or supplies.
Partnering Up With A Bigger B.O.V
Add range to your existing bug out vehicle by coupling a bike or two to it. Following on from the last point – there are an impressive number of motorcycle trailers and racks for attaching a bike to your bigger vehicle of choice.
Make sure to read our article on the bug out vehicles. They act as great companions to a motorcycle.
Bug Out Bikes To Suit All Budgets
Motorbikes are relatively cheap – you can often snag yourself a bargain, especially if you search for previously owned models. Many of these can be found with the kind of upgrades that you would wish to add to a new stock model anyway, which can present a significant saving on upgrade costs.
Fewer Grease-Monkeys Required
It may be something of a generalization – but on the whole, motorbikes are easier to maintain than their four-wheeled counterparts. They require fewer tools, are lighter and easier to manipulate when more involved maintenance tasks are necessary. Also, they will not require the same space to repair as say, a car would.
This makes bug out bikes an ideal, high-speed, low drag solution.
Fewer Trips To The Pumps
On the whole a bug-out-motorbike will be more fuel economic.  Whether you're matching a couple of bikes to your four wheeled bug-out-vehicle, or simply relying on riding the bike solo – knowing that it's not going to cost the earth in terms of fuel efficiency, can be an extremely attractive quality.
---
Downsides To Owning/Operating A Bug Out Motorcycle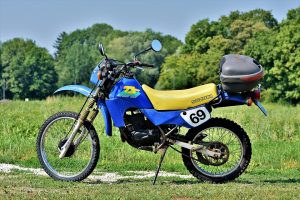 Like anything, there is always a flip side, so it's important to bear in mind some of the main disadvantages of having a bug out motorcycle:
Open To The Elements
Switching from operating a traditional doored vehicle, to riding a motorbike increases the driver to exposure, while at the same time decreases overall security. Not only could you easily find yourself the victim of aggressors in a SHTF scenario, but the environment can take a much heavier toll on your physical wellbeing.
Depending on the surrounding climate, motorcyclists face the constant challenge of balancing protection, comfort and safety. The sweet spot between all three of these is often illusive.
For example, hot/arid highways where trouble or vehicle congestion is expected, will likely deem body armor and warm leather/synthetic protection clothing necessary. At night, the same weather conditions often see the mercury drop dramatically – meaning the cold replaces the heat, as your new enemy and a further wardrobe change is likely required.
Fatigue Catalyst
Prolonged riding on a motorbike – even on flat terrain is tiring; more so if you have to venture off-road. So, comfort can be in short supply. It's likely if you are hauling additional survival gear or supplies that it's going to be a physically demanding job getting from A to B. Just balancing out your bike and cargo weight over bumpy terrain, can present a steep physical challenge.
Danger Close
They say: "accidents will happen", but in the case of motorcycles, even during quiet periods of calm; you are always susceptible to potentially life-changing or life-ending dangers.
The advantage I mentioned earlier, of a bug out motorbike possessing a low profile, is also by the same token – a disadvantage from a safety perspective. Under limited visibility conditions, e.g. fog, smoke, darkness or sheet rain; other road users are less likely to see you, and the chances for getting into a vehicle collision increase exponentially.
Not A Survival Gear Mule
Even with all the mods that allow for carrying increased loads, larger capacity fuel tanks and so on, you just have to face the fact that riding a bug out bike demands a streamlined approach to preparedness. Think of extreme alpinists, where every spare ounce saved can help the high-altitude climber push further. Less weight carried on your SHTF motorbike will improve your ride's speed, fuel efficiency, handling and braking capabilities. Here the saying 'less is more' really comes into its own.
That's A Nice Bike…
Fact: a bug out motorcycle is usually easier to steal and sabotage – worth considering if you live in an area that is prone to opportunist thieves, or within the vicinity of those who may wish you harm. Even if you have invested in better locks and theft deterrents – a bike's size often means it can be carted off using another vehicle to a more secluded location for the unscrupulous to 'work' on removing any anti-theft countermeasures that you have installed. Also, be aware that in some places, your bike may be even more desirable than your main bug out vehicle, making you a greater target.
Now that we have balanced the pros and cons, we can explore the qualities/features to help you choose a bug out motorcycle more wisely.
---
Wrap Up
Hopefully this article has provided some food for thought and persuaded you that a back-up bug out motorcycle could compliment your existing SHTF contingency planning.