Let's talk about the difference between cheap and affordable. My definition may not fit the dictionary definitions, but when I apply it to rifle optics, it seems to work well.  In my mind, cheap means that you are paying a price you really like and hoping to get a level of features and quality that goes well beyond the price.  Affordable means that you are paying a price that you are sure will get you features and quality for which you usually expect to pay more.  There is a difference between hope and knowledge.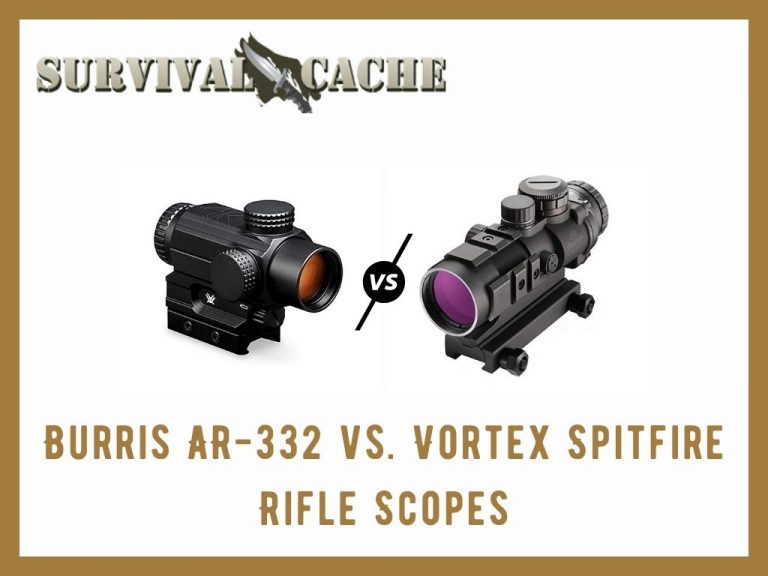 My definition of affordable puts both the Burris AS-332 and the Vortex Spitfire rifle scopes in this category.  You know you are getting a high-quality optic with the features you would expect on a much more expensive scope.  You are also paying a price well below what you would otherwise expect to pay.
Comparing the Burris AR-332 vs Vortex Spitfire rifle scopes is a little like comparing twins.  You must look for the subtle differences, and even then, the match may be so close as to make the two indistinguishable.
Burris AR-332 vs Vortex Spitfire Review: Hands-on Experience
Vortex Optics Spitfire Rifle Scope Review
There is no doubt that Vortex Optics has rocked the rifle and pistol optics world since they brought their first scope to the market.  Before Vortex arrived, the range of affordable scopes was limited, at best.  There were expensive scopes, and there were cheap scopes, but very few affordable scopes available.
Then came Vortex Optics.  Vortex entered the market with an eye on what shooters wanted.  Using the latest developments in the manufacturing process and the best possible materials, Vortex found a niche that primed for them.  Vortex came to the market, providing optics that rival in quality and performance many of the most expensive scopes with a price that kept Vortex Optics available to almost any shooter.
The Spitfire Rifle Scope – Short Range or Long Range
Fixed -power optics are standard fare for mounting on combat weapon platforms, especially the AR-15 platform popular with many shooters. To Address this market, Vortex Optics created the Spitfire rifle scope around the AR rifle design.  The two were meant for each other from the start.
From the reticle design that subtends for the 5.56 55 grain NATO rounds to the typical Vortex durable and tough construction, the Spitfire rifle scope works as both a close-quarters battle optic and a useable and accurate long-range optic that can take you out to 500 yards easily.
Vortex doesn't skimp on the features to make an affordable scope.  You get everything in a Spitfire scope you have come to expect from Vortex Optics.
Features and Specifications
Multi-height Picatinny rail mount system
3X fixed magnification
Red or Green illuminated reticle
Generous 2.8-inch eye relief
31.5 feet field of view at 100 yards
Adjustments in ½ MOA per click
Maximum elevation adjustment – 120 MOA
Maximum Windage Adjustment – 120 MOA
Parallax setting – 100 yards
Overall Length – 5.5 inches
Weight with mount – 15.4 ounces
Battery – CR2032
Battery life – 250 hours at the highest setting, 3,000 hours at the lowest setting
Ten distinct brightness settings
Etched reticle that is useable even if the batteries fail
Multi-coated lens for the best light transmission and lens protection
Prism design for a compact footprint
Vortex Optics no questions asked lifetime warranty
What Comes in the Package?
2 Picatinny rail mounts (low and high)
T-20 Torx wrench
2mm hex wrench
CR 2032 battery
Lens Caps
Lens Cloth
Instruction manual
It is easy to see why Vortex Optics has made such a deep impression on the rifle and pistol optics market.  The Spitfire scope is representative of the features, quality, and price ratio of the entire Vortex Optics line of scopes for both rifles and pistols.
What Vortex Spitfire Users Say
Don't take it from just me. A look across the internet reveals what users of the Vortex Optics Spitfire scope are saying.
Pros
AS close to an ACOG as I could get at less than half the price. 
The option for a red or green reticle is great and gives much more flexibility
Great battery life for an illuminated reticle scope
The option on mounting heights without having to purchase additional accessories is just what I would expect from Vortex
Cons
The mounts don't have the same finish as the scope, so they look at little out of place
The Spitfire is a little on the heavy side
Burris AR-332 Review
Burris Optics is an unusual company.  Burris doesn't have a line of high-end scopes, nor do they produce low-end scopes for the mass market.  Like Vortex, Burris focuses on producing optics that provide the highest quality and best features at a reasonable price.  In other words, affordable.
Burris's line of riflescopes is not as deep as Vortex.  The Burris Company focus has always been on producing the best optic possible for specific applications on the tightest budget to keep costs and price in line.  The AR-332 rifle scope certainly fills that bill.
The AR-332 Rifle Scope – Designed for The Job
Burris makes it clear that they designed the AR-332 rifle scope to do a specific job.  Close quarter engagement, whether it be for law enforcement, military, or competitive shooters, is the name of the game with the AR-332 rifle scope.
Burris has gained a reputation for high-quality and for customer satisfaction.  The AR-332 lives up to that reputation.  Small, lightweight, and rugged, the Burris AR-332 rifle scope is fast, and the illuminated reticle makes acquiring a target lightning quick.  The AR-332 is available with two styles of a reticle. 
If features are a selling point, Burris is at the top of the list.  Anyone who factors the offered features into the ration of price to function will be suitably impressed by the Burris AR-332.
Features and Specifications
Two Reticle Options – Ballistic CQ and Ballistic 3X
Red and Green reticle illumination.
Etched reticle allows continued use when the battery fails
3X magnification              
32mm Objective Lens Diameter
Thirty-two-foot field of view at 100 yards
Picatinny rail mount
Close focus at 9 yards
2.5-inch eye relief
One-half inch MOA per click adjustments on the turrets
Maximum elevation adjustment – 80 MOA
Maximum windage adjustment – 80 MOA
Parallax Free
Overall length – 5.3 inches
Overall Weight – 14.2 ounces
Five illumination levels for each color of the reticle
Battery – CR 2032
Burris Forever Warranty
Nitrogen-filled scope body prevents fogging
Hi-Lume lens coatings for maximum light transmission
What You Get in the Box
One Burris AR-332 rifle scope
Picatinny Rail Mounts
Extra screw for mounting to an AR carry handle
Lens cloth
Instruction Manual
Burris builds rifle scopes meant to be taken to the field or to work.  If you are a law enforcement officer or a competitive shooter, the Burris AR-332 will fit your needs.  Users of the AR-332 reflect the quality and dependability of the Burris AR-332 rifle scope
Pros
Easy adjustments make zeroing the AR-332 a breeze
Pre-configured for the 55 grain NATO round is a great feature. Use the reticle and put rounds on target
Sharp, clear reticles, even with the illumination turned off. 
This is a solid, dependable scope with all the features I wanted.  Couldn't be more pleased with Burris.
Adjustments are easy.  The clicks are precise and crisp.
Cons
The mounting is a little tricky.  If you don't torque the mounting screws correctly, the reticle will look canted.
I wish that Burris has added lens caps to the box.
---
The Head to Head Comparison: Burris AR-332 vs Vortex Spitfire
All that description and technical detail are great to read but to get a good understanding of how these two scopes fair when placed sided by side, let's look at the features and options in a different way.  Here is what I found.
| | Burris AR-332 | Vortex Spitfire |
| --- | --- | --- |
| Magnification | 3X | 3X |
| Objective Lens Diameter | 32mm | 32mm |
| Field of View at 100 yards | 32 feet | 31.5 feet |
| Eye Relief | 2.5 inches | 2.8 inches |
| Adjustment per Click | ½ MOA | ½ MOA |
| Maximum Elevation Adjustment | 80 MOA | 120 MOA |
| Maximum Windage Adjustment | 80 MOA | 120 MOA |
| Parallax Adjustment | Parallax Free | 100 yards |
| Length | 5.3 inches | 5.5 inches |
| Weight | 14.2 ounces | 15.4 ounces |
| Battery type | CR 2032 | CR 2032 |
| Reticle Style | Two Options Ballistic CQBallistic 3X |   EBR 556B Reticle   |
| Warranty | Burris Forever Warranty | Vortex VIP Lifetime Warranty |
| Illumination | Red or Green | Red or Green |
| Adjustments | Five settings for each color | 10 intensity settings |
| Reticle Type | Etched and visible when not illuminated | Etched and visible when not illuminated |
| Mounting Style | Picatinny Rail | Picatinny Rail |
| Lens Covers Included | No | Yes |
If the differences are in the details, we will need to look closer to find any major differences.  These two scopes compare almost identically.  As I have drilled deeper into the details, here is what I have found.
---
Looking for the Differences – Drilling Down
The differences in the details are not that great.  In fact, in many ways, these two scopes operate and function almost identically.  That makes the decision process much more difficult. 
Field of View – Can You Really Tell?
The Vortex Spitfire comes up just a bit short in the field of view comparison.  The difference in the field of view of these two scopes is six inches.  I doubt very much that even an above-average shooter will find the loss of 6 inches of the field of view noticeable. 
Even so, I must give the edge in this category to the Burris AR-332.  It offers a slightly wider field of view and to some shooters, this advantage may tip the scales in favor of the Burris optic.
Eye Relief – How Much is Enough?
Deciding on how much eye relief is enough, especially for a combat style optic system, is a tough decision.  It is more of a personal preference than it is anything else.  Most shooters prefer a longer eye relief to give them more distance from the end of the scope.
In this case, most shooters will opt for the Vortex because it offers a fraction more eye relief than the Burris AR-332.   The difference is .3 inches.  Most people will not tell the difference when they shoulder a rifle, but it can be an important factor.  Again, the Burris gets the nod on this category.
Windage and Elevation Adjustments
Under extreme conditions when shooting long distances, the ability to adjust for windage and elevation to meet the extreme conditions can be a factor.  In this case, the Vortex has the edge.  The Cortex Spitfire offers 120 MOA of adjustments versus the Burris AR-332 with only 80 MOA of adjustment.
If you don't shoot at long distances or don't anticipate extreme conditions of wind or weather, then there isn't much here.  On the other hand, if you meet those characteristics, the Vortex Spitfire gives you more range and adjustment than the Burris AR-332.
Reticles – What you See is Important
Both the Vortex and Burris scopes come with reticles optimized for the standard 5.56 ammunition.  Optimized reticles mean fewer adjustments and quicker target acquisition.  The Burris does offer a choice of reticles, which widens the options.  
Both scopes have reticles etched onto the prism.  Even if the battery fails, the scope and reticle continue to work.  In a scope meant for combat or competitive shooting, this is a must-have feature. 
The red and green illumination of the reticles on both sights allows a shooter good choice.   The ability to adjust and choose the best color and intensity for the current conditions can be critical. The Vortex does offer more intensity adjustments than the Burris, which could give it a slight edge in the reticle category.
Accessories – The Extras Make a Difference
The Vortex package comes with two Picatinny mounts that allow the shooter a wider range of scope mounts than the Burris AR-332.  The ability to choose the best height of the scope for your shooting style gets the Vortex Spitfire a thumbs up in this category.
Burris may have missed a bet when choosing not to include lens caps as part of the packaging.  Vortex includes flip-up style lens caps with the Vortex Spitfire.  Lens caps in the package is a definite advantage when you are considering how much more you need to spend to outfit your scope properly.
---
The Toss-up – Which is Better Overall?
The comparison between the Vortex Spitfire vs Burris AR-332 is a real neck and neck race.  These two optics compare so closely that it is difficult to make a recommendation.  To be honest, I wouldn't turn either of these scopes down if they came to me. 
However, if I were to be in the market to purchase a fixed magnification prism scope to mount on an AR-15 style rifle, my choice would have to be the Vortex Spitfire.  Admittedly, I am a Vortex fan and that always figures into the equation. 
I hope that my discussion of these two scopes has helped you make a decision.  This is one case where I can easily say that you won't be wrong, no matter which scopes your pick.  If you have comments, suggestions, or experiences to share, please use the comments section below.  We always love to hear from readers.