The World Health Organization (WHO) recommends the wearing of masks as an effective method of combating not only diseases but also many other common conditions.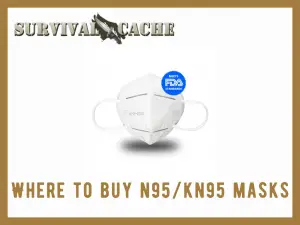 Masks are a requirement for medical staff and first responders to protect both them and their patients from harm, but masks can also protect against factors like heavy environmental pollution or exposure to tear gas when faced with volatile situations.
When people imagine masks, most think of simple, standard surgical masks. While these protect against exposure to certain particles and fine dust, traditionally thin surgical or medical masks aren't enough to provide maximum protection.
For more comprehensive protection, N95 and KN95 masks are recommended. These types of masks provide more than just a cloth barrier – and they are reported to protect against 95% of particulates and particles in the air.
Here's why N95 and KN95 masks might be one of the most important items for your medical stockpile, the essential information on how to make sure they are used properly and some of the best places online to buy K95 and KN95 masks.
Best Online Retailers and Stores to Buy Masks
Need to buy N95 and KN95 masks online?
Make sure that you buy from a reputable retailer selling high-quality, tested products.
Disclaimer: This article is for informational purposes only. Please do your own research when purchasing any mask
Here are some of the best online retailers and stores to buy N95 and KN95 masks online.
1. The R95

REUSABLE

Face Mask
Most masks are not re-useable and this can really drive up the cost. The Self Reliance Association has developed a reusable, easy to breathe in, air-fit tight, and easy to wear R95 mask.
Here are the features of the mask:
Creates an airtight seal around the face
​Mask and filter are washable and reusable
​Exhalation valve makes it easy to breathe in
​Customize your mask with stickers and pins
Check out some more pictures below:
With the way things are going, you will be losing a ton of money face masks if you are doing daily tasks like your job, shopping, among other things. Reusable masks will be required to save money. This is highly recommended!
2. MyMedic

MyMedic is an online retailer that specializes in selling complete first-aid kits.
This is a great website to visit for any stockpilers or survivalists who would like to prepare for the possibility of future medical emergencies. Several first-aid kits are available through MyMedic – and you can choose the right one ranging from travel-size to larger kits depending on your needs.
N95 and KN95 masks are also available through MyMedic, and you have the guarantee that their masks are certified and tested.
Exclusive Discount: Use the coupon code SURVIVALCACHE15 for 15% off everything on MyMedic. Enter the coupon code at checkout to receive the discount.
3. Wear A Mask Now
Wear A Mask Now is an online retailer selling certified K95 and KN95 masks.
While they're still an emerging company, Wear A Mask Now is a highly-rated mask retailer that has quickly built a reputation for being able to prove quality products in a time when many other online retailers have run out of stock.
They are great for finding reliable supply, bulk deals and 24/7 customer support via e-mail.
4. LA Police Gear
LA Police Gear is an online retailer based in the US.
This site is a great go-to website to bookmark for general tactical and survival gear.
Go here for items like flashlights, first-aid kits, high-quality hunting knives and – of course – K95 and KN95 masks. Check it out.
Masks are a necessity for most of the different medical industries and first responders.
In times of shortage from other retailers, medical and surgical supply stores can be one of the best places to visit for ordering medical masks. It's also a great website to visit for tracking down any other specialized items that you might need to stock up your first-aid kit – and while you can buy many of the products here from Amazon too, buying directly from the supplier can be better.
Walmart might not be the first place people think of when imagining survival and preparedness supplies, but it can be one of the best places to check. If there's one thing Walmart has, it's buying power – and it means that you can often find cheaper, bulk deals (and sometimes great discounts and coupon deals) when ordering here.
N95 and KN95 masks are listed under Occupational Health & Safety Products.
While you're there, other items like first-aid kits and preparedness meal-kits can also be ordered from the same place.
GearBest is a reliable online retailer where you can find a vast selection of things that can be called "gear."
This includes general survival gear and medical gear – which of course, includes N95 masks.
It's a great website to keep an eye on for promotions and special offers. See the link for their offers on N95 masks.
3M falls under the category of another online general store that's great to bookmark for anyone who is in the market for survival supplies.
Browse here if you're looking for any supplies related to maintenance, DIY or hardware. Even a fair amount of tools can be bought here.
Of course, N95 and KN95 masks are also available through 3M.com.
If you didn't guess it from their name, N95 Mask Company is a specialized international online retailer dealing in masks.
Go here for a steady supply of certified, quality masks delivered anywhere, regardless of how many you might need at a time. Watch the site for any bulk specials or promotional deals.
Other relevant occupational health items such as infrared thermometers are also available on the same site.
---
What Are N95 and KN95 Masks?
N95 and KN95 masks are not the same as surgical masks.
Instead, they are designed to filter through at least 95% of particulates in the air – which can include smoke, environmental pollution, dust, certain fumes and viruses.
Wearing these masks are recommended for any potential exposure to pollutants or particulates that could have been filtered by the mask (and presented less of a subsequent risk).
There are many different emergencies that can require the wearing of a mask. In times of emergencies, these masks can become difficult to track down – and since they have a fair shelf life when left in storage, it's a good idea to buy ahead.
Choosing Quality Retailers and Authentic Products
Masks should be bought with caution just like anything else you would buy or order online.
Counterfeit, fraudulent and untested masks are dangerous. Choose retailers with a good reputation and good reviews, and buy only masks that can prove proper manufacturing and accreditation. Many shipments of masks have been recalled for proving to be ineffective – or simply fake. (Source: NY Times)
There are many scams and fraudulent retailers, too. Buying only from reputable retailers also protects you against the possibility of being scammed or having money taken for a product that never gets delivered. It happens. See our list of where to buy masks for a look at some of the best online retailers out there.
Do Wearing Masks Really Help?
Wearing a mask does a lot more than just protect the wearer against the possibility of contracting an infection.
Masks can be an effective form of protection for anyone who:
Is exposed to harmful substances, pollution or air particulates.
Encounters pollution or particulates in their working environment.
Has a compromised immune system and requires added protection.
It's also worth mentioning that masks protect both the wearer and anyone on the other side of the mask.
They are ideal for emergencies, medical environments, crowded areas and any other potential situations that involve particulate exposure.
---
Practical Tips for Proper Mask Use
Masks are a lot like condoms, gloves and fire extinguishers: They'll only work when they are used properly.
Here's how to use your mask for maximum protection.
Masks have a shelf-life in storage: When ordering masks, check the date stamped on the packaging: Masks have a shelf-life just like anything else, and they won't remain as effective when stored past this date.
Masks are not for repeated use: The majority of face masks are meant to be discarded after use: Using them longer than recommended can turn them into a hazard for bacteria instead.
Ensure a tight fit: Face masks are only effective when they are worn properly. Ensure that your mask is fastened to guarantee that no particulates can enter.
Careful of cross-contamination: Lifting up a mask (even for a brief second) can render its use pointless in a high-risk environment. The same is true for touching potential contaminants and then touching the mask, or for masks that are used repeatedly.
If summary, we recommend the mask below if you are in a hurry:
---