There are a lot of knives out there, big, small, expensive, and cheap. Don't get too caught up in price, though. Some of the more expensive knives on the market just won't 'cut the mustard', while some of the cheaper options might surprise you and perform beyond your expectations. Be sure, though, to set your expectations before you 'dive-in' and make your purchase. Are you looking for an EDC knife to throw in your pocket in the mornings? Or, maybe, you are looking for a knife to pack with you on your hunting or camping trips or to keep in case of an emergency situation. Whatever it is that you need your knife to do, be sure that you keep that in mind when you buy your knife.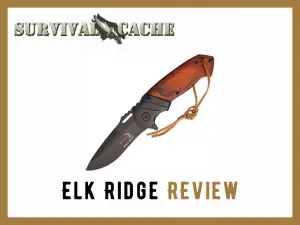 If you are looking for an inexpensive, everyday-carry type of knife, a folding knife like the Elk Ridge ER-A003 Folding knife will probably be your best bet. In this review we will be taking a closer look at the Elk Ridge ER-A003 Folding knife. Here you will find the features of the knife, some pros and cons, what people think of the Elk Ridge ER-A003, some frequently asked questions, and my verdict on whether or not it will perform the tasks you might need for it to perform. Let's start with the features of the knife:
Last update on 2023-12-04 at 02:02 / Affiliate links / Images from Amazon Product Advertising API
---
Elk Ridge ER-A003 Folding Knife Review
Size and Dimensions
The knife is 4 ¾ inches long when closed. It can easily fit into inches long when closed. It can easily fit into your pocket or a small bag. The blade itself is 3 ½ inches long, making it a good knife for small tasks, and to simply have 'just in case'. It might not be the best choice for batoning wood or other heavy-duty jobs, but it will work for small tasks.
Spring Assisted Opening
The blade itself can be deployed with the spring assistance feature. This makes for quick and easy opening that can be done with one hand without a problem. Having this feature is handy and actually quite satisfying, in my opinion. Having the need to keep one hand free arises more often than you might realize while using your pocketknife.
Blade Style
The blade is made in the style of a classic drop point blade. The blade is 3.2mm thick. The classic blade shape and thick spine makes it easy to remain confident that the knife will perform many various tasks. There is also a small cut-out on the back of the blade and near the handle that would allow grip for manual opening, should the need arise.
Steel
The blade is made of stainless steel to protect it from corrosion and is difficult to break. This means that the Elk Ridge ER-A003 can handle some amounts of exposure to adverse conditions without rusting or becoming corroded.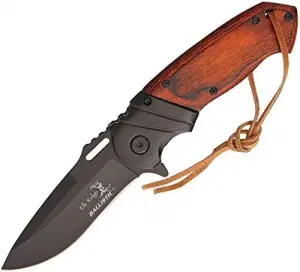 Wood Handle
The handle of this pocketknife is made of Pakkawood, giving it a classic appearance and durability. After some use, the handle should patinate nicely. The only downside of a wooden handle is that it must be somewhat protected from moisture.
Reliable Blade Locking
When extended, the blade becomes locked in the open position to prevent slippage during use. This feature is important in protecting your hands during use. A liner-lock such as this is easily disengaged with a small amount of pressure from the thumb to push the locking mechanism out of the way so that the blade can be retracted safely.
Pocket Clip and Lanyard Hole
This pocketknife also comes with a clip so that it can be affixed to the inside of a pocket for simple and discrete carrying. There is a small hole towards the butt of the knife so that it can be attached to a keychain or lanyard.
---
Pros and Cons of the Elk Ridge ER-A003 Folding Knife
Pros
Conveniently sized for easy carrying
Spring assisted blade for fast and easy opening with one hand
Classic 3.2mm thick drop point blade style
Made with stainless steel
Pakkawood handle
Blade locks into place for safety
Pocket clip included
Has lanyard hole for other methods of attachment
Very inexpensive
Cons
Cannot perform heavy-duty tasks
Not made using high carbon steel
Wooden handle must be kept fairly dry
Last update on 2023-12-04 at 02:02 / Affiliate links / Images from Amazon Product Advertising API
---
What Customers Have to Say About the Elk Ridge ER-A003
Overall, people seem to be very pleased with the Elk Ridge ER-A003 Folding Knife. It is inexpensive and great for small, everyday tasks. The main complaint that has been shared by several customers is that the blade cannot withstand much heavy use without bending or quickly becoming dull. This, however, is to be expected when purchasing a small knife at such minimal cost. Many other customers have also stated, though, that with care this knife will last a long time and is very good to have around. People typically purchase this knife to carry it daily. Since it is inexpensive, it can be carried without having to worry about losing it etc. Again, people tend to think that this is an overall good knife to carry on an everyday basis.
---
OpennQuestions About the Elk Ridge ER-A003 Folding Knife
Q: Does the spring wear out after a lot of use?
A: As far as I can tell, there have been little to no complaints about the spring assisted opening feature. This is one of the key features of the Elk Ridge ER-A003 that makes this knife so appealing.
Q: Does the wood have a finish on its surface?
A: Yes, but with moisture and use, the finish is known to be rendered ineffective. With proper care, however, the handle will become patinated and is not of poor quality by any means.
Q: How easily is the locking blade retracted?
A: The blade is not difficult to retract when it is done correctly. It does not, however, fall or slip out of place easily during use.
---
Verdict
Although it might not stand up to heavy use in extreme situations, this little pocketknife is great to keep around and is not a bad choice for a small EDC knife. The spring assisted blade is easily deployed and actually pretty fun to use. Just take care not to put too much stress on the blade and to keep it out of water and this knife will prove to be a great tool for the price. Hopefully, you have found this review of the Elk Ridge ER-A003 Folding Knife to be useful in deciding whether or not you should take it home.
Last update on 2023-12-04 at 02:02 / Affiliate links / Images from Amazon Product Advertising API