This isn't really an emergency book review, but more a review of Neil Strauss' book Emergency. (clever I know). The full title Emergency: This Book Will Save Your Life tells Strauss' own story of his trip from a born and raised city slicker to a fairly well trained survivalist.
Looking at the book jacket you might assume this book is just another zombie-apocalypse handbook. However, while Strauss uses clever chapter titles like "Secrets of Escaped Felons" and "Birth Control Tips from Billionaires" to entice the reader, he actually takes you on a wild trip of very useful survivalist training, information, and ideas.
About the Book
The first edition of Emergency was published in early 2009 and is 418 pages, which really seemed to fly by with Strauss' storytelling and narrative writing style. It's a very easy but compelling read and I actually read the whole thing in one afternoon.
The book is broken down into 5 main sections which in total contain 69 Lessons (chapters):
Orientation
5 Steps
Escape
Survive
Rescue
Each section tells a part of Strauss' story from his initial research about the survivalist subculture, to prepping, stocking, shooting, bush craft, and rescue training. He doesn't just stick with "conventional" survival methods either. He spends a good part of the book on asset protection, second passports, dual citizenship's, and world travel.
About the Author
This is normally the part of the review where I would tell you all of the author's qualifications to write a respectable book on survival, but Neil Strauss will tell you himself, before this book he had none. I mean none. He was raised in a Chicago apartment building, lived all his life in large cities, and had never done anything even remotely related to survival, prepping, or the outdoors before this book.
Before Emergency Strauss was most famously known for his book The Game: Penetrating the Secret Society of Pickup Artists. He spent more than three years learning and training to write this book.
Survival Applications
Emergency type of book that is filled with pages of specific survival skills. It follows Strauss as he learns all of these things. It is more of a "Here's how I did it" rather than a "How to" type of book. Here is a list of just some of the things he did and writes on:
Dual Citizenship
Second Passport
Asset Protection
Off Short Banking
GunSite Defensive Pistol Training
OnPoint Tactical Urban Escape and Evasion
Tom Brown's Tracker School
Community Emergency Response Training
EMT Training
Knife and Blade Training
3 Day Bug-In Scenario
Favorite Part
My favorite part of Emergency was learning about the wide variety of classes that are available to civilians, like OnPoint Tactical Urban Escape and Evasion and the GunSite Defensive Pistol Class.
(it turns out both of these companies offer several other classes that all sound equally impressive and I would love to take.)
The book follows Strauss through each of these classes and more so you get a first hand account of what they are like.
Dislikes
Honestly, the only thing I dislike about this book is that it wasn't longer. I would have been fine with him going into much greater detail about his training in many of the different things he did, but the book was definitely written for a general audience and not directed at survivalists.
Overall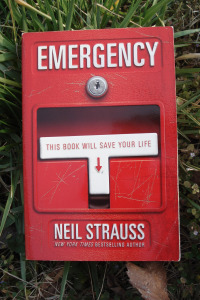 Overall I would highly recommend this book to any survivalist, prepper, or really anyone. It is the ultimate "If I can do it, you can too" guide to getting started in being prepared. Strauss is the ultimate example of knew nothing, had nothing, before he wrote this book and ends up being a well trained and responsible citizen ready for almost anything. Even experienced preppers will find some new ideas, especially in the sections on passports, asset protection, and offshore banking.
Emergency: This Book Will Save Your Life by Neil Strauss