Many people have that one type of gear that they specialize in, collect, or just really enjoy. For some it is firearms, for others it is knives. For me, it used to be flashlights.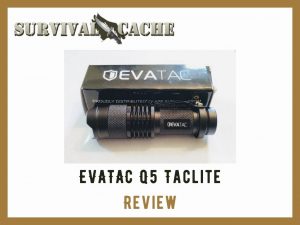 Years ago I could barely open a drawer without knocking around a few different torches. I am not sure what initially attracted me to them. Maybe it was all of the different designs or that even small flashlights had become insanely bright and useful. Ultimately, I just think it sucks being stuck in the dark. 
A good flashlight can help to clear a room, a signal for help, keep you on the path, confuse a threat, get you to safety when the power goes out, and will even help to find loose change under the couch. 
I love a good flashlight, and it is my recommendation that one should be carried all the time. So, in this article, I will be reviewing the Q5 Taclite by EVATAC offered by Ape Survival.
In this article, we'll break down:
The Evatac Q5 Taclite's features
Beam brightness and quality
Pros and cons of this EDC flashlight
Adjustable zoom up to 1100ft

Stainless and rust roof

Precision milled alloy body

Check Price
EVATAC Q5 Taclite Specifications
Dimensions
The Q5 measures in at 3.7" x 1" x 1" and weighs in at 2.3 ounces. This truly is a pocket-sized flashlight.
Materials
This flashlight is constructed out of aircraft-grade aluminum 
Colors
The only color option available is in anodized black 
Battery
Is powered by a single AA battery
Going the Distance 
The CREE LED emitter features an adjustable zoom that focuses the 300 lumens (on high mode) beam up to 1100ft with 5500K cold white light. 
Modes
This little flashlight features three different modes. High beam, low beam, and strobe mode.
Country of Origin 
This flashlight is made in China 
---
EVATAC Q5 Taclite Review: Field-Test
Adjustable zoom up to 1100ft

Stainless and rust roof

Precision milled alloy body

Check Price
First Impression
Upon removing the Q5 from its box the first thing that I noticed was how light it felt and how well it fit in my hand. After pressing the on-off switch, the flashlight is easily switched from a forward grip to a reversed grip. All of this can be done one-handed. 
The textured design on the rear as well on the front of the light along with the cooling fins provide for a secure grip during operation. 
The Battery
When it comes to flashlights I do my best to purchase ones that have common batteries. Such as AA and AAA.
I find uncommon or specialized batteries to be annoying because they are usually expensive and can sometimes be difficult to find. I like that the Q5 runs on a single AA battery. It will be easier, quicker, and cheaper to replace when the old battery dies. 
However, I do not like the size of the battery compartment. For some reason, it is quite a bit larger than a standard AA battery. 
I inserted a AA in the Q5 and screwed the cap back on. I then moved the flashlight swiftly from side to side and lightly tapped it on my hand. I could feel and hear the AA moving around inside the compartment. This is slightly annoying, but more importantly, I think allowing the battery this much freedom of movement will prove detrimental to the interior connections as well as its operation.  
I might have jinxed myself with the above statement because after ten minutes of testing the flashlight, it died on me. I waited for about ten minutes, and it eventually came back on. During the time I had Q5 this is pretty much how it functioned. It worked when it wanted to and not when I needed it to.
The Beam
The light has three different modes. High beam, low beam, and strobe. After turning the light on, I can access the three different modes by lightly tapping the orange on/off switch. High beam is first, followed by low beam, and lastly strobe mode. 
I do not like how I have to cycle through all of the modes each time I use the flashlight. Here is an example of what I mean. If I use the high beam mode and then turn the light off, the next time I turn it on, it will be on low beam mode. If I turn it off in low beam mode, the next time I turn it on it will be in strobe mode. After the light is turned off, there should be a reset function that automatically resets the light back to one mode.
The front portion of the light can slide forwards or backward and works as an adjustable "zoom" for the beam. When this is slid all of the way back the light will produce a nice circle. When it is slid all of the ways forward it focuses the beam into a smaller area. 
When the beam is zoomed all of the ways out it projects a highly defined, odd-looking shape. This shape appears to be the design of the LED and I found this to be highly annoying. Plus, from a distance, this design doesn't fully illuminate the area in which it is being shined on.
The specifications advertise the beam working up to 1100 ft. Walking around at night with this light it worked well for short distances but I certainly do not believe the beam reached the distance it is advertised for. To be fair I did not measure any distances.   
Beveled Strike Edge 
Along the rim of the lens, there is a beveled strike edge with three points. I assume that this is meant to be used in a defensive manner or to break some kind of material.
The biggest problem with this, in my opinion, is that the convex lens is nearly at the same level as the three strike points. This means that when using the flashlight to strike objects, there is a good chance of scratching or even breaking the lens. 
Upon closer inspection, I found that the strike edge unscrews from the flashlight. This piece holds the lens in place and by unscrewing it, both the strike edge and lens can be easily removed. This exposes the inner LED compartment. 
I am unsure why this is an option and in fact, do not like that this can be done. While carrying this around in my pack and pocket the beveled strike edge became loose and unscrewed itself. The strike rim and lens were loose in my pocket leaving the LED completely unprotected. 
---
Q5 TactLite Pros and Cons 
Pros 
Lightweight and compact 
Strong pocket clip 
Uses a common AA battery 
Affordable 
Cons
Too much movement in the battery compartment
Have to cycle through the different light modes every use 
When the beam is zoomed in, it projects an odd, distracting design
Beveled strike edge and lens can become separated in a pocket
Turns on when it wants to
Customer Sediments 
While Q5 does have some five-star ratings, overall customer satisfaction on this flashlight is not so great. I have seen several reviews where buyers received lights that did not function at all upon arrival or after a very short period, the flashlight quit working. 
---
Verdict
Adjustable zoom up to 1100ft

Stainless and rust roof

Precision milled alloy body

Check Price
Right out of the box I was happy with this light, but then I started using it. The battery compartment is way too large for a AA battery which can result in the flashlight working when it wants to rather than when you need it to. The beveled edge can undo itself, leaving the LED unprotected which can easily become damaged. 
Even though the Q5 by EVATAC is very affordable I believe that there are much better options available, even at that low price point.  Do you have experience with the Q5 Taclite by EVATAC? If so please sound off in the comment section below. Thanks for reading!