When thinking about emergency preparedness and preparing for a possible event, Getting Out Of Dodge is often part of the plans.  If possible we want to be able to relocate our families to a remote location.  Planning to also move an elderly loved one requires a whole new set of plans and ideas.
The Problem
During a crisis, if we are slow to make the decision to leave or if the SHTF event is so large that it causes a mass
exodus, we may be confronted with a massive traffic jam and forced to leave our vehicle.  In that case we have to plan on putting our bug out bag (BOB) on our back and start hiking.  All we need is a map, a compass, some skill at map reading and a good pair of hiking shoes for each member of the family.
Unfortunately, it may not be that simple. We may have an elderly or sickly family member who we are responsible for that would require special care during a SHTF Event.  We could try to squeeze them into our vehicle with the rest of the family members but that would be traumatic at best, and if we were confronted with a traffic jam or a possible EMP event that disables our vehicle, what would we do?  If you plan on moving your elderly loved ones by vehicle, you also need to face the real possibility of having to walk at some point with them.  You need a plan.
Bugging In
A real possibility is that 'bugging out' is just not possible under these scenarios.  Depending on the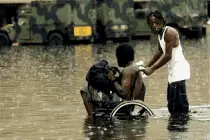 age or illness of your loved one and if you are unable to bug out for several days before the event, "hunkering down" may well be your only option.  This is always a possibility but it becomes more likely with sick, aged or injured in your family.  In this case, prudence may indicate increasing the preparations at the primary location.  Remember, all survival preparation is a compromise.  You will never have all of the gear you want and your location will never be perfect.  In this case we accept a decrease in flexibility for the sake of our loved ones.  If moving to a more favorable location is not a realistic possibility, then we must make the best of the hand we were dealt.
Focus of efforts
If planning to stay put for the sake of loved ones, plan for the basics.  Food, water, shelter,
warmth, medicine, medical equipment, hygiene products, and back up power if needed.  Finding out about your elderly loved one's needs is a "talk" you should have before a major event.  By having this talk, you do not have to raise the alarm bells, just ask them to go through their daily routine with you (pills they take, appointments, shots & dosage, hygiene products they use, use of medical equipment that requires electricity, comfort food they like to eat, etc).  After that talk you can then work on your own plan to help them through an emergency.
Here are some basics to help you start planning:
Teach others how to operate necessary medical equipment

Write a detailed list of "How to Give Care" (This is your back-up)

Prescription medicines, list of medications including dosage, list of any allergies

Try to acquire an extra 30 to 60 day supply of prescription drugs
Look for natural alternatives to medicines that may be available at the health food stores

Extra eyeglasses and hearing-aid batteries

Extra wheelchair batteries, oxygen

List of the style and serial numbers of medical devices such as pacemakers

Medical insurance and Medicare cards

List of doctors and relatives or friends who should be notified if you are injured

Extra hygiene products that your loved one uses

Have vitamin supplements to make up for unbalanced diet
Plan B
If we think we may be able (or forced) to get out of dodge, then we must try to increase our
chances of a successful evacuation.  One of the possible options that we discussed was having to hike to your retreat.  There are several ways to improve the success of a "walk out" evacuation with an elderly or sick member of your family.  If the terrain is favorable you may consider purchasing a game cart or carrier.  They fold up when not in use and can carry up to about 300 pounds.  They are also fairly inexpensive, for example: Amazon has one on sale for $93.  It would take a careful and tactful explanation to avoid harming our loved ones sense of worth and pride but with proper care, their transportation might be made easier.  On suitable ground this can be a pretty efficient way to transport people or supplies making survival more probable.
Other Ideas
Other ideas include buying a used wheel chair.  Even if your loved one does not require the use of
a wheel chair right now, this maybe useful in the event that you have to travel a long distance by foot.  The drawback to this is that wheelchairs only travel well over paved surfaces.  Other alternatives to wheel chairs include bicycles or three wheeled bikes if your loved ones are physically able.
Also make sure your loved ones have good walking shoes and walking sticks for balance.  Make sure their shoes are well broken in and they have some water resistance capability such as leather or synthetic material to keep their feet dry.  If you are planning to move your whole family you will also need to plan for outdoor shelter such as a large tent.  Remember, protection from the elements is a core principal of survival.  You will have to weigh the size of the tent vs the "carry weight" in your pack.
By considering the less capable members of your group you increase the confidence in yourself as a planner, bringing a sense of tranquility to the family and increase the chances of survival for everyone.
(From Santa Clara City Government Website)
Studies of disasters show that elderly people:
May be at higher

nutritional risk

in the aftermath of a disaster and may forget to take necessary medications.

Are often targeted by fraudulent contractors and "con men" that follow disasters and financially exploit disaster victims.

May be susceptible to physical and mental abuse as family stresses increases in later stages of the disaster.

Are less likely than younger generations to use formal aid sources such as FEMA or the Red Cross.

Have slower economic recovery.

Suffer a pattern of neglect in the receiving social support after a natural disaster.

Have more health problems after disasters.

Do not necessarily comply with disaster warnings.

Are often slower to register for disaster assistance, and once they are registered, may not follow through and complete the necessary applications to obtain assistance.
By Hal, a special contribution to SurvivalCache.com
Read "Making the Best of Basics" By James Stevens for Emergency Preparedness
Photos by:
American Red Cross
Al_Crabtree
Soldiers Media Center
Get Exclusive Survival Articles!
Subscribe and get survival prep, gear reviews, and guides sent to your inbox.
Thank you for subscribing.
Something went wrong.