Brands have contacted the SurvivalCache team to offer a ton of free survival gear, books, and more. We thought it would be a good idea to do a roundup post and give our readers the option to take advantage of these free items.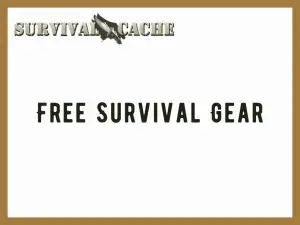 The only catch with these products is that you usually have to pay the cost of shipping and handling. Most companies do this because they hope that you will purchase more survival products or digital services from them that will cover their cost of the item; however, there is no pressure to do so! Enjoy the free survival gear and add the products it to your bug out bag.
Our team has compiled this ultimate list of free survival gear so if you are tight on money but still want to be prepped, you are in luck today. We've ordered the list by category to make it easy to browse.
If you want first-access to this type of gear, make sure to join our list where we send out such deals. Click here to join our gear email list.
Free Survival Gear By Category
Note: List updated on June 20, 2020 (products checked, out of stock items removed)
Free Tactical Gear
Strike Pen – This is a self-defense pen with a knife, ballpoint pen, glass breaker, and a bright LED. You also get a detailed guide on how to use the Pen on a day-to-day basis. Must-have for both men and women!
Karambit Knife – Included with a protective sheath, this survival knife is small enough to fit anywhere. It includes a built-in glass breaker on the handle for those critical situations. A must-have!
Combat Dagger: Excellent dagger with a double-edged blade, 9 inches in length, stainless and rustproof, and in matt black finish.
Rescue Knife – Perfect EDC defense tool. Comes with an integrated belt cutter, glass breaker, and sharp blade. Stainless and rustproof!
Free Grab Bag
7-Piece Survival Grab Bag: This is an amazing offer. You get 7-items which include a multi-tool, lighter, key knife, two mylar blankets, survival saw, and a survival whistle all for free. (Updated: out of stock as of June 2021)
Free Survival Fire Starters
Everstryke Match – The Everystryke Match can start a fire anywhere even when wet. It can be used for over 15,000. Must have for any bug out bag.
Everstryke Pro – An improved version of the Everstryke Match. Worth a look as well.
Evalast EDC Fire Keyring –  sleep keychain ring with fire starter, bottle opener, and spring clip.
Firekable Paracord Bracelet – Amazing paracord-based bracelet that has fire-starting capabilities with a Ferro rod and striker.
Survival Cards (Pocket)
Survival Business Card – Awesome wallet card with 11 functions. The amazing functions are the built-in wrench, saw blade, and screwdriver.
SharpCard Credit Card Knife – Similar to the Knife Card, this is also a blade built-in to the credit card size. It just comes down to looks; both products are functional. (Updated: out of stock as of June 2021)
Armor.1 RFID Blocker – Protect your credit cards in your wallet from thieves attempting to steal your personal data. Thieves can use an RFID reader to capture your credit card details; this product protects you from that. (Updated: out of stock as of June 2021)
Rescue Card –  Credit-card sized multi-tool with 16 features (e.g., screwdriver, saw, paracord). (Updated: out of stock as of June 2021)
Knife Card – Credit-card sized tool with a flip knife built-in. Perfect for those dangerous situations. (Updated: out of stock as of June 2021)
Free Flashlights
Evatac TacLite – The TacLite is a tactical flashlight with Q5 CREE LEDs and an alloy body. Looks great and easy to use.
HyBeam Tactical Flashlight – The HyBeam is a waterproof flashlight with 3 stages of lighting (low, high, and strobe). Perfect for any bug out bag and it's free.
J5 Tactical Flashlight – A 250-lumen flashlight with LED bulbs, this flashlight is free and has a life of 100,000 hours. Small footprint to fit anywhere.
Miscellaneous Survival Gear
The Paracord Survival Kit

 – Similar to the Survival Grenade, this also includes a plethora of tools such as a carabiner, tin foil, cotton tinder, weights, and more.

Survival Whistle – This 7 in 1 whistle includes a light, compass, whistle (of course), thermometer, and more. This is great to put in your get home or bug out bag and help you get attention in critical situations.
Emergency Survival Blanket – Referred to as "space blankets", these are a must-have. They help retain 90% of your body heat in dire circumstances. The perfect item to put in your car or bag.
Survival Books
Exclusive Free Gear
We always get contacted by companies to offer free gear and coupons to our avid subscribers. Join below to get access.