I recently came across the GearLight S2000, and it made a strong first impression. It boasts the features and the build-quality that would serve me perfectly for daily use.
And I realize that there is one thing every first responder, hiker, and huntsman needs – a reliable flashlight.
GearLight is a California-based company that supplies affordable flashlights, headlamps, headlamps, and safety lights.
The features packed into the GearLight S2000 are excellent for what it costs – I just had to check it out.
In this post, I will review the flashlight for you and find out if it's worth the money.
Last update on 2023-11-28 at 19:03 / Affiliate links / Images from Amazon Product Advertising API
GearLight S2000 Review
Design and Durability
The S2000 feels just as sturdy as it looks.
It boasts an all-weather aluminum exterior that enables it to work flawlessly, even in the snow. It will survive being submerged in the water, meaning you don't have anything to worry about if it starts to rain when you're hiking or hunting.
Its body is designed to be virtually indestructible, which is one of the main reasons I wanted to buy it. GearLight tested it to work after a 10-foot drop, which means I don't have to be too careful with it.
Carrying a flashlight that won't break helps with confidence.
The sturdy and durable body makes also makes the flashlight suitable for use in natural disasters. You can count on it to serve you well if there is a flood, a hurricane, or an earthquake.
The S2000 is long at 7.7", but its neither too broad nor too weighty. Its length allows you to get a comfortable grip over the flashlight, and the textured pattern around the middle of the flashlight enhances your hold. It fits in the car's glove compartment just fine.
The precision-milled aluminum feels excellent in the hands and gives the affordable flashlight a premium feel. It weighs roughly half a pound, but it is not uncomfortable to hold.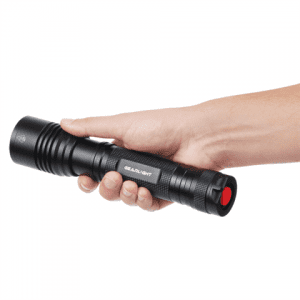 Operating it one-handed is easy, owing to the comfortably-placed tail-switch, and since the switch dunks into the flashlight, you don't have to worry about it breaking if you drop it.
The lanyard hole comes in very handy, and having a para-cord attached to the flashlight, regardless of the flashlight's application, is always recommended.
For a flashlight that costs as much as lunch, I'm pleased with its build quality.
LED Specifications
The company claims that the S2000 can light up objects a thousand feet away. While I've not measured the length of the beam, its power is certainly impressive.
GearLight promises that the LEDs deliver a beam 20 times brighter than older incandescent flashlights. On paper, the flashlight provides a brightness of 1200 lumens.
Modes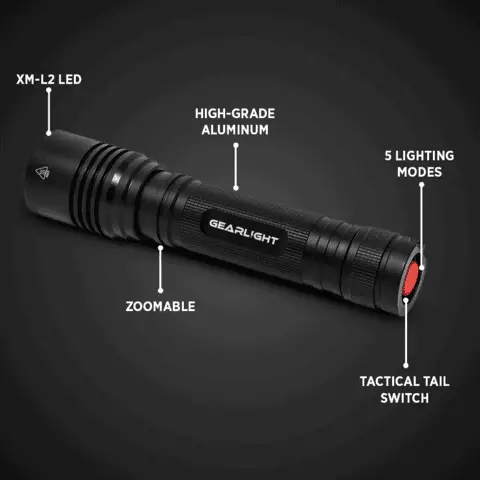 GearLight includes their five standard modes in the flashlight. You can use switch between them with ease. The modes are Low, Medium, High, Strobe, and Emergency.
I find the Medium mode very handy – it helps conserve battery and lights up the area sufficiently well.
Also, using the strobe function is an excellent way to blind an intruder and get out of a sticky situation.
Another feature I love is the wide-to-narrow zoom. You can zoom into objects far away by pulling on the head of the flashlight.
Battery
Since the battery has high-power LEDs, it won't last long. While the company doesn't make any claims for battery runtime, I've found that it lasts for roughly five hours.
If you use the Low mode, you could stretch the battery to last for up to eight hours.
The S2000 needs four AA batteries to work. Cells do not come included with the flashlight.
Warranty
If you receive a flashlight with a defect, you don't have to worry since GearLight offers a one-year no questions asked replacement warranty.
But you must keep in mind that the company will not replace a flashlight that shows signs of damage due to misuse or neglect.
While the warranty does not account for normal wear and tear, if an individual part (say the switch) breaks up to two years after purchase, you can claim a free replacement part from GearLight.
---
GearLight S2000 Pros and Cons
Pros
Affordable and powerful
Sturdy housing
Water, weather, and shock-resistant
Comes with a lanyard hole
Five light modes
Slip-resistant grip
Cons
Battery life could be better
Some users complain that the lens gets scratched too easily
Last update on 2023-11-28 at 19:03 / Affiliate links / Images from Amazon Product Advertising API
---
What People Are Saying About the GearLight S2000
Customers share my appreciation for the flashlight's brightness and the different modes and zoom adjustments.
However, I've noticed a few common complaints. Customers complain that the flashlight sucks up battery too quickly. Daily users report that it lasted them for only two weeks with 15-to-30 minute use per day.
I don't think this is a dealbreaker considering the 1200 lumen output of the flashlight.
But the heating complaint is a little concerning. Customers report that when using the High mode, the flashlight's head heats up excessively.
Other than this, there are no other issues with the flashlight. I was happy to find both officers and hikers rely on the flashlight.
---
Open Questions about the GearLight S2000
Q: Does the S2000 accept 18650 or 26650 batteries?
A: No, the battery will not work with 18650 or 26650 batteries. It is designed to work with regular AA batteries. You can either use Alkaline cells or NiMH rechargeable batteries with the flashlight.
Q: Is the flashlight made using plastic?
A: No, the flashlight is built out of aluminum. The S2000 is tested to work with rough use and can survive a 10-foot drop. It boasts a high-quality build.     
Q: Does it come with any accessories?
A: A lanyard hole comes built-in, but you will need to purchase a para-cord separately. Also, if you want to holster the flashlight, you will need to buy a holster separately.
---
Verdict
The S2000 is inexpensive, but no compromises are made to the quality.
The excellent features, high-intensity output, and the one-year warranty make it a winner in my book. It is a tactical flashlight you won't regret buying.