Cordage is so versatile that there should be some amount stowed away in different bags or emergency kits because you just never know when you might need some.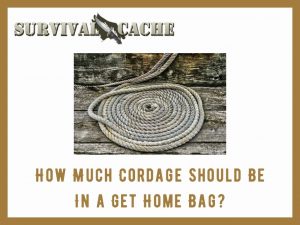 Once you decide on carrying cordage a question then arises, "how much cordage should be carried in a get home bag?"
Unfortunately there is no definitive answer that can be given because there are a few things to first think about.
How far do you have to travel?
If the distance you have to travel to get home is within easy walking distance, then you shouldn't have to carry all that much cordage.
In short distance situations, paracord survival bracelets may be a good choice.
However, if you have a long-distance to go that could require overnight stays, then more cordage would be a good idea as you never know when it could be useful.
Urban or natural environment?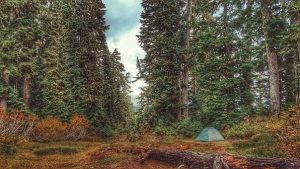 Cordage is useful in both urban and wilderness settings but it is arguably more useful in the wilderness.
This is because in the wilderness cordage will be used more for shelters, hunting, fishing, gear repair, making tools, etc. In an urban environment, the above items will most likely not need to be made but rather scavenged.
Do you know how to make cordage?
Having premade cordage sure is convenient and a time savor. But if you are know how to scavenge for materials that can be used as rope, i.e. wire, or how to make it from natural sources then you may be able to get by with carrying less cordage.
Why type of cordage do you use?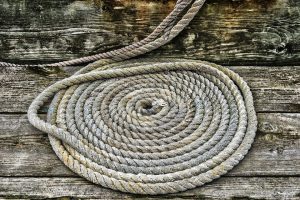 Just like most gear, there are many different types of cordage available. From small fishing line, to Kevlar thread, to paracord, to larger ropes. And everyone is different in the what type they like to carry.
A hundred feet of fishing line or paracord won't take up that much space but the same amount in a larger diameter rope could prove harder to carry.
---
Wrapping It Up
If you are looking for a more conclusive answer, then when it comes to smaller diameter cordages such as paracord, fishing lines, Kevlar cord, etc. then my recommendation would be to carry one-hundred-foot hands. They do not take up that much space and provide a decent length of cordage to work with.
Determining the amount of cordage to carry in any bag is really up to you, your abilities, and what you think you will use it for. How much cordage do you think you should carry in a get home bag? Sound off in the comment section below and let us know. Thanks for reading and stay prepared!