There are some regions of the world that experience hurricanes regularly. Hurricanes are massive storms that bring torrential rainfall, damaging winds, and flooding. 
One of the best ways that you can be prepared is to create a hurricane survival kit. But what should go into the kit? And where should you keep it? To answer that, let's jump right into the article. 
Where to store your Hurricane Survival Kit?
When it comes to survival supplies the old saying, "you shouldn't keep all of your eggs in one basket," always comes to mind.
This is especially true as it relates to the topic of this article as well as dealing with other natural disasters.
When a hurricane happens, it can cause widespread damage. It would be helpful if supplies could be spread out between different locations, such as in the home, a garage, a vehicle, and a secondary location.
However, this doesn't mean that the kit itself should be split up. For example, do no put all of your water supply in one location and all of your tools in another location. Make as complete a kit as possible for each location. 
One problem with hurricanes is flooding. Having a kit in your vehicle and the lower level of your home may not be ideal if flooding comes on quickly. This doesn't mean having multiple kits isn't a bad idea but remember to take flooding into account when placing your kits. For this reason, there should be a kit situated at the highest level of your home. For example, on the second level or in an attic. 
---
Building the Hurricane Survival Kit: Step-by-Step
Now that we have an idea of where the kit should go, what should go into it?
As with any kit, the first thing that needs to be done is to analyze your situation. Any special requirements that you or someone in your family needs, this includes pets, should be taken care of first.
Generally, this has to do with medical needs such as medications or devices that someone relies on. Make sure that these requirements are thought out and planned for. 
The second thing to do is to decide on what type of container to put the supplies in. There are several options. A pack or bag offers an easy way to transport supplies from one place to another. Check out our best survival backpack reviews.
While a hard case will offer more physical protection and waterproofing, it may be more difficult to transport. The choice is really up to you, the number of supplies you want, and your overall plan. But when dealing with a hurricane I would suggest a container that is waterproof and ideally floats. 
Here is my favorite bag which I use to carry my gear:
Our Favorite Bag

10.6 gal/40L storage capacity. Weighs 2.4 lbs.

10 seperate waterproof compartments

View Latest Price
The third thing is to start gathering items. Here is a list of items you should consider having in your emergency hurricane kit.
Water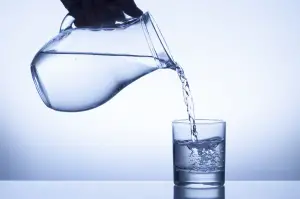 Three days without water and the human body is in a dangerous place.
A hurricane can take out power, which means no running water. And floodwaters may make running tap water unsafe to consume.
One gallon of water per person per day is a good rule of thumb of how much water to store. However, when you consider how much water we use for cooking, cleaning, drinking, and first aid, this may be on the low end. Use this as a place to start but store as much as you can.
Water Filters
Stored water can be compromised for several reasons that are caused by a hurricane. If you do not want to find yourself without water, it would be best to have some form of filtering device in your kit.
An example would be a LifeStraw, Sawyer Mini Water Filter, and a Seychelle Water Bottle.  
Food
We can go quite a while without food before perishing from starvation but its effects kick in a lot sooner. Fatigue, headaches, mood swings, lack of mental focus, etc. With the possibility of utilities being down, it would be best to have items that do not require refrigeration or cooking.
For that reason, canned foods are always a great affordable option. Which brings me to the next item on my list. 
Manual can openers
Many can goods today come with the easy-open tab lids, but not all. So it is a good idea to have several manual can openers available.
Plastic sheeting and duct tape
These two items alone can serve a multitude of purposes. From short term structural repairs to impromptu shelters, and even some sanitation needs. Plastic and duct tape are two items you really can't have too much of. 
Trash bags
Just like the above item, you really can't have too many trash bags. They can be used for collecting water, sanitation, signaling for help, improvised shelter, poncho, etc. 
Tools
There are several tools you are going to want to add to this kit.
A pair of pliers and a wrench are needed for turning off utilities, with that, know where your shutoffs are and how to turn them off. The second item to consider would be a small crowbar or prybar. This will help to move items that were damaged or shifted during a hurricane. 
Extra Hardware
You may also want to consider having extra hardware and materials on hand for protecting your home from damaging winds and debris. Such as screws, plywood, and other tools. 
First Aid
Every kit needs first aid supplies. If you are not sure what to have, general first aid kit covers the basics. The problem with these kits is the small number of items in them.
Look at what these kits have and bulk up those supplies. 
Dust Mask
In the aftermath of a natural disaster, there is a good chance of there being a lot of dust and other contaminants in the air. Dust will make it hard to breathe and can cause long term health problems. Make sure that there are multiple masks for everyone in your group.
Check out our best choices for dust masks…
PPE (Personal Protective Equipment) 
To deal with debris and the dangers of damaged structures you are going to want some PPE in your kit. Items to consider are a hardhat, reflective vest, eye protection, knee and elbow pads, thick pair of work gloves, rubber boots, hip boots or waders, poncho. 
Radio
A battery-powered, solar-powered, or crank-style emergency radio is always good to have on hand. These will provide emergency warnings, and updates when other sources of information may be inoperable.
Check out our top HAM radio picks…
Batteries
Most items that we use today require a source of power so you are going to want a healthy stash of batteries at your disposal. When purchasing them, always look for ones that have the longest expiration date. Another option would be to purchase rechargeable batteries that can be recharged through a solar panel setup.
Having a permanent or even portable solar panel system is ideal. You can use it to power your electronics during times of need. I recommend checking out our guide on choosing solar panels.
Cell phone chargers
Your main phone charger may be damaged or unreachable. Extra chargers are affordable, making it feasible to have multiple ones in different kits. 
Maps
Most of us rely on our phones for directions. But for many reasons, this may not be an option during a disaster. Because of this, it is always a good idea to have various maps and a compass in emergency kits. A map of your city, state, and country should be included. You should also know how to accurately use a map with a compass.
Make sure you keep these 3 types of maps around you…
Flashlight
It is never fun being stuck somewhere in the dark and it can be downright dangerous. This is why having extra flashlights in an emergency kit is very important. I think headlamps are one of the best options because they are easily carried and handsfree.
Luckily everyone carries a flashlight with them now in the form of the light on their smartphone. But in an emergency, a phone battery should be saved at all costs. 
Here are my favorite picks for flashlights:
Rated at 1200 lumens LED.

Compact size will fit anywhere

Comes with battery charger, and tactical storage case

View Latest Price

Charge battery using USB or Solar

Includes belt cutter, glass breaker, and phone charger

Perfect to place in your bag, vehicle, or home

View Latest Price
Floatation Device
Due to the potential of flooding, floatation devices are an essential part of a hurricane kit. These can take the form of life vests, emergency rafts, or even a boat that is stored on your property. 
Emergency Whistle
This is a great item that everyone in your group should have on their person. The reality of natural disasters is that it is easy for people to become trapped in structures or under debris. An emergency whistle is incredibly loud, has a distinctive sound, and takes very little effort to use. 
Check out this highly-recommended whistle…
---
Wrapping It Up
I hope that you never have to experience a hurricane or its effects but it is probable that you will experience a natural disaster in some form in your life. Please take the time to prepare yourself and use the above article as a baseline for creating a kit that works for you.
Thank you for reading and stay prepared!