When I am at the range, I often look at what other people bring with them as part of their range bag or range kit.  One thing that I often find missing is an IFAK, an individual first aid kit.  I find this alarming since accidental gunshot wounds create such traumatic injuries and most drug stores and big-box store first aid kits are just not equipped to handle such massive damage.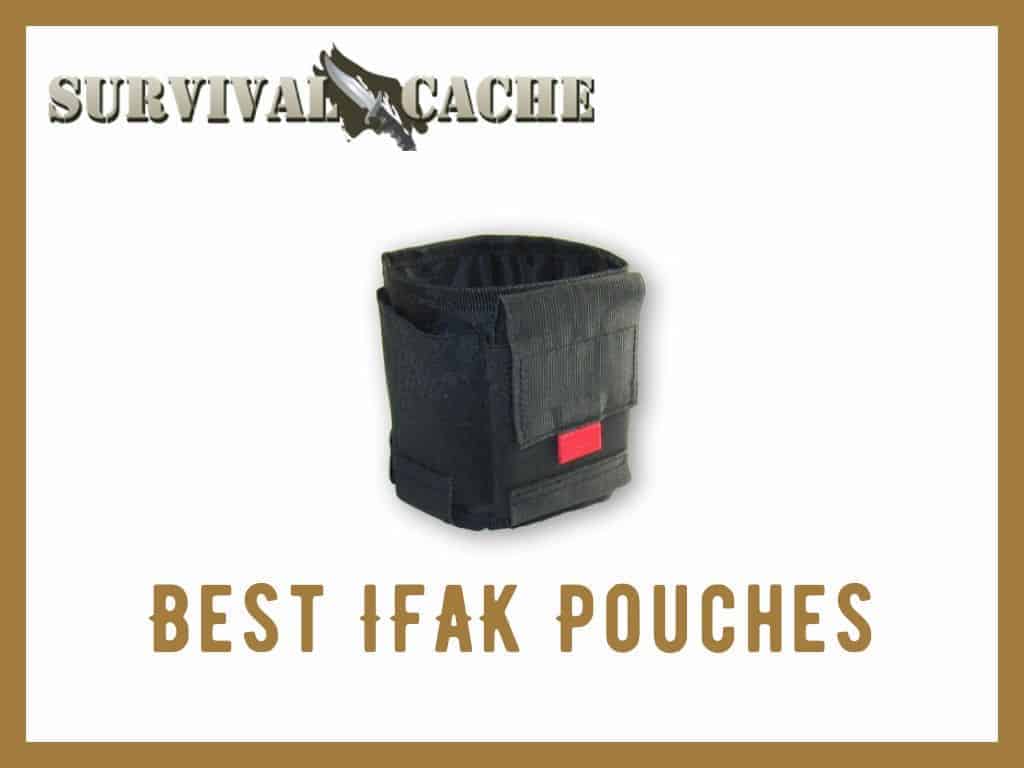 I prefer to build my own IFAK's based on my experience and with the help of several friends who are both long time shooters and trained emergency medical practitioners. The one thing that I have found is that without a good well-design pouch, an IFAK is almost useless. There are several reasons a top-quality pouch is essential.
Protection – Items packed in sterile wrappings or packages need proper protection to remain serviceable over time. The right IFAK pouch will protect everything inside and ensure that when I need some of those supplies, they are as fresh as the day I put them into the pouch the first time.
Functionality – My IFAK has a lot of small items. In an emergency, I don't want to dump the entire pouch out on the ground to find the one item I may need right now. A well-designed IFAK pouch will secure and organize items so that they are immediately available and organized so you can find the item you want in the dark.
Durability – An IFAK, by definition, must be readily accessible. For me, that means my IFAK rides on the outside of my pack, bug-out bag, and range bag. It takes a lot of wear and tear and must tough enough to survive its often-exposed condition
Ergonomics – Size and weight are everything, especially if you are on the move. Your IFAK pouch should be as small and lightweight as possible yet provide the other criteria listed above. Finding the right combination of weight, size, and capacity can be a challenge.
The IFAK Pouches: My Top 4 Picks
Last update on 2020-08-12 at 05:18 / Affiliate links / Images from Amazon Product Advertising API
With just a little knowledge about what I look for in an IFAK pouch, I must also say that I look a little forward and try to anticipate the situations in which I might find myself. Things I also consider when putting together an IFAK are
Where I am going
How many people are along?
The types of trauma I might encounter
With my basic criteria and this additional forethought, I typically size my IFAK accordingly.  Let's look at some of the options in IFAK cases that I suggest for your list.
Best EDC IFAK Case – A Range Bag Essential
I advocate that everyone carries what I term a "blowout kit." A "blowout kit" is a small IFAK that carries only the essential items to treat a traumatic and severe penetrating injury. You can read that to say a gunshot wound or a deep stab wound. Either one requires quick intervention to control bleeding, and that is what a "blowout kit" does.
The 5.11 Tactical Flex Med Pouch is small, lightweight, yet tough enough to withstand the rigors of everyday carry use. The pouch size allows packing several essential items securely yet keep them clean, safe, and readily available.
Includes 1 Flex pouch and 1 Flex Hook Adaptor
500D Nylon Material
External EMT sheer holder
External rip away tourniquet holder
Pull tab opening
This pouch is a perfect size to add to a day-bag or to drop into a briefcase. Every range bag should have one of this size IFAK's as part of the standard gear.
Pros
Great size for a day bag or a small backpack
The flex hook adapter makes the Flex pouch must more versatile than some other small pouches
Well-constructed and top-quality material
Cons
Only available in three colors
I couldn't find many negative comments about the 5.11 Tactical Flex Med Pouch. The comments and ratings by users of this pouch are outstanding.
Last update on 2020-08-12 at 04:48 / Affiliate links / Images from Amazon Product Advertising API
EDC IFAK Case – The Personal Carry Option
There are times when it is prudent to carry a blowout kit on your person. Most of the law enforcement officers I know do this routinely, and one of the most popular ways to carry a small IFAK without adding another pouch to a duty belt or a vest is to ankle carry.
A popular pouch for this type of carry is the Rescue Essentials Ankle Medical Holster. This little pouch fits comfortably around your ankle and can comfortably carry
A tourniquet
4" Israeli bandage
2 pair nitrile gloves
Additional room for other items
My suggestions for added items for this rig is a chest seal and a packet of Z-gauze impregnated with a clotting agent such as Celox.
Carrying small items such as an IFAK on your ankle may seem a little strange, but the position of the ankle pouch puts those critical trauma care items within easy reach, even if you are lying on the ground.
Pros
Has enough pockets and straps to carry everything you need and keep it secure no matter how extreme the situation becomes
Well-constructed
Comfortable and fits well even with boots
Cons
May not fit under tight or narrow pant legs
For the most part, users of the Rescue Essentials Ankle Medical Holster are satisfied. There are some negative comments concerning the way the hook and loop system is attached. Some users would prefer the hook side to be pointing away from their leg instead of toward their skin.
Last update on 2020-08-12 at 04:58 / Affiliate links / Images from Amazon Product Advertising API
The Essential IFAK – A Pouch for All Reasons
Condor Outdoor Products has several different pouches that they advertise as medical or IFAK pouches. The Rip-Away EMT pouch has become my go-to standard for building a more complete IFAK than a smaller EDC style of pouch.
The fold-out interior design and the quick-release rip-away attachment system makes this pouch perfect for attaching to the side or back of a backpack or even to a MOLLE style seatback system in your vehicle. One buckle and quick pull rips the industrial hook and loop fastening system from the mounting plate without having to deal with MOLLE or PALS attachments.
The interior tri-fold design opens to put everything in the pouch in easy sight and quick reach. In addition, Condor Outdoor has provided a host of other features that make this pouch our pick for an IFAK.
Rip away quick deployment system
Additional MOLLE webbing on the pouch for adding modular attachments to the pouch
Zipper closure with dual sliders
Clamshell full open design
D-rings on the back for adding a temporary attachment
Hook and loop on the front of the pouch for adding small items or ID tags
Grab-Handle
Three compartment interior flip-open storage system
Multiple elastic, mesh, and zippered compartments inside to keep items controlled and organized
Available in multiple colors including red
I mention the available red color for a remarkably simple reason. I like to keep at least one of these kits in my vehicles, mounted in a visible location, usually on a seat back mounting system where I can carry other pouches and gear. The red color makes it easy to give someone instructions on retrieving the IFAK from my vehicle. Being able to tell someone to grab the red pouch on the back of the passenger seat is much easier than trying to describe the pouch and its location exactly.
Pros
Will hold an amazing amount of gear
Well-constructed and rugged
The rip-away design makes deploying this pouch much quicker and easier
Holds everything my old pouch held and then some more.
Cons
This pouch may be too large for some people.
Condor Outdoors's Rip-Away EMT Pouch gets top marks from users. The few negative comments we found focused on the size of the pouch, and many who made these comments were happy in every other aspect with their choice of the Condor Rip-Away pouch for their IFAK.
Sale
Last update on 2020-08-12 at 05:18 / Affiliate links / Images from Amazon Product Advertising API
The Essential IFAK – An Alternative Concept
AN alternative to the flip-open tri-fold pouch design is the High Speed Gear Reflex Pouch system. This pouch features an innovative design that makes this pouch a single-handed ambidextrous deployment system
The pouch normally rides in a mounting system that can be attached horizontally or vertically, depending on your preference. The pouch deploys by yanking one of the handles located on either side of the pouch. The pouch pulls outward from the mounting system and opens easily for access to the gear inside.
High Speed Gear has an interesting video on their website that demonstrates the pouch and its deployment system. You can watch the video by following this link. The Reflex pouch is feature-loaded.
High Abrasion-Resistant Neoprene Kevlar pull handles
Vertical or horizontal mounting on belts
Horizontal mounting on MOLLE systems
Sell designed internal organization system
Easy access to gloves without removing the pouch from the carrier
Hook and loop on the pouch roll and the carrier for ID tags
Made in the USA
Lifetime warranty
Pros
The High Speed Gear Reflex pouch is such a new product that customer reviews and comments a limited. I must admit that I haven't gotten my hands on one yet. From the few comments, we could find we learned a few things
Well-built and sturdy design
The deployment system works as advertised
Still testing but so far this pouch works well
Cons
I only found one comment about the High Speed Gear Reflex IFAK pouch that came across as unfavorable.  The user had the pouch mounted on a belt during a nighttime tactical exercise. While moving cross country, something snagged one of the handles and pulled the pouch from the carrier without the user noticing. 
The unique design of this pouch sets the High-Speed Gear Reflex pouch apart.  I haven't had the chance to put this pouch to a personal test.  The price of the pouch makes it hard to justify an on whim purchase.  I will have this pouch on my list when it comes time to add or replace an IFAK.
Last update on 2020-08-12 at 05:18 / Affiliate links / Images from Amazon Product Advertising API
---
I Have a First Aid Kit Already. Do I Really need an IFAK?
In a word, Yes! 
That first aid kit that you bought at one of the big box stores or online is fine for small cuts, scrapes, and burns.  One complaint I have with most of these pre-packaged first aid kits is the bit of false advertising that goes with the packaging.  Many kits advertise that there are 100, 200, or even 300 items in the kit.  If you look closely, that 300 items are usually more than half individually packaged doses of aspirin, ibuprofen, acetaminophen, laxatives, antacids, and other over the counter medications.
The significant problem here is the likelihood of ever using those items before they expire.  Typically, that first aid kit gets tossed under the seat of your car, in the boat, or put into a drawer somewhere and forgotten until you need a band-aid.  Why stockpile and pay for things that you aren't going to use.
A better solution in my mind is to build an IFAK that has the things you will need in a traumatic injury situation. Pack these things in a pouch where they can be retrieved quickly, even in the dark, are protected, and can be carried and kept where they may be needed.
Of course, your IFAK should have items like band-aids and over the counter pain relief products, but in small manageable quantities.   Small cuts and scrapes happen as well, but don't overload your IFAK with these small items.  It is better to keep small quantities that you can regularly replace as they reach their expiration dates.
Here is an interesting video:
---
Before You Need it
The best advice I can give you about IFAK pouches and your IFAK is to build it, or buy it, and have it on hand before you need it.  We all hope and pray that we are never involved in a situation where we need to deal with a traumatic injury on ourselves or someone else.  Unfortunately, hoping and praying, wont' replace a tourniquet or a pressure bandage when the need arises. 
I hope the reviews and information in this article help you toward making the right decision for yourself about what kind of IFAK pouch best fits your situation.  If you have any questions, comments, suggestions, or experiences to share, please do so in the comments below.