Occasionally, a piece of gear comes along that I add to my "guilty pleasure" list. What do I mean by that? Well, the item at hand may not fill a particular need or niche for me at that time but to be honest, I just want it because it looks flipping cool! Enter the Ka-Bar BK9 combat bowie knire. Just to be clear I don't purchase items solely because I think it is "cool." I still fully research the product and company and if all of that checks out, it's game on.
Sale
Last update on 2020-08-12 at 05:28 / Affiliate links / Images from Amazon Product Advertising API
Ka-Bar BK9 Review (a.k.a Becker Combat Bowie)
This combat bowie is part of a series offered by KA-BAR. After using this survival knife I can promise you that one day I will get my hands on the rest of these models. Let's see what the knife has to offer.
Specifications
A little bit on the heavier side this knife weighs in at 1.05 pounds. The blade is 9.25 inches long, 0.188 inches think, 2.063 inches wide, and a total length of 14.75 inches long. The knife is made from 1095 cro-van metal, is a fixed blade with a clip point, full tang, flat grind and is covered in an anti-corrosive coating. The knife itself is manufactured in the United States. The smooth handle is grivory, a hard, lightweight plastic.
The sheath is made from polyester and is MOLLE compatible. There is a harder plastic insert in the sheath that houses the knife. The knife is held in place by a snap strap around the handle and there is a Velcro belt loop on the back. There is also four metal eyelets, two at the top and two at the bottom where cordage could be threaded through.
There is a small Velcro pocket on the front that accommodates a smaller knife, the skeleton-handled BK13 Remora ( It should be noted that the smaller knife does not come with the combat bowie) Lastly, while the knife is made in the US the sheath is manufactured in China.
Pros
It's a personal opinion but I like that the knife is made in the United States
The coating on the knife will make it easier to care for
A predrilled hole at the bottom of the handle is easy for adding a lanyard should you desire to do so
The frame of the knife extends out slightly from the bottom of the handle. This portion of the frame could be used for scraping or hammering tasks.
The Bowie design has a proven track record for being a very good survival knife.
Like many KA-BAR knives this model has gotten great reviews across the board.
Cons
You are going to pay a little bit more for this knife but given KA-BAR quality, history and the amount of knife you are getting, I think it is worth it.
Knives with coatings on the metal are not always the best to use for food prep.
The scales (handle) are held to the frame of the knife by three hex head bolts and nuts.
Due to its size it may not be suitable for all individuals
Due to its size it may require someone with a little more experience in sharpening.
FAQS About KA-BAR
Ka-bar has been making knives since 1898
In 1942 Ka-bar submitted a knife design to the USMC. Due to its quality and popularity it was eventually adopted by many branches including the Marines, Army, Navy, Coast Guard and Underwater Demolition Teams. That design remains popular to this day.
This particular knife was designed by Ethan Becker of Becker Knife and Tool Corporation
Sale
Last update on 2020-08-12 at 05:28 / Affiliate links / Images from Amazon Product Advertising API
---
Ka-Bar BK9 Review: Hands-On
Here are high-quality pictures I took of my version of this knife:
Sale
Last update on 2020-08-12 at 05:28 / Affiliate links / Images from Amazon Product Advertising API
I'm going to go ahead and get this out of the way, this knife is a beast.
It is not for the faint of heart or for small whittling tasks. As the name says it is a combat bowie. That means it is made for heavy-duty, rough use. I have had this knife for over a year now and it has stood up to a lot of outdoor chores. Below is my personal opinion of this knife, starting from the outside and working my way in.
The Ka-Bar BK9 Sheath
The sheath that a knife comes with is not always a deal-breaker as there are always aftermarket options, but it is still something that should be considered. After all, its not just a means of carrying the knife but it also helps in protecting the knife long term. I like that the sheath is MOLLE compatible because that gives me different carrying options.
The stitching appears to be heavy-duty and has held up thus far. I do not have the smaller model of knife that the front pouch is made for, so instead I have utilized that space for other items. A small sharpening stone, a ferrocerium rod and a magnesium rod are what I am currently carrying in there. But the beauty of this little pouch is that you can customize the items you want to carry.
Overall, I am not thrilled with the sheath. I have had similar sheaths like this in the past where the plastic insert busted which causes a few issues. Being such a heavy duty knife the sheath feels a little flimsy. I think being a KA-BAR knife the sheath could have been of better quality. But to be fair I haven't had any problems with it to date.
The Scales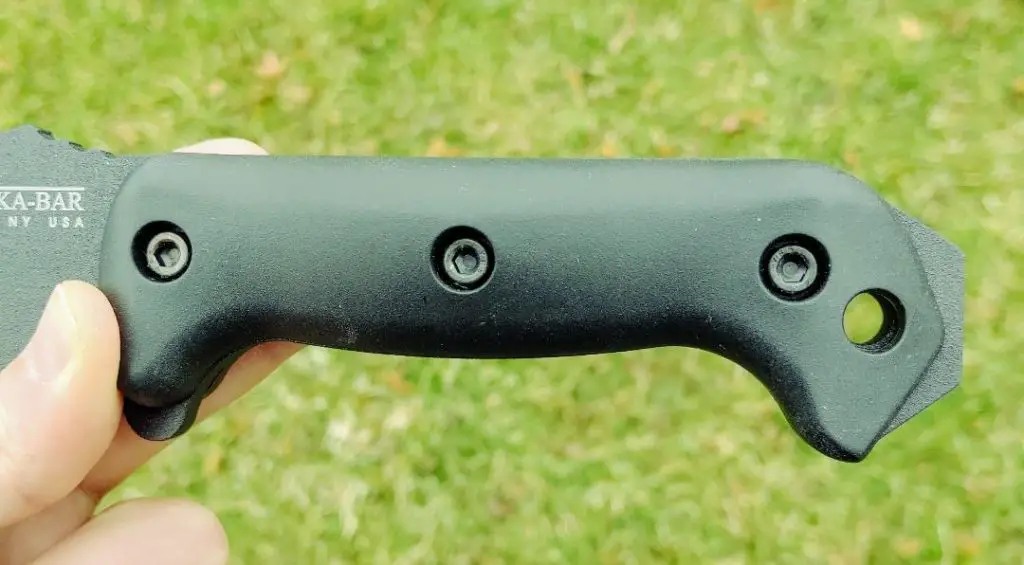 The Grivory handle is quite comfortable but at first I was worried by how smooth it is. Given the lack of "grip" I have yet to have any problems with slippage during use. However, if you are someone who prefers a more textured feel there are a few options. The scales are held on by three hex head bolts so they could be replaced with customized scales or any others that you may find on the web. A cheaper and easier option though would be to simply wrap the handle with your choice of textured tape.
Sometimes I am like a kid and curiosity gets the best of me. So, I went ahead and removed the scales to see what was underneath. Provided below is a picture of the knife with the scales removed. One thing I like to do with gear is to utilize any "empty" space available. There are two hollowed out spaces within the scales and I was surprised to find out that they offer almost a quarter of an inch of space. This space could be used for useful items such as fire tinder or some small fishing tackle. Of course, in order to access these items you would need to make sure that you carried the appropriate tool with you in order to remove the scales. With the scales removed the knife still felt comfortable in my hand. Nice to know should the scales ever break.
My last thought on the scales is a recommendation. If you have no intentions of ever changing them out, you might want to consider a little preemptive maintenance. Remove the scales and spread some Loctite material on the threads of the bolts, then put it all back together. This way you won't have to worry about the bolts loosening. Be sure you are positive of this modification before you commit to it.
The Blade
Now for the meat and potatoes, the knife itself. At first glance this knife might seem too big, but this big knife can accomplish tasks a small knife can do, and it can certainly accomplish tasks that a little knife cannot do. The nice sharp tip of the clip point easily drills holes into wood. I have made many fireboards with this knife and it makes short work of that process. The design of a clip point is also good for certain food preps tasks, especially in the field. Speaking of food prep, I have sliced, diced and chopped my way through a few meals with this bowie and I got to say that it was quite enjoyable do so.
Baton cutting wood is really a personal choice and if you have the desire to do so this knife is certainly up to the task. The large nature of this knife allowed me to split larger pieces of wood than I have ever split with a knife.
I tend to keep myself busy by making numerous outdoor projects out of wood and other materials. Much of the time I need to cut off the secondary branches from pieces of wood and the sharpness of the blade coupled with the weight behind it, makes this task a breeze.
Sometimes I need some finer control of the knife for detail work. This is when the grooves on the spine really come in handy as I use them as a placeholder for my thumb. By doing this, it gives me much better control of the knife. The flat spine is also great for using against a ferrocerium rod when trying to get a fire going.
Need some chopping done? No problem. I have used this knife to hack away at vegetation, branches, and logs for hours. I have been pleased that even after a hard day of use the blade maintains a sharp edge well and will continue to cut materials like cordage with ease. In closing I would like to add that since this is not made from stainless steel make sure wipe your blade down after use. Should the black coating start to come off, it would be a good idea to keep the blade oiled.


---
Verdict? Is It Worth It?
Even though the Ka-Bar BK9 is labeled as a combat bowie I have probably used this knife more in the outdoors than I thought I would. Other than it working great and being of sound quality, it is just a lot of fun to use. If you are interested in bowie style knives and looking to scale up a bit, I highly recommend the Becker Combat Bowie BK-9.
Sale
Last update on 2020-08-12 at 05:28 / Affiliate links / Images from Amazon Product Advertising API
I hope you enjoyed reading this review as much as I did writing it. Feel free to leave a comment below and thank you for reading. Stay sharp!