A good knife is critical if you are to spend anytime in the bush and if you've done any research on survival/bushcraft knives you have no doubt encountered the Ka-Bar Becker BK2 Campanion.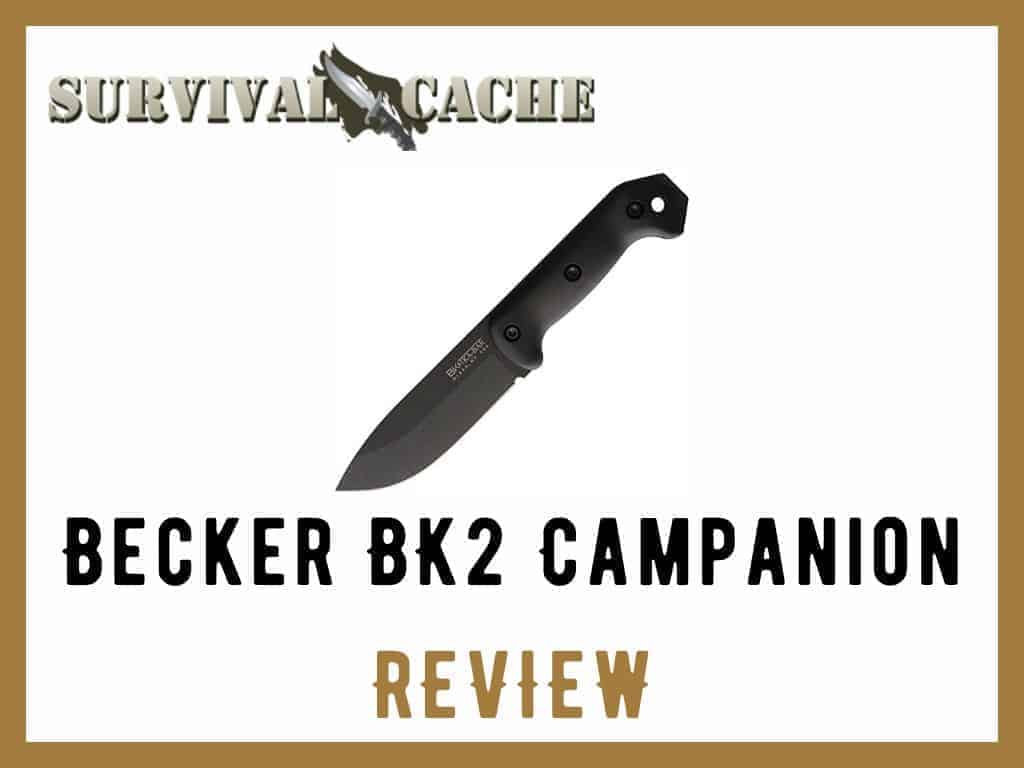 Should you pick this blade out of all the others you've seen? Is the BK2 going to be a hero or a zero in the bush?
Read on and I will break down the features of this blade, throw in some pros and cons and answer some of the more common questions. I'll tell you what I think but the choice is ultimately yours and should be made based on what you plan on using your knife for.
FIXED BLADE KNIFE
DETAILS

1095 Cro-Van steel is good for survival and bushcraft tasks

Sheath – Hard plastic with nylon belt loop

Handle material – Ultramid

Check Price on

Amazon.com
Ka-Bar Becker BK2 Review
The Kabar Becker BK2 was ranked as a top bushcraft knife by our team member, military veteran and prepper, Michael Major. You can read that article here.
Features
To start off this is a heavy knife that weighs in at a full pound. That weight is due to the size and the quarter inch thick blade. At 10 5/8" long this is a good sized blade for a survival knife and the Campanion's construction and features make it pretty obvious why this knife is so popular.
Blade
The full tang 1/4" thick blade is a beast, measuring 5 1/4" and made from 1095 Cro-Van steel. The addition of Chromium and Vanadium to the blade steel make it a bit tougher and more wear resistant. While this blade steel may have edge retention issues when cutting things like cardboard it is perfectly suited for the chopping and cutting tasks of the woods. The knife comes out of the box sharp with a factory 20 degree edge and this drop point profile sports a flat grind. The blade is coated in a textured powder coat that makes the knife blade look good but can act almost as sandpaper when cutting. This may provide noticeable resistance when cutting through some materials. The tang actually sticks out of the handle about 1/2" which is good for hammering or smashing without risk of cracking your handle.
Handle
The handle is made from a custom plastic called Ultramid which is produced by BASF. The handle is very ergonomic, even in a reverse grip position, and produces no hot spots no matter how large or small your hand may be. The handle flares out at the butt and the guard area which creates a nice comfortable shape that moulds to the hand. The handle material is, however, pretty smooth so if you are the type that likes a little texture on your knife handles then you'll need to modify it by adding athletic tape or maybe a length or bicycle inner tube.
Sheath
The sheath is a hard plastic, is MOLLE compatible, and attaches to the belt via a nylon loop. The knife is secured in the sheath by a tight retention fit and has an additional strap and snap to secure around the handle. The nylon belt loop is removable and the sheath itself has plenty of holes in case you want to modify it, or add some paracord. There is a loud click when the knife is inserted and secured into the sheath which is good for confirming that your blade will not fall out but is bad for any situation where stealth is required. Overall this is a pretty standard mass produced cheaply made sheath that a lot of serious outdoors men and women are probably going to either modify or get a custom sheath made.
Specifications
Overall length – 10 5/8"
Blade length – 5 1/4"
Blade material – 1095 Cor-Van steel
Blade thickness 1/4"
Handle material – Ultramid
Sheath – Hard plastic with nylon belt loop
---
Ka-Bar Becker BK2 Campanion Pros and Cons
Pros
1095 Cro-Van steel is good for survival and bushcraft tasks
Knife is thick enough to chop and baton while still maintaining the ability to do smaller cutting tasks
Comfortable in the hand
Cons
Knife is very heavy
Sheath is cheaply made and loud when inserting knife
Textured coating on the blade can cause noticeable resistance when cutting.
FIXED BLADE KNIFE
DETAILS

1095 Cro-Van steel is good for survival and bushcraft tasks

Sheath – Hard plastic with nylon belt loop

Handle material – Ultramid

Check Price on

Amazon.com
What Customers Have to Say
For the most part people are very happy with their Becker BK2's. The positive comments seem to revolve around how stout and versatile the knife is especially how it can accomplish both small and large bushcrafting tasks. The main complaints are that it is just too heavy and that the sheath being too cheap and flimsy or the snaps in the nylon portion wearing out with minimal use.
---
Open Questions
Will the 1095 Cro-Van blade rust?
Yes it will still rust if the bare metal is exposed, although the powder coat will inhibit rusting. The addition of Chromium and Vanadium increase the blades toughness rather than making it corrosion resistant.
Does the BK2 have a 90 degree spine for striking ferro rods?
The blade does have a 90-degree spine but striking a ferro rod will be slightly challenging due to the blades powder coat. This coating will need to be scraped away in at least a small area if you intend on using this knife to strike ferro rods.
Can the coating on the blade be removed?
Yes there are methods you can find online for stripping the stock coating off the blade. Make sure to contact Ka-Bar's customer service and see how a modification like this affects the warranty.
Can the handle scales be replaced?
Yes the handle scales are removable and there are sites online that you can order custom handle scales from.
---
Verdict
The BK2 Campanion is a best of both worlds option for all your bushcraft and survival needs. While not as good at small tasks as a smaller blade or at large tasks as a large blade it is definitely a capable knife that does everything just fine. The blade length is good at just over five inches and being a quarter inch thick you can be assured that if you manage to break this knife you were probably doing something that you should not have been doing with a knife. Being such a great knife the following three issues are pretty minor and in my opinion nowhere near deal breakers.
The major drawback of the Becker BK2 is definitely the weight. Carrying a pound of steel on your hip is not for everyone and that weight on one side of your body is going to be noticed. That being said this knife's weight can also be considered a strength when it comes to chopping. 
I'm not crazy about the smooth plastic handle but a few wraps of electrical tape or a piece of bicycle inner tube should solve that problem easily.
As for the sheath even though it is cheap and leaves a lot to be desired it does lend itself to be easily modified to make it appropriate for what ever you need it to be. Overall if you need a stout all around jack-of-all trades survival/bushcraft knife this is a good option to consider just be well aware just how heavy a pound on your hip actually feels.
FIXED BLADE KNIFE
DETAILS

1095 Cro-Van steel is good for survival and bushcraft tasks

Sheath – Hard plastic with nylon belt loop

Handle material – Ultramid

Check Price on

Amazon.com