There are so many tools, supplies, and gadgets that we carry in our packs. When I was younger these are the items that captured my attention and not the bag or pack that they were carried in. I mean, a bag is just a bag, right?
At its core, a bag is just a vessel for carrying other items in. Although through my experience, I have come to find that there is a vast difference in the nuances of one bag to the next. 
My favorite style is a backpack, and it has worked well for me and my needs. Whether that be in the outdoors, walking around town, or as a get-home bag or bug-out bag. 
A while back I heard of LAPoliceGear and began checking over their site as well as reviews on many of their products. I liked what I saw which is why I was excited at the opportunity to try out their Atlas 72 Hour Tactical Backpack.
Let's begin by first seeing what this pack has to offer. 
Atlas Backpack Features and Specifications 
Materials
The tactical backpack is made from 900D polyester with a PVC coating.
Dimensions 
The overall measurements of the pack are 24" H X 19"W X 10" D
The pack has a volume of 4,560 cubic inches and weighs 5.7 pounds. 
Exterior Attachments 
Laser-cut MOLLE on the front and side of the bag is both functional and more subtle than traditional webbing. 
Velcro near the top of the bag provides extra security when attaching gear or can be used for displaying patches. 
Comfort
The shoulder, waistband straps, and back are padded with a comfortable and breathable mesh covering.  
Hydration
The Atlas is compatible with a hydration system by providing two ports, one on either side of the top carrying handle.
Accessories Compartment 
At the top of the bag is a fleeced lined, zippered compartment for stowing more sensitive gear, like a pair of eyeglasses. 
Country of Origin
The tag on the pack indicates that it is made in Vietnam.
---
First Impression of the Atlas Tactical Backpack
When I first took the bag out of the box, I was surprised not only by its size but by its weight. It feels hefty which I think is good quality. However, some people are extremely conscientious of the weight of their bags and this understandably may turn some people away. 
After a quick inspection, the bag appeared to be pretty heavy-duty, but I of course had to take a look at everything in a little more detail. 
---
Hands-On Review
I first wanted to go through and check out all the pockets and compartments. By my count, there are 20 pockets and compartments with one of those including the compartment containing the backplate. 
On the front bottom of the bag, there is a zippered pocket that is a few inches deep. I think this pocket would work well for quickly accessing small items such as writing utensils for example.
On the top of the pack is another quick-access zippered pocket that is larger than the compartment on the bottom.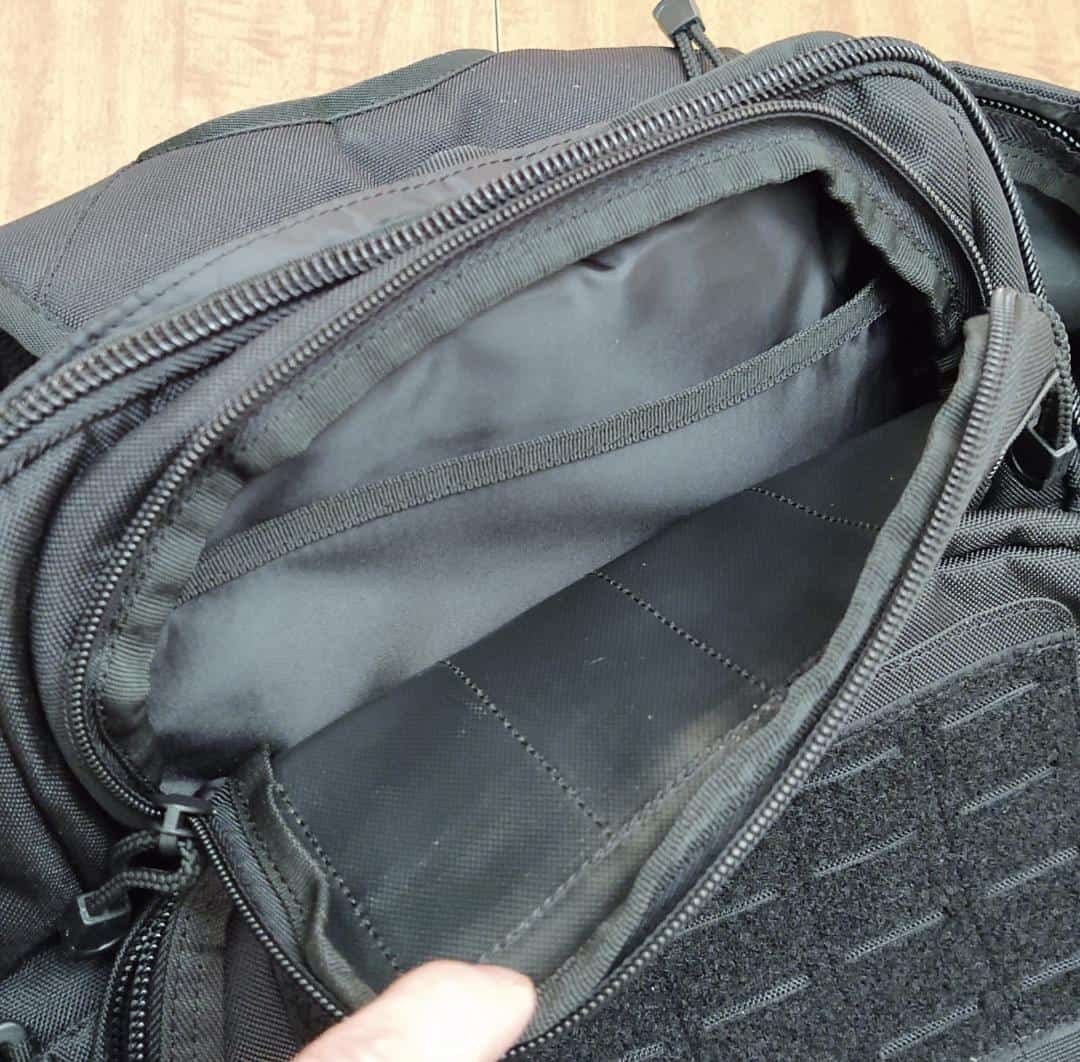 Opening the outer large compartment there are two zippered mesh pockets and one regular zippered compartment. Additionally, there are several individual pockets with Velcro straps for stowing tools.
This outer large compartment can be pulled forward where there is another area for stowing items. This compartment and does not have any type of closure, but it does have mesh webbing along the side. It is big and deep enough that a laptop or several notebooks could be placed inside.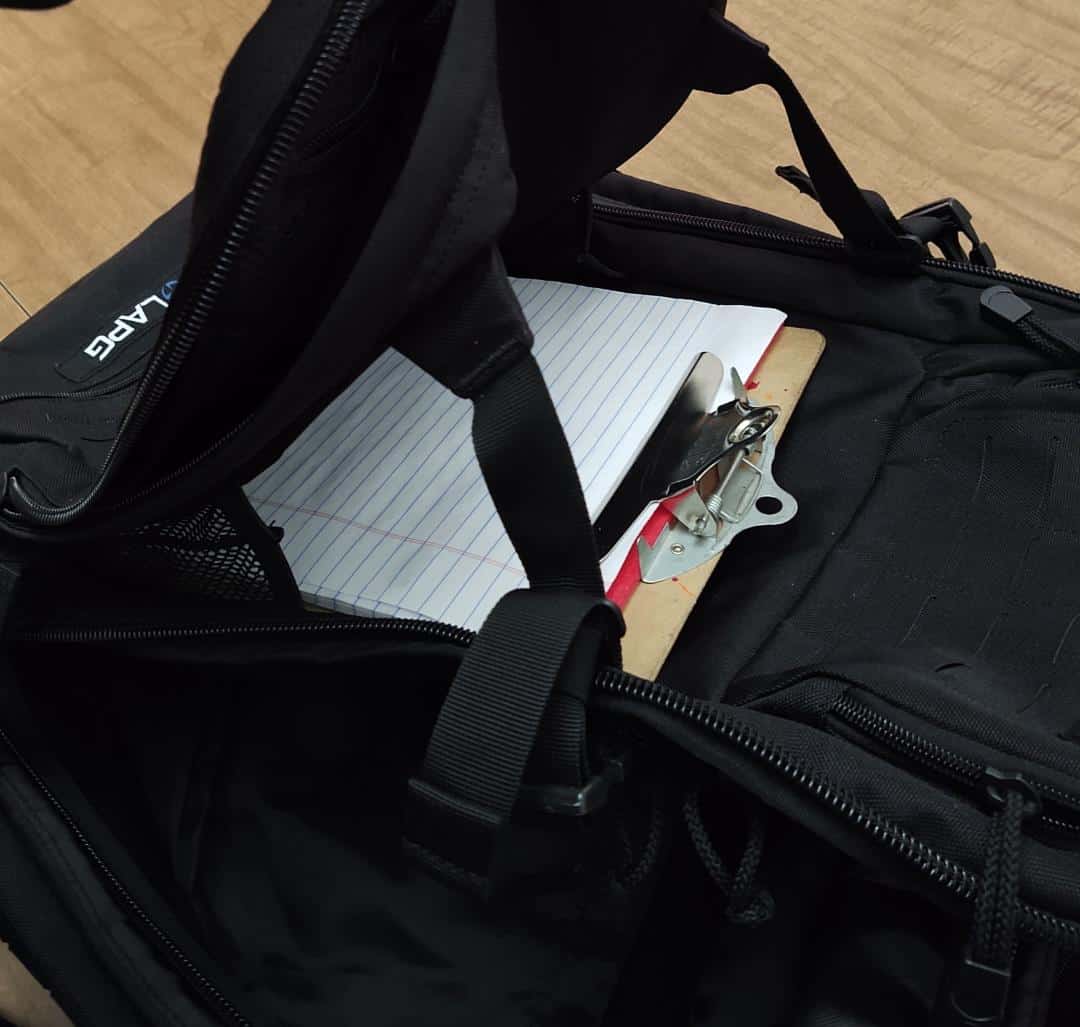 The last zippered compartment features a hard plastic backplate with a metal strut for keeping the pack ridged. This is a great feature and makes carrying the bag more comfortable.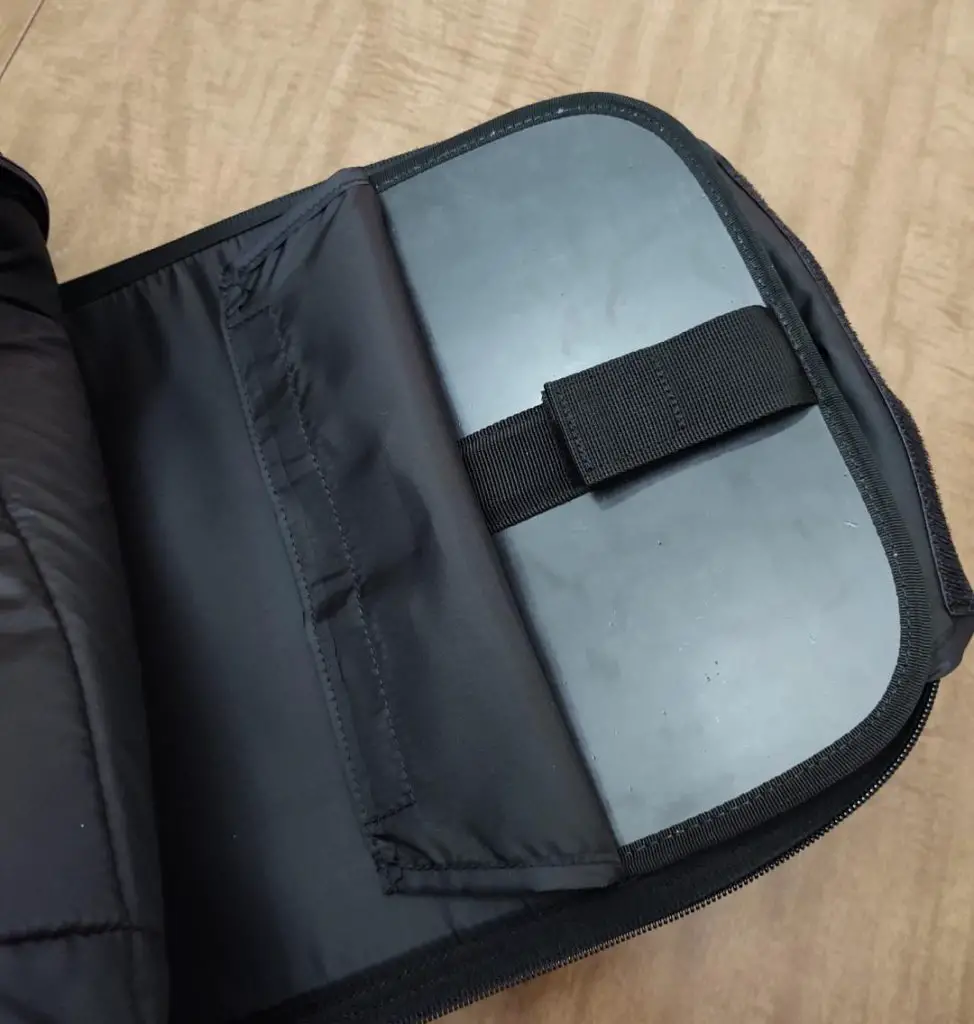 However, if you prefer a pack without a backplate then no worries because it is easily removed. to remove the backplate, simply undo the Velcro strap and the entire plastic backplate can be pulled out.
The main compartment of the bag has plenty of space for packing pretty much anything you want. There are three zippered pockets, two with mesh webbing and one without. On the backside is a compartment that runs almost the length of the bag and it is closed through a drawstring. 
Lastly, at the top of the bag near the carrying handle, there is a smaller zippered pocket lined with fleece. This softer storage space is well suited for items that may need a little more protection, like a pair of eyeglasses or sunglasses. 
Shoulder, Waist, Chest Strap
One of the aspects of a bag that I am most concerned with is the straps. Shoulder straps that are too thin are uncomfortable when under a load and there is more potential for them to rip. 
The shoulder straps on this pack are great. The padding is quite comfortable and after fully loading the bag and carrying it around I found it to be exceedingly comfortable to wear.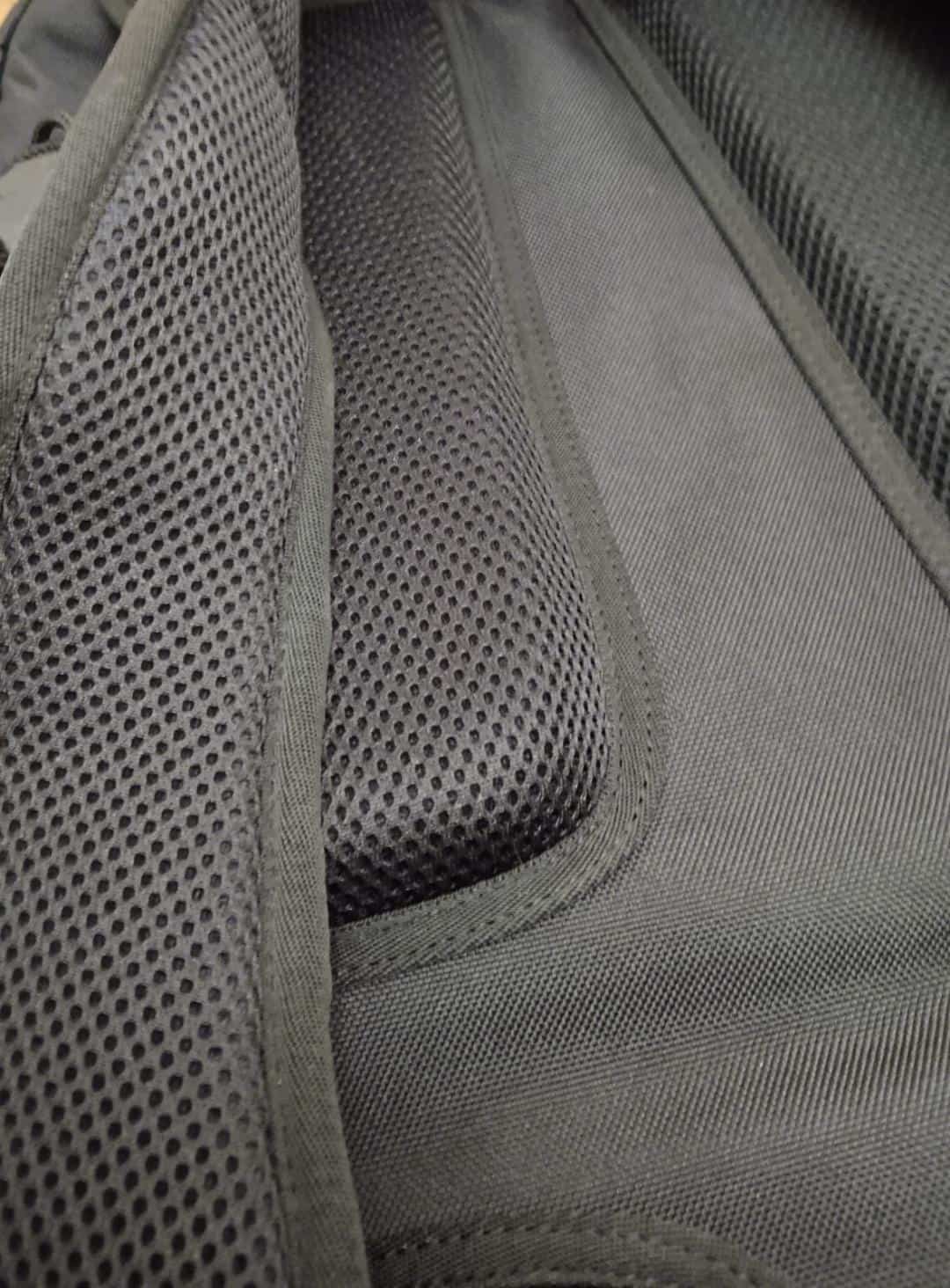 The Atlas also comes with a waist and chest strap. If you have never worn a bag with these straps, then you do not know what you are missing. Anymore, I prefer bags that have these features.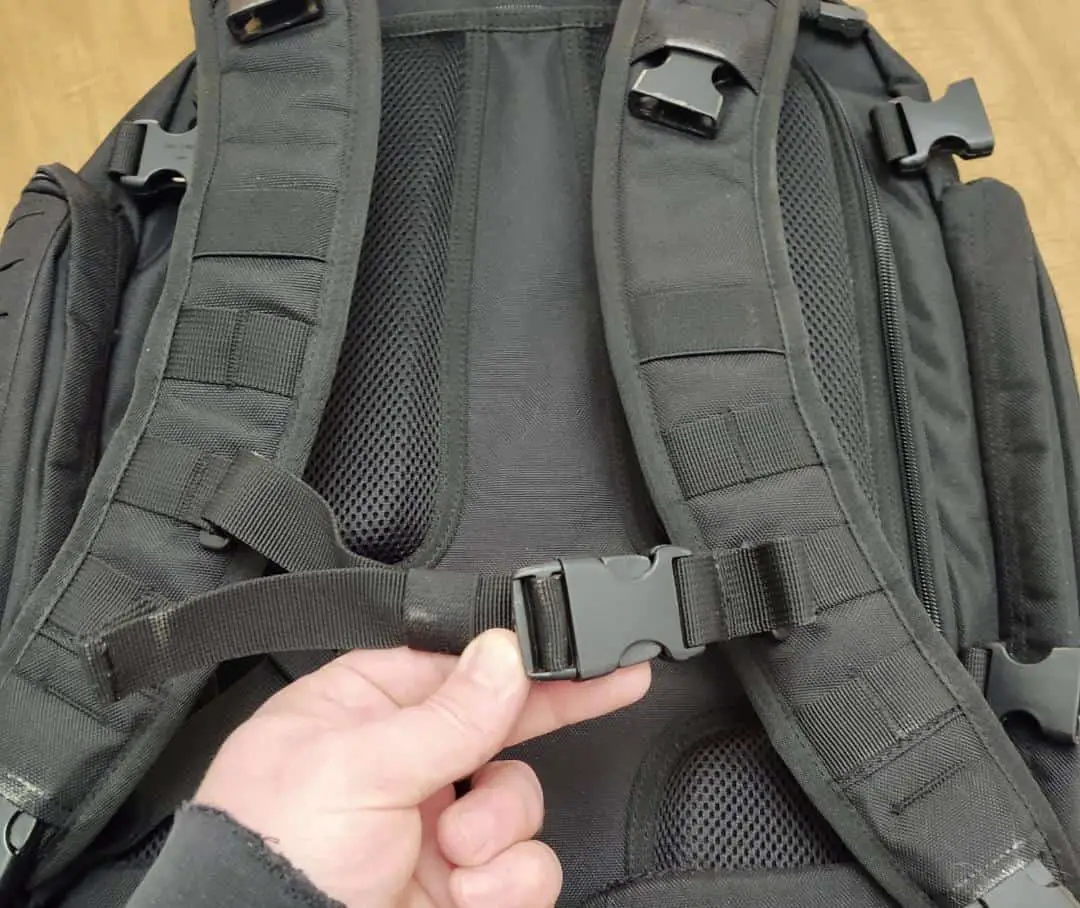 These straps help to keep the entire bag secured and centered to your back. I have found this to be important when carrying a heavy load during prolonged periods. This becomes even more important when a person must move quickly, climb, or crawl.   
Hardware 
All the zippered compartments come with a large zipper and handle pull. Their operation is smooth, and the large zipper pull makes using them easy, even when wearing gloves. 
There are also a fair number of plastic buckles on the outside of the bag. They are large and after using them they seem to be quality buckles. A few of these buckles are for the chest strap, waistband strap, tightening the shoulder straps, and for cinching the entire pack down.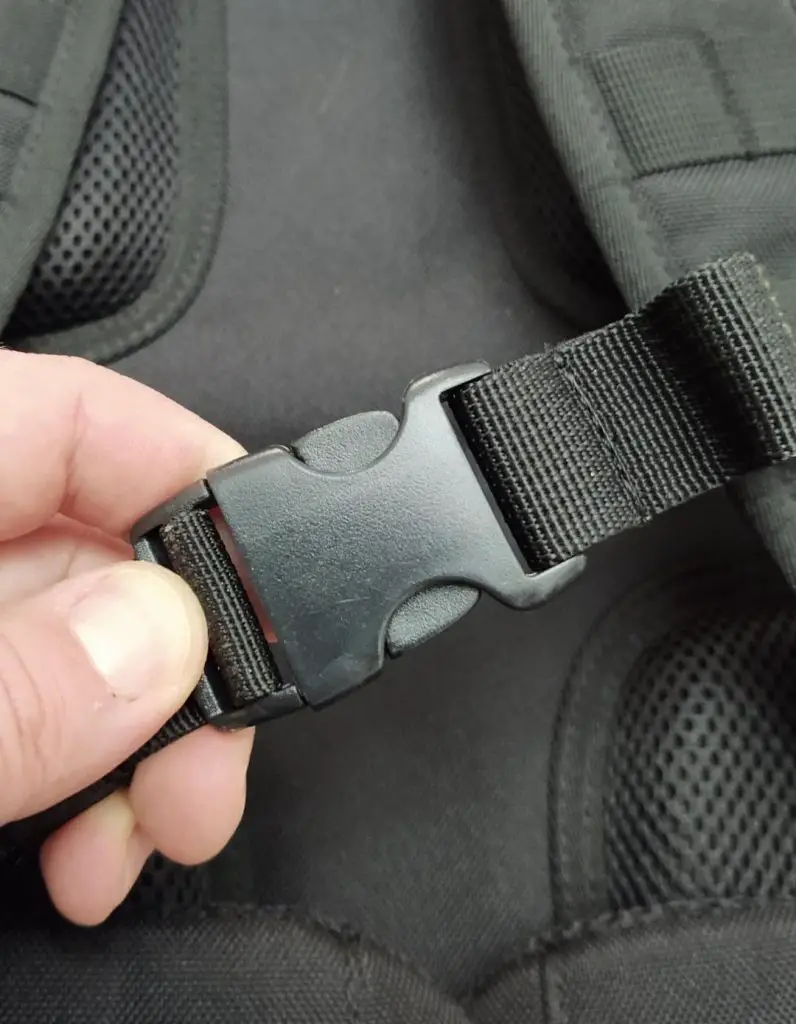 Hydration Compatible
The tactical bag is compatible with a hydration system. There are two ports on either side of the top carrying handle that can be accessed by pulling on two Velcro flaps.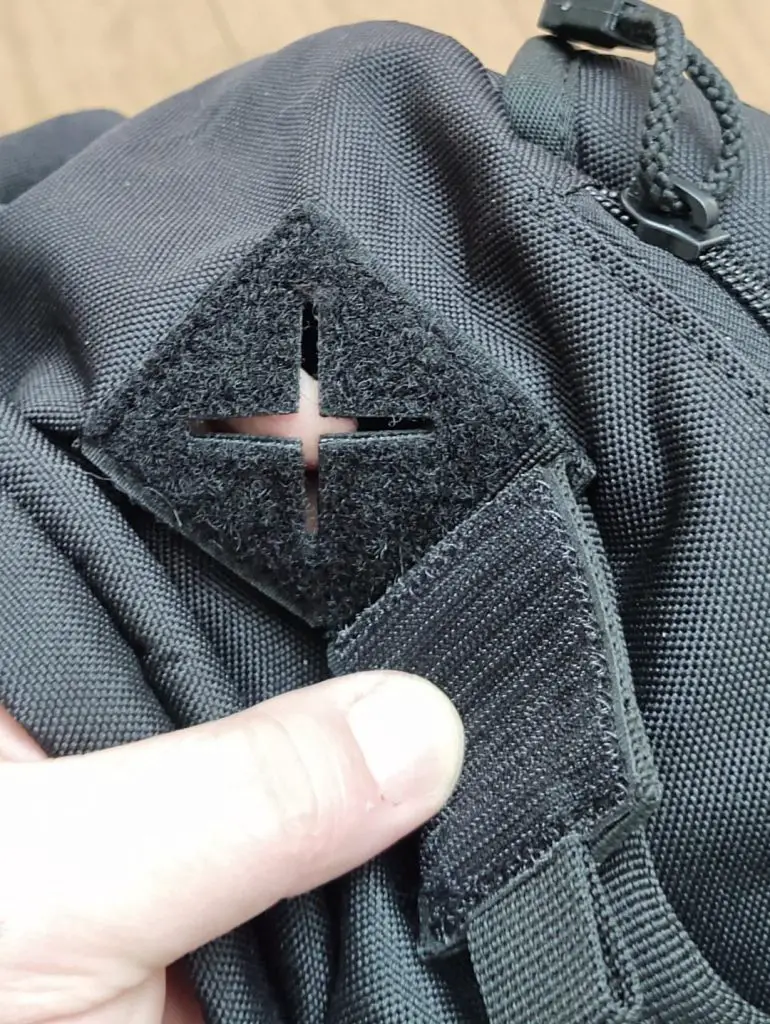 Attachment Points 
The exterior of the bag has an almost crazy amount of attachment points for securing additional gear. By my count there are:
134 MOLLE total straps on the front and side of the bag. Several of these are also covered in Velcro in case you want to secure another item with a Velcro backing or display a patch.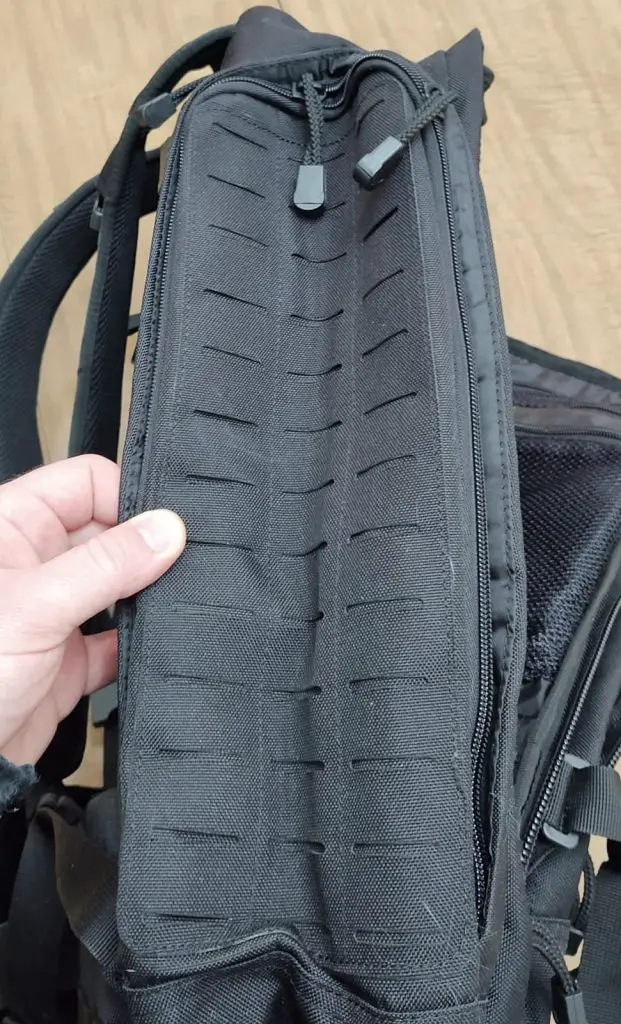 20 loops on the waistband strap.  
12 loops on the shoulder straps, 6 on each. 
And 4 loops on the bottom, one in each corner.
To say that the Atlas has a few exterior attachment options would certainly be an understatement! 
Drainage 
On the bottom of the pack, there are three holes, one on the left side, one on the right side, and one in the middle of the back. These act as drainage holes that allow the interior of the bag to dry out if water should its way inside. 
I like this feature, but there is also a downside to them. When the bag is set down on the muddy or slightly wet ground, water and other debris could inadvertently get inside. 
If you will be using the bag in an environment where this might be an issue, the holes could easily be plugged with a sealant or even a couple of strips of duct tape would do the job. 
---
Tactical Backpack Pros and Cons 
Pros
Ample storage space 
Tons of exterior attachment points 
Includes a chest and waistband strap and a backplate for additional stability 
Drainage holes help keep the interior of the bag dry 
Durable construction 
Comfortable to wear 
A lot of bag for an affordable price
Cons
The bag by itself is almost six pounds
---
Verdict
In the short time that I have had this bag, it has become my new favorite pack. Its storage options and comfort outweigh several of my other packs and I will soon be making this my primary three-day pack. 
While the name does imply a tactical use, its size and appearance lend itself to being used in more normal settings, such as luggage for a short trip. 
Considering its affordability, quality build, comfort, interior and exterior storage options, I think the Atlas 72 Tactical Backpack by LA Police Gear would make a fantastic addition to anyone's preparedness plans, including my own.  
Thanks for reading.
If you have any experience with the Atlas 72 Hour Tactical Backpack sound off in the comment section below and let us know about it!