Multi-tools are often too large for pocket carry and carried in packs or a belt pouch. This is not always the desired or practical solution for our needs. In the past, if you wanted to carry a bunch of tools in your pocket you would carry a Swiss Army Knife. These days there are other options, and Leatherman Sidekick is one of them.
Last update on 2023-12-04 at 01:35 / Affiliate links / Images from Amazon Product Advertising API
Leatherman Sidekick Multitool Review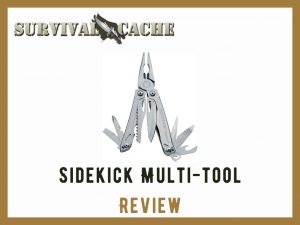 The Sidekick is a stainless steel multitool whose design mirrors other Leatherman tools but is small enough for pocket carry. The Leatherman Sidekick has a plain edged knife and a saw accessible from the outside of the tool. The pliers and the rest of the tools are accessible by unfolding the Sidekick. It comes with a pocket clip to help secure it in your pocket and also a nylon belt pouch so it could ride on the belt.
Specs
Weight 7 ounces
Dimensions 3.8″
Nylon belt pouch
Stainless steel removable pocket clip
Stainless steel construction
Includes a carabiner (Carabiner not listed on amazon description)
25 Year Warranty
Leatherman Sidekick's 14 Tools
According to Leatherman, the Sidekick contains these 14 tools.
Spring Loaded Needle Nose Pliers
Spring Loaded Regular Pliers
Spring Loaded Wire Cutters
Wire Stripper
420HC Plain Edge Blade
420HC Serrated Blade
Saw
Ruler 1.5″
Can Opener
Bottle Opener
Wood/Metal File
Phillips Screwdriver
Medium Flathead Screwdriver
Small Flathead Screwdriver
The pliers and wire cutters could be considered one tool rather than three. Also, the bottle opener, can opener, and wire stripper are on the same tool. The ruler (which is useless), file, and small screwdriver are all on another tool as well. So really the Sidekick has closer to eight tools rather than fourteen.
The Pliers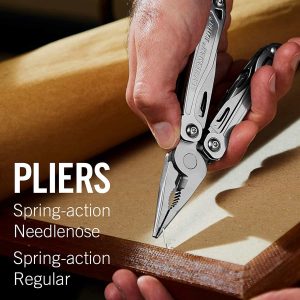 This is why we buy Leatherman multi-tools isn't it? The Sidekick's pliers are spring-loaded which, for such a small tool is nice to have. The pliers are the needle-nose/regular/wirecutter combo pliers you'll find on most Leatherman multi-tools. The handles feel good in the hand and the plier's joint moves freely. The teeth of the needle-nose pliers mesh together very well which is very important for pliers.
The Cutting Tools
Plain Edge Knife
With a length of only 2.6 inches, this is a small blade with a plain edge. This knife opens from the outside with one hand and locks into place. The blade steel is 420HC Stainless Steel and comes razor sharp out of the box.
Serrated Knife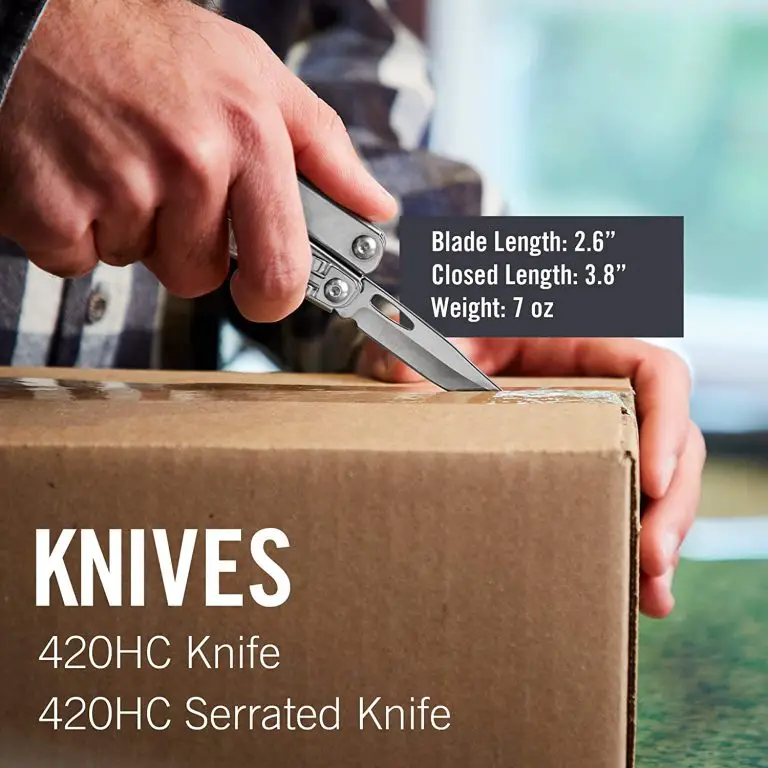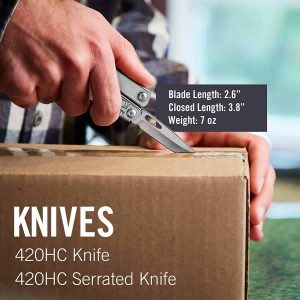 The 420HC Stainless Steel serrated knife is inside the tool, and like all the internal tools, does not lock. It is also about half the length of the main blade to accommodate the pliers that fold inside the handles. For its small size, the serrated blade has some utility for those smaller cutting jobs.
Saw
The Sidekick comes with a small but very functional wood saw about the same length as the plain edge blade. The saw opens from the outside and also locks into place. A double row of aggressive teeth cut through wood with ease.
The Rest of the Tools
Bottle Opener/Can Opener/ Wire Stripper
Nothing too special here, both the can and bottle opener work as expected and do a good enough job. The wire stripper is more of a notch but is functional. The wire stripper is an option that will probably get forgotten and remain unused by most people.
Wood/Metal File/Ruler/Small Screwdriver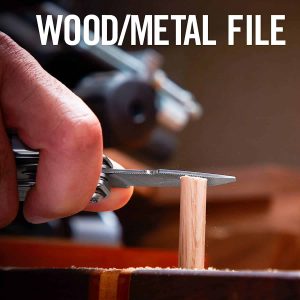 The file works but very small which is difficult to do any significant material removal. The ruler is a gimmick as most multi-tool rulers are. Being only an inch and a half long it is not long enough to serve any practical use. The small screwdriver is on the tip of the file and does its job well enough.
Phillips and Medium Flathead Screwdrivers
These are accessible from the inside and do exactly the job you would expect from them. The absence of a locking mechanism isn't a deal-breaker but is a bit of an annoyance. The Phillips screwdriver is good for medium to larger screws. Because of its profile, it tends to slip more than a traditional Phillips screwdriver. The medium flathead is great for some very light prying such as opening paint cans.
Carabiner
The Sidekick includes a carabiner that has a built-in bottle opener and 1/4″ hex wrench. This is not a carabiner that is for climbing or should be trusted to support any significant weight.
---
Leatherman Sidekick Multitool Pros and Cons
Pros
Small enough for pocket carry
Outside tools are one-hand opening
Pliers are spring-loaded
Affordable
25-year warranty
Cons
Inside tools are very small and do not lock
Ruler is useless
Entry-level tool and lacks the fit and finish of more expensive Leatherman products
Last update on 2023-12-04 at 01:35 / Affiliate links / Images from Amazon Product Advertising API
---
What do the Customers Say?
The Leatherman Sidekick has a lot of positive reviews and customers seem to like that there are a lot of tools in such a small package. Of all the reviews I've read, most of the negativity is a result of user error or receiving a damaged product. There were some complaints of the pliers breaking or the tips of blades snapping off. These, in my experience, are due to the end-user abusing the tool rather than a defective product.
---
FAQs
Is the Leatherman Sidekick TSA compliant?
No, the Leatherman Sidekick is not TSA compliant because of the knife blades that it contains.
How do I Clean and Maintain my Leatherman?
The Leatherman Sidekick is constructed from corrosion-resistant stainless steel, not corrosion-proof. The metal itself should be oiled often with a low viscosity oil like 3 in 1 oil or WD40. It is best to use a Teflon based lubricant to lube up any pivot points. To clean use water and a mild detergent but for tar or paint, mineral spirits will work.
Who is the Leatherman Sidekick Best Suited For?
The Leatherman Sidekick is an entry-level tool. This is also a good tool for anyone who needs an EDC multi-tool or is buying their first multi-tool. Since the Sidekick is so affordable it could be a good option for a youth's first multi-tool as well.
---
Verdict
The Leatherman Sidekick is a great entry-level multi-tool because it is affordable and perfect for pocket carry. For these same reasons, it would make a great EDC multitool for the urban jungle. The Sidekick has a good sharp knife that can open with one hand for all the normal cutting jobs. The serrated blade may be small but would be ideal for tasks like opening boxes cutting small rope, webbing, etc. In my case, I have found that I use the screwdrivers on a multi-tool often as well as the pliers day to day. For an urban environment, the saw blade may seem out of place but I can not count the number of times in urban life I have used a multi-tool saw. If you are looking for a good pocket carry multi-tool, give the Leatherman Sidekick multi-tool a look.
Last update on 2023-12-04 at 01:35 / Affiliate links / Images from Amazon Product Advertising API