Most backpacks aren't built for hauling heavy gear, and if you're in the military or the police force, you will need a bag with a rugged exterior and a sturdy build.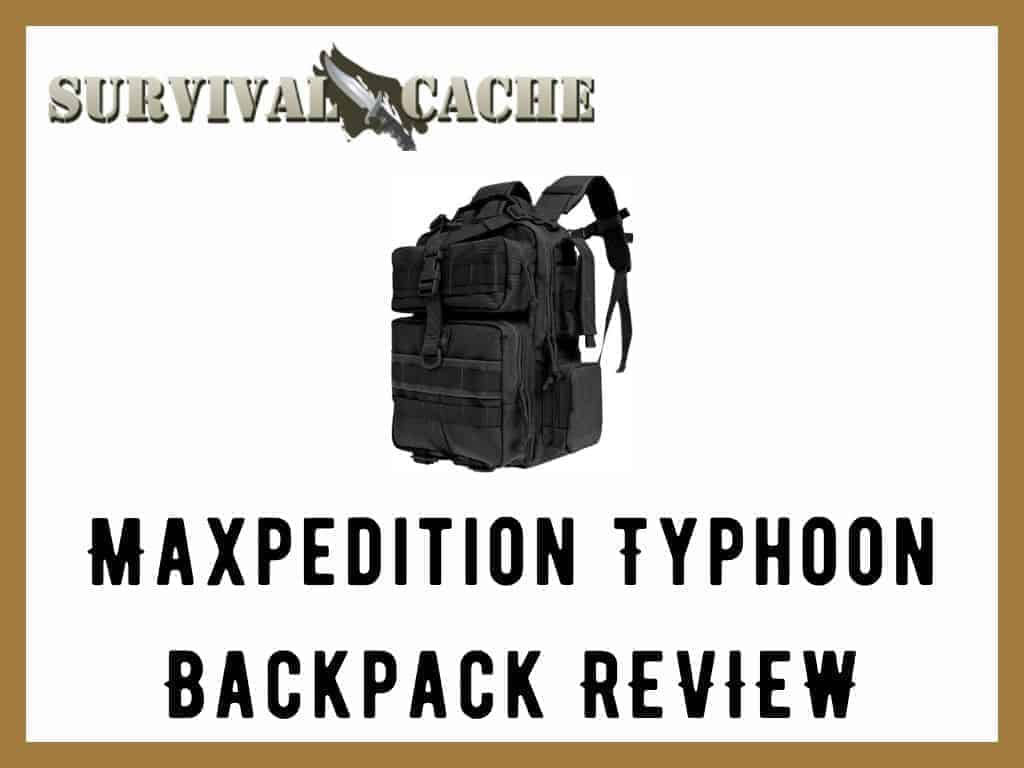 The Typhoon backpack from Maxpedition boasts the size, capacity, and ruggedness that you would expect out of a tactical backpack.
It also has a suspension belt and comes with foam-padded shoulder straps, making it an as ergonomic as it is sturdy.
However, does it hold up in practical use? Can it handle the wear and tear that everyday use brings with it?
More importantly, is it worth the hefty price?
In this Maxpedition Typhoon Backpack review, I'll sift through every feature, highlight all the pros and cons, and give you an overview of customer sentiments before helping you decide if the Typhoon is right for you.
Last update on 2020-10-20 at 20:42 / Affiliate links / Images from Amazon Product Advertising API
Maxpedition Typhoon Backpack Review
Design: Pockets and PALS
The Typhoon backpack boasts impressive internal and external organization, with multiple pockets and pouches enabling you to carry all the gear you need.
The Typhoon has 11 pockets in total, including two mesh pockets: one in the main compartment, and the other in the bottom compartment.
It has PALS webbing on the front and the sides, enabling you to carry many additional items by hooking them on the exterior of the backpack using MOLLEs.
You can buy MOLLE pockets from Maxpedition or get their accessories that fit directly into the PALS webbing.
There's a zippered pouch on the side for putting away your smartphone, and a sheath pocket with a hook-and-loop enclosure where you can store a flashlight or other small tools. The bag can also accommodate a 50oz (1.5L) bottle of water.
Button lock security is integrated right into the bag, which helps ensure your gear is safe.
The bag is too small for larger laptops, which is a little disappointing, but I don't think it is a deal-breaker.
Durability and Ergonomics
The backpack is made with high-quality 1000-denier water- and abrasion-resistant nylon fabric, making the bag super lightweight.
It has a triple polyurethane coating, which is what makes the bag resistant to water and keeps any electronics in your bag safe if it rains.
The backpack also has a Teflona fabric protector that resists grime and dirt and makes for easy cleaning and maintenance.
The UTX-Duraflex nylon buckles are sturdy and make for low-sound closures, and the AS-100 high-grade closed-cell foam padding makes for superior shock protection.
All of the internal seams are taped and finished, and the self-repairing YKK zippers coupled with the paracord zipper pulls make for smooth access.
All the stress points are double-stitched, bar-tacked, or box-and-x stitched for additional strength.
The curved, foam-padded double shoulder straps contour to your chest, keeping you comfortable regardless of how heavy the bag is.
The sternum suspension belt helps distribute the weight of the backpack evenly across your upper body, ensuring that you feel no back pain.
Dimensions and Components
Bag Dimensions
Overall size: 11″ x 6.5″ x 14″
Main compartment: 9.5″ x 4″ x 13.5″
Volume: 840 cu.in. / 13L
Exterior Front
Y-compression strap made of 1" webbing
Two channels of 2" webbing loops
Three rows, five channels of PALS webbing
One 8.5" x 2" loop field for patches
One 8.5″ x 4″ x 2″ upper zippered pouch
One 8.5″ x 8″ x 2″ lower zippered pouch
Two 3.5″ x 4″ internal slip pockets
One 7″ x 5.5″ internal slip pocket
One 8" x 5" internal mesh slip pocket
Exterior Rear
Breathable padding for added comfort
Exterior Left
2x 2" webbing loops
Four rows, two channels of PALS webbing
Bungee cord retention
Exterior Right
One 1.5″ x 1″ x 5″ sheath pocket
One 3.5″ x 1.5″ x 4″ zippered pouch
Exterior Top
Grab handle made from one-inch webbing
Two attachment loops made from 3/4" webbing
Button-Lock™ security strap
Exterior Bottom
Two 1" webbing lash loops/compression straps, with ladder locks
Main Interior Front
One 9" x 5.5" mesh slip pocket
One 9.5″ x 6.5″ zippered slip pocket
Straps
2.5" adjustable padded, breathable backpack straps with two channels of PALS webbing, two 2" webbing loops, and 1" D-Rings attachment points (on each strap)
Removable sternum strap made from 1" webbing with 1" quick release buckle, with elastic shock absorber
---
Maxpedition Typhoon Pros and Cons
Pros
Lightweight-yet-sturdy nylon fabric
Stress points are double-stitched
Water, grime, and abrasion-resistant
Multiple spots for MOLLEs
Foam-padded straps and sternum belt for comfort
11 pockets including two mesh pockets
Cons
Cannot carry laptops any larger than 14 inches
Pricey
No padding on the bottom
Last update on 2020-10-20 at 20:42 / Affiliate links / Images from Amazon Product Advertising API
---
What People Are Saying About the Maxpedition Typhoon Backpack
Customers love the pockets!
Many customers say that the pockets help keep their bag neat and organized, and they never have to dig around to find things. They also love the build-quality – it is as rugged as Maxpedition claims it is.
The bag remains unaffected by trees and branches brushing up against it, and the zippers work smoothly even with grit and dirt all over it.
Customers that have used it for over two years report that the backpack is still going strong, and although it has gotten a little dirty, there are no problems with it.
---
Verdict
If you have a smaller frame, or need a small backpack and don't carry a laptop, this backpack may be perfect for you. However, if you're looking to carry a lot of gear or are have a larger body frame, you should look at larger alternatives.
There's a pocket for everything, and the backpack will help you stay organized.
It is rugged and double-stitched at stress points, and it is also water, grime, and abrasion-resistant, making it an excellent choice regardless of if you need a backpack for a hike or for every day carry.
It is pricey, but you get what you pay for – a sturdy backpack that will last for years.
Last update on 2020-10-20 at 20:42 / Affiliate links / Images from Amazon Product Advertising API
---