The importance of a good knife when out in the bush can not be understated, unfortunately, there are so many options and price points it can be hard to find the right one. I have many different knives in my collection but for just basic down to earth bushcrafting and survival tasks I keep gravitating to the Mora Companion.
My Mora Companion HD usually lives in my haversack but is often attached to my belt, dangling from my neck, or attached to a shirt button. In the past several years I've used my Mora as my go to bushcrafting blade and as a backup to my normal belt knife during longer treks or hunting trips. I also have a Mora Companion in stainless steel which is my dedicated fishing and canoeing knife. Let's take a deep dive in this Mora Companion review.
KNIFE
DETAILS

Available in both carbon and stainless steel blades

Handle is comfortable and provides a good amount of grip

Sheath is simple but functional

Check Price on

Amazon.com
Mora Companion Review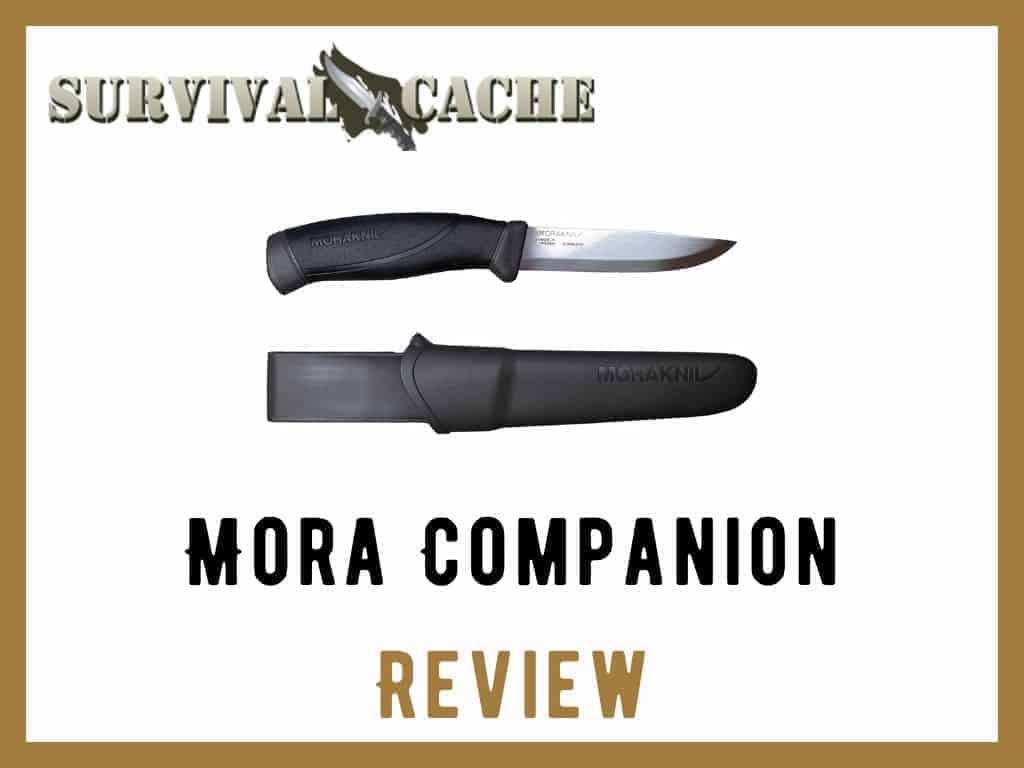 There are several different sub-models of the Mora Companion but this being a hands on review I will stick to the two that I personally own. One of them being the Mora Companion HD in carbon steel and the other a Mora Companion in stainless steel, both are great knives but each serves a slightly different purpose in my various kits.
The difference between the two is enough that they both warrant mentioning in this review. All measurements and weights are taken from the two knives in my possession so they may conflict with online sources.
Specifications
Overall length 8.75"  (Carbon Steel) 8.5" (Stainless Steel)
Blade length is 4" for both versions
Blade thickness 1/8" (Carbon Steel) 3/32" (Stainless Steel)
Scandinavian Grind
UHB-20C equivalent to1095 (Carbon Steel) Sandvik 12C27 (Stainless Steel)
Treated to 58-60 HRC (Carbon Steel) or 56-58 HRC (Stainless Steel)
3/4 tang
TPE textured rubber handle
Plastic sheath
4.1oz w/sheath 2.9oz knife only(Stainless Steel)
4.6oz w/sheath 3.6oz knife only (HD Carbon Steel)
Mora Companion Blade
Both the stainless steel and carbon steel version of the Mora Companion have identical 4" blades with the exception of the blade material and blade thickness.
The Companion HD has the thicker carbon steel blade at 1/8" whereas the stainless steel Companion's blade is 3/32" thick. The blade is a Scandinavian grind which does dull quicker but is very easy to sharpen especially in the field. The carbon steel blade is treated to a HRC of 58-60 while the stainless steel version is a bit softer at a HRC of 56-58.
The carbon steel blade will produce a sharper edge and will be a little easier to maintain and sharpen than the stainless version, however, carbon steel is prone to corrosion where as stainless steel is less so. A point of note is that the Mora Companion is not a full tang knife because the tang only goes 3/4 of the way into the handle.
These blades are very well suited for small cutting and carving tasks and do not lend themselves to chopping tasks (use a hatchet, axe, or tomahawk for chopping) and as with every knife blade they should NEVER be used to pry.
Mora Companion Handle
Both versions of the Companion listed here come with a plastic handle wrapped in textured TPE rubber. This results in a lightweight handle that is very comfortable in the hand. The contours of the handle fit the hand very well and while the handle does not include a guard there is just enough of a bolster to prevent the hand from slipping forward onto the blade. Since these handles are plastic they will not have the durability of the handles of more expensive knives so bashing tent stakes with it may not be a good idea.
Mora Companion Sheath
Mora Companion sheath is quite well thought out and although very simple and plain it is incredibly functional. At a little under 9 inches long it leaves just about 3" of handle sticking out for the Carbon steel version and around 2 5/8" sticking out for the stainless steel version.
There is an included thumb ramp to aid in drawing the knife from the sheath which I have found to be almost essential as gripping the handle is not as easy as other knife sheaths I've used in the past. When I place my hand on the handle to draw the knife my hand naturally conforms to how the handle is oriented, and my thumb intuitively finds the thumb ramp which makes drawing the knife easy but also safe. The knife locks securely in the sheath and will not accidentally come loose or fall out. I've shaken these sheaths upside down violently and not ever had a knife dislodge from the sheath. There is also a drain hole in the bottom of the sheath to allow any water to drain, which is a nice feature.
Unfortunately, these sheaths are not ambidextrous as they are right hand only. The sheath has several methods of carry where it can be easily attached to a belt or pack, hung around the neck, or hung from a shirt button. One aspect of this sheath I really like is that you can attach it to your belt without removing the belt. The belt loop basically slides over the belt snapping into place and stays on securely. I've never had a Mora sheath fall off my belt or pack and I doubt that I ever will.
On the back of the belt loop is a teardrop shaped cutout that slips over a shirt button quite nicely. I don't often use this feature but if I'm sitting around carving I occasionally like to use this method because it keeps the knife close at hand. This method of carry is not overly secure and should only be attempted when around camp. Around the neck carry is also a viable option and the sheath and knife feel pretty good dangling from the neck.
The sheath has one issue though, it can not be oriented to be carried horizontally which is an option that I myself like in a knife. Overall though the Mora Companion sheath is a lot of function without the bells and whistles.
---
Mora Companion Pros and Cons
Pros
Inexpensive
Comes in several sub-models
Available in both carbon and stainless steel blades
Handle is comfortable and provides a good amount of grip
Scandinavian grind is easy to sharpen and maintain
Very lightweight
Sheath is simple but functional
One of best knives under $100
Cons
Blade is only 3/4 tang
Sheath is right hand only
Carbon steel blade will corrode readily
Customer Reviews
The customer reviews are overwhelmingly positive with customers expressing their satisfaction with the quality and utility of the knife as well as the fact that it is so inexpensive. Most of the negative reviews have to do with minor quality control issues or with the carbon steel version rusting which for the most part appears to be user error. Overall it seems that the vast majority of customers are very satisfied with their purchases.
KNIFE
DETAILS

Available in both carbon and stainless steel blades

Handle is comfortable and provides a good amount of grip

Sheath is simple but functional

Check Price on

Amazon.com
---
My Personal Experience
I like to use my Mora as a light duty knife and for primarily bushcrafting tasks. The Companion HD lives in my haversack and finds its way to my belt or shirt around camp. The stainless steel version of the Companion lives in my fishing/canoe kit because it is stainless steel and a lot slower to begin corroding.
There is an infinite debate about which is better, stainless or carbon steel and after years of use I can not say that one of these knives is superior to the other. The only real difference is the corrosion resistance that the stainless version provides and as far as sharpening goes I have noted that the stainless version was slightly quicker to dull but just as easy and quick to sharpen as the carbon steel version.
The Companion HD is thicker than the stainless steel version but since I use these blades for light duty I have not found much if any difference in function between them.
I really like the handle on these knives and even with wet hands haven't had one slip yet. I've sat and carved for hours without feeling any ill effects or noticing any hot spots in my hands. The curve of the handle fits my hands very nicely and I've even had both my kids use the knife from the age of 5 and they have had no issues handling the knife at all.
The sheath is awesome in my opinion and while I'd like it to be adjustable to sit horizontally on my belt I am willing to overlook that because of the ease that I can mount it to a belt or pack and then switch to a button carry or neck carry with minimal effort.
This knife is very durable and I have noticed that the two that I have have handled hard use with ease. By hard use though I mean use within the scope of what the knife could be reasonably expected to or designed to do. I do not torture test or abuse my cutting tools so I can not comment on just how much abuse these little blades can take.
---
Mora Companion FAQs
How Do I Clean and Care for my Mora Companion?
Cleaning and care of the Mora Companion is not much different than any other knife. Any dirt or grime should be wiped away with a wet rag and if required a mild detergent. Mineral spirits could be used to remove greases, oils, glues, or any other hard to remove substances from the blade but use caution cleaning the handle with any solvents. Never machine wash a Mora and after any cleaning thoroughly dry the knife before oiling the blade.
The blade can be oiled with honing oil, 3in1 oil, WD-40, or any food grade oils. The goal is to leave a very thin coat of oil on the blade to prevent it from rusting. Carbon steel blades will rust quite rapidly and require oiling to prevent corrosion but stainless steel blades will also benefit from oiling because they are corrosion resistant not corrosion proof.  I like to oil my blades daily when in regular use.
How Should I Sharpen the Blade?
Sharpening a Mora Companion could not be easier. The Scandinavian grind has no secondary bevel so all that is required is to lay the bevel down flat on a sharpening stone of the desired grit and sharpen or touch up the blade as you normally would. I like to keep the blade sharp by touching it up on a strop or the back of my belt which keeps the edge very keen.
Who is the Mora Companion Best Suited For?
The Mora Companion is a great knife for anyone who spends time outdoors, but the Companion is especially well suited to be a first knife given to a youth or anyone who is brand new to adventuring in the outdoors. I have personally seen that it is a great choice for introducing youth to knife handling and safety.
---
Verdict
For the price, this is a great entry level knife for bushcrafting, survival, fishing, hunting, camping or any other outdoor pursuit. The Companion is a go to blade for a lot of bushcrafters for good reason and that is what I like to use it for as well. Personally I believe that the Mora Companion is a fantastic choice for an entry level knife for any wilderness activities. The Companion's only limitations is that being such a small blade and only 3/4 tang it is not suitable for heavy bushcrafting or camp tasks, but if you pair the Companion with an axe then there will be no wilderness task that you will not be able to accomplish.
I also love to have the Companion as a secondary knife when my Cold Steel SRK is on my hip but I find that I am very often using the Companion over my primary belt knife. I own the two Mora Companions discussed in this review and I plan on purchasing two more for both my sons as their first fixed blades.
KNIFE
DETAILS

Available in both carbon and stainless steel blades

Handle is comfortable and provides a good amount of grip

Sheath is simple but functional

Check Price on

Amazon.com