From the moment I bought my first knife by Morakniv I was hooked. The quality of their products paired with their affordable prices (that is an understatement) are difficult to beat.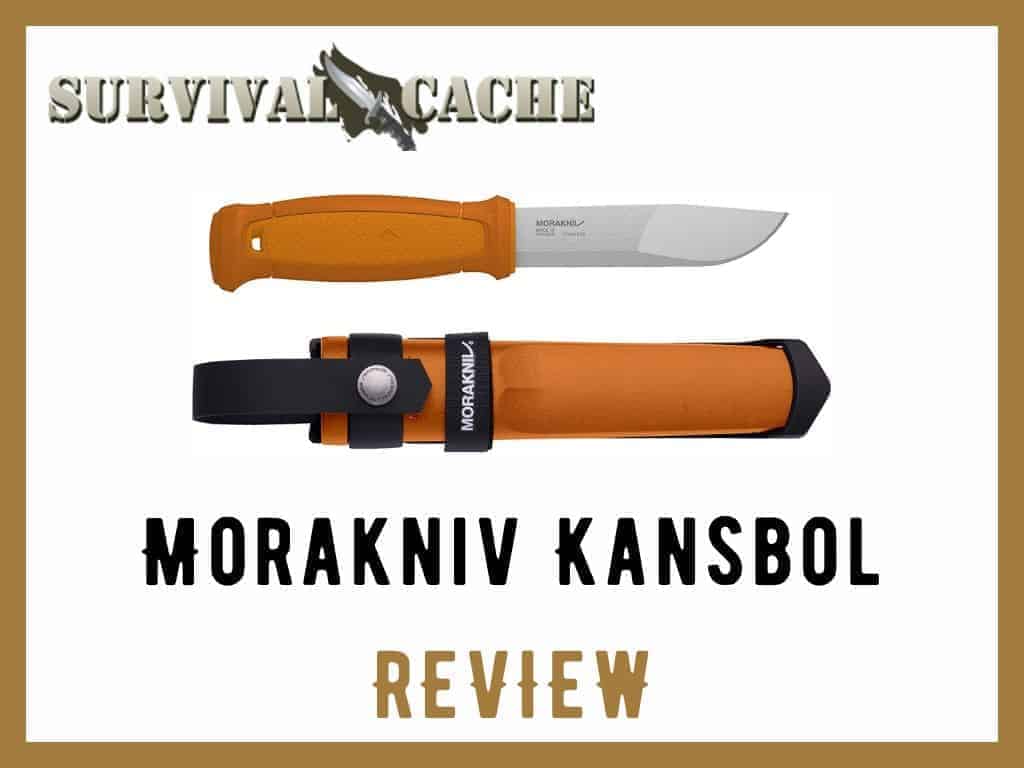 One of their more robust models, The Bushcraft, soon become my go to knife for many outdoor tasks. From the outside, the Kansbol which I have not used, reminds me in many was of the Bushcraft model. It just has that appearance we have come to expect of an outdoor knife. A thicker spine, wider handle, razor sharp cutting edge and just an overall beefier look. In the following article I will go through some of the ins and outs of the Kansbol made by Morakniv. Let's jump right in and see if this model is another knife I will be adding to my collection.
Morakniv Kansbol Review
Kansbol Specifications
Style
Like many Morakniv models, this is a straight back blade but with two noticeable differences. The back end of the blade features the Scandi grind to be used for heavier duty tasks. While the front of the blade appears to have a flat grind, which is easier to use for finer detail work as well as slicing.
Dimensions
The blade measures in at a length of 4.3 inches, while the thickness of the blade is 2.5 mm. The overall length of the Kansbol is 8.9 inches. Weighing in at only 4.7 ounces, this knife can easily be carried in a pack or on your person.
I think the dimensions of this knife are spot on for a general outdoor knife. It is just the right size for a variety of tasks and can easily be handled by most people.
Blade Spine
For starting a fire, the spine of the blade has been ground down to a 90-degree angle for optimal performance with a ferrocerium rod.
I prefer flat spines because they are great to use for other scraping tasks as well. An example would be scraping tinder for a fire. By utilizing the flat spine for tasks like this you will be saving the cutting edge on the knife.
Blade Material
The blade is made from Swedish 12C27 stainless steel. I have always been extremely impressed by the quality of steel that this company uses. This material has a high hardness while offering the capability of a razor-sharp cutting edge that is tough and easy to maintain. It will also provide a level of corrosion resistance.
The Grind
The grind on the back end of the knife (towards the handle) is the classic Scandi Grind. I have come to love this type of grind for many reasons. It provides a razor-sharp edge that really bites into almost any material and at the same time will not slip from the cut.
Moving forward, there is a noticeable change in the grind from a Scandi to a flat grind. A flat grind provides for an even thinner cutting area that works well in finer detail work and slicing tasks.
Handle
The Kansbol has a polymer handle with TPE rubber, providing an anti-slip grip so that the knife can be used comfortably, even in wet and adverse conditions. I have come to really like these types of handles. They are sturdy yet "soft" feeling and very ergonomic.
I like that the handle is more of a straight handle without grooves. This makes it easier and quicker to change grips for different tasks.
Lanyard Hole
A lanyard hole comes in mighty handy to use cordage to tether a tool to your wrist. Over the years I have had many tools that did not have this option, slip from my hand only to be frustratingly lost to overgrown vegetation or into the depths of the waters I was operating in. Do not underestimate the value of this feature.
Sheath
When it comes to the sheath, there are two options available. The first is the classic Morakniv plastic option. I'm sure many people are familiar with this simple yet durable sheath. They are form fitting so that when the knife is inserted it will "snap" into place. Another characteristic that I like about these sheaths is the drainage hole at the bottom. They allow for excess water to drain out and make cleaning the sheath much easier.
The second is a MOLLE compatible system which allows for the knife to be secured to a variety of surfaces, including inside of vehicles, walls, packs or on your person. The versatility of these multi-mount systems has become extremely popular over the years.
Country of Origin
I think it is always nice to know where a product is coming from. So, for those that are interested, the Kansbol is a product of Sweden.
---
Pros and Cons of the Morakniv Kansbol
Pros
The 2.5 mm thick blade gives the Kansbol the strength needed to be used for tough outdoor tasks that we demand from our blades, including baton cutting wood.
The flat spine is great for scraping tasks
The razor-sharp edge and ease of use with the Scandi Grind allow for this knife to be used comfortably to create feather sticks. A helpful aid when wood is damp or if tinder is not available. This cutting edge is also great in creating other outdoor tools that we need like stakes for tents or traps, spears, making traps or fishing hooks.
The lanyard hole provides extra security
Stainless steel gives overall blade protection from the elements.
Not having a powder coating, allow for the Kansbol to be used safely in food preparation.
Two different sheath options
Two different grinds give the blade cutting versatility
Affordable
Lightweight and compact
User friendly
Cons
Since the blade is thinner on the front end, special attention needs to be given when undertaking heavier duty tasks.
---
What others are saying about the Kansbol
Overall, there is a lot of positive feedback about the Kansbol and customers really seem to enjoy it. Considering how long I have used knives by this company, this does not surprise me in the least.
But on the other end there are a few concerns with this model that some people of noted. Most of the issues seemed to be centered around the blade itself. Comments of the grind not being a true Scandi grind due to the presence of a secondary bevel. Machine marks left all over the metal. Small chips of material breaking from the cutting edge after light duty use. The knife being excessively dull right out of the box. And even the front end of the blade bending or breaking.
---
Verdict
Through my purchases I have come to expect high quality products from Morakniv and that expectation has been met every time. The negative reviews about this model are something to note but I do not find them to be overly concerning. The number of issues appear to be small in nature and given the price of the knife, some of the issues can easily be fixed.
Due to its versatile cutting edge, blade size, overall length, weight, positive reviews and affordability, the Kansbol is a model that I will keep on my wish list. Stay sharp!
Last update on 2020-07-05 at 08:38 / Affiliate links / Images from Amazon Product Advertising API