Self-sufficiency is something we're all wired to think about.
However, our instincts often don't kick in until it's too late.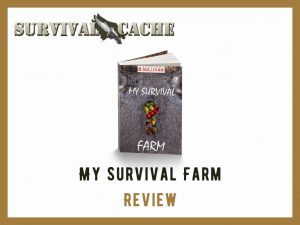 When the hurricane wreaks the town, or the earthquake demolishes it, nothing can be done. You must rely on luck or on the government to help you.
Thinking rationally and planning things ahead of time is a lot more important than relying on instincts.
With the help of some master gardeners, Dan created a system that automatically generates food without needing work or intervention.
And he reveals the secrets behind the system and shows you how to build it in your backyard in his book My Survival Farm.
In this comprehensive review, I'll give you a glimpse of what the book offers and explain why I believe every home-owner should have a copy.
How to plan, design and put into action high-yield survival garden

Set up highly nutritious soil for your plants

How to plant over 125 plants for your permaculture garden

Check Price
What Is My Survival Farm About?
Dan's My Survival Farm will help you make a garden that doesn't require digging, fertilizing, or even weeding.
While that sounds super convenient, making a maintenance-free garden is not the crux of the book.
The idea behind building the garden is that it will produce fresh food for you automatically – year after year.
This will ensure that you can feed your family some of the healthiest and most nutritious food there is in times of crisis – you see, Dan helps you grow organic food. No chemicals are used when growing the plants.
And all of it will fit right in your back yard – you don't have to buy plots to make this work.
But there are many more advantages to the system:
The first and most important is that Dan's food farm will work perfectly in extreme weather conditions.
It's worked in Africa, China, and even in the Jordanian Desert. So you can be sure that it WILL work in every corner of the United States, even in Alaska.
The brilliant design of the food farm also hides it in plain sight. Your neighbors and greedy looters won't EVER figure out that you have a high-yield food supply in your backyard.
But here's the best part:
The fruit trees and vegetables in your backyard give you the luxury of variety. And this counts for a lot in a survival situation.
You'll learn to grow beans, potatoes, carrots, squash, spinach, and even berries. But Dan's genius design allows you to incorporate bees, fish, and other food supplying animals in your back yard.
Your backyard will transform into a self-sufficient ecosystem – and these have NEVER required human intervention to flourish.
---
Features of My Survival Farm Book
Before I highlight what you'll find in the book, let me tell you a little about who created the system and wrote the book.
Dan and his two gardening experts have over 50 years of experience in creating permaculture backyards.
Permaculture is the science of replicating nature's way of growing food by creating an ecosystem that generates food automatically.
So, in many ways, My Survival Guide is the only true survival guide available. They share their entire process in it.
Once you create your own backyard permaculture, you will NEVER need to rely on stockpiling again. You will be able to feed your family while others struggle.
The comprehensive guide is surprisingly easy to follow, and Dan is confident that even a kid can pull it off.
My Survival Farm comes with high-quality photos, diagrams, and step-by-step advice, making it super easy for you to put your permaculture garden together.
Here's a peek into what you'll find in the book:
How to plan, design, and build a high-yield garden that will keep you and your family fed for life – no matter what happens.

You won't need to hurt your back and spend hours a day, year after year, maintaining your garden. Dan knows that you'll have other, more important things to worry about in a survival situation.

How to set up nutrient-rich soil for your backyard.

Dan asks you to do this before you plant anything since highly nutritious soil is a pre-requisite to creating a food forest that will keep you fed for decades to come.

Dan uncovers the secret item that makes soil super nutrient-rich. It's free, and you have it in your home right now!
Step-wise instructions on how to plant and grow over 125 different plants in your permaculture backyard.
Dan will also tell you how to choose the right plants for the climate you live in. As promised, the food farm will work anywhere – from Arizona to Alaska.
How to couple together plants, or as Dan calls it, "marry" them, for better growth.

Some plants supplement another's requirements perfectly and can help each other thrive. These never compete for nutrients.

A table of the plants you should NEVER marry – one WILL destroy the other.
How to deal with pests without using pesticides or other chemicals. Dan highlights natural ways to ward off the "bad" insects – mainly by planting the right plants.
A list of perennial plants that you won't need to re-plant year after year. These keep growing, leaving you with only one responsibility – harvesting.

Some plants supply food all-year-round, such as the Okinawan spinach. A list of these is included, as well.

Dan teaches you about plants that work as natural fertilizers. Using these will remove the need for you to spray your soil.

These plants draw the minerals deep under the earth, and when these plants die, their leaves fall into your other plants and start to decompose.
But these are just the principal subjects that the book covers. In My Survival Farm, Dan also teaches you how to attract bees to your food farm for pollination using bee-friendly plants and raise bees for honey.
You will learn to make organic fertilizers without spending a dime. Dan firmly asserts that chemicals and pesticides are the last thing he wants you to put in your soil.
If you have a smaller space in the city, you don't have to worry, because Dan shows you some of the most unique ways to make permaculture work in small spaces.
However, even if you have a regular-sized backyard, Dan will teach you to incorporate permaculture-friendly animals into your food farm.
Most of these animals are very easy to raise, and the farm feeds all of them, so you don't have to feed them yourself several times a day.
While there's even more to the book than this, I cannot wrap this section up without talking about the medical plants.
In a survival situation, access to doctors and medical supplies becomes very restricted.
My Survival Book details the 50+ plants that you can plant in your backyard that will help you alleviate several diseases and conditions in an emergency.
How to plan, design and put into action high-yield survival garden

Set up highly nutritious soil for your plants

How to plant over 125 plants for your permaculture garden

Check Price
---
Where to Buy? Who Is It For?
You can only buy My Survival Farm directly from Dan on his website. Physical copies are not distributed, so you won't find it at your local bookstore.
However, having a digital copy allows you to read the book anytime, anywhere – on your phone or computer.
Dan is also giving away five additional survival books with My Survival Farm for a limited time.
The Permaculture Action Plan and Checklist is a supplement to My Survival Farm. Dan realizes that you don't have the time to go through 200+ pages of material when SHTF.
The checklist will give you easy access to all the key ideas in the book, and also serve as a roadmap.
Having a condensed version of the book will also help you avoid mistakes when setting up your garden.
The Permaculture Action Plan and Checklist also comes with 10 example diagrams of backyard permacultures. These will help you tailor a customized plan with ease.
While permaculture gardens don't require a lot of water, you do. In his second bonus book SHTF Water, Dan shows you how to harvest and store water in any terrain. He also teaches you about the many different ways you can filter and purify water.
Once you have your food and water supply sorted, you will need to learn ways to deal with the extra produce without wasting it.
In bonus #3 Canning Authority, Dan will teach you the right way to can your food.
In Veggie Profits, on the other hand, Dan takes the opposite approach and shows you how you can sell off your extra produce and make a few extra bucks. He also discusses the right ways to barter.
Lastly, and most impressively, Dan is giving away his survival 101 course, Family Survival Blueprints, which currently sells for $37.
But these bonuses are only available to the customers that act now.
It's important to note that all of Dan's readers are backed by his ironclad 60-day money-back guarantee.
The deal is too good to miss. Act before the offer expires and BUY NOW.
How to plan, design and put into action high-yield survival garden

Set up highly nutritious soil for your plants

How to plant over 125 plants for your permaculture garden

Check Price
---
Verdict
For the price, you get your hands on five of the best survival books out there.
Dan's writing is easy to understand, and he never complicates concepts and processes. But besides that, the sheer volume of material you get alone makes it worth the price. It's hard NOT to recommend.
Furthermore, the 60-day money-back guarantee makes your purchase risk free. It's a no-brainer.