For years hunters, especially varmint hunters, have been mostly restricted to hunting during daylight hours.  While most states regulate big game hinting to daylight hours only, varmints usually don't fall under these restrictions.  It has only been in the past few years that night vision technology has become available and affordable for civilian hunters.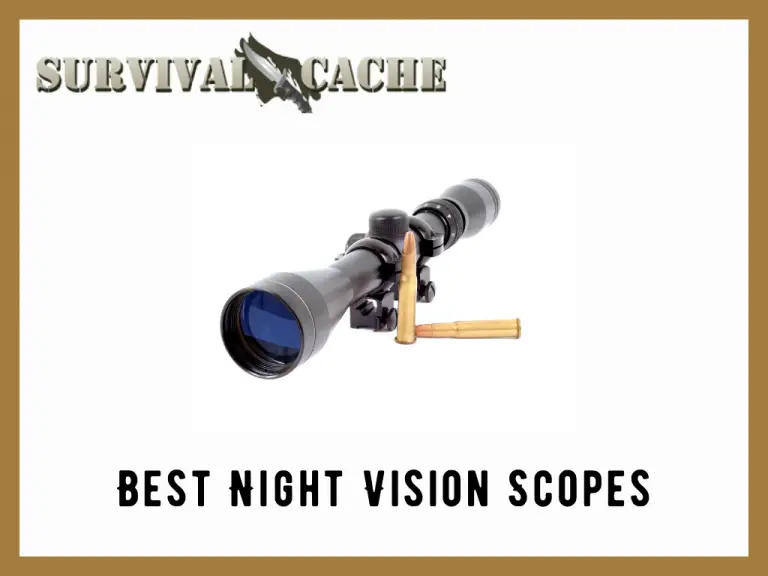 As the feral hog population has continued to rise in many states, night hunting popularity has also increased.  I get many questions about night vision equipment, particularly night vision scopes.  Hunters wonder which night vision scope is the best, what type of night vision they should buy, and how well the most popular night vision scopes perform.
In this article, I will look at some of the best night vision equipment on the market.  Hopefully, when you have finished reading this article, you will better understand the technology behind the different night vision scopes.  The discussions about my picks for this list of night vision scopes should help you decide which night vision scope is best for your situation and needs.
What is Night Vision
Almost everyone is familiar with the term "night vision."  Movies and TV shows often feature actors purportedly using "night vision" to see in the dark.  There is some truth to the portrayals we see on the screen, but the truth is a little different.  Before you start shopping for night vision equipment, you need to understand the technology of night vision and the realities of how it works.
Technically, the term "night vision" covers several different types of technologies currently used by civilians, law enforcement, and the military.  The U.S. military has often been the driving force behind the development of night vision technology, and the latest versions of the technology remain restricted to military use only. 
In short, night vision equipment uses several methods to transmit a useable image to the user's eye in the dark.  Night vision equipment accomplishes this in several ways.
Available light amplification
Digital enhancement of available light
Thermal Imaging
Available Light Amplification – Starlight Scopes
Night vision equipment dates to World War II and the German army.  The technology depended on gathering infrared light and converting it into visible light.  The equipment was large, heavy,and required infrared lights for illumination.  Generally, this type of technology is considered Generation 0 and is no longer in use or manufactured.
Generation 1 through the current versions of light amplification scopes gather the available ambient light (hence the name starlight scopes) and intensify or amplify that light before transmitting the image to the viewer.  
One common factor of these scopes is the green hue imparted to the image by the intensifiers.  This green scene look is familiar to anyone who watches movies or TV shows.  Some of these night vision scopes still employ small infrared illuminators to enhance this equipment's very low light capabilities.
The latest technology available to civilian purchasers is Generation 3 Filmless Image Intensifier.  In some cases, this technology may be called Generation 4.  However, the term Generation 4 is a misnomer.
Digital Night Vision
As digital camera technology has matured, scope manufacturers realized that this technology common in digital cameras, cell phones, and video cameras was adaptable to night vision.  The technology behind the digital camera reaches into the Near Infrared Spectrum.  The development of digital night vision equipment soon followed.
These digital night vision devices have several advantages over older night vision equipment.
Digital sensors are immune to damage from bright light.  The older night vision equipment is easily damaged if the sensors are exposed to bright light accidentally.
The sensors used in digital night vision equipment have virtually unlimited lifetimes.
Digital sensors are much more rugged and durable than starlight style equipment.
The images produced by digital night vision scopes easily convert to other types of images that are storable.
Not surprisingly, the cost of manufacture digital night vision equipment is considerably less than traditional light amplification equipment.
Thermal Imaging
The latest entry into the civilian night vision arena is thermal imaging.  Thermal imaging scopes do not depend on ambient light at all to operate.  This type of equipment detects long-wave infrared and converts these wavelengths into images that the human eye can detect.  
By reading an object's temperature and the background temperature, these devices produce an image on an electronic display based on the temperature differences.  The hotter the object, the more intense the color that is displayed.  
Thermal imaging scopes have both advantages and disadvantages over other types of night vision equipment. 
Thermal imagers can see in total darkness without having to use illuminators to create a reflected image.
 In most cases, thermal imaging is not affected by fog, smoke, foliage, and dust.
Thermal imagers are expensive to manufacture, making the end cost higher.
Glass blocks the thermal radiation preventing thermal imagers from being used through windows
---
Best Night Vision Scopes for Civilian Use: My Choices
More and more companies have entered the night vision civilian market in the past few years.  Competition in the marketplace is good for the consumer.  Prices have dropped and technology has become more durable and more dependable.  These are my picks for the best night vision scopes.
The Best Generation 3 Night Vision Scope – ATN NVM 14-2 Review
ATN is, without a doubt, the go-to brand for night vision equipment.  When comparing night vision systems, ATN is the standard by which other equipment gets measured. When it comes to Gen 3 night vision equipment, ATN is a known and respected brand that produces the highest quality equipment available.
The ATN-NVM 14-2 is a multi-purpose night vision system.  The NVM can be used as a hand-held monocular, worn on the head with a special purpose harness, attached to standard or tactical helmets, or mounted on a firearm.  This type of versatility makes the ATN-NVM 14-2 popular among sportsmen and law-enforcement alike.
Considering the features of the ATN-NVM 14-d system, the overall price doesn't seem quite so steep.
Generation 3 technology
Magnification – 1X
Field of View – 40 degrees
IR Illuminator – built-in
Multi-coated and protected lenses
Fully adjustable diopter
Automatic brightness control
Bright light cut off built-in
IR indicator• Battery – 1 x CR123A
Battery life – 60 hours
Weight – 1.54 pounds
Length – 4.7 inches
Included in the package 

One ATN NVM 14-2 night vision scope
Warranty card
Lens cloth
Carrying case
One cr123A battery
Pros
Well made, rugged, and durable
Crisp, clear images
Useable to long ranges with ease
Useable behind some red dot and holographic sights
Cons  
Expensive
The focus adjustments using the front and rear settings can be confusing
Last update on 2023-12-04 at 00:22 / Affiliate links / Images from Amazon Product Advertising API
All in all, if you want a Gen 3 night vision system, the ATN NVM 14-2 is a great option.  It is pricey, but the ATN NVM won't let you down and should give years of above-average performance.
Best Digital Rifle Scope – Sightmark Wraith 4-32×50 Digital Riflescope Review
Since the debut of the first Sightmark digital scopes, the company has made steady gains in the riflescope market.  Sightmark has built a reputation for building quality scopes at an affordable price.  The Sightmark Wraith 4-32×50 digital scope is no exception. 
Digital night vision scopes, by and large, are popular among hunters because of the additional features that come with the digital technology.  The Sightmark Wraith is no exception and brings to the table a host of features and options that can broaden your hunting or shooting experiences.
Many of the features are not available on other night vision platforms.
1080P HD digital imaging technology
Daytime mode in full color
Night vision mode
Built-in HD video recording
8x digital zoom
Ten reticle options with nine different colors
External power input
Profile memory allows different settings for different conditions
Complete with removable 850nm IR illuminator
Uses common AA batteries• Battery life up to four hours
Uses the latest CMOS sensor technology for the brightest and crispest images
Supports up to 64GB SD cards
Eye relief – 2.4 inches
Fully adjustable diopter
IP55 water-resistant
Length – 10.5 inches
Weight – 36.3 ounces with batteries

What comes in the package?
One Sightmark Wraith scope
IR flashlight
Objective lens cover
Fixed Picatinny rail mount
Quick start guide
Pros
Tough and durable construction 
Second focal plane reticle
Bright and clear images
An external power supply as an accessory
Cons
May not hold focus on larger bore rifles
Short battery life requires you to carry extra batteries or an external power source
Last update on 2023-12-04 at 00:22 / Affiliate links / Images from Amazon Product Advertising API
Digital night vision scopes make a lot of sense for most hunters.  The technology is sound, and the performance in both daylight and at night is exceptional.  The Sightmark Wraith is at the top of the heap when it comes to affordable digital night vision equipment.  There are certainly more expensive digital night vision scopes, but why pay more for the same technology?
Best Thermal Imaging Night Vision Scope – ATN 4 384 THOR 2-8X Review
ATN again lands on my list with the ATN THOR 2-8x Thermal imaging night vision scope.  If performance is a key factor in your choice of a night vision thermal imaging scope, the THOR 2-8x scope must be on your shortlist. 
ATN uses the latest thermal imaging technology in their products.  These scopes also include a wide array of additional features to enhance your shooting experience.  The THOR line of scopes is configurable with different display resolutions, magnification ranges, and extra options to create a night vision scope that truly fits the shooter's needs.
You get the features you expect from ATN on a thermal imaging scope of this quality.
Magnification – 2 – 8X
Display resolution – 1280 x 720 pixels
Brightness settings – 5• Eye relief – 90 mm
Field of view angle – 12 degrees
Fully adjustable diopter• Ranges up to 960 meters
Uses an internal Lithium-Ion battery• Battery life up to 18 hours
Weather-resistant construction• Length – 13.5 inches
Weight – 2.03 pounds
Video recording to SD card
Built-in Wi-Fi streaming capability
Multiple reticle and reticle color options
Ballistics calculator
On-board gyroscope
Electronic compass
GPS functions

Included in the package
One ATN 4 384 THOR riflescope
Eyecupo Standard ringso L-shape ring
Scope cover
USB-C cable
Lens Cloth
Pros
Built for even large caliber rifles
Brightest images available
Exceptional clarity 
The built-in ballistics calculator is invaluable
Cons
Last update on 2023-12-04 at 00:22 / Affiliate links / Images from Amazon Product Advertising API
It is hard to find a bad review of the ATN 4 384 THOR 2-8X thermal imaging riflescope.  I must admit that this scope's cost is pushing the limits for most hunter's budgets, but this is a scope that should serve you well for many years.  If you want the best thermal imaging night vision scope with more features than you may ever use, the ATN Thor should be at the top of your list.
Best Budget Digital Night Vision Scope – Night Owl Optics NightShot Digital Night Vision Scope Review
If your budget is limited but you are intent on adding a digital night vision scope to your rifle, there are plenty of options.  Night Owl is not an easily recognizable brand, but they produce a night vision scope within most hunters' budget that includes a reasonable number of features.
The Night Owl NightShot scope is a good option for entry-level night hunters or anyone who wants to try out night hunting for varmints.  The Night Owl digital night visions scope offers a good list of features for the price.
 3x magnification
Ranges to 100 yards at night
Built-in infrared illuminator
Weatherproof
640×480 resolution display
Weaver and Picatinny mounts
Eye relief – 2.7 inches
Three reticle options 
Two reticle color options
Weight – 1.3 lbs.
Length – 13.2 inches
Uses 4 AA batteries
Battery life up to 3 hours with IR Illuminator
Battery life up to 12 hours without the IR illuminator
Pros 
For the money, the best budget night vision scope on the market
Great image resolution
Good eye relief
Lightweight
Cons
Not the best range 
Don't mount on any rifle over .30 caliber
Last update on 2023-12-04 at 00:22 / Affiliate links / Images from Amazon Product Advertising API
If you want to try out the night hunting game, the Night Owl NightShot digital rifle scope is a good way to go.   You won't break the bank, but you will get a reasonably good digital night vision scope.  Don't expect to get all the bells and whistles of digital scopes costing 2 or 3 times as much.  
Best Budget Thermal Imaging Night Vision Scope – ATN THOR LT 3-6X Thermal Rifle Scope Review
Let's face facts.  Thermal imagining technology is expensive.  You can expect to pay thousands of dollars for a top of the line thermal imaging scope.  However, ATN can help a little with your budget.  The ATN THOR LT 3-6x thermal riflescope is one of the lowest cost thermal imagers on the market.
At just over $1,000, the ATN THOR LT scope brings you all the quality and durability of the other ATN thermal imaging scopes and many of the same features of much more expensive units.  If you are on a budget but want to employ thermal imaging advantages on your hunts, the ATN THOR LT scope is a great choice.
Consider what you can get with the ATN THOR LT scope.
3 – 6x magnification
160×120 pixel sensor
1280×720 pixel display
Multiple reticle choices
90mm eye relief
Battery life 10+ hours
Weather-resistant
Length – 11.5 inches
Weight – 1.4 lbs.
One-shot zero feature
3D accelerometer
Mounts using standard 30mm rings
Internal rechargeable lithium-ion battery
External battery port
Pros
Great entry-level thermal scope
Well-built and durable
The one-shot zero is fantastic
The lightweight of this scope makes it easy to transport and handle when hunting
Cons
Magnification is only 3x or 6x. There is nothing in between
Expensive for an entry-level scope
Last update on 2023-12-04 at 00:22 / Affiliate links / Images from Amazon Product Advertising API
At the price, the ATN THOR LT scope still must be considered an entry-level thermal imaging scope.  You just won't find a cheaper thermal imaging night vision scope at a lower price.  The ATN THOR LT scope features are good, and the quality is as good as ATN offers.  You won't be disappointed with the THOR LT scope, but you will probably soon be shopping for an upgrade.
---
The Final Verdict 
Of all the possible choices in night vision systems, for me, the decision hinges on price versus performance.  My overall choice for a night vision riflescope is the Sightmark Wraith 4-32×50 digital night vision scope.  The average night hunter pursuing the occasional feral hog or coyote should be more than satisfied with the Sightmark Wraith scope's performance.  The price won't bust your wallet and the features are as impressive as almost any other digital scope on the market.
I hope that this article has helped your understanding of night vision equipment and gives you a strong starting point as you decide which type of night vision equipment best meets your needs.  If you have more ideas, suggestions, or experiences, please share them in the comments section below.  Good shooting and good luck.