Subscription boxes have been around for a while now and many different industries offer them for their products. In case you have never heard of them, here is what they are.
For a fee, you subscribe to a company that will send you a certain number of products each month. Usually the contents of the box are a mystery to you, making it a surprise each time you get a package. This adds to the allure of the process, because who does not like a good surprise?
I have seen these subscription boxes make their way into the survival/outdoor community and out of curiosity, have thought about trying them out. But I never did. When it comes to outdoor gear, I am extremely picky and putting that decision in someone else's hands seemed slightly unsettling.
Also, given the mystery surrounding the contents of the box, I did not want to end up paying for items that I already had. Lastly, from what I saw, I was concerned with the quality of items that these companies offered
Recently an opportunity presented itself in which I could try out one of these subscription boxes. I have to say that after being curious about it for so long I jumped at the chance to see what they are all about. For this article I will be reviewing a subscription box by Nomadik.
To be upfront this box was sent to me free of charge in order to try out the products and to convey my opinion. I will go through each product and layout the following criteria:
Brand
Product specifications
Individual price
Quality
But before I get into the actual products let's start from the beginning with Nomadik and the process.
Nomadik Box Review: Hands-On Perspective
Who is NOMADIK?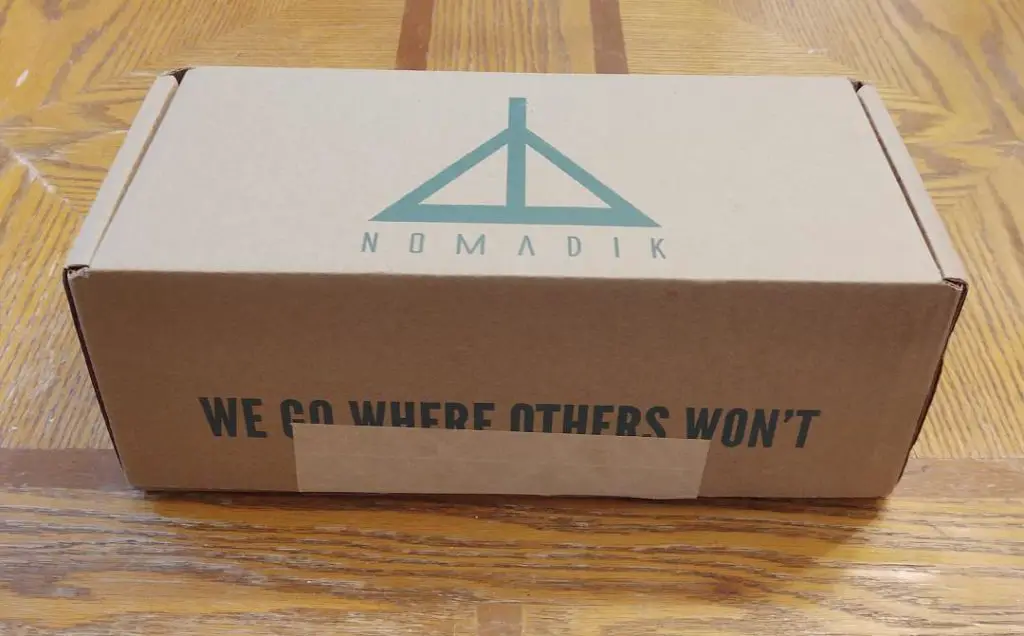 NOMADIK is a company that specializes in creating "mystery" themed boxes that contain products geared towards the outdoor enthusiast. You know, things like water bottles, water filters, carrying bags of different sizes, fire starters, and the like.
When I am dealing with a company that I have never heard of or bought from I do like to do a little research first. This is a two-step process.
First, I go to the company website and learn as much as I can through the About Us section. Secondly, I then look up customer reviews about the company outside of their homepage, which I will talk about later in the article.
Unfortunately, there was not much information available about the company itself on their homepage. There was not an about us section indicating their history or a mission statement. This is not a black mark against them, just something that I personally like to know about. The only thing that I could find is that it appears the company started in 2016 and is based out of San Diego California.
How Does it Work?
Here is an overview of the subscription box process:
Sign Up: Subscribe and become a member. Plans start at $29.99 per box and each box contains 3-7 products.
Personalize: After signing up you complete a profile questionnaire that will tailor the items in the box to your interests.
Delivered: Each month a box will arrive that is guaranteed to have a retail value of $50 up to $70
The $29.99 plan is their best value option. But to get that price you need to sign up for a twelve-month subscription that is billed once a year.
The other two options available are the six-month plan and the one-month plan. The six-month plan is $31.25 per month billed twice a year and the one-month plan is $32.95 billed monthly.
What Brands are Used?
Here are some of the brands used by Nomadik according to their website.
Morakniv
HydraPak
Mountainsmith
LuminAID
Parks Project
IGLOO
RXBAR
United By Blue
The Subscription Box
I received the subscription box in the mail and was eager to open it up. The following pictures were taken as my initial unboxing. The products were contained in a simple cardboard box with the company's logo printed on one side and the saying "We go where others don't" printed on the other.
I flicked open my pocketknife and cut through the minimal packing tape. Opening the box revealed several neatly packed items with a Nomadik sticker sitting on top.
I spilled all the contents out onto my table and lined them up neatly for a photo op. Starting from left to right is a hammock, matches, gear repair patches, and a sports drink mix. The other two items are the sticker on top and a small pamphlet on the far right.
Do not discard the pamphlet because it has some helpful information. The front of it indicates the themed box received, in my case it is a welcome box. On the inside it lists and gives a brief description of the products that were sent, as well as some tips. The backside offers a few product code discounts and explains the Nomadik Challenge. The challenge is a photo contest that one can enter to win free products.
A Closer Look Inside The Nomadik Box
The Ultralight Starter Hammock (Value: $36.95)
The Ultralight Starter Hammock is made by Grand Trunk. They appear to specialize in portable hammocks but offer other gear as well. Here is what the Starter Hammock has to offer.
Material. Made from a lightweight, tear resistant rhombic polyester fabric. The material is soft and smooth to the touch.
Dimensions. With a 9'6" by 4'6" frame, this hammock will comfortably accommodate most individuals.
Weight. At 12 oz this hammock is a lightweight, compact sleeping option for the person on the go.
Capacity.The hammock that I received has a capacity recommendation of 200 lbs. 
My Thoughts
The Starter Hammock comes in a self-contained, drawstring bag which is a part of the hammock itself. This is a nice feature so that I do not have to look for the bag when it is time to pack up.
After opening the drawstring pouch, the contents easily slid out. I was surprised to find that tie offs and metal carabiners were already installed on both ends of the hammock.
The only real work involved is finding an appropriate spot to hang it and installing the two additional trunk straps.
To it pack away I rolled up the trunk straps, stuffed the hammock back into the bag and closed the drawstring. This hammock can be deployed ready to go and packed away in just a few minutes.
Unfortunately, at the time of receiving this package I was unable to fully set this hammock up. Look for a future article where I will set the hammock up and provide a more in-depth review.
UCO Hurricane Matches (Value: $10)
UCO Gear is well known with outdoorspeople, and for good reason. Their fire-starting aides are top notch and offer reliability in the harshest of conditions.
The Hurricane line is really no different than UCO's stormproof matches, which are my favorite matches on the market. Below is what the Hurricane Matches have to offer.
Material. 25 wood/phosphorus matches.
Duration. These matches have a 15 second burn time that includes the burning of the wood handle.
Rain Sleet or Snow. These matches are not storm resistant; they are stormproof! They will burn no matter how windy it is or how much it is raining.
Land Sea or Air. They even burn underwater!
My Thoughts
As I stated above, these are my favorite matches of all time. Are you dealing with fifty mile an hour wind? No problem. Torrential down pour? No problem. Dropped the burning match into a puddle of water? NO PROBLEM! Once this match is lit, it is nearly impossible to extinguish.Basically, think of them as mini flares!
Tenacious Tape Mini Patches (Value: $8.01)
Here is what it offers:
Dimensions. 0.5" high by 3.5" wide patches that can be cut to fit areas needing repair.
Surfaces. These are peel and stick patches that will permanently adhere to nylon, polyester, GORE-TEX fabrics and vinyl. They should not be used to repair cotton, denim, or natural fabrics.
Durability. Patches will not come off in the washing machine.
0.5" high by 3.5" wide.
Peel and stick patches that can repair a variety of outdoor gear
Permanently adheres to nylon, polyester, GORE-TEX fabrics, and vinyl.
Should not be used to repair cotton, denim, or natural fabrics.
Patches will not come off in the washing machine.
My Thoughts.
These little guys came just in time as I recently found a tear in my rain jacket. Inside the convenient plastic carrying container were six full sized patches, three black and three clear ones.
After choosing a clear patch, I cut it to fit, peeled off the backing and applied it over the repair area. Was simple enough but it is now a waiting game to see how long it holds up.
Skratch Labs Sport Hydration Drink Mix (Value: $1.95)
If you are tired of normal energy drinks that are either too sweet or do not give your body what it needs, this product might be for you.
Skratch Labs created a hydration mix that has less sugar, replaces electrolytes, and gives an energy boost. One notable feature of their mixes is that they are non-GMO, gluten free, dairy free, vegan, and Kosher. A variety of flavors are also offered.
My Thoughts.
I am a fan of hydration mixes, especially ones in individual packets. They are lightweight, easy to carry, and provide a bit of flavor for outdoor adventurers needing to hydrate and replenish electrolytes.
I am also a fan of taste testing new products (new to me that is) The mix that I received is meant for mixing with 12-16 0z of fluid and the flavor was strawberry lemonade.
Personally, I did not care for the taste. I am not a huge lemonade fan, but I do not mind it from time to time. The lemonade was very strong, and I didn't get any of the strawberry flavor. I do not hold any of that against the product as people's taste buds are wildly different.
If I was in a situation where I had to drink this, it is certainly palatable. I will say that I could see myself drinking more of these in the future because they appear to be a healthier alternative. But perhaps a different flavor.
---
Final Thoughts 
Overall, I am more impressed than I thought I would be with the contents of this box. The brand names and products that were sent generally have positive reviews on other sites.
I look forward to using the hammock and will certainly never turn down UCO matches. Gear repair patches are helpful to have on hand and taste-testing a new product has exposed me to an item I would not have thought to buy.
If you decide to give Nomadik a try, expect to get one premium product per box with the rest of the items as fillers. This is not a bad thing just manage your expectations. In my case I consider the hammock to be the premium product, primarily because it has the highest retail value.
Since the boxes are themed, I am assuming that not every product is tailored for you. Rather the themed box that best suits your profile. 
This service probably is not for the experienced outdoorsperson who has everything unless they are looking to try new brands. For people new to the outdoors or those looking to supplement their gear, I can see how this process could be fun.
When it comes to services like this, I personally would take it one month at a time until I feel comfortable in the process. I say this because I did come across several negative reviews concerning Nomadik's customer service and billing. However, I cannot confirm that since dealing directly with the company was not part of this experience.  Solely based on the products I received in this one box; I could see myself giving the membership a go on a monthly basis.
I hope this review gave a bit of insight into the Nomadik Subscription Box and if you have any experience with this service, please feel free to comment below.
---