Survival situations don't operate on your schedule. And the first step to learning to navigate for these situations is preparing for them.
Having the right light handy can be a lifesaver. Being able to signal quickly and see in the dark exponentially increases your chances of survival.
On paper, the OLight H2R is a super powerful headlamp that has a ton of features that can help you get out of a survival situation safely.
Last update on 2023-11-29 at 11:12 / Affiliate links / Images from Amazon Product Advertising API
OLight H2R Review
Build
The H2R uses a combination of plastic and metal and feels super sturdy. While the lamp is not shock-proof, it is IPX8 rated, so it will work even if it's been submerged in water for an extended period.
Features
There are a lot of features that make the OLight H2R a reliable survival light. The first of which is the included head strap. It comes with a magnetic mount that wraps around the light, making for a firm and secure hold.
But what I like about the H2R is that I can remove the light from the head strap at any time. It turns into a perfectly-sized handheld flashlight, and it can also double as a pocket light by attaching the included pocket clip to it.
The headlamp has different brightness modes, which can help you manage the battery better in a survival situation. But since even the low-power modes get sufficiently bright, you won't have to compromise much when it comes to brightness.
Brightness Options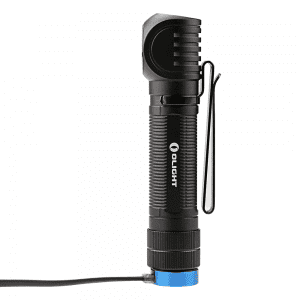 The H2R headlamp has six brightness options:
Turbo/Level 1:  The lamp brightens up to 2300 lumens for the first minute, and then is turned down to 750 lumens. The light will last for an hour and fifty minutes in this mode. The high brightness is what makes the H2R stand out.
High/Level 2: The lamp brightens up to 600 lumens. You can use this brightness option for two hours and thirty minutes on one charge.
Medium/Level 3: The brightness is set to 150 lumens, a big jump from the previous option. While it's not as bright, battery life is excellent for up to ten hours.
Low/Level 4: The brightness is set to 30 lumens, and the battery life extended to 30 hours.
Ultralow/Level 5: The headlamp delivers a one-lumen light. While the mode isn't right for when you want to move about, you can use this inside your camp for up to 45 days.
SOS mode: The light flashes brightly in the SOS pattern.
There is no strobe mode, but I don't consider it to be a deal-breaker. But considering the relatively high price of the lamp, I do feel like not including a strobe mode is a little stingy.
But one useful feature is that when you turn the lamp on or off to medium, high, or the turbo mode, it will gradually increase or decrease the brightness. In this way, the light protects your eyes from damage from sudden changes in stimulation.
The lamp's peak beak intensity is 5850cd, which is super impressive considering its size, and the peak beam distance is 153 meters, which is not surprising considering how bright the light gets in the turbo mode.
Operation
You can access all six modes from the easy-to-use side switch. It makes for a smooth one-handed operation, and the SOS function can be accessed in seconds.
Warranty
OLight offers a five-year warranty, which I find super reassuring.
Battery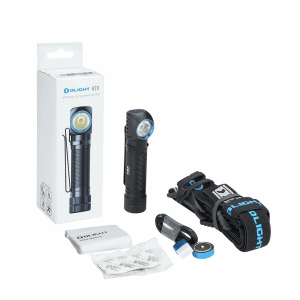 The OLight H2R comes with a custom 18650 3000mAh battery. The battery is rechargeable, and you can recharge it without removing it from the lamp using the included magnetic charging cable.
When the battery starts to run low, the lamp will flash once per minute. When it's running out, it will blink continuously.
Pros of the OLight H2R
Super-bright 2300 lumen mode
Relatively long battery life
SOS function
Lightweight and multi-use
Excellent build quality with an IPX8 rating
5-year warranty
Cons of the OLight H2R
Replacement batteries can be hard to find
The Turbo mode can set fires
Last update on 2023-11-29 at 11:12 / Affiliate links / Images from Amazon Product Advertising API
---
Things to Consider When Choosing A Survival Headlamp
Material and Durability: The material used to build the headlamp makes a considerable difference in its durability. The lamp should either use metal (preferably aluminum) or a blend of metal and plastic.
The headlamp should also be waterproof.
Battery Type: Manufacturers of survival lights often include a custom battery with the light. Finding spare batteries for these lamps can be difficult to find. Getting a headlamp that uses conventional battery types is your best move.
Bulb Type: Steer clear of headlamps that use incandescent bulbs. LEDs are brighter, and the typical LED bulb has a life of 10,000 hours.
Brightness: You don't need a headlamp that lets you see half a mile away. But you must ensure that the light outputs at least a hundred lumens. It will enable you to comfortably find the path you walk and watch over your campsite.
SOS function: The best headlamps come with an SOS signal. If you're stuck in the middle of nowhere, flicking it on quickly can be a lifesaver.
Getting a headlight that detaches from its head strap is a plus. It makes in-hand use a lot more comfortable.
---
Questions about the OLight H2R
Q: Can I use a 3.7V 3600mAh battery with the H2R?
A: You can use a 18650 3.7V 3600mAh battery as long as it is the same height as the provided battery.
Q: How long does it take to charge?
A: It takes about four hours to charge fully.
Verdict
The long battery life, the powerful LED, and the different brightness options make the OLight H2R a compelling choice.
Finding spare batteries can be a little challenging, but overall, I think it is a solid survival light. I'd trust it to get me out of a survival situation safe.
Last update on 2023-11-29 at 11:12 / Affiliate links / Images from Amazon Product Advertising API