Regardless of if you own your weapon for home defense, or because you're in the police force or the military, a handgun light can be a literal lifesaver.
The No products found. is compact, inexpensive, durable, and bright, and also supports most handguns right out of the box.
In my opinion, these specifications make it an impressive weapon light – at least on paper.
In this review, I will go over all of the Light PL-Mini 2 Valkyrie's features, weigh out the pros and cons, and dig through product ratings to figure out if and why it is worth your hard-earned dollars.
Olight PL-Mini 2 Review
Design and Durability
The light is tiny – it can fit a Springfield XDS perfectly, but no compromises are made on power.
Build-wise, it is super sturdy – but it is not heavy. It weighs 2.57oz, which means you'll barely feel it on your weapon. 
It is slim, about two inches long and an inch wide – it won't weigh you down or obstruct your aim.
It comes with a sliding rail adapter, allowing you to move the light back and forth for the desired stable fit. 
The swingarm ensures that the light remains attached to the handgun even when it's thrown around. The arm also enables you to install and detach the light in one second! 
The light is one-meter impact-tested, and it can take a few good bumps before you start seeing scratches.
It also boasts an IPX6 rating, which means it can withstand high pressures and heavy sprays of water – you won't have any trouble using it with your gun on a rainy night.
The light is available in two colors: Black and Desert Tan. 
LED Specifications
Olight boasts an impressive LED – the performance is comparable to mid-sized weapon lights!
LED Type: CREE XP-L HD CW
Peak Beam Distance: 100 meters / 109 yards / 328 feet
Maximum LED Brightness: 600 lumens
Peak Beam Intensity: 2500 candela
The 600-lumen brightness makes it one of the most potent lights available for a handgun.
Modes of Operation
The light has two modes: On and Momentary. If you click the switch on, the light will stay on until it the button again.
You can also click and hold the switch to turn the light on. The light will stay on till you have your finger on it.
There are activation switches on both sides of the light, allowing you to quickly toggle the light on regardless of if you're left- or right-handed.
Battery
The light has a lithium-polymer battery built-in. You can charge the battery with Olight's signature magnetic charging port, which is located on the bottom of the light.
This setup saves you from the hassle of detaching the battery and plugging in into a port that wears out over time. 
It takes about an hour to charge and gives you about an hour of operation time per charge. 
Compatible Firearms
The list of handguns should help you ensure that the light fits your gun. 
Since this is a list of currently collected guns, if you don't see your weapon listed, it does not mean your weapon isn't compatible. Most handguns are supported, but subcompact guns have relatively less support.
As long as your gun:
Has a four-inch barrel or longer 
Is not a subcompact gun
Has a standard accessory rail under the barrel
The light should work with your gun. If you're still confused, you can always contact Olight and ask them to clarify before spending any money.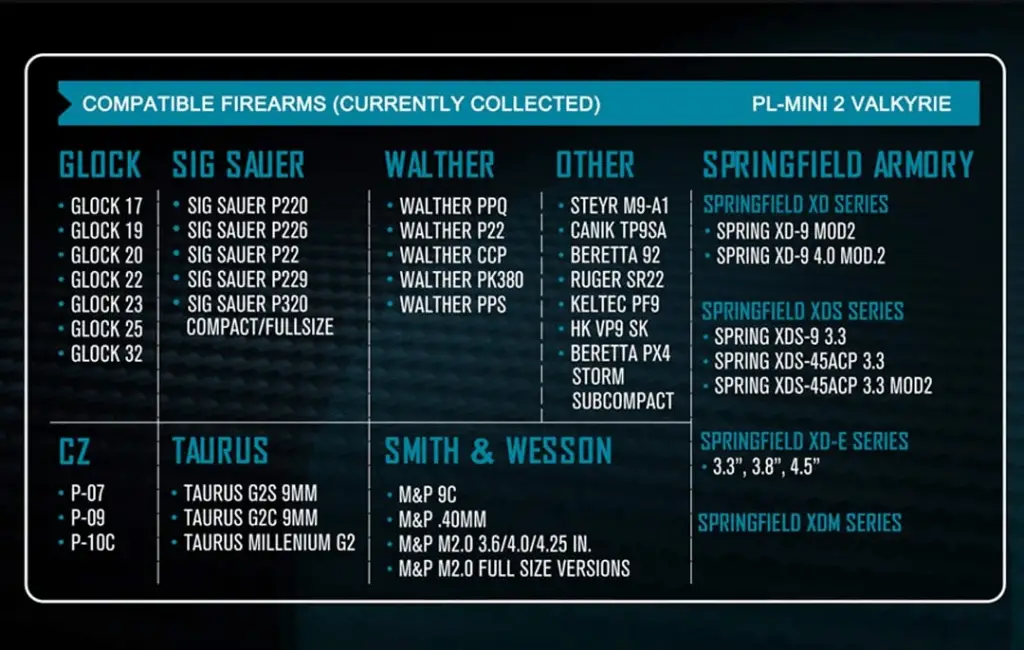 Olight PL-Mini 2 Valkyrie: Pros and Cons
Pros
Impact-tested to one meter
Bright 600-lumen peak brightness
Waterproof (IPX6 rating)
Quick recharging
Two light modes
Ambidextrous operation grip 
Quick attach and release 
Cons
Could have a better battery life
Doesn't support most subcompact guns
Some users complain that the buttons are too delicate
What People Are Saying About The Olight PL Mini 2
Customers love the light's slim-yet-sturdy construction, and the light's brightness – it can fill up a room with light!
Users report that it typically charges in under an hour, and the lever makes for quick attachment and detachment of the light. 
One customer compares it with the much more expensive SureFire XC1, and says that it's about twice as bright!
A small fraction of the users complain that the switches are too delicate, but other than that, customers seem very happy with the value they got out of their money.
---
Questions About Olight PL-Mini 2
Q: Can I put regular batteries in it?
A: No, the battery pack is sealed, and you won't have access to it. However, the batteries are rechargeable, and you can recharge it using the magnetic charger in the box.
Q: Can I mount it to my rifle?
A: As long your weapon is over four inches long and has a rail, you can mount this light to it with ease.
Q: Does the lever cause any issues?
A: The lever remains in the locked position, and the light will stay mounted to the weapon even if it has heavy recoil. 
Q: How long does the battery last?
A: The battery lasts for an hour (roughly). It also charges up in an hour and doesn't lose much charge if left unused, making it as reliable as your firearm itself.
---
Verdict
The light delivers on all counts – it is lightweight, has a bright LED, and charges up and lasts for a decent amount of time.
When compared to a premium handgun light, for instance, the SureFire XC1-B that comes in at about thrice the price, the OLight PL-Mini 2 outdoes it in many ways. 
It has better brightness, a longer-lasting battery, and a slender-yet-sturdy design. 
I'd recommend that you get the No products found., regardless of if you are short on cash or are looking to get the most out of your money.