I've been a fan of Ontario knives ever since a good friend gifted me one of their fixed blades a few years ago. Even though that knife was used, it has held up great and continues to get work done.
However, Ontario Knife company sells more than just fixed blade knives, and recently I got the opportunity to purchase one of their pocket knives: the Ontario Rat 2 folding knife.
I am always excited to try out a new knife but even more so this time because it is the first pocket knife by this company that I have had. Due to their versatility, I love folding knives, and I would be lying if I said I wasn't a bit excited to try out this Ontario Knife Company product.
In this review we will be taking a look at the Ontario Rat II Folding Knife, as well as:
The knife's features
My experience using it
Some pros and cons
Other consumers' opinions
Frequently Asked Questions
Let's start with some features and specifications.
KNIFE
DETAILS

Made of AUS-8 steel for ease of sharpening and strength

Textured ridge on spine for thumb

Durable nylon handle

Check Price on

Amazon.com
Ontario Rat 2 Features and Key Specs

Dimensions:
The Ontario Rat 2 measures in with a blade length of 3 inches, 4 inches closed length, and an overall length of 7 inches.
Blade Steel
The AUS-8 steel blade has a slight drop point and a straight cutting edge with no serrations, but a full flat grind. The blade also comes in a plain satin finish or a black coating.
Thumb Studs
The Ontario Rat 2 has ambidextrous thumb studs, one on each side of the backend of the blade. This makes opening the blade easy for either a right or left-handed user.
Ridge for Thumb Grip
There is a textured ridge on the backend of the spine of the blade that provides a comfortable spot for the thumb.
Scales
The scales are made of a durable Nylon 6 material with a slightly textured surface.
Lanyard Hole
The Rat 2 does come with a lanyard hole located on the butt of the knife.
Pocket Clip
The Ontario Knife Company Rat 2 comes with a 4-way reversible pocket clip.
Locking Blade
When open, the 3 inch blade is secured into place by a liner lock.
Color Options
The color options for the scales are black, coyote and OD green.
Country of Origin
The Rat 2 is a product of Taiwan.Thumb Studs: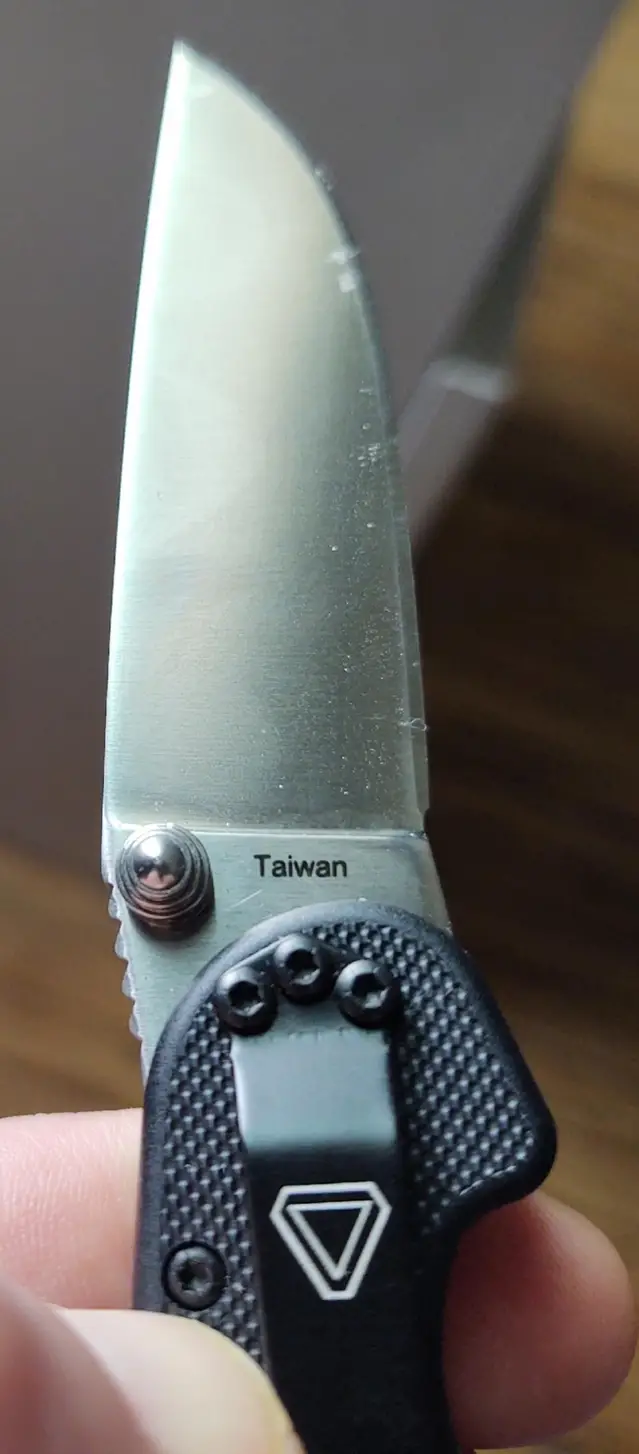 ---
Ontario Rat 2 Review
First Impressions
When I first took the Ontario Rat 2 out of the box, I was surprised – almost shockingly surprised – by the weight. At 3 ounces, it's definitely one of the lightest pocket knives I own. I actually couldn't, and still can't get over the weight…it almost feels wrong how lightweight it is. I guess I'm just used to a hunk of steel for a knife. And of course, the edge was razor sharp when I first opened it.
For my Rat 2, I chose black scales and the satin finish. Aesthetically, I think this is a good combination. However, there is another reason I chose the blade finish that I did, which I will hit on later in the review.
One thing that I didn't notice prior to purchasing the Rat 2 is that the handle is open all the way through. This means that the entire knife backside is open, and you can see all the way through it. This does help to make the knife more lightweight, but it also allows the knife to become snagged on other items and provides more opportunity for "junk" and debris to find a home.

After a quick inspection of the Rat 2 and opening and shutting the blade several times, everything seemed pretty tight and solid. I put the knife in my pocket and made it a part of my everyday carry for a few weeks.
---
A Few Weeks Later
Okay, so I have carried the Rat 2 as my everyday carry knife now for a few weeks, and I have used it for every task that I could. Here are my thoughts on it.
Thumb Studs
One of the first things I noticed after a few uses, is that the studs were a bit awkward to use. It may just be me, but they weren't as smooth to operate as other knives I've had. I
'm not sure if they are positioned too close to the frame, but it seemed like I had to put in a little extra effort to get my thumb between the stud and the frame before I could push the blade out.
But after a bit of practice, I was opening the blade like it was my job. Also, the fact that it has dual thumb studs makes it more versatile for right or left-handed users.
Liner Lock
The Rat 2 has a simple liner lock that automatically secures the blade when it is fully open. To shut the knife, all you have to do is use your thumb to press the liner lock to the side and push the blade close. It's best to do this with two hands, but with a little bit of practice, this can easily be done with one hand.
Normally, this process is very smooth, at least with other pocket knives that I own that have liner locks. And for the most part, it was quite smooth with the Rat 2 except for right at the beginning of the closing action.
The blade seemed to hang up slightly on the lock when first closing it. Now, when I felt this I slowed the action down and it was even more noticeable. Upon closer inspection, there is a small bump on the side of the liner lock that catches the backend of the blade during closing. As long as the lock is pressed all the way to the side while closing, then you shouldn't notice this issue, but I thought it was worth mentioning.
Blade Steel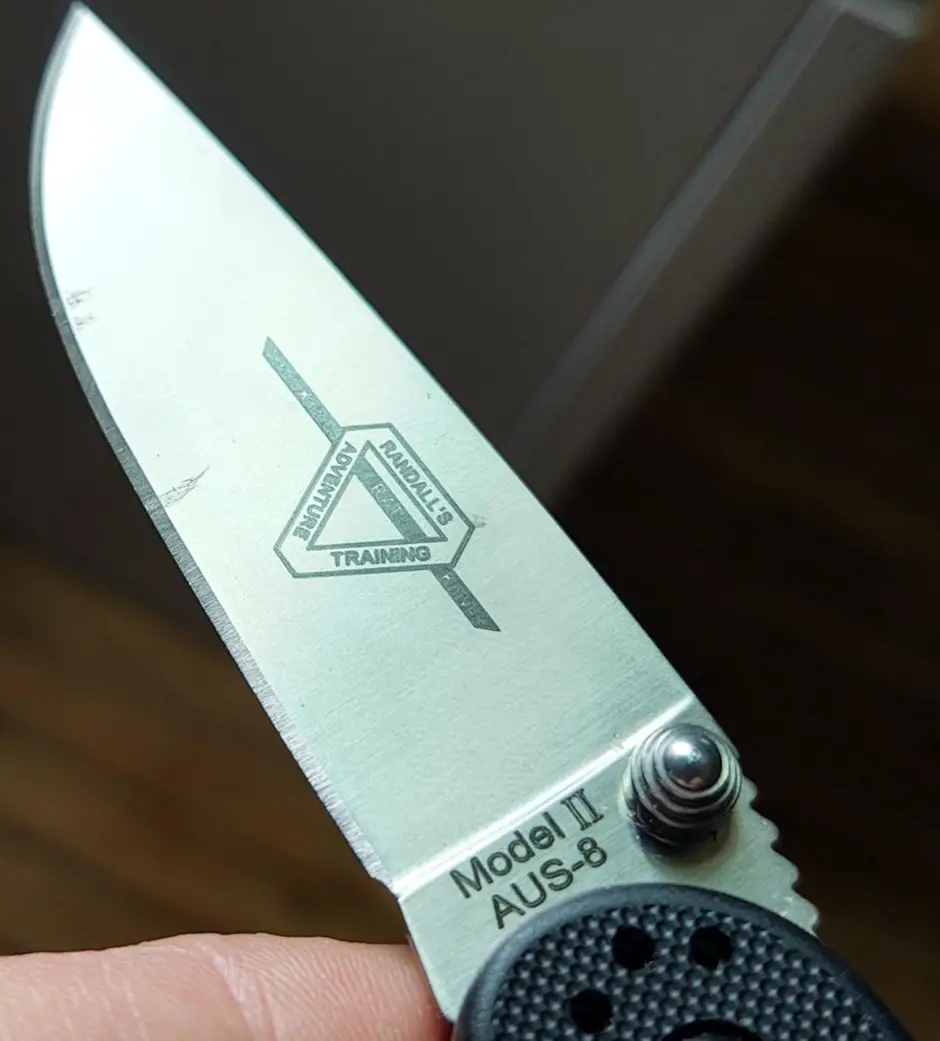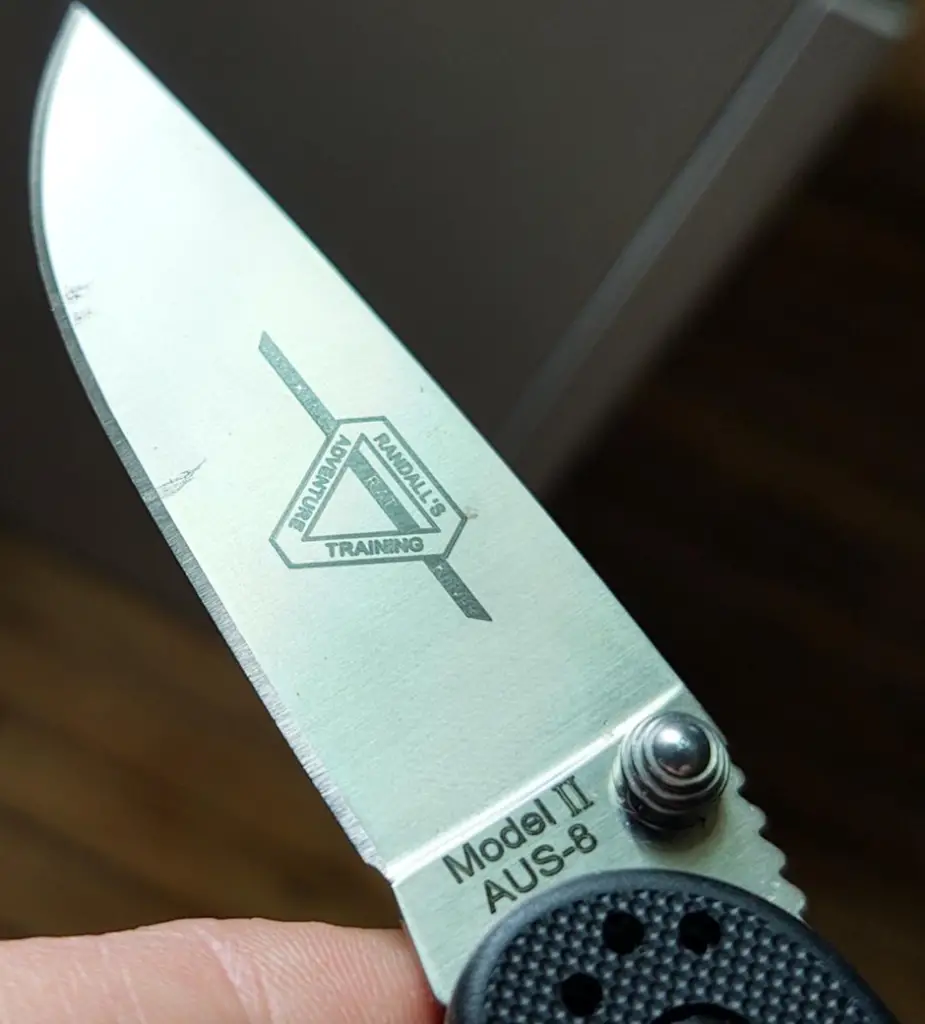 The AUS-8 steel has been exceptionally easy to clean and has had very good edge retention.
While I have only had the knife for a few weeks, I have used it a lot. But I have yet to take the knife to a sharpening stone or even a portable sharpener, although when I do, it should be an easy process because it has a flat grind. However, I have run it a few times along a piece of leather to help keep it honed.
I mentioned earlier that I chose the satin finish. This is because I wanted a knife that I could use for food preparation if I wanted. While black coated blades are better protected and they require less maintenance, those coatings aren't so food friendly.
You may be asking, who in the heck still uses their pocket knife for food prep? Well, I do, and you would be surprised at how many other people do as well. Carrying a knife is about being prepared, even for meal time. The slicing ability of the Rat 2 makes it a great knife, especially against oranges and cheese.
But I didn't use the knife just on food. I used it to cut paracord, cardboard, denim, and, of course, I used it to open all my junk mail. I hate to be cliché, but it did all these tasks like a hot knife through butter. So far, I am happy to report there has been no blade play after weeks of use.
Pocket Clip
Pocket clips are probably my biggest pet peeve with pocketknives; after a bit of use, they tend to loose their tension. Right out of the box, the Rat's clip was very tight, and after a few weeks of rolling around with it clipped onto my person, the clip hasn't loosened up at all. For me, a great EDC knife has to have a great pocket clip, and so far this one is holding up.
When I received the knife, the clip was set up to be carried in the tip-down position. I left it in this configuration for the testing period, although I may move it in the future. The clip is attached to the frame by three small hex screws, and once those are removed, you have a total of four different locations of where you can place the pocket clip, which is pretty cool.
Do you carry tip-up or tip-down? With this knife you can easily choose or experiment with different carrying methods.
Handle Scales
The "plastic scales" are quite durable and have held up well to me rolling around on the ground with it and dropping it more than a few times on hard surfaces. The handle material is slightly textured with a checkered pattern that provides just enough grip, even when wet. Also, I like to keep my tools clean and the handle material on the Rat is easy to wipe down once it is dirty.
Towards the front of the handle is a deep finger groove. This spot is extremely comfortable to place my index finger in when holding the knife in a forward position, or for my pinky when holding the knife in a reverse grip. It just so happens that this is where the frame lock is located as well.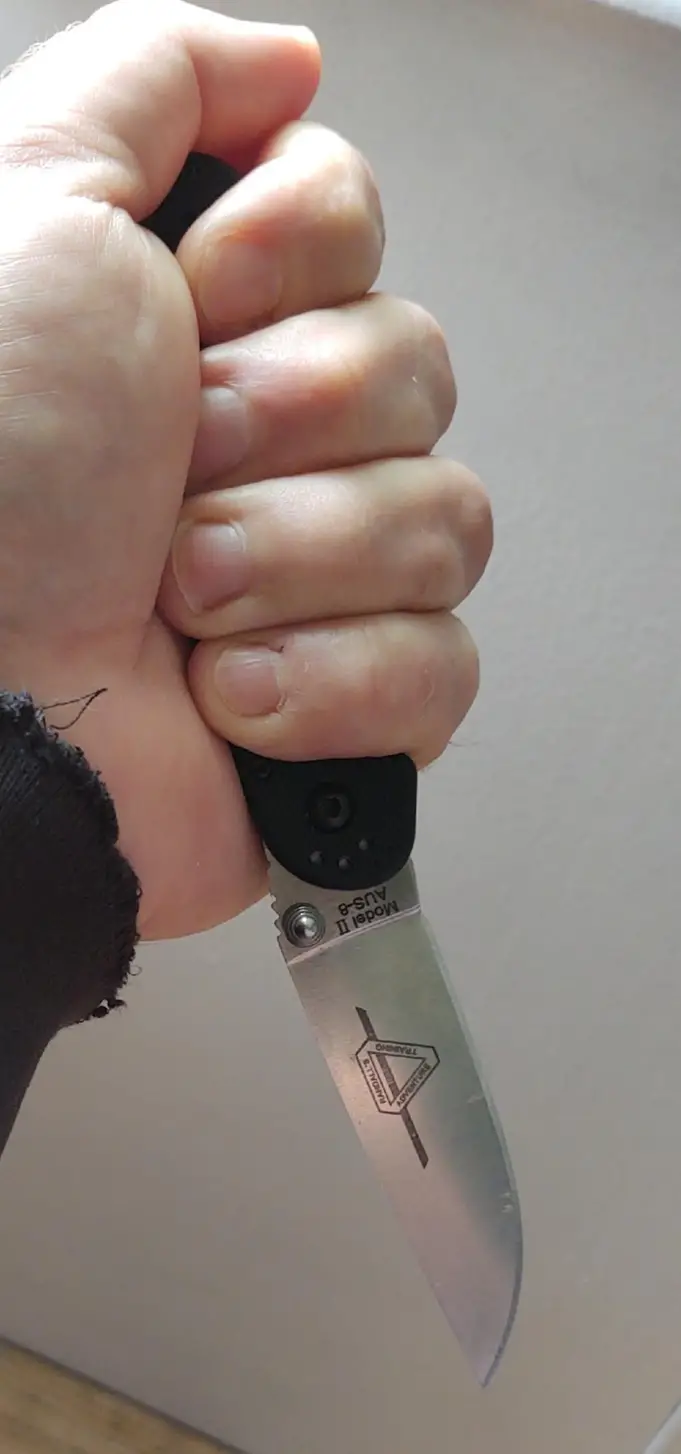 Lanyard Hole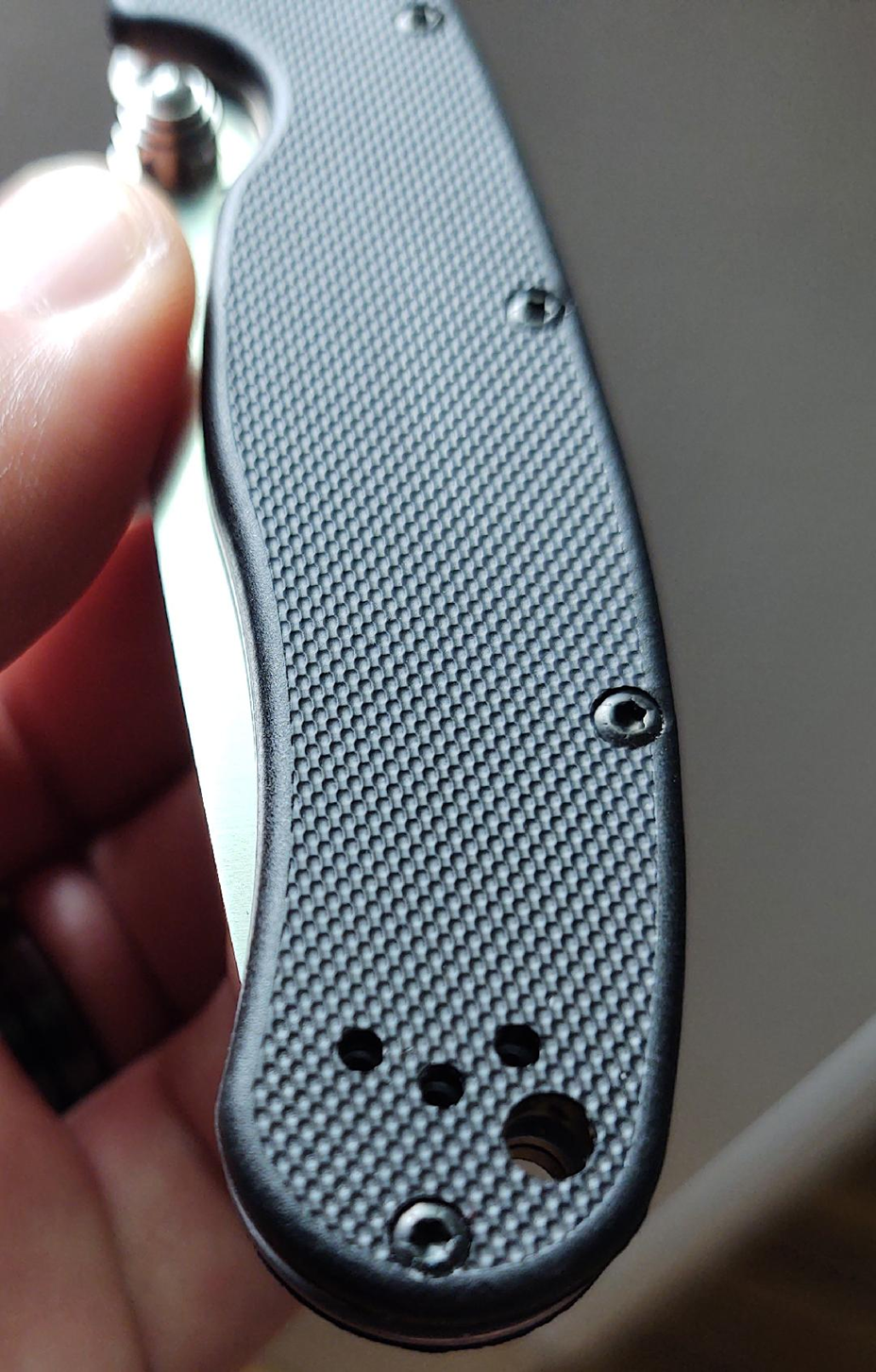 On the butt, there is a lanyard hole that is just big enough to accept a piece of 550 paracord, though it is a tight fit. I only threaded some paracord through it to size it up and not to make a lanyard, at least not yet.
As long as the pocket clip is holding up, I probably won't be using a lanyard even though I do recommend using them. I'm glad that lanyard holes are pretty much standard now on most knives because at least it gives you the option should you need one.
---
Pros and Cons of the Ontario Rat 2
Pros
Can be used right or left-handed
Lightweight (2.75 ounces!)
Textured ridge on spine for thumb
Durable handle scales
Lanyard hole
4-way Reversible pocket clip
Liner lock
Inexpensive
Perfect size for an EDC knife
Cons
The blade is a little sticky when closing
KNIFE
DETAILS

Made of AUS-8 steel for ease of sharpening and strength

Textured ridge on spine for thumb

Durable nylon handle

Check Price on

Amazon.com
---
Others' Experience with the Ontario Rat II
The first noteworthy attribute of the Ontario Rat II is the fact that the knife is not so small that it is hard to use. People who have purchased the knife seem to agree that it is the perfect size for a folding knife, and they seem to be pleased with the fact that the handle is durable and the grip is sufficient.
The textured spine and studs are also a key feature that people seem to be pleased about. The studs are extremely important because, without them, it is difficult to open a folding blade without both hands. The only complaint that some have had that is worth mentioning is that the steel is quick to rust if it is not properly cared for.
This can, however, be avoided by keeping your knife dry and free of excessive moisture. People who purchase the Ontario Rat II tend to do so because of the price. Upon receiving it, most are surprised at the quality of the knife despite the price.
---
Frequently Asked Questions About the Ontario Rat II
Q: What is 'batoning' and why can't the Ontario Rat II do it?
A: Batoning is the act of placing the edge of a knife on the piece of wood you want to cut and then using another piece of wood to hit the spine of the knife, thereby driving the knife into the wood.
This method is sometimes used to cut or chop wood although it really should be avoided because it can damage the knife (this is why you should also carry a saw or a chopping tool with you).
The Rat 2 could be used for batoning, but I wouldn't recommend it for the reason above and because it is a folding knife (safety issue), as well as being pretty small in size.
Q: How heavy is the Ontario Rat II?
A: The knife weighs just under 3 ounces. This is a seriously lightweight pocket knife.
Q: Is the Ontario Rat II left or right-handed?
A: Since the knife has two studs and a 4-way reversible pocket clip, it can be used for a right or left-handed user.
Q: Can the Ontario Rat 2 be used to make feather sticks?
A: Absolutely! Making feather sticks with the Rat 2 is pretty easy with its sharp edge and easy-to-control design.
---
Verdict
Thus far, the Rat 2 is a winner in my book. It's slim profile and lightweight materials make it so I hardly notice the knife in my pocket. Seriously, a few times I actually forgot it was with me. It has maintained a sharp edge throughout my testing of a variety of materials and opening I don't know how many packages.
The Rat 2 is also extremely comfortable to hold in both a forward and reverse grip, and I've got to say that I like having four different options for where to position the pocket clip. The Ontario Rat II is durable enough for light duty utility tasks, making feathered sticks, and food prep, making it a great little utilitarian knife in my book. For under $50, I think the Rat 2 by Ontario Knife Company is a great buy, and I'm not sure what else you could ask for at such a low price point.
This pocketknife is going to be my EDC knife for a while, and I genuinely look forward to using it. I was hoping that this product was going to be more than just a decent knife, and so far it has exceeded my expectations. I'll be sure to update you if there are any new developments with it. Thanks for reading, and I hope you enjoyed my Ontario Rat 2 review. As always, stay prepared.
KNIFE
DETAILS

Made of AUS-8 steel for ease of sharpening and strength

Textured ridge on spine for thumb

Durable nylon handle

Check Price on

Amazon.com