I love my metal water bottles. They're durable, and you can use them to boil water in. But they do have their drawbacks.
They are heavier than other options, they can be loud, and their rigid design makes them bulky to pack in a bag.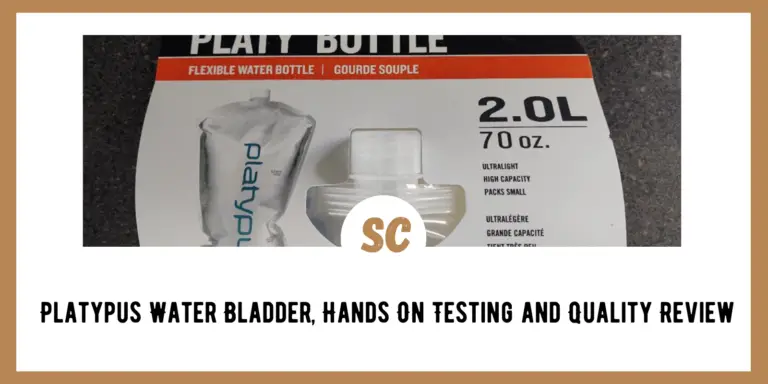 Of course, there are plastic water bottles that are durable and lightweight, but I run into some of the same issues when it comes to packing or storage. Also, I won't use them to boil water in.
So, is there a better solution? I think so.
In this article I will be testing out and reviewing the Platy 2.0L Bottle, which is a collapsible water bottle. I'll be going over the:
Specs and features
What I like
What I don't like
Pros and cons
FAQs
My verdict
So, let's kick this review off by discussing the specifics of the Platy 2.0L Bottle.
Platypus Specifications and Features
Size
This particular model has the capacity to hold 2 liters (70 oz), or roughly 1/2 a gallon of water.
Dimensions
When unfolded, the 2-liter bladder measures in at 19 X 35 cm (7.5 X 13.8 in)
Weight
At 37 grams (1.3 oz), the bladder is extremely lightweight.
Materials
Constructed from plastic but is 100% BPA-, BPS-, and phthalate-free.
Country of Origin
Platypus products are made in the United States of America.
Platypus Platy 2-Liter Flexible Water Bottle
Taste-free construction is BPA-, BPS-, Phthalate-, and PVC-free, and does not have any residual...
Ultralight material collapses and rolls up small enough to fit inside a pocket when empty, making it...
Last update on 2023-09-25 at 15:54 / Affiliate links / Images from Amazon Product Advertising API
Platypus Hands On Review
What I Like
To start, this product is labeled as a water "bottle," but that somehow feels strange to me because I think of a bottle as having a rigid structure. So, I apologize for any confusion as I may refer to it as a bottle, bladder, or reservoir.
When the Platy 2.0L arrived, I was very surprised at it's small size. When it's rolled up, it only measures approximately 7.5 inches by 3 inches, which includes the protruding cap on top. This makes it incredibly easy and convenient to carry in almost any pocket when the hydration bladder is empty.
The plastic of the bladder feels relatively thick and seems to be put together well. Quality construction is important when using a soft container to carry water because they are more susceptible to problems that can lead to a leaks. To see how durable the Platy 2.0L is, I drop tested it while it was full of water. I will share my results later in the article.
I like that the mouthpiece cover (cap) is easy to remove and creates a tight seal. Thus far, I haven't had any leaking issues from around the cap. I also like that the area around the mouthpiece is flexible, because this makes filling up the bladder much easier from different water sources, especially ones in tight spaces.
This flexibility also gives me the ability to quickly pinch off the flow of water when drinking or pouring.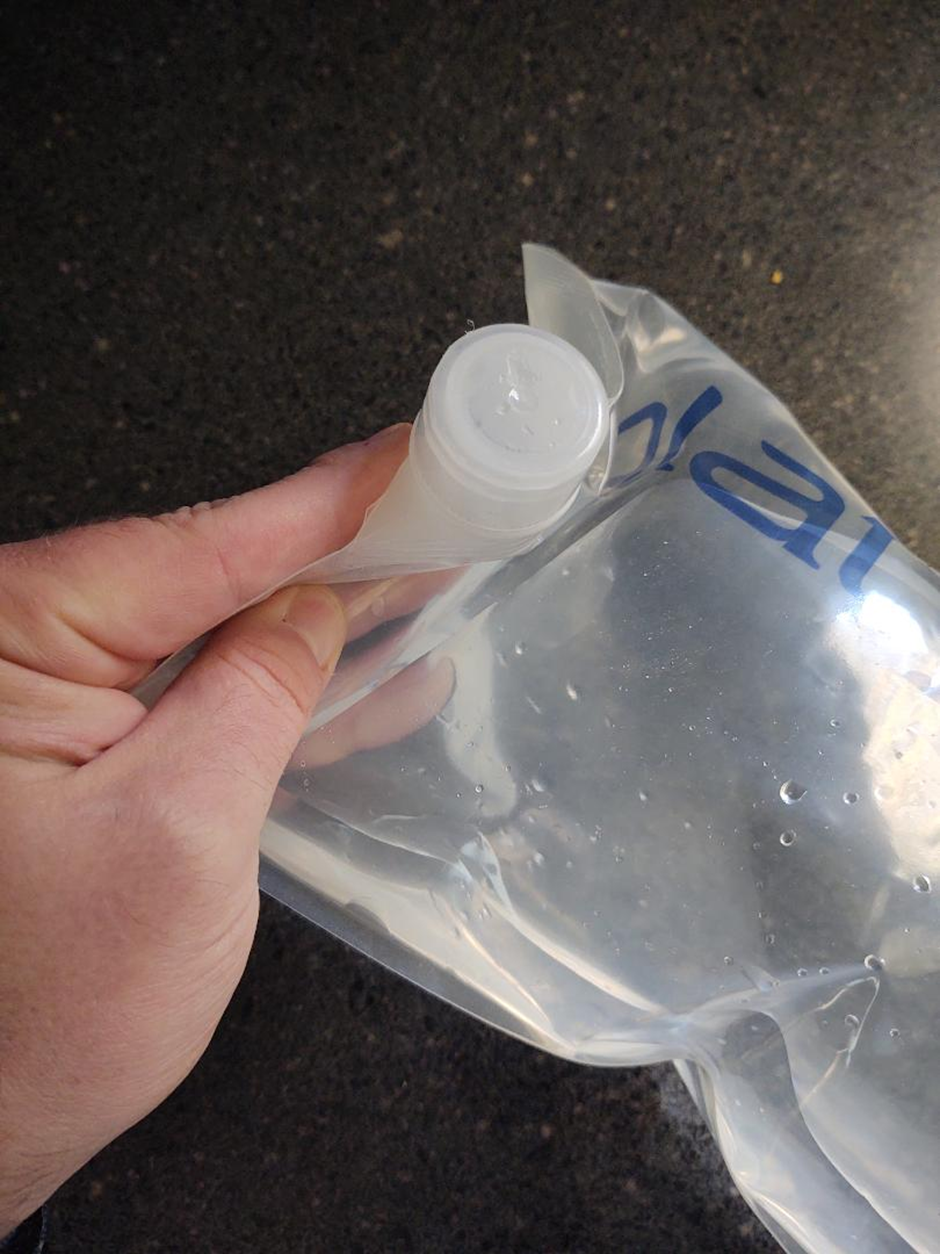 While most water bottles these days to have measuring lines on the side of them, not all of them do. The Platy 2.0L does have two marks on the front, a 1 liter and a 2 liter mark. Knowing how much water I have or have drank, helps me to stay hydrated. The measuring marks can also help to estimate amounts needed for cooking purposes.
The Platy 2.0L Water Bottle also has a gusseted bottom. This allows it to expand more when filling and to stand upright.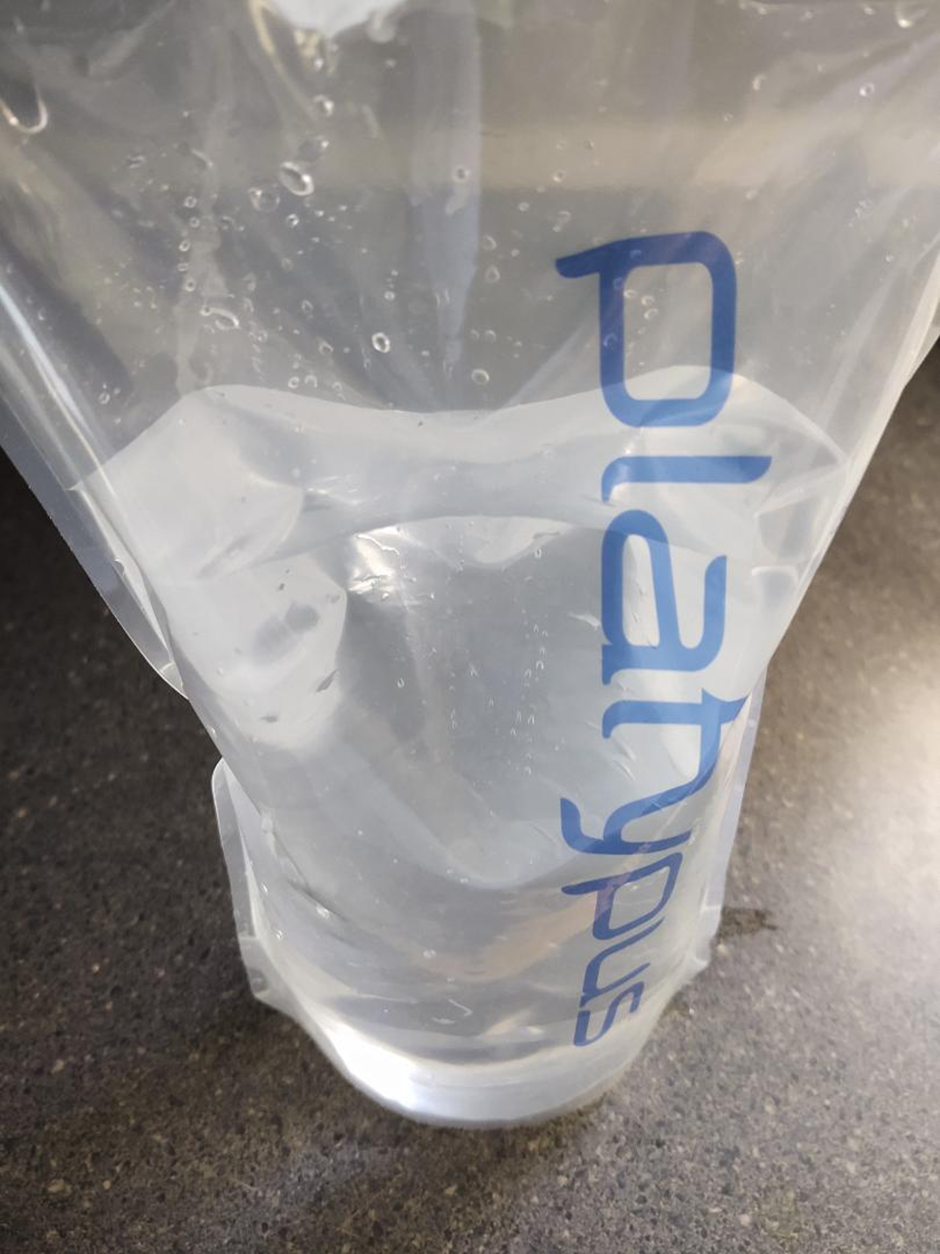 I think the best thing about this hydration bladder is that it's size can be changed depending on what it is being carried in and who is carrying it. If you have the space, then use the full 2-liter capacity, which is a good amount of extra water to carry. If you don't have the space or can't carry the full weight capacity, simply fill the bladder up some, press out the air, and fold the rest of the bladder onto itself.
What I Don't Like
So far, there is only one thing that I don't like about this hydration bladder, and it doesn't have to do with how durable it is, the weight, the material its made from, the price, or the quality.
This is probably going to sound dumb, but it can be a bit frustrating at times to dry the inside of the bladder out. There always seems to be one or two drops that just don't want to evaporate. This isn't an issue specific to the Platy 2.0L, but to hydration bladders in general.
I have found this to be more of an issue at home where temperatures are much cooler, rather than outdoors. See the FAQs section below for more drying ideas.
Currently, the bags that I have only have side pockets for your average sized round water bottle. When the Platypus bladder is full, I cannot use these as carrying options and have to carry it in one of the larger compartments of the backpack, or by hand.
Carrying it when full inside my backpack doesn't give easy access while hiking, but that is a compromise I'm willing to make for the extra capacity. Plus, that is what the accessories are for.
Not Just For The Outdoors
Hydration bladders are great for backcountry adventures, day trips, hiking, and really most outside activities. But I wanted to try out this hydration bladder for home storage.
Why? Because some people may not have the space to store a bunch of emergency water all the time, especially in rigid containers. They take up a lot of space.
That's why hydration bladders are so great. When they are empty, they are extremely compact and easy to store. But when an emergency happens or I know a bad storm is headed my way, I can fill up these containers quickly for short-term storage.
For example, in one of my smaller kitchen drawers, I estimate I could pack in around 24 of the of the empty Platy 2.0L Water Bottles inside. When I need them, this would give me a total capacity of 48 liters or approximately 12 and a half gallons and would take less than ten minutes to fill.
Another cool thing about this hydration bladder is that you can freeze water in. To do this, Platypus recommends only filling the bladder halfway full and pressing the excess air out of it before freezing.
I didn't know this, so I filled it to the 2L mark and stuck the hydration bladder in my freezer. Whoops! Live and learn, right?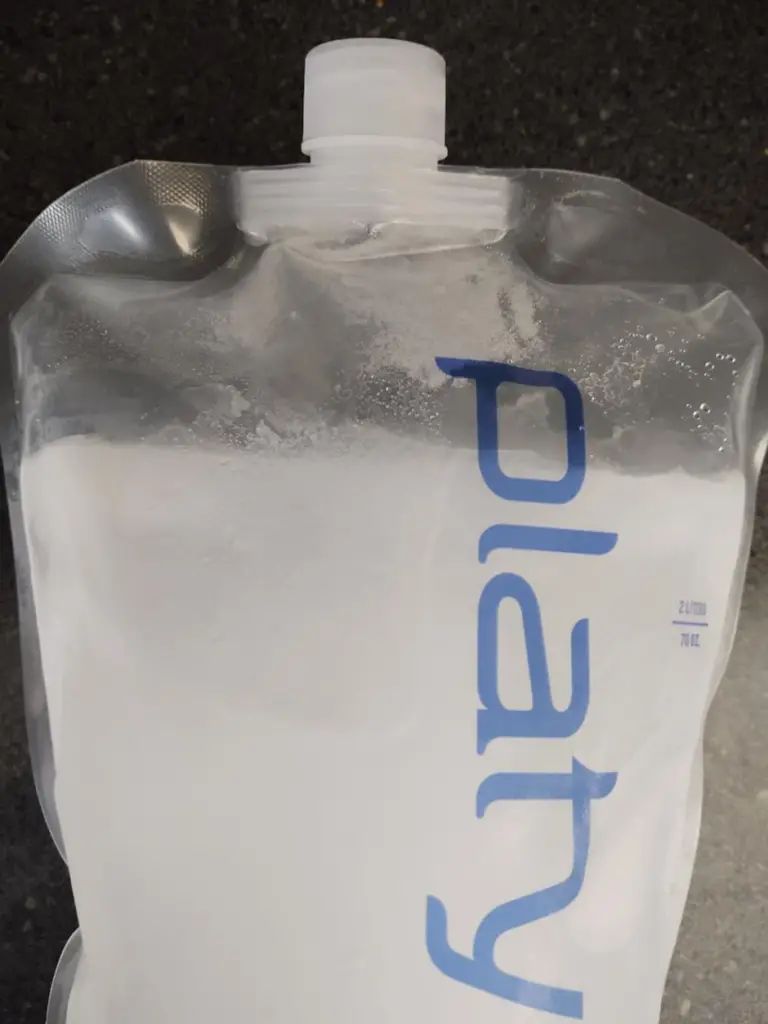 Luckily, after having it in the freezer for several days, there didn't seem to be any problems. I melted the ice down and inspected the bladder and it's seams for any failure. I couldn't find a single leak.
This isn't a way to make ice cubes, but if you are wanting a large ice pack then the quality construction of Platy 2.0L seems to hold up.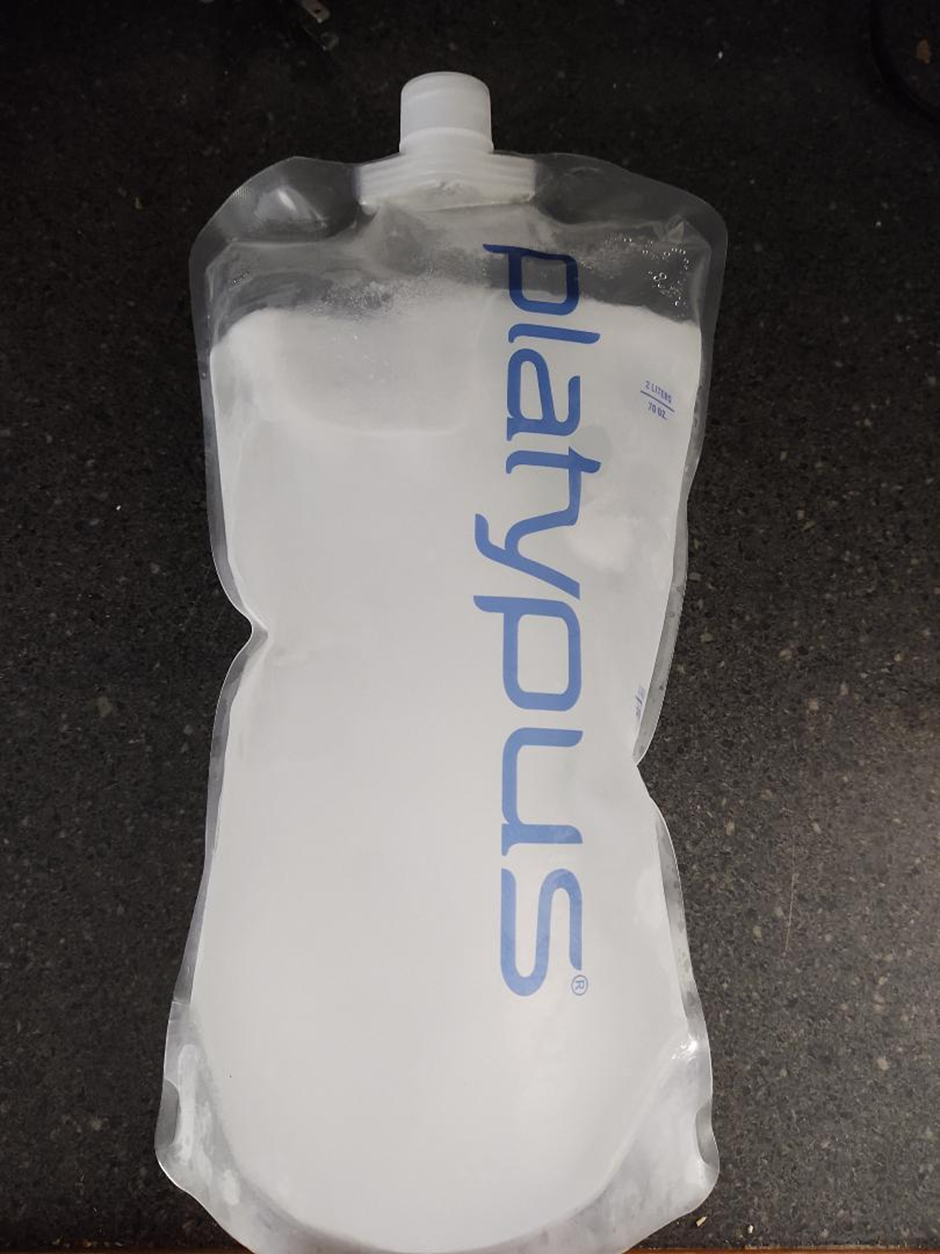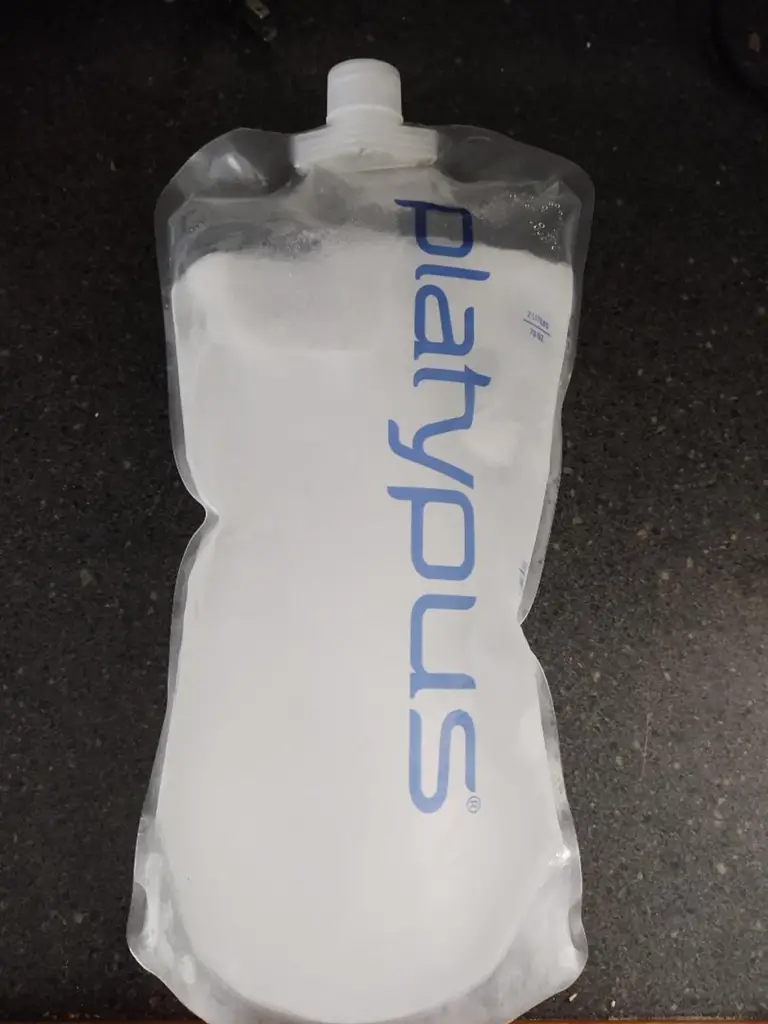 Storing the Platy 2.0L Water Bottle
Storing the this hydration sleeve is super simple. I like to disinfect the inside of the bladder first, and you can find how I do this in the FAQs section below.
After's it's clean and dry, I roll the bladder up from the bottom to push out excess air. Then I screw the cap on and wrap two rubber bands around it to keep the bladder from unrolling. You can then store it anywhere you want, but I would recommend keeping it away from a heat source and out of direct sunlight.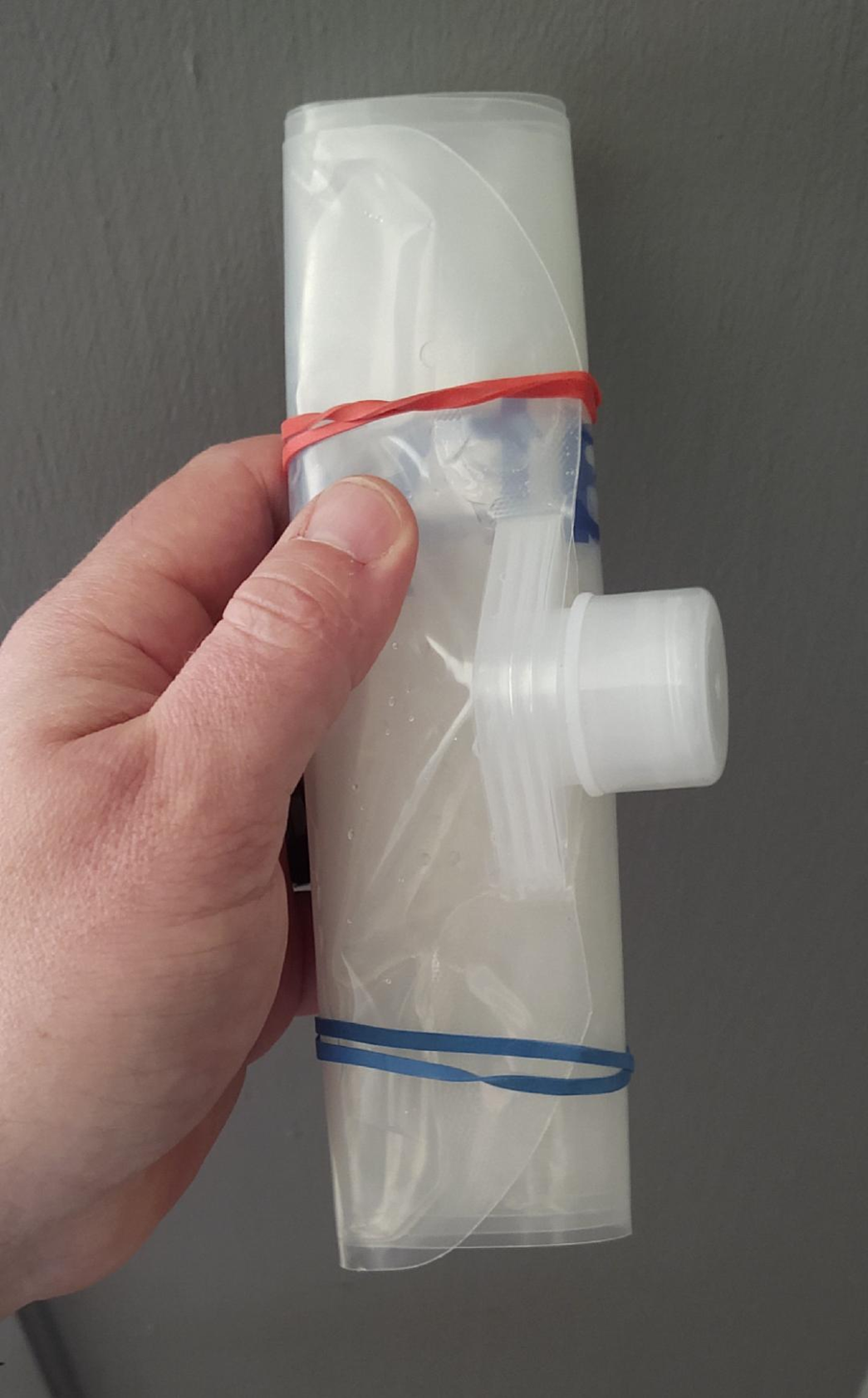 Drop Test
I have been using this water bottle consistently for weeks and have had zero issues with it. I don't know about you, but sometimes I can be pretty clumsy. All the dings in my metal water bottles can attest to that. But sometimes, accidents happen and a water bottle can slip out from a pack while hiking.
Hydration bladders are essentially just bags, which makes me feel like I need to be super careful with them. So, I wanted to take things a step further to see just how durable the Platy 2.0L Water Bottle was by drop testing it.
I started by filling the bladder to the 2-liter mark to give it enough weight but to also allow the water to move around. I then took it outside and dropped from a height of five feet onto three different surfaces. This was to simulate the bladder dropping from a backpack while on a hike, which has happened to me while hiking on numerous occasions.
The first surface was a patch of grass, which it passed with flying colors. Easy.
I then upped the stakes by dropping the full bladder onto a patch of gravel and then a patch of concrete. Honestly, I thought bladder would fail on the gravel test to a puncture, but it didn't. I also thought it would fail on the concrete surface, but it didn't.
After the tests, I inspected the bladder and found no tears, punctures, or leaks. However, on the front of the bladder, there was a small crease or divot on the plastic that wasn't there before. This seemed a little odd, considering the front of the bag didn't come into contact with the ground.
There were several marks and scratches on the back of the bag, but this one was the only one that really caught my eye.
I have to admit that I cringed a little bit when conducting this test, but I felt the quality of the bladder had to be tested. People drop their water containers all the time, and I wanted to make sure that it's quality was good enough to protect the liquid inside from spilling out.
The last thing you want to experience during an emergency or long hike is to have your water bag fall to the ground and watch the water flow out.
Accessories
I like that this collapsible water bottle can be used with other Platypus accessories for a total hydration system. You can use it with a drink tube kit, their GravityWorks Filter System, and if you don't like the screw cap, you can replace it with a Push-Pull Cap.
Best Uses and Who Should Have One?
I've tried this water bottle in two different ways. It works just fine to drink from but when it is full, it's a little big to carry around town like you would a typical water bottle.
I think a better way to use it is as a water reservoir that is carried in a pack. This way, you can top off smaller bottles as needed. It also works great as a dirty water reservoir. Instead of making multiple trips to a water source with bottles, this bladder can be filled up and taken back to your campsite or home for processing.
From a prepper's perspective, I think this is a great item to have in your vehicle and home. I've already mentioned how small the bladder is when it is empty, so it can fit almost anywhere in a vehicle. Glove compartment, center console, under the seat – heck, it could even be strapped to the visor.
During times that your vehicle is packed with other items, these will take up minimal space (when empty) and can later provide you with a 2-liter water reservoir capacity.
Even though I already mentioned it, the same reasons they are great to carry in a vehicle are the same reasons to have a stash of them at home. So, who should have one? I think outdoorsmen, preppers, and people wanting just a little bit of extra storage for water would benefit from having this.
---
Platypus Pros and Cons
Pros
Made in America
Fast flow when pouring
Affordable
Quality construction
Easy cleaning
Great durability
Compact
Lightweight
For the outdoors or home use
Will survive cold weather use
Can be frozen
Cons
More susceptible to punctures
Drying times differ
Takes up a lot of space when full
---
FAQs
How do you clean the platypus bladder?
There are several different ways to clean the platypus bladder.
The first way is to use a mild dishwashing soap and water. Fill the bladder with this mixture and shake for about a minute. Rinse several times with warm water and allow the reservoir to dry. This is the main way I wash it.
Secondly, this reservoir can be placed in the dishwasher. Given the small cap opening and the 2 liter bottle size, this may not be the most effective method.
For a thorough cleaning, Platypus does sell a Reservoir Cleaning Kit that helps to clean hard-to-reach areas.
Lastly, here is a deeper cleaning method pulled directly from Platypus' website:
a. Per liter volume of your bottle, add ¼ Cup of baking soda to ¾ Cup of water and shake for 30 seconds (e.g., for a 2L bottle use ½ Cup of baking soda with 1 ½ Cup water).
b. Add ¼ Cup lemon juice per liter, close and shake 10 seconds, and vent by loosening cap away from face.
c. Re-seal bottle and repeat shaking and venting three times. Expel as much air as possible, cap bottle, and soak for 20 minutes.
d. Dump solution and rinse bottle three times with hot water.
Caution: When adding lemon juice to baking soda, effervescence occurs and will cause pressure to build in a capped Platypus product.
How do you disinfect the water bottle?
I use a combination of household bleach and water. I mix up to ten drops of unscented bleach with two liters of water. I then shake this up for about thirty seconds and let it sit for at least a few hours. I then dump the solution and rinse out the bottle several times.
How do you dry the platypus bladder?
After cleaning, the bottle can be left uncapped and stood upright until all of the water evaporates. The bottle should be expanded as much as possible to promote drying.
If you are having trouble getting the last few drops to dry, try setting the bottle near a fan or blowing some warm air into it.
Can the Sawyer Mini Water Filter be used with this?
It seems that the older reservoirs were compatible with the Sawyer Mini Water Filter. However, the threads on the newer ones don't seem to line up perfectly, and many people report leaks happen at the connection point when using this combination now.
I took my Sawyer Mini, not the squeezable model, and hooked it up the Platy 2.0L Water Bottle. It didn't leak at first, but then a slow drip did develop where the filter meets the water spout. I then tried tightening the filter a bit more, and it stopped dripping. Even with the drip, the flow of the liquid was good and constant.
So as of right now, I would feel comfortable using the Sawyer Mini with this model, but I will have to keep my eye on it.
Is this water bottle dishwasher safe?
Yes. According to the platypus website, this product is dishwasher safe and the bottle should be fully opened when using this cleaning method to ensure a thorough cleaning.
Can other beverages be put in the bladder?
Yes, you can put other beverages in this hydration bladder. But if you do, it's important to clean to the bottle after every use to prohibit bacteria growth. Also, Platypus does not recommend using this bottle for liquids that are carbonated.
Can you boil water in the bladder?
For general use, no you can not boil water in this bottle. There is a way to boil water in plastic containers, but it should only be used as a last resort. However, it does seem that you can put boiling water into this bladder. Given its size, that would make a good hot water bottle in cold weather.
---
Verdict
Let's summarize. The Platy 2.0L Water Bottle retails for around $12, which is darn affordable and gives you a capacity of 2 liters of water. It's ultra lightweight, compact, and durable enough to survive me roughing it up a bit. I was extremely happy with the results of the drop test. It made me feel more comfortable that the material it is made from will hold up and protect my water supply.
I also like that there are other accessories that can be paired with the bottle, such as tubes/hose components and filters. But so far, I really like having just the bottle because it is very low maintenance.
I have used the Platy 2.0L Water Bottle for several months and give it an above average rating. Through my testing, I have come to this conclusion: Purchasing this collapsible water bottle is a no-brainer, and I plan on purchasing more so that I can pack them in a backpack, in vehicles, or into an empty drawer for emergency use.
I have been so happy with this product that I plan on trying out other products by Platypus and testing them out as well, especially since they are made in the U.S.A
Thanks for reading and stay hydrated!
Platypus Platy 2-Liter Flexible Water Bottle
Taste-free construction is BPA-, BPS-, Phthalate-, and PVC-free, and does not have any residual...
Ultralight material collapses and rolls up small enough to fit inside a pocket when empty, making it...
Last update on 2023-09-25 at 15:54 / Affiliate links / Images from Amazon Product Advertising API