For me, there is one piece of gear that embodies the idea of an adventure in some far off, wild place. A machete. Whenever I see one, I instantly imagine someone trekking through a thick jungle, using it to chop a path to some mysterious destination. I know that thought is a bit romanticized as many people around the globe use this simple tool daily.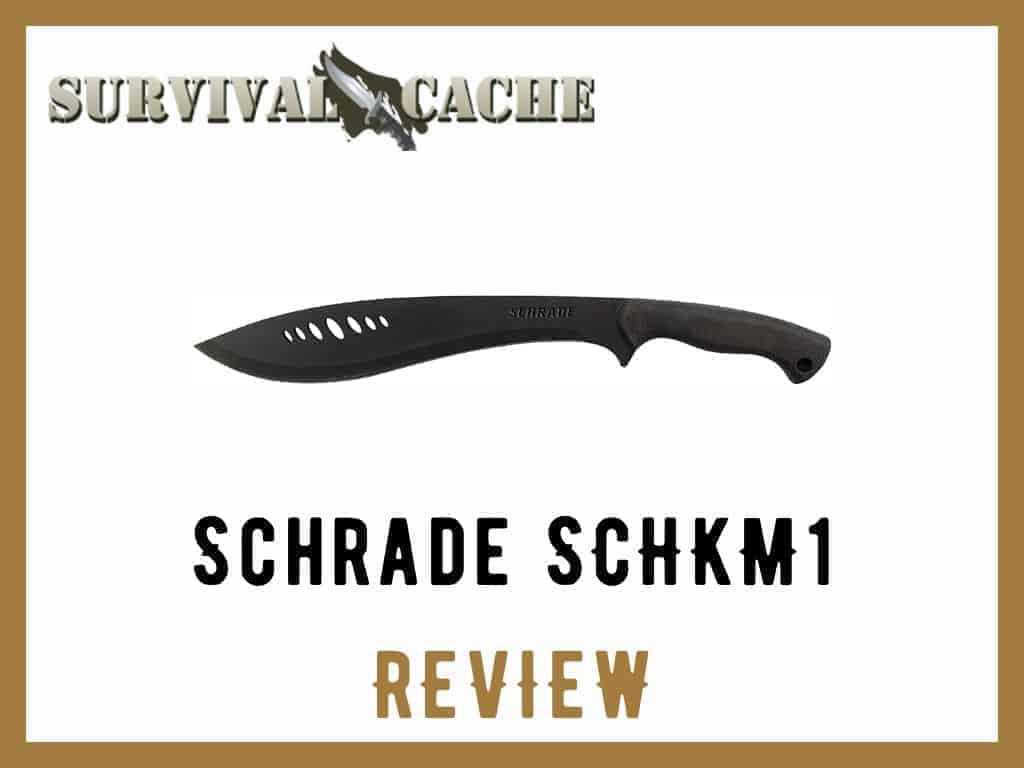 Most of the people that I know carry relatively small blades. I always carry a pocketknife and even my outdoor knives do not come close to the size of a machete. They are basically small swords (a bit tongue in cheek)
Machetes are a class of their own as they combine the cutting action of a knife with the chopping action of an axe. Though it should be noted that they are not meant for chopping materials as dense or as thick as what an axe can do. Due to this versatility, they often see heavy usage. From processing meals, to clearing paths, to chopping wood, to making shelters, machetes can really be an all in one edged tool.
For this review I will be tackling the SCHKM1 Machete made by Schrade. I have never heavily used machetes nor have I laid my hands on this model.But Given the popularity ofSchrade products and machetes, I thought it would be worthwhile to investigate what the SCHKM1 has to offer.
Last update on 2020-08-12 at 13:58 / Affiliate links / Images from Amazon Product Advertising API
Schrade SCHKM1 Machete Review
Style
The first thing to notice about the SCHKM1 is that it comes in a kukri style blade. While the blade's angle is not as noticeable as traditional kukri blades, it does have more of a curve than many straight machetes.
Dimensions
The kukri style blade is 13.3 inches long with an overall length of 19.7 inches. Longer than most outdoor knives, the SCHKM1 gives you extra reach while maintaining a short enough profile to be easily carried. A blade's thickness is important to know but unfortunately, I was unable to find this specification, even on the manufacturer's website.
The machete weighs in at 1 pound 6.6 ounces. Not terribly heavy but the different carrying options available will give you more versatility in distributing that load.
Speed Holes
The speed holes toward the point of the blade give it a bit of a design flare, makes the machete slightly lighter and helps in preventing the blade from becoming stuck in certain materials.
Blade Material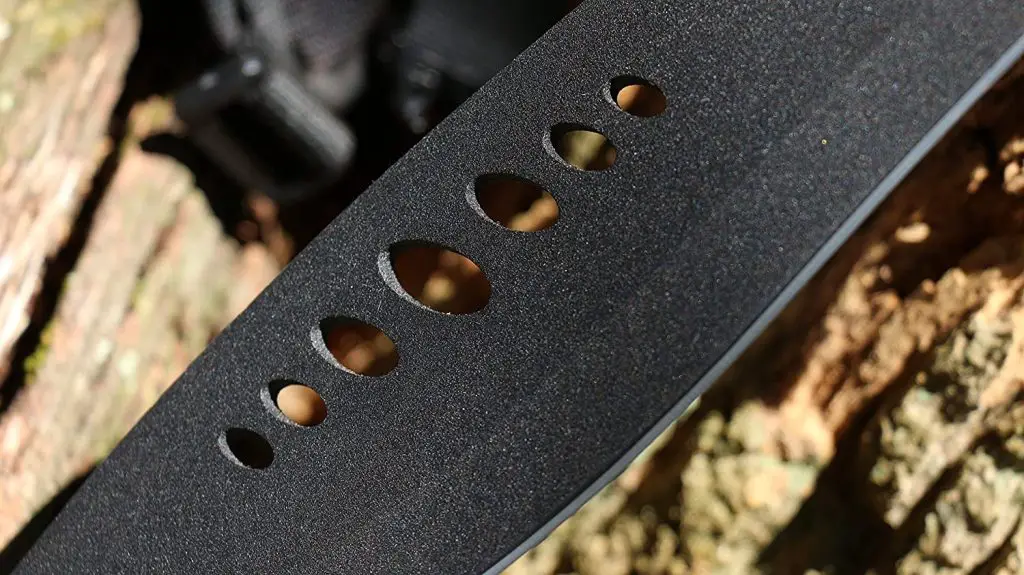 This machete is made from 3Cr13 stainless steel, a popular material for making affordable blades. A black powder coating covers the blade, giving it added protection against the elements.
Handle
It has a black Safe-T-Grip handle that is form fitting, textured and widens at the butt. This combination of characteristics keeps your hand where it needs to be and ensures a firm, safe grip every time.
The handle also comes with a lanyard hole. This gives the user the option of using cordage to secure the tool to their wrist while in use. This is a helpful feature in preventing the loss of a tool to thick vegetation.
Quillon
The front quillon provides another level of safety as it keeps your hand from slipping forward from the handle during use. This is especially helpful in wet and adverse conditions where your grip could become compromised.
Balance
The balance of the SCHKM1 appears to be a few inches past the handle. Making it front heavy enough for chopping tasks while maintaining an overall, comfortable balance.
Sheath
Comes with a polyester sheath and a removable shoulder pouch, shoulder strap, leg strap and belt loop. Two forward facing snaps securely hold the machete in place but give easy access when it is needed.
Included in the removable shoulder strap are two items. The first is a ferrocerium rod with a striker plate for starting fires. The second item is a diamond sharpening block for maintaining a sharp cutting edge, even in the field.
---
Pros and Cons Of The Schrade SCHKM1
Pros
For under fifty bucks I would consider this an affordable package
Overall blade protection due to it being stainless steel with a powder coating
Quillon prevents hand slippage from the handle to the blade
Shoulders strap, belt loop and leg strap provide for three different carrying options.
Detachable pouch containing a ferro rod and diamond sharpener are nice extras that come with it
Compact and easy to carry
Cons
The powder coating is not food prep friendly.
As machetes go it is a bit on the shorter side. So, it would probably work best in environments that are not completely overgrown.
Blade thickness is unknown.
Last update on 2020-08-12 at 13:58 / Affiliate links / Images from Amazon Product Advertising API
Customer reviews
Overall customer sentiment for this product is on the positive side. The positive reviews reflect the quality of the machete, versatility in carrying options, the extras included and its affordable price point.
However, what concerns me is the number of negative reviews regarding the machete blade breaking. It is not uncommon with product reviews to see one or two quality issues being brought up. But I saw more than a few stating that the blade had broken under nonstrenuous condtions. I do not know if this was due to misuse, an abnormality in quality control or if this machete cannot hold up to heavy duty chopping.
But I do know that a blade breaking on an edged tool is considered a catastrophic failure in my book.
---
Verdict
On the outside, this looks like a cool machete that I would like to add to my collection. It has a tough sheath with three different carrying options, the style of the machete is appealing, a ferro rod, a diamond sharpener and a blade that appears to be able to tackle some heavy-duty tasks. All of this is included for a price that I consider very affordable. But given the reviews I saw regarding the blade breaking, I would be putting the SCHKM1 through its paces before relying on it in the field. Stay sharp!
Last update on 2020-08-12 at 13:58 / Affiliate links / Images from Amazon Product Advertising API