If you are looking for the best scope for a 270 rifle, then you're in luck. We'll be taking a look at some of the top three scopes that have been handpicked for this review shortly. For a rifle like the 270, you'll want a scope that will definitely give you more of an edge against your fellow hunters in survival situations.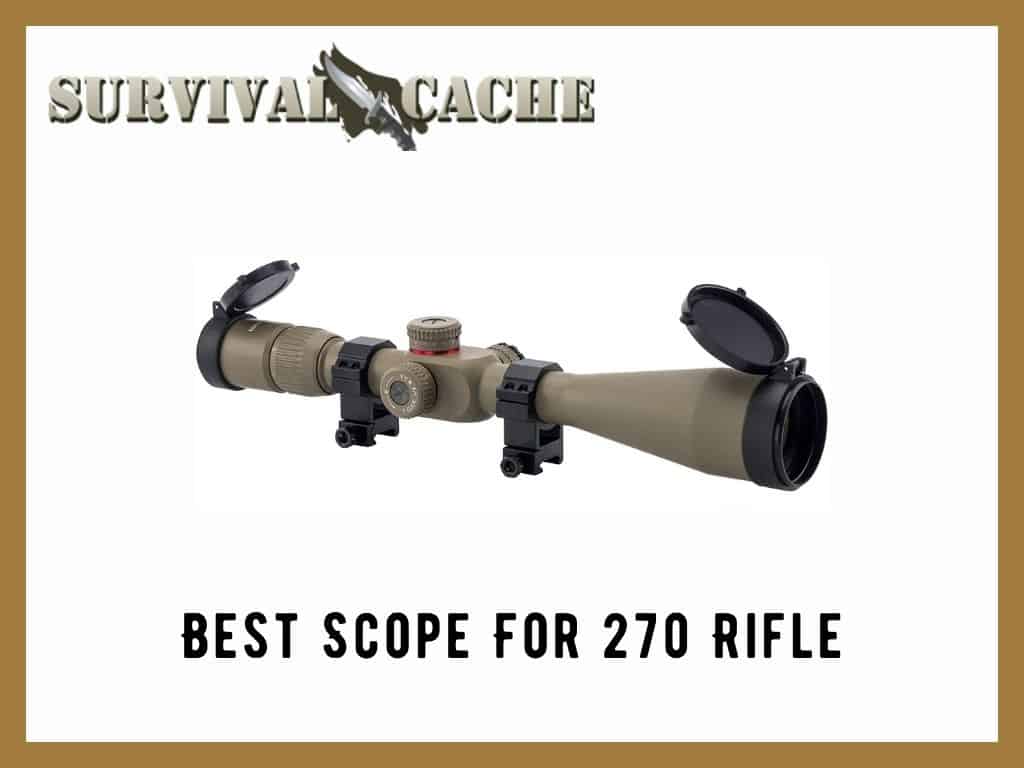 The 270 is the perfect hunting rifle for those who are looking to put a big game target to the ground with ease. Whether it's deer, elk, or even large bears rifles like these require a great scope that will allow you to pick off your target from an effectively accurate distance. Even though it can effectively be accurate within 300 to 600 yards, some modern 270 cartridges can go almost double the max distance.
Before diving into the review list, we'll be taking a look at the buyer's guide so you'll be able to easily choose a 270 scope based on features and considerations. It's better to think things over rather than choose a scope out of complete random. If you are a serious hunter that uses a 270 rifle, keep reading.
How To Choose a .270 Rifle Scope
Like most things that flood the market, it's hard to choose something that will stand out. This can't be said enough when it comes to rifle scopes. Finding the right one will come down to various factors. One such factor is the kind of features you might like.
You might be happy with a 40mm objective over a scope that offers a smaller or even larger one. You could be looking to hit targets at a max of 600 yards as opposed to 400 yards. To better put it, not all scopes are the same.
But at the end of the day, your personal needs and preferences reign supreme. And they always play a huge role in whatever you purchase for your 270 rifle.
Before we dive into detailed reviews, here are my quick top picks:
Let's dive into the list of features that will help you choose the right scope:
How To Choose
Knowing the basic features of a 270 riflescope is essential. Especially when you want to choose one out of the many available on the market. To make it easier, let's take a look at some of the features you need to keep an eye on before choosing:
Reticle: There are different types of reticles that you'll find on different scopes. For example, you can find a regular crosshair reticle on one scope and a mil-dot on the other. No matter what type you go with, the intent is still the same. You want to pull off an accurate, precise kill shot when hunting.
Objective: The objective's purpose is to gather in as much light as possible to make the image picture a lot more definitive. One thing to note is the larger the objective, the more light it will gather in. If you are looking for a scope that will be effective in low-light environments, a larger objective (i.e. — anything 30mm or larger) could be of service.
Adjustment turrets: The turrets included on a scope will be useful. Especially when you want to adjust the parallax, windage, and elevation. You want your shots to be right on the money. If they appear slightly off, then you can easily make adjustments with one turn of the turret knob.
Tube body: The tube body will usually be made from durable materials (typically aluminum). This will absorb plenty of shock and handle a ton of abuse. Likewise, we made sure that all the scopes we'll be reviewing today are as durable as possible. Also, a tough tube body will ensure that no amount of shock will throw off the zero settings of the scope itself.
Price: It's clear that while it's not a feature per se, the price plays a role in the decision-making process. The key here is to find the best quality and performance that fits your budget. In other words, don't go for cheap just for the sake of saving money. Sacrificing quality and performance would be the last thing you'd want to do. If you are strapped for cash, pay close attention to the reviews (especially from customers explaining how well it did in the field, plus other factors like durability).
Eye relief: Since the 270 does have some recoil, it would be a good idea to look at eye relief as well. Eye relief allows you to see the image through the scope while your eye is far enough from the eyepiece. The last thing you want is to deal with an eye injury due to the kickback from recoil (where the scope hits you right in the eye).
Factors To Consider
Aside from the features themselves, it's important to consider some of the other factors as well. Let's take a look at what they are so you can ponder over them before making a decision:
What are my ideal hunting targets?
A 270 rifle is a designated big game hunting rifle. So your intended targets will be deer, elk, bear, caribou, and other large animals. If you are planning on hunting smaller game like varmint, you should consider using a different rifle. A 270 is too powerful for this type of game and would be considered overkill.
How much punch does it pack?
With rifles that have the ability to knock down a large animal, you can assume that the 270 will have some recoil. However, if you have used a rifle like a 30-06, the recoil of a 270 will be less powerful. But still, you'll want to consider the idea of choosing a scope that has a good amount of eye relief.
How far will your targets be?
As mentioned before, a 270 will be effectively accurate if your targets are situated from 300 to 600 yards. Some may even go beyond that. But regardless, you may want to consider a scope that can easily hone in on a target allowing you to take it out while being 600 yards away.
---
Best Scopes For 270 Rifle: My Top Three Picks
The following is a list of the three top picks for the best 270 scopes. As you go through the list, you should consider making notes of any interesting features that stand out. You may like one feature that will be an easy sell (or a feature that might not be the best, turning you away from one scope in favor of another).
With that said, let's take a look now at the first scope on our list:
First is our best overall choice, the Leupold VX-3i 3.5-10x40mm riflescope. Some of the best things about Leupold are that their scopes are durable, highly-functional, and among the best in the business. Simply put, this is a high-end scope that will definitely be your next best hunting buddy.
The duplex reticle and matte finish make this design truly exquisite. And it makes your 270 rifle stand out even better. It's waterproof, shockproof, and fogproof making it one of the most durable scopes on the market today. After all, it's pretty standard for most Leupold scopes.
With precise ¼ MOA adjustments on the turrets, you can make detailed adjustments like nothing else. Your shots will be precise and always on target. Plus, you get the best light gathering imaginable with the multi-coated lens.
If you want what just might be the best of the best, this Leupold scope will be the perfect option for any 270 hunter.
Pros
Super durable
Excellent light gathering
Sleek design
Can take on plenty of recoil
Easy to site in at 100 yards
Cons
Turret designs could be better
Our runner up option is the Monstrum G2 FFP Rifle Scope. This is a pretty solid scope considering that it was built for rifles like the 270. If you have a rifle that has a good amount of recoil, this has the ability to handle all of that shock that could otherwise throw off a scope's zero.
At 50mm, the objective is one of the largest. It can cover plenty of what's in front of you. And it will even gather in enough light especially in conditions where there is not a lot of it to work with.
This comes with a good amount of eye relief. It's measured out from 4 to 4.5 inches. According to most users, that was more than enough for them when shooting off their 270 rounds at the range or out in the field with a target on lock.
With an adjustable objective, this will help eliminate any parallax issues and will keep your scope in focus so you can see what's in front of you at all times. Don't let common scope issues get the best of you. Let this adjustable feature get the job done so you don't lose sight of that big game target you've been looking for all season long.
Pros
Very durable
Easy to sight in at 200 yards
Great for 270 rifles and other long-range firearms
Price is reasonable
Holds zero with no additional issues
Cons
May be a little too high for some scope rings
Illuminated reticle may come off at times
Reticle may flicker at times
For our "Best For The Money" option, we could not have asked for a better choice. The Bushnell Banner Dusk & Dawn Multi-X Reticle Rifle Scope is among one of the best for a 270 rifle for those looking for a budget option. Simply put, this bad boy can go straight to work even before the hunting day begins (or ends).
The optical quality on this scope might be one of the best you'll ever see. It's high definition, crystal clear, and will blow you away when you look through it the first time.
But not to be outdone, it can still maintain that same quality in low-light conditions. If you want a scope that will truly give you the best image quality no matter how much light you are working with, this could be what you are looking for. The 40mm objective is large enough to cover plenty of ground in front.
Its design is sleek and very durable. Made from high-quality aluminum, this will no doubt handle all kinds of shooting from a 270 rifle. After 100 or more rounds, users said that the zero settings stayed the same.
Pros
Best option for the money
Beautiful design
Effectively accurate at 300 yards
Very durable
Outstanding image quality
Cons
Reticle can get stuck when you're adjusting it
Magnification ring is a bit stiff
Crosshairs may be a little thicker than expected
---
Open Questions About 270 Rifle Scopes
How far can you shoot with a 270?
Assuming you install the correct optics, you can shoot at targets situated from 300 to 500 yards out. However, you may fire rounds that have been recently made that have the ability to go as far as 1000 yards out.
What has more recoil: 270 or 30-06?
This will depend on the weight of the round being fired. With a bullet weighing 130 grain, a 270 rifle can generate 16.5 ft-lbs of recoil. Compared to the 30-06 round that weighs 160 grain will generate 21 ft-lbs.
---
Verdict
While there are plenty of rifle scopes for the 270, there can only be one clear winner. With that said, we've chosen the Leupold VX-3i Rifle Scope is our best possible option. Its design, durability, and ability to provide you with more accurate shots is why this stands out among the rest of the pack.
If anything, it's worth every penny to purchase a scope. But if the price is a bit much, you can consider the Bushnell Dawn & Dusk scope. You get similar features and benefits, but you'll pay almost half of the price for it.
---