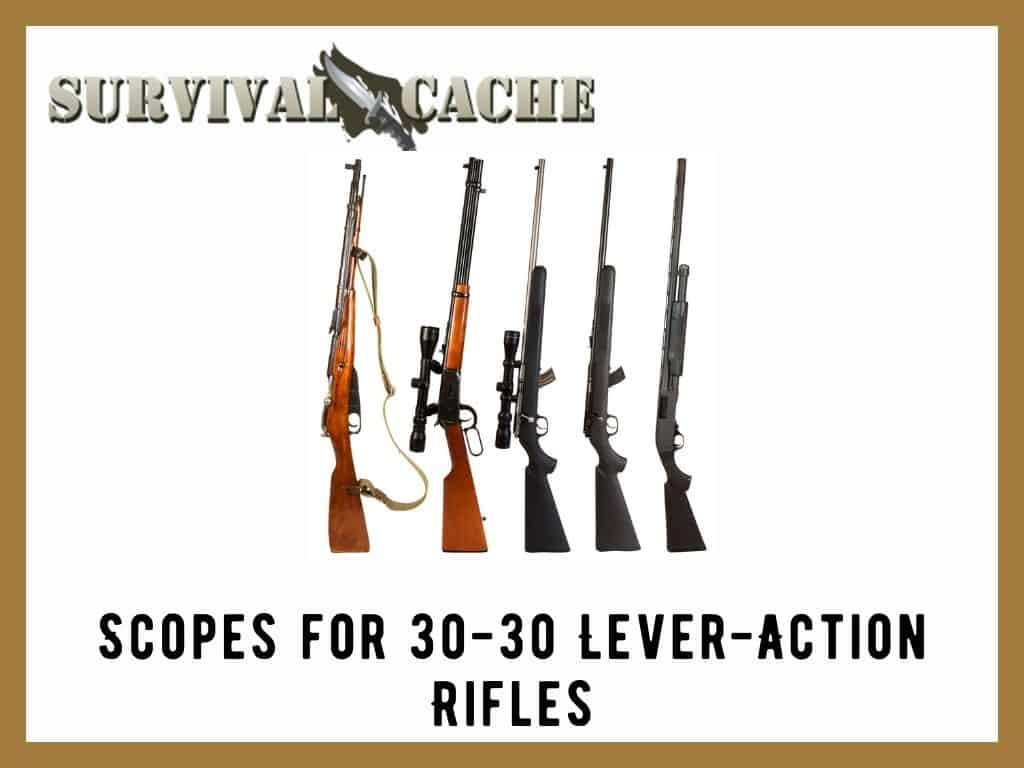 The 30-30 lever-action rifles are arguably one of the most popular hunting rifles in the US.  The 30-30 cartridge is suitable for almost any mid-sized game animal in the continental United States.  The dependable and rugged lever action is beloved by many hunters.   Choosing a scope for a lever-action 30-30 rifle needs to consider both the rifle and the cartridge.
Understanding the cartridge's characteristics and the demands of the hunting you do are important in matching the best scope to your rifle.   Before we look at scopes, we need to discuss the 30-30 lever-action rifle and its common uses.
---
A Little History
Winchester introduced the 30-30 lever-action rifle in 1895.  The Winchester Model 1894 is still one of the most popular hunting rifles in the US.  Many gunmakers have copied the venerable design, most notably Marlin, with their Model 336. 
The 30-30 cartridge with its round nose 160-grain bullet is one of the great deer cartridges ever produced.  Bullet manufacturers now offer a wide range of bullet weights for the 30-30 that add more versatility to the platform.
---
Why is the 30-30 Lever-Action Still So Popular?
Mainly because it still excels at the task.  If you hunt in heavy brush at shorter ranges, you cannot do better than a lever-action 30-30.  The heavier bullets are less likely to be deflected by small twigs and branches, and the ballistics are perfect on most US game animals. 
Newer bullet designs have better ballistic coefficients, and new powders mean higher speeds and more delivered energy.  Every year, rifle manufacturers and bullet designers keep the 30-30 lever-action delivering better performance.
---
What to Look for in a Scope for a 30-30 Lever-Action Rifle?
First, you look for all the things you would look for in any other scope.  Among these are
Dependability
Construction
Optics and Glass
Cost
Warranty
When choosing a scope for your 30-30 lever-action rifle, you should also remember the rifle's characteristics, the cartridge, and the environment you will hunt.
The 30-30 Rifle and Scope – If you routinely shoot a 30-30 lever-action rifle, you aren't expecting to make any 300-yard shots.  The ballistic characteristics of the rifle and cartridge don't make that possible.  Most hunters who carry a 30-30 lever-action rifle never expect to go beyond 200 yards with their shot.  You should choose a scope that optimized for that range.
The 30-30 Cartridge – At shorter ranges, the 30-30 cartridge excels for hunting deer and other mid-sized game animals.  However, the heavy 30 caliber bullet is also effective for other game as well.  In fact, a Marlin 336 is one of my favorite guns for hunting feral pigs in Texas.
Where You Hunt – We hunt mostly in West Texas.  The terrain can be unforgiving and difficult.  The range of most of our hunting is 150 to 175 yards and often requires shooting through dense mesquite stands.  The 30-30 lever-action rifle is perfect in these conditions. 
Let's look at my picks for the best scopes for 3030-lever-action rifle with this information in mind.
Best Overall Telescopic Sight for a 30-30 Lever-Action Rifle
Many of us are getting to the point that a little magnification makes those longer shots a little more comfortable.  Even at 200 yards, it is nice to bring that target in just a little closer.  When choosing a variable power scope for a 30-30 lever-action rifle, huge telescopic power is not essential.  I look for a balance between the clarity of the scope and the right amount of magnification.
Vortex Optics has what I believe to be a perfect fit for a 30-30 lever-action rifle.  The Vortex Optics Crossfire II 2-7×32 riflescope brings the complete Vortex feature list in a telescopic sight that provides the right magnification amount. 
Fully multi-coated lenses increase the light transmission
Second focal plane reticle maintains the same size appearance no matter what magnification. A second focal plane reticle keeps all holdover and windage corrections the same no matter the magnification level.
One inch diameter tube
Constructed with a single piece tube for strength and durability
Air-craft grade aluminum construction
O-ring seal prevents dust, moisture, and debris from entering the interior of the scope
Nitrogen purged tube body to eliminate fogging problems
Withstands heavy recoil
Capped reset turrets for easy manipulation even when wearing gloves.
2 – 7X magnification
32 mm objective lends
Field of view – 2.5 – 6ft at 100 yards
Eye Relief – 3.9 inches
Adjustment per click – ¼ MOA
Maximum Elevation and windage adjustments – 60 MOA
Parallax setting at 100 yards
Length – 11.52 inches
Weight – 14. 3 ounces
Pros
Excellent no questions asked warranty
Perfect magnification for a 30-30 rifle
Clear and Precise reticle
Long eye relief works great over a lever-action receiver
Cons
May be a bit less clear at higher magnifications
I like the long eye relief that you get with the Vortex Crossfire II scope.  The action of some lever guns needs a bit more eye-relief.   If a variable power scope is your choice for your lever-action 30-30 rifle, the Vortex Crossfire II 2-7X32 SFP riflescope should be on your list.
The Best Fixed Magnification Scope for Your 30-30 Lever-Action Rifle
For the traditionalists who shy away from variable power scopes, the Leupold FX-3X42 fixed power scope is our choice for this list.  There is something to be said for a fixed power scope.  If you are of the keep it simple school. A fixed power scope is a way to go.
With no internal moving parts, fixed power scopes tend to be clearer and provide crisper images than their multiple magnification brothers.  Many shooters also believe that fixed power scopes hold zero better over the long run.
And no one can argue with the quality and features of a Leupold scope. 
Tested to withstand the recoil of up to 3x a .308 rifle
Rear focal plane design
Twilight light management system
Waterproof and fog proof
¼ MOA Finger click adjustments
One inch main tube
Weight 13.6 ounces
Field of view – 1.39 feet at 100 yards
Length – 13.20 inches
Eye relief – 4.4 inches
Maximum adjustments for windage and elevation – 55 MOA
Choice of reticles available
Pros
Great light-gathering qualities for longer and earlier hunting
Superb images.  Clear, crisp, and precise
Simple and easy to use.  Mount, Zero, and go hunting
Cons
A little on the pricey side, but you get what you pay for
Not many optics manufacturers are making fixed power scopes.  Leupold is one of the few that still have fixed power scopes in their product line.  I like fixed power scopes, especially on rifles that don't go beyond 200 yards.  Leupold has always been a brand known for its quality and its dependability.
The Best Tactical Scope for a Lever-Action 30-30 Rifle
Believe it or not, you can now have a tactical lever-action rifle in your safe.  Several lever-action rifle manufacturers now offer a model that feature black stocks man-made, Picatinny accessory rails, and black matte finishes.  
Of course, if you will own a tactical lever-action rifle, you want a fast action tactical scope to complete the package.  Vortex again makes the list with its Strikefire II red dot sight.  Built for fast target acquisition and a wide-angle of view, the Vortex Strikefire II allows both-eyes open shooting. 
Hunting in deep thick brush for elusive game like feral hogs or javelina demands a rifle and scope that can work fast and are agile.  The Strikefire II does just that and comes with all of Vortex Optics features.
All lenses treated with the Vortex multi-coating for improved clarity and anti-reflective properties
Ten levels of intensity setting for the red dot
Unlimited eye relief for comfortable, easy shooting
Parallax free operation
Red 4 MOA dot aids quick target acquisition
Night vision compatible
80,000-hour battery life on setting #6
1x magnification
20mm objective lens
Adjustment per click – ½ MOA
Maximum elevation and windage adjustment – 100 MOA
Length – 5.6 inches
Weight – 7.20 ounces
Pros
Great price to features balance
Red or Green dot available
Auto turn off features helps save batteries
Vortex No Questions Asked warranty
Cons
Limited battery life
The mount included may not work on your lever-action rifle
The Vortex Strikefire II red dot optic design fits Ar-15 platforms perfectly.   However, don't discount your lever-action gun for a shooting style and hunting at which this little scope will excel.  If you want fast action and an easy to acquire sight picture, the Vortex Strikefire II red dot scope should meet all your expectations when paired with your lever-action 30-30 rifle.
The Ultimate Scope for your Lever-Action 30-30 Rifle
We all dream about that perfect rifle and the perfect scope.  In my dream of the perfect lever-action 30-30 rifle, the scope would have to be the Zeiss V8 108X30 optic.  In my dream, I hit everything at which I shoot.  When I select the ultimate scope for a lever-action rifle, the Zeiss must be the one.  It comes so close to the perfect match for the 30-30 lever-action rifle it just must be on the list. 
Not many scope manufacturers offer a 1x to 8x scope.  None that I know of offers this magnification in a scope that is as sleek and elegant as the Zeiss V8 optic.  The 1x power lets you shoot with both eyes open for up-close shooting where rapid target acquisition is necessary.
The 8x magnification lets you take a 30-30 lever-action rifle out to the cartridge's limits with confidence.   All this backed by the Zeiss reputation and name makes my choice for the Ultimate scope for a 30-30 lever-action rifle an easy pick.  The features from Zeiss support that decision easily.
92 percent light transmission
Smallest target coverage in the industry – 3.3 mm target coverage at 100 meters (over 300 yards)
Zeiss T* Coatings guarantee high contrast brilliant images.
LotuTec lens coatings enable clear and unhindered views no matter the weather
The most advanced illumination controls in the industry.  Quick, silent, and intuitive operations even with gloves.  Motion sensitive design activates when you raise the rifle and turns off when the rifle is at rest.
Magnification – 1.1 – 8X
Field of View – 119 – 16 feet at 100 yards
Diopter adjustment – 13.5 |+2 DPT
Eye relief – 3.74 inches
Second focal plane reticle with illuminated dot
Pros
It's a Zeiss. What more needs to be said
30 mm objective lends with no scope bell
Changeable turrets
Large exit pupil for a wider field of view
Cons
The Best Budget Scope for your Lever-Action 30-30 Rifle
On the other end of the spectrum are hunters a lot like me.   This group is looking for the most bang for the buck.  It is hard to justify spending more on a scope than you paid for a rifle that may sit in the gun safe 51 weeks out of the year. 
The Simmons 8-Point 3-9X50 may be a bit more scope than a 30-30 rifle needs.   The 50mm objective lens and 3X-9X magnification can certainly take you out much further than the 30-30 cartridge can reasonably perform.
On the other hand, if the price is right and the scope can meet your needs, why not have the extra power and features.  That is exactly what you get with the Simmons 3-9X50 8-Point scope.  You may never need the range.  But for the price of this scope, why not have it anyway. 
Turret type – Capped
Field of view – 31.4 feet – 10.5 feet at 100 yards
Eye relief – 3.75 inches
Weight – 13.2 ounces
Adjustment per click – ¼ MOA
Windage and Elevation maximum adjustment – 120 MOA
Truplex Reticle
Waterproof
Fogproof
Recoil proof
Fully coated optics
Length – 14 inches
Pros
Clear and vivid optics
Wide field of view
Lightweight
Great price point
Cons
The clicks stops on the turrets can be hard to distinguish
---
My Decision.  What Will Yours Be?
My Marlin 336 was the first Christmas gift my wife ever gave on the Christmas before we got married.  That pretty much clinched the deal for me.  You gotta keep a woman like that.  My Marlin 336 went for many years with iron sights.  I hunted a lot of deer and feral hogs with it over the hears and took my game share.
I finally mounted a Vortex Crossfire II on the Marlin 336 when I noticed that the iron sights didn't seem to be working right anymore.  The Vortex Crossfire II gave me all the features I wanted and knew the quality of Vortex Optics.  The scope and rifle combination has worked well for me.
The important thing is to find the scope and rifle combination that works for you.  I hope that my suggestions and opinions make your decision a little easier.  If you have comments, suggestions, or experiences to share, please use the comments section below.  Your knowledge helps us all and it is important.  Clear sights and Good Hunting!