If you are looking for the best scope for air rifles, you're in the right place. Finding the right one may be hard to do. But by the end of this guide, you might be able to have one already in mind. We'll show you how to choose one in a brief moment.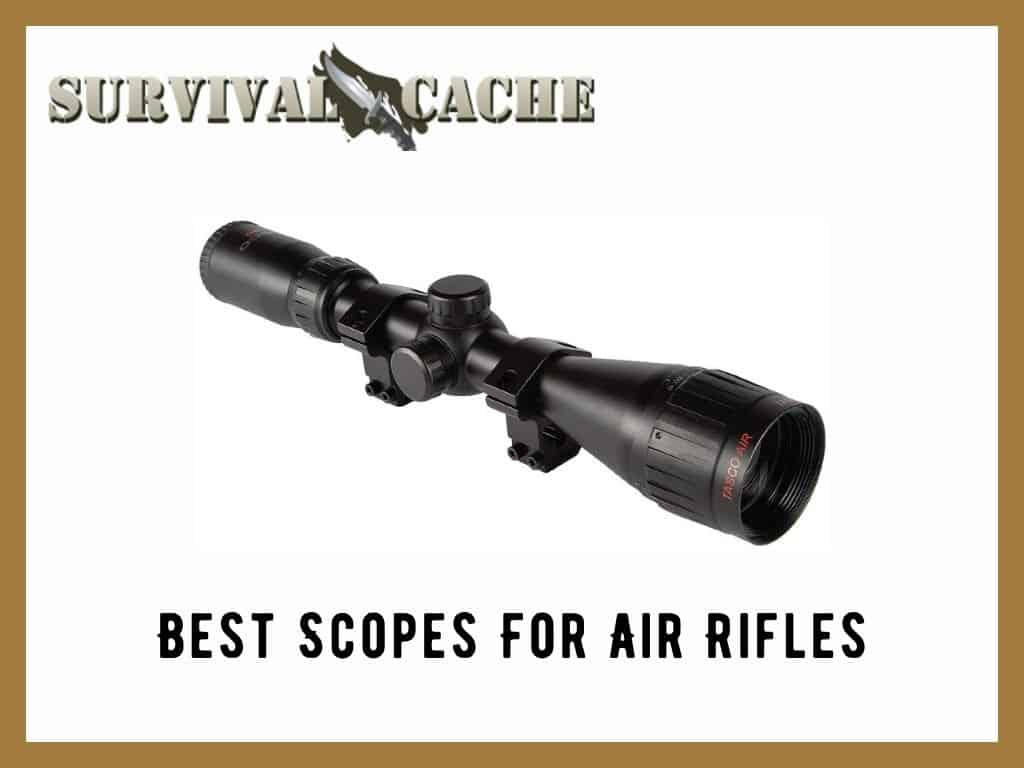 Air rifles are perfect for various activities, including survival prepardness. This includes recreational activities and even pest control. Regardless of how you use it (albeit safely), you'll need a scope that will improve the precision and accuracy of every shot.
While they are not like regular rifle scopes where eye relief is highly important, they still function just the same. And you can be able to land the shots exactly where you need them to go. If you own an air rifle and want to make every shot count, keep reading.
How To Choose a Air Rifle Scope
As mentioned before, choosing the right scope for an air rifle can be hard. But it doesn't have to be. So long as you use this buyer's guide to your advantage, you should be in good shape.
We'll be looking at how you can choose an air rifle scope by looking for some specific features. Not every scope will be made the same, so the features and specs may differ from one another. However, your personal preferences and needs will win out at the end of the day.
Now, let's dive into the how to choose section to get started:
How To Choose
When purchasing an air rifle scope, it's always a good idea to know some of the features and why they are important. You don't have to be a master know-it-all about scopes. But you should know some of the basics of how they work.
Here are some of the features you should look at closely:
Reticle: The reticle (or the crosshairs) will play a huge role in helping you land the shot exactly where you want it. The crosshairs should be at a good enough size (thick or thin) to ensure that accuracy and precision are possible. Some reticles will come in different shapes.
Objective: The objective size is also another feature worth looking at. The larger the objective, the more light it will gather for better image quality. Some of these scopes can work in low-light conditions (like regular rifle scopes). Others won't be so effective. Also, the size of your objective will determine how much land coverage you'll get in your field of view.
Adjustment knobs: Even on air rifles, there are adjustment knobs that you might want to look for. These are included for adjusting parallax, windage, and elevation. If your shot appears to be off the mark, then chances are you'll need these adjustment knobs to fix that.
Magnification: Magnification allows you to see your target up close while you maintain a shooting position. Air rifle scopes may not have very powerful magnification compared to regular rifle scopes, but still you can be able to set it to the right level to get a closer look at what's in front of you and pull off a much accurate and precise shot.
Price: It's clear that the price tag will be under a microscope. But at the end of the day, it's the value that matters most. If you are on a budget though, consider a price range that you are willing to spend. Going for cheap may lead to a disappointing choice because of a lack of quality and performance. Finding the best scope you can afford within your budget will be key here. Pay attention to customer reviews about the scope's quality and overall performance (along with our own reviews) so you can make a decision based on the two attributes and not just on price alone.
Tube quality: As stated, quality matters. That's why you want a scope that is durable enough to last you a long time. Yes, air rifles are not as powerful as most regular rifles. And they don't have recoil. But you want a scope that will be durable and able to take the hits if it gets banged on by accident or the like.
Things To Consider
As you are pondering your choices, it's a good idea to take a few additional things into consideration. Here's what they are:
What will be the primary intent?
The first thing you'll want to ask is what you intend to use your air rifle for? Will it be for recreational purposes or will you be using it for pest control? These are two of your best purposes.
With pest control, you can use this to ward off any invasive critters such as squirrels, skunks, raccoons, and more. Most air rifles will not harm them greatly (unless you are dealing with a more powerful air rifle). Other than that, a shot or two would be enough for them to get the message.
For recreational purposes, this could be for yourself or a child who may be of age to use an air rifle. Keep in mind, children must be supervised by an adult when using an air rifle.
How far should I want it to reach?
The purpose of these scopes is to help you hit your shots from a much farther range. The average air rifle can go as far as 80 yards (and possibly beyond) with the right scope. However, there are other considerations to include as well.
These include the type of pellets you are using, the caliber of the rifle, and how powerful each shot is. The more powerful the shot, the farther it will likely go.
---
Best Scopes For Air Rifles: My Top 3 Picks
Now, we're going to be taking a look at the top picks that have been chosen for the best scopes for air rifles. As you go through the list, you can make notes about a feature or two that stands out. The pros and cons might also give you a good idea of whether or not you buy it or not (after all, some pros are dealmakers and some cons might be deal-breakers).
Let's begin by taking a look at the first item on our list:
First on the list, we'll be taking a look at the TASCO 3-9×40 AO Air Gun Scope. At first glance, we've noticed that it has an adjustable objective. This is a nice feature to have whenever you want to get the best focus out of a scope.
It's waterproof, fogproof, and even shockproof. Even on a slightly more powerful air rifle, this scope will keep the zero settings in place and won't get thrown off. No matter how many shots you fire, you won't need to deal with any resetting or playing around with the adjustments.
If you want easy adjustments, the turrets will be easy to turn and lock. These are excellent when you need to adjust for windage and elevation. Your shots deserve to be straight and on point, especially with a scope like this.
This is the perfect multi-purpose scope that you can use for recreational purposes or if you want to get the varmint off your property. Regardless, it's pretty effective. Users reported getting good accurate shots at least up to 50 yards.
For clean, accurate shots this scope gets the job done.
Pros
Excellent accuracy
Easy adjustments
Affordable for most budgets
Very clear image quality
Easy install
Cons
Next is the runner-up choice, the BSA Optics Outlook Adjustable Air Rifle Scope. Like the TASCO, it has magnification levels of 3 to 9x. And it has an adjustable objective, which will be perfect for those who want to easily adjust the focus if things appear to be a little blurry.
This has a mil-dot reticle, which can make shots precise and accurate at various distances. If accuracy is something you hold to a high standard then you might want to take a look at the different reticles. A mil-dot might serve you best in the long run compared to regular crosshair reticles.
The objective is measured at 40mm, which is pretty sizable. Plus, it can gather in plenty of light even in low light conditions. If you see a varmint out and about on your property when the sun is going down, you might look through the scope and still see it.
This scope is pretty decent and can function quite nicely no matter what you use your air rifle for. Don't be surprised if this turns out to be one of the best scopes you've purchased.
Pros
Easy objective adjustment
Simple to install
Fits on most air rifles
Great for recreational use
Turrets are easy to adjust
Cons
If you are looking for the best scope that you can afford in terms of quality and performance, the UTG Bugbuster Scope might be exactly what you're looking for. This has a scope body that is an inch thick and can fit on most scope rings and mounts. It also has a 32mm objective, which is decent in size.
It's not too small or too large. But it's good enough for all kinds of recreational use (and when you need to ward off the invasive critter). You get lockable turrets that are easy to turn, making it really easy to make adjustments for windage, elevation, or parallax.
The last thing you want is something that is hard to adjust. Especially if your shot appears to be a little off. Plus, with a mil-dot reticle for precise accuracy, you don't want a good scope like this to be considered useless because you can't adjust it.
It's tough, waterproof, fogproof, and can handle anything an air rifle can do. In short, it's just as tough as a regular rifle scope. And for the price that it's going for, it's worth every penny.
Pros
Beefy in design
Very clear image quality
Can go beyond 50 yards with air rifles
Easy turret adjustments
Affordable for most budgets
Cons
May be a little too compact for some
Eye relief could be better
Illumination may bleed out at times
Open Questions About Scopes For Air Rifles
Can you use an air rifle scope on a real rifle?
No. That's because they are not durable enough to handle the shock and recoil on a real rifle. This means your zero settings can get completely thrown off even after a few shots. Therefore, consider attaching a real rifle scope instead of one designed for air rifles.
Are air gun scopes different?
Yes. They are different from real rifle scopes. That's because air rifle scopes that can only handle certain vibrations and shock that are only produced by the rifles themselves. It is for this reason why they should not be attached to regular rifles regardless.
At what distance should I zero in my air rifle?
If you are shooting outdoors, you should zero in your rifle up to a distance of 30 yards. If you are indoors, the farthest you should go is 20 yards. If you are planning on using it for varmint control, you can get away with zeroing it in at 40 to 50 yards.
---
Verdict
While there are a ton of air rifle scopes on the market, the choices may seem limitless. However, the verdict is in and we can declare the TASCO 3-9x40 AO Air Gun Scope. With its adjustable objective, unmistakable accuracy, and overall reliability this will take the crown as the best of the bunch.
If you are a varmint hunter that wants to get rid of the pests on your property, this scope is something you'll want since it's got the ability to reach 50 yards at best. For short-range shots, this scope shouldn't be a problem and will make accurate shots easy to come by.