The Hunter Revolver by SOG is several years old now but I wanted to add a quick review of my time with this knife/saw. I have bought several knives and multitools made by SOG over many years and I have been happy with them. This particular model is no different with one exception that I will explain later on. We all know the usefulness of a knife so I would rather take a moment to share some thoughts about the other side of this tool, the wood saw.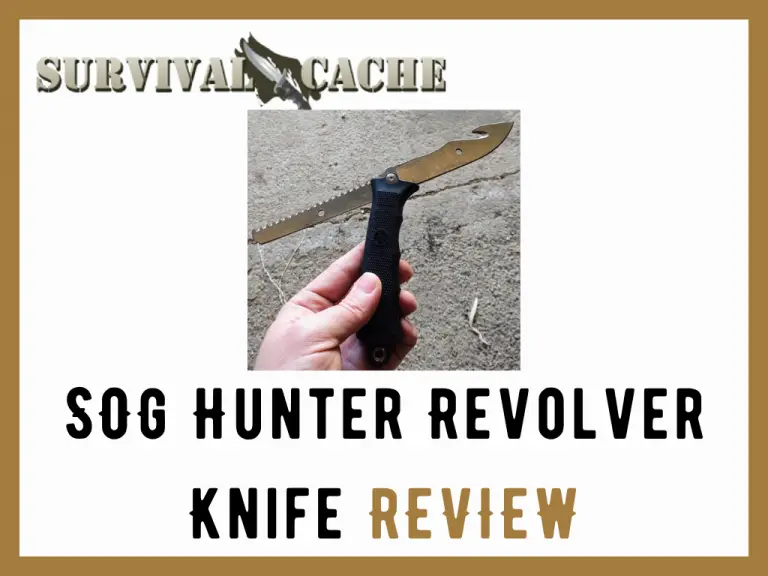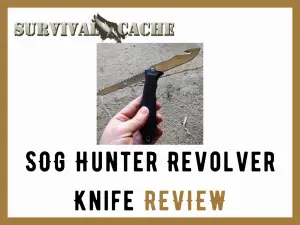 In my younger years I really didn't use saws all that much. Call it machismo if you will but when it came to processing wood I chopped it with an axe or used various cutting methods with a large knife.
As with many things in life, it wasn't until I became a bit older that I realized the value of using other methods and tools for completing tasks. A wood saw became one of those tools that I eventually came around to. In my mind a wood saw has three advantages over other cutting tools.
Last update on 2021-06-16 at 10:42 / Affiliate links / Images from Amazon Product Advertising API
---
Advantages of a Wood Saw
The first is that a wood saw requires less energy to use (and to carry) over an axe. An important consideration in a survival situation when you may not know when your next meal is.
Wood saws are much safer to use over swinging an axe or chopping with a knife. Even during normal times, I have experienced more possibilities of injury using an axe than I have a saw. I would think the likelihood of this would increase in a survival situation when mental judgement may be clouded.
User friendly. In my life I have seen a wide range of individuals pick up a wood saw and in a short amount of time they are able to use it comfortably and safely.
So with that little bit of information in mind let's get right into my review.
---
SOG Revolver Hunter Knife Review
What is it?
The Revolver is an interesting piece of outdoor gear that combines two tools into one. By revolving the tool, one end can be used as a knife and the other can be used as a wood saw.
Specifications
The knife comes in at 4.75" long with a clip point. A second cutting edge is available on the spine with the addition of a gut hook. The other side of the tool is a double-toothed saw that measures in at 4.75". Both tools revolve around a black glass-reinforced nylon handle that has a checkered design. There is also a lanyard hole located at the end of the handle. The knife easily stows away in a black nylon sheath (with belt loop) that is included. All of this weighs in at 6.1 ounces.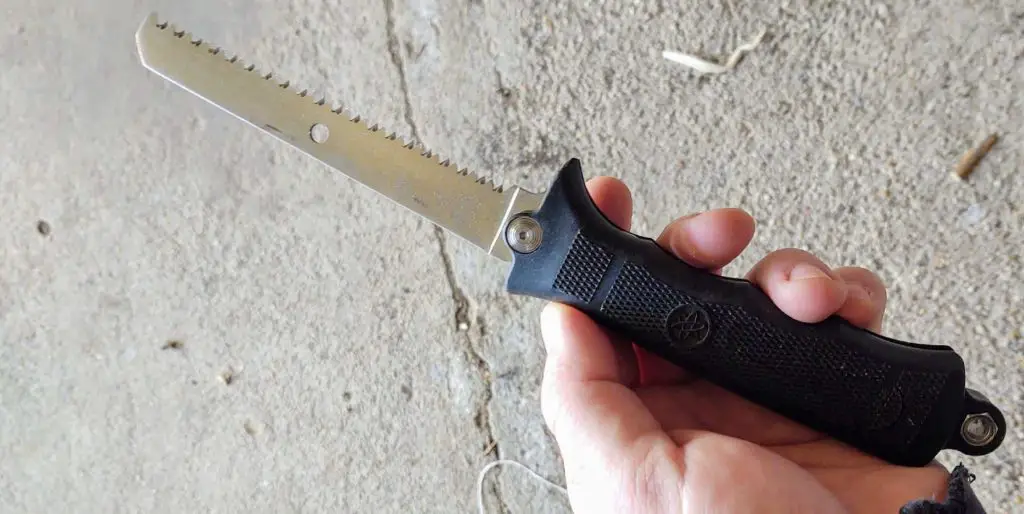 ---
Hands-on Experiences
I have used this knife in various situations over the years and it has performed well enough. The straight-edge blade and saw are sharp right out of the box. I haven't had had any problems sharping the knife blade or the saw tool.
The glass-reinforced handle is comfortable in my hand. The handle also provides a checkered design that gives me a safer grip even during wet and cold conditions.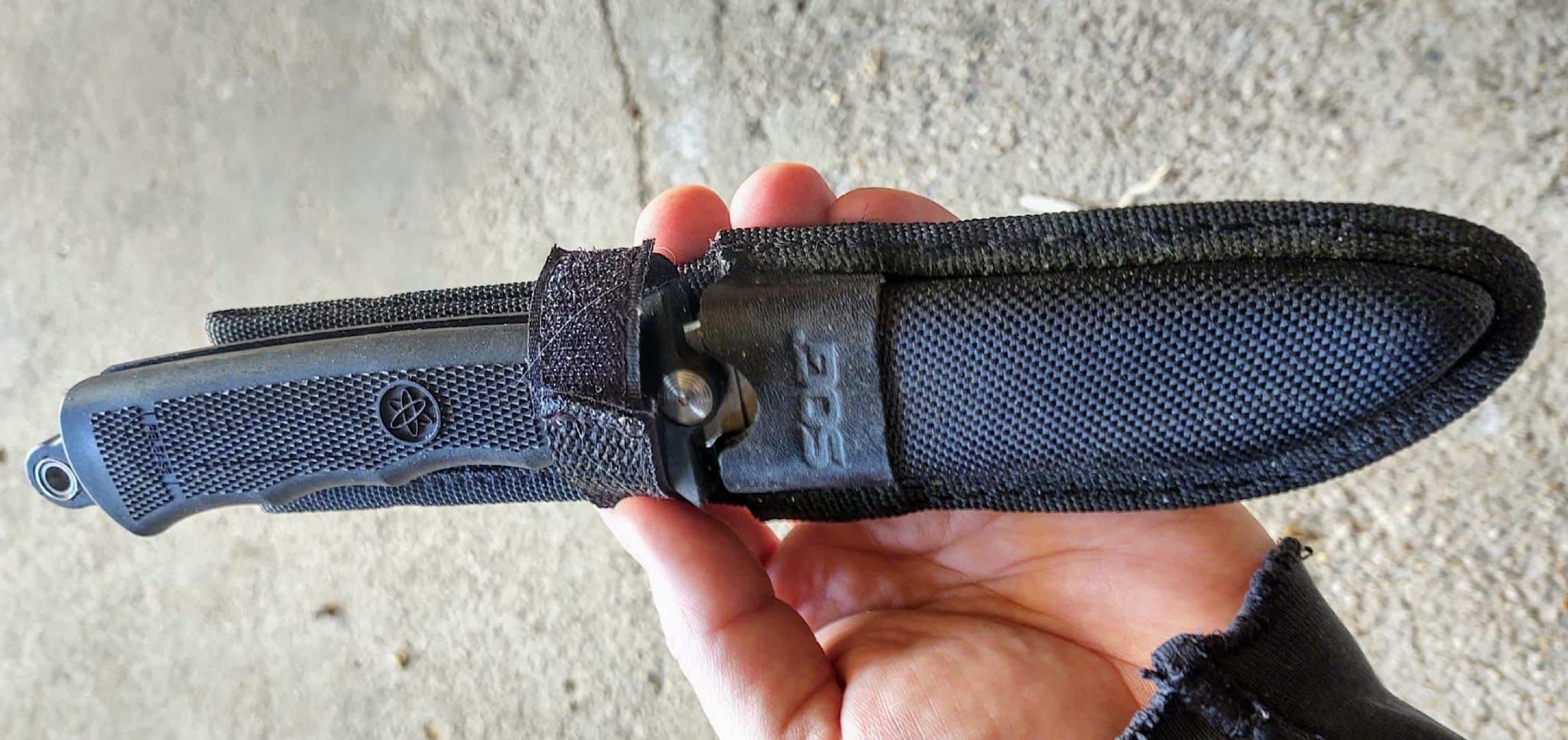 Gut Hook
The gut hook worked as intended for game processing, but I ended up using it more for cutting through cordage. This isn't because the gut hook is bad by any means but due more to my personal methods and how I was brought up processing game. Also consider that gut hooks require a different way of sharpening over a straight edged knife.
Knife Use
Because of the design of the knife as a whole I don't recommend using this knife in many of the ways a full tang knife would be used. It is fine for cutting, slicing or making tinder and feather sticks. But for any heavier duty uses, I will not use this knife.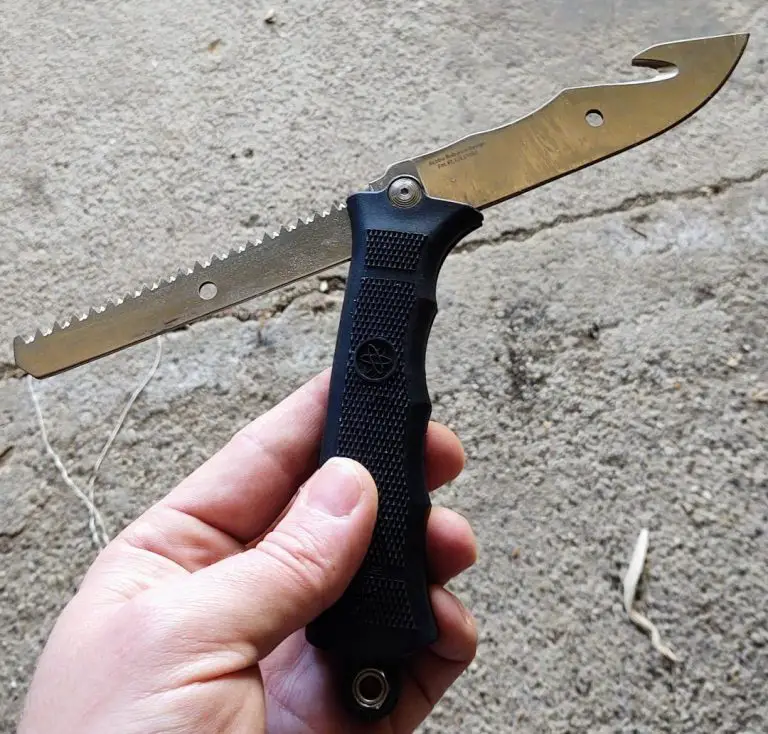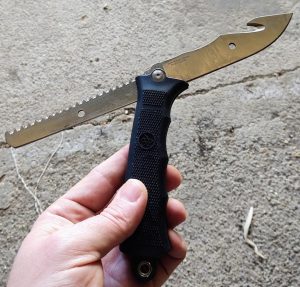 Please bear with me as I explain. The knife and saw are made of one piece of metal that pivots around and through the handle. One side is the straight edge knife and the other side is the saw. They are secured into place within the handle by a locking mechanism (peg) that goes through a hole in the metal. This mechanism is operated by a simple push button feature on the outside of the handle so that you can easily switch between the knife or saw.
While I have not had any issues with the locking mechanism, the safety concern I have is this. The knife and saw have to be able to rotate through the handle, which leaves the top and bottom of the handle open. This means the handle is not a solid piece of material. If that locking mechanism were to break during operation it could send the knife blade or saw blade into my hand. I would like to reiterate that this has not happened to me but due to the potential for it I make sure that I always wear gloves when using this product.
Last update on 2021-06-16 at 10:42 / Affiliate links / Images from Amazon Product Advertising API
Saw Use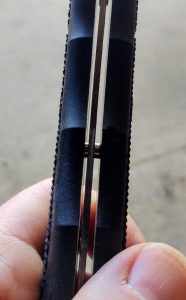 While the knife on this model is quite useful, I found myself using the saw more often than the knife. As I stated earlier in the article a saw is handy and efficient. Coming in at almost 4 ¾" long, I have use this saw a lot. I have used it in processing game but primarily in processing wood for outdoor projects, or in clearing brush. The teeth were very sharp right out of the box and held up to a lot of work before becoming dull. If you have sharpened saw teeth before then you won't have much trouble getting the teeth on the Revolver back to working order.
The last thing that I would like to note is that even when they are locked into place, the tools move around. The up and down movement range isn't too bad but the side to side movement is more noticeable. This doesn't bother me so much when I am using the saw but can be slightly annoying when using the knife.
Pros
Food prep friendly
Gut hook makes processing game easy as well as cutting smaller diameter cordage.
Saw works for wood and bone
Convenience of having two tools in one
Affordable
Lanyard hole in the handle
Textured handle provides for a safe grip
Cons
The knife and saw are not fixed. Loose movements even when they are locked into place
Feels "unsafe"
The handle is not solid and there is a lot of movement in it
Not full tang
---
Verdict
As a survival knife, I really wanted to like this knife, I really did. Having two tools in one is always a huge plus and I enjoy products made by SOG. However, due to my safety concerns and how loose it felt, I had to move this out of my survival gear category. Though it is still a great tool to use around the property, on day hikes, hunting trips or as a camp knife.
Thank you for reading and as always please feel free to leave a comment below. Stay sharp!
Last update on 2021-06-16 at 10:42 / Affiliate links / Images from Amazon Product Advertising API
---