Never heard of Sphinx Arms? You are not the only one. Despite the fact that they can trace their engineering roots back to 1876, they are relatively unknown in the firearms world to most.
Located in Interlaken, Switzerland, they came out with a pistol in the early 2000's called the Sphinx 3000 which was based on the proven CZ 75 frame. The early Sphinx pistols were not cheap, at $3,000 a pop and a long waiting period to get your hands on one, not many people could either afford that price or find one of these pistols. 
The Sphinx 3000 was mostly a secret among elite Special Forces groups around the world and competitive shooters with a keen eye for handmade, highly accurate pistols. For example, Cindi Thomas who is a member of the 2014 USPSA Women's Team uses the Sphinx 3000 exclusively in national competition shooting.
The Best Or Nothing
In 2010, Sphinx Arms teamed up with KRISS, a company known for producing high-quality submachine guns, and together last year they launched a new more affordable pistol called the SDP Compact (Kriss Sphinx SDP Compact). 
When I first held the Sphinx Compact at the 2013 SHOT show, it felt like a nice new Sig or an updated CZ 75 pistol – in fact, many consider the Sphinx SDP Compact to be an evolution of the CZ. The ergonomics were fantastic.
Weighing in at 28 ounces and with the factory-supplied medium grip (a large and small backstrap is also provided) the Sphinx SDP Compact felt well-balanced and comfortable in my hand. 
When I learned about the heritage of the Sphinx pistol, the Mercedes Benz slogan came to mind, "The best or nothing." And that is how it felt in my hand.
The ambidextrous de-cocking levers and magazine release (which is reversible) are both easily operated with one hand. The serrated bobbed hammer for SA operation was also easy to operate. 
The finish on the gun looked like it was all made from the same type of material, belying the fact that the slide was made of steel, the top of the upper frame features aluminum and the grip polymer. I worked the action a few times and pulled the trigger and it felt like it was manufactured with all of the precision of a Swiss watch. 
I was hoping that I would have a chance someday to break this gun down and look and inspect it further. I thought to myself that this is a nice-looking pistol but I will never have the time or the money to check one out. I barely have enough time to shoot the pistols I currently have, let alone the ones that I want. 
One of my friends recently bought one of the Sphinx SDP Compacts and agreed to shoot it for the first time with me. I killed two birds with one stone: I got to try the Sphinx SDP Compact and then write a review on it. I didn't tell my friend, but I was expecting to be pretty brutal on this $1000 pistol.
The Sphinx At The Range
When we got to the range, I had a chance to inspect the Sphinx SDP Compact even closer and further admire its fit and finish. It felt great in my hand with the factory-supplied medium grip inserts although it was somewhat heavier than similar pistols that I have shot. 
The Sphinx SDP Compact has a large beavertail and a no-snag hammer giving the whole back end of the gun the feel of a 1911.
---
Single Action Press VS Double Action press
The double action trigger pull (@10#) was long, as expected, but smooth. Single action trigger pull (@3#) was short and crisp. The trigger reset is extremely short, which helps with accuracy because you don't need to shift your grip nearly as much to get the trigger back.
Slide Features and Magazine
I worked the slide using both the forward and rear slide serrations and found that the action on the gun's full-length rails was extremely smooth. I also took note of the fact that the magazine followers are bright red, which makes it easy to see when the magazine is empty.  This is a nice feature as it allows you to see that the magazine is empty with one quick look.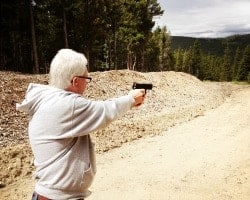 Accuracy Testing
I decided that I wanted to shoot it right out of the box without breaking it down to lube and clean it. I wanted to see this gun fail. 
We were shooting Federal American Eagle ammo, which is mid-range pistol ammo in my opinion. We walked off 20 paces and fired at steel pistol targets. Range day consisted of us blowing through 300 rounds, more than a few boxes, without so much as a hiccup. 
We shot it slow, we shot it fast, it didn't matter. We could not get the Sphinx to fail. And it was accurate. No adjustments, I hit steel 13/15 on my first mag. My friend had similar results after he made a slight sighting adjustment.
These are not competition target sights – but they are solid and worked well for each of us, allowing for quick target acquisition and solid accuracy which is what you want in a compact carry gun.
SDP Technical Specs and Features (From Manufacturer)
Magazine catch – left / right – reversible
Caliber -9×19 mm
Overall Length – 7.4 in / 188 mm
Overall Height – 5.35 in / 136 mm
Overall Width – 1.37 in / 35 mm
Weight – 28.18 oz / 799 g
Barrel Length – 3.7 in / 95 mm
Sight Radius – 5.7 in / 148 mm
Front Sight – Iron blade with white dot
Rear Sight – Serrated fixed rear sight
Action – Double action/single action with an ambidextrous decocking lever
Trigger Pull Weight – SA: 4.0+ lb / 1.8+ kg
DA: 10.0+ lb / 4.5+ kg
Slide material – Steel
Slide finish – Black with TIAIN coating
Frame upper – Hard coat anodized aluminum
Frame lower – Polymer
Grip – Polymer incl. finger molds
Magazine capacity – 15+1
Additional Features
Front and rear slide serrations
PVD coated slide
High cut beavertail
Interchangeable grip inserts
beveled magazine well
Reversible magazine release
Enlarged trigger guard with high undercut
Railed dust cover
Also Read: Review of the CZ 75 Pistol
---
Disassembly and Reassembly
Disassembly and reassembly of the Sphinx, as you might expect, is similar to the CZ and is relatively easy. Just pull back the slide until the guidelines on the slide and frame line up and push the pin out. It was a little awkward at first but I soon got the hang of it. Reassembly was even easier. 
Once apart, the hand-fitting of this gun was very evident. The barrel-to-slide fit was perfect with the feed ramp and chamber being polished to a mirror finish. The slide-to-frame fit is tight and precise as evidenced by the smooth operation of the slide when removing and replacing it. I found myself working the action several times just to experience the feel of the quality of workmanship of this gun and how well it was machined.
The attention to detail that went into the Sphinx SDP Compact is very apparent as you inspect this firearm. Combine excellent workmanship with metal parts that are forged or machined from billet as with the Sphinx SDP and you have a weapon of the highest quality which traces its heritage to a world-class competition pistol.
---
Conclusion
I have seen my friend a few times since we shot the Sphinx SPD Compact at the range. He now carries the Sphinx SPD as his CCW. (concealed carry) Each time I see him, I have asked to check out his pistol again. 
I rarely ask someone to handle their pistol, especially if they are carrying a common pistol such as a Glock or Sig. But this is a good friend of mine, and this pistol keeps drawing me back. The gun is really tight. If you get a chance, I highly recommend that you shoot this pistol to see what I am talking about. It is really well made.
If you are a pistol aficionado or someone looking for a 9mm with 15+1 capacity, reasonable concealability, match-grade accuracy, precision machining, and field-tested reliability, then you should consider the Sphinx SDP Compact made in Switzerland.
Plenty of these pistols sold for $1,300, so getting this beauty for under $1,000 would be considered by many folks as a steal. It is now on my Christmas list. On a side note, after shooting the Sphinx SPD compact, now I really want to shoot one of the full-size Sphinx competition pistols. Let me know if you have shot one below in the comments.
All Photos by the Survival Cache & SHTFBlog Team